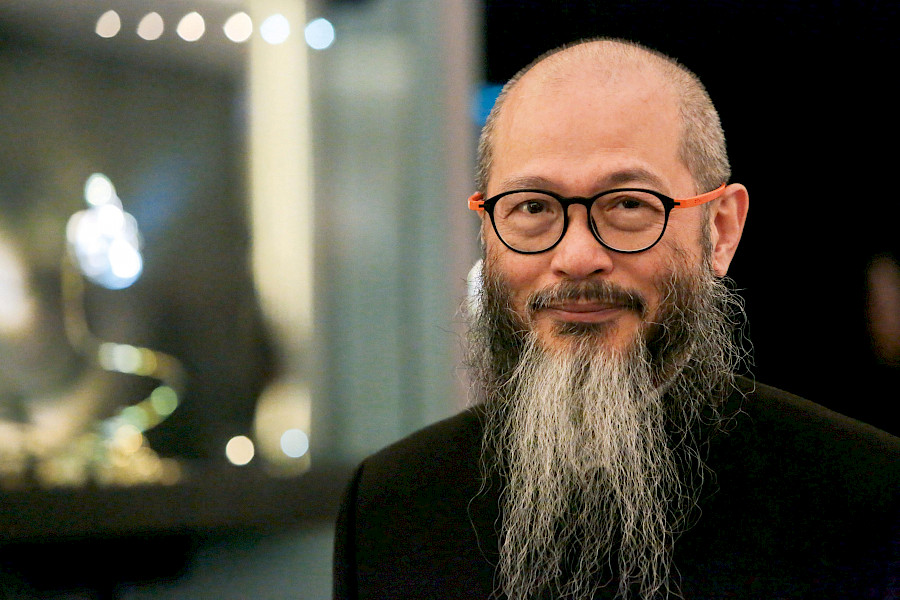 Wallace Chan stormed into the world of jewelry unexpectedly and in a short time has become one of the most famous and expensive masters. His pieces cannot be forged, and all because Wallace Chan is not just a jeweler: he invented multiple innovative technologies. Wallace cut, jade technique, titanium development along with gold and platinum, "stone inside of stone" technology, the development of The Wallace Chan Porcelain ("steel porcelain") and many other innovations irrefutably show that Wallace Chan is a bright star on modern jewelry sky. What is more important for the master: knowledge and experience or an innovative spirit? This you will learn from our conversation with the amazing jeweler-innovator, founder of the Wallace Chan brand.

Wallace Chan was born in a poor Chinese family and from childhood was accustomed to labor: he first collected plastic flowers from finished parts, then joined the workshop, where he did bone and stone carving. In 1972, a talented guy was taken as an apprentice by a sculptor who created statues for Buddhist temples, and soon he was entrusted with several large figures for monasteries. Like that, 15-year-old him gained his first fame and the reputation of a talented sculptor.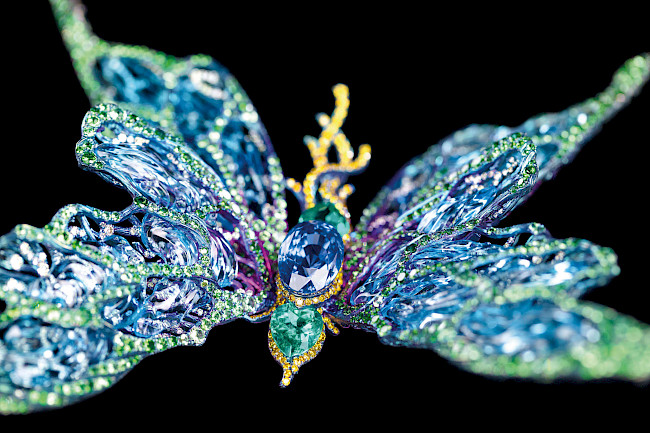 You connected your life with jewelry very early. How many years did it take you to declare yourself to the West as an independent artist, and how did this happen?
Everything happened gradually. There were failures on my way as well, and struggles, financial difficulties, and other troubles... I started gemstone carving in 1973, when I was only 16 years old. In 1991, my first solo exhibition was held at the Gemstone Museum in Idar-Oberstein, Germany. It was a great honor for me: both because I was the first Chinese to have an exhibition there, and because it happened in a city where the art of gemstone carving flourishes and where outstanding masters of this work lived.

What skills did you transfer from sculpture to jewelry?
I would say that skills and techniques are not as important as an innovative spirit. I found inspiration in past eras, in the wisdom of my ancestors... But to create on the basis of a collective past, you need to rethink both yourself and your prospects. I use many skills and techniques that I can call my business card: such as the "Wallace Cut", color palette, variety of titanium sizes and shapes, the use of spring fasteners, as well as the use of gemstone as a clamp.
I also have patents for cutting and polishing jade, Wallace Chan ceramics, and so on. I create my own tools for working with various elements of each product. Some of them are so small that they literally hide from the eyes, but they are very important for my work, since they make an immeasurable contribution to the durability of my products.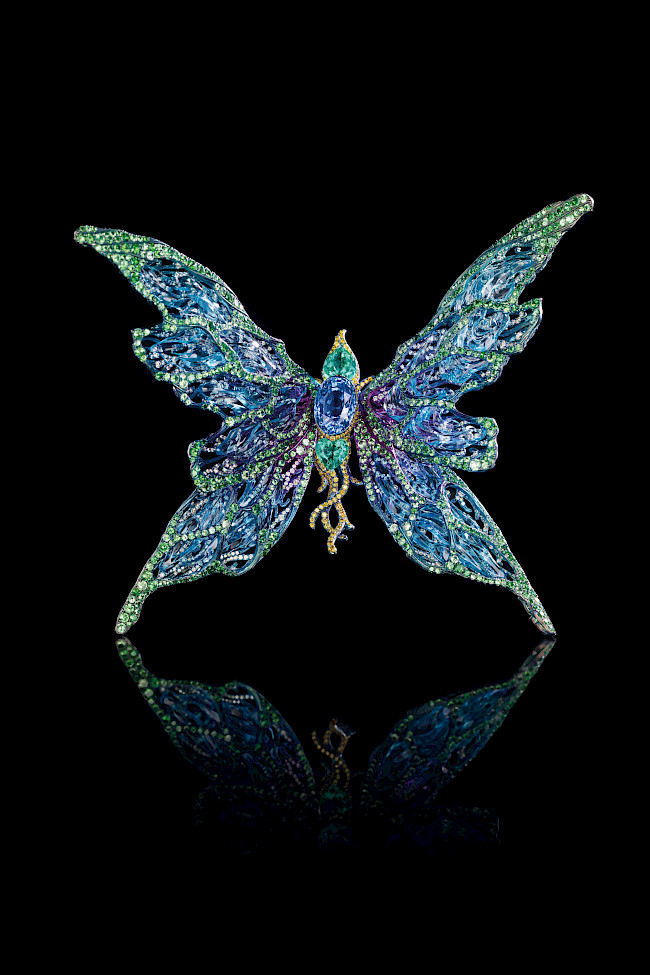 One of his first inventions, a master named Wallace Chan, patented back in 1987: this is a unique method of engraving, which creates the illusion of a three-dimensional image in transparent material.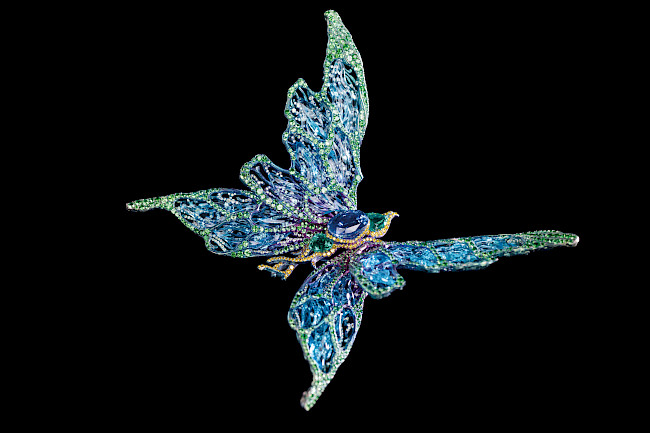 Tell us about the period when you interrupted your artistic activity. What prompted you to move away from art and delve into religion?
The completion of the Great Stupa in 2001, a project that lasted two years and seven months, was a turning point in my life. Working on this project, I gained knowledge in various fields, including gemmology, color theory, physics and metallurgy. This is a rich baggage of knowledge and experience for any carver and sculptor. However, shortly after finishing the project, my mentor died.
I was just devastated and could not think of anything, wondering just one thing: what is life and death? I began to visit cemeteries, as before, but not to study the statues of angels and saints, but to communicate with spirits, to find answers to my questions. I was so full of sorrow and depressed that I decided to become a monk. Before that, I burned all my photographs, abandoned everything I owned, and went on a long spiritual journey to comprehend the truth of Zen. As a monk, I visited the sick and dying, meditated and fasted - all in order to achieve an unclouded state of spirit. It was during this period that I felt a strong connection with the Universe, felt all its joys and sorrows – these sensations were given to me by flowers, muttering of the wind, singing of birds, I felt the breath of the Earth, heard its voice... Six months later, I returned to worldly life with an even greater desire to create. Once I picked up a piece of cement on the street, brought home, and then sculpted from it. Like that, I started working again, creating something from a variety of materials that I could find. I realized that following a dream, having a huge desire to create, is my calling. And now nothing has changed: I dream – so be it, I create – so be it!
When Wallace Chan made his first accessory, he went to all the jewelry stores in the county, but no one was interested in his product. Only one seller advised to contact his friend, an antique, and gave his phone number. This was Wallace Chan's first step to the heights of success.
| | |
| --- | --- |
| | |
You are a person with rich experience, both life and professional. How often are you asked for advice by relatives or colleagues by profession, perhaps students, if you have them? Are you always ready to share your experience?
I have no formal education, so all my knowledge is the result of work and experience. I grew up in an age when there was no Internet. The thirst for knowledge has always been an important part of my life and creativity. Recently, I have had the opportunity to share my stories at lectures and in conversations, and it is very important to me that I contribute to the education of people who connected their lives with jewelry art and culture. I believe that the best form of education is education on your own initiative, and that people who are thoughtful about their work and knowledge, creators with burning eyes, can achieve the best results with the resources that are available to them.
For the first time Wallace Chan loudly declared himself in the West in 2012, presenting at the XXVI Biennale des Antiquaries in Paris his jewelry collection of fifty stunning items. It had a symbolic for the author name: The Path to Enlightenment – Art & Zen. The collection immediately drew the attention of experts and was estimated at 230 million euros.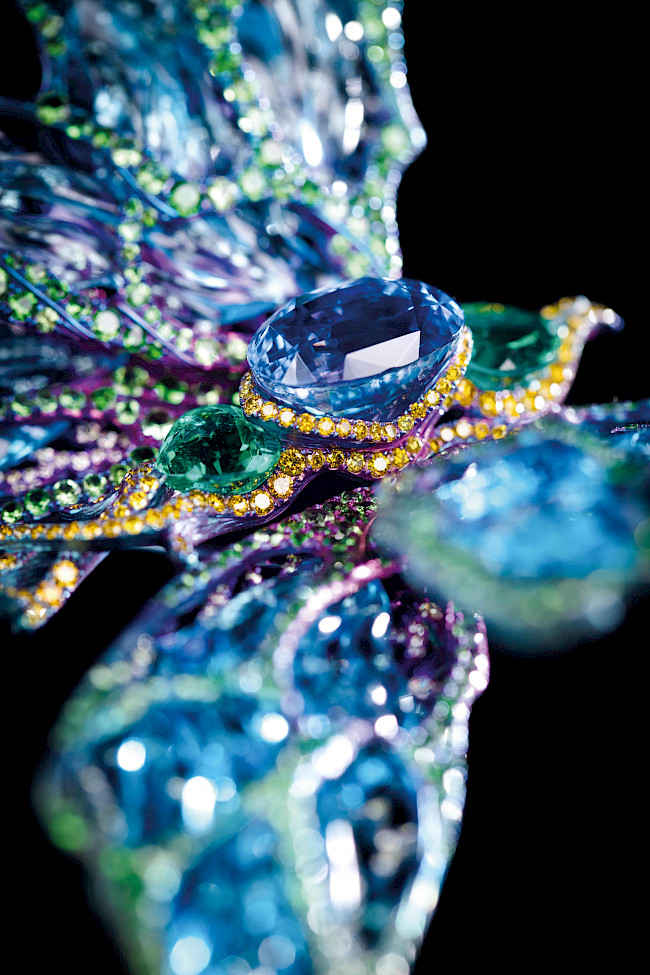 How closely is Chinese philosophy intertwined with your profession?
I am not attached to any particular doctrine, and this gives me the freedom to absorb knowledge without any restrictions. If we talk about Chinese philosophy, I have always been intrigued by the legend of "The Butterfly Dream" by the ancient Chinese philosopher Chuang Tzu. This story inspired me, I learned to look at the world not as a person, but as a butterfly. Thanks to this work, the idea that everything in this world is interconnected is anchored in my mind. It is still hard for me to separate life and work, but the influence of Chinese philosophy can be found in many aspects of my essence.

Do you use European experience in your work? Or is your perusal of the theme of jewelry – purely Chinese?
I create products in order to destroy the boundaries between people, reach people of different cultures, with different life experiences. And this applies not only to Europe or China, by this I mean diversity and universality.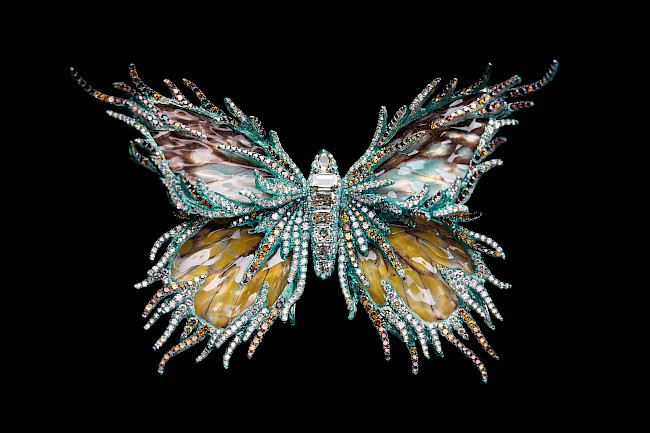 In 2002, Wallace Chan invented a new technique for cleaning, grinding and polishing jade, and also created a special technology for carving thin, literally luminous products from another beautiful crafting stone – jadeite.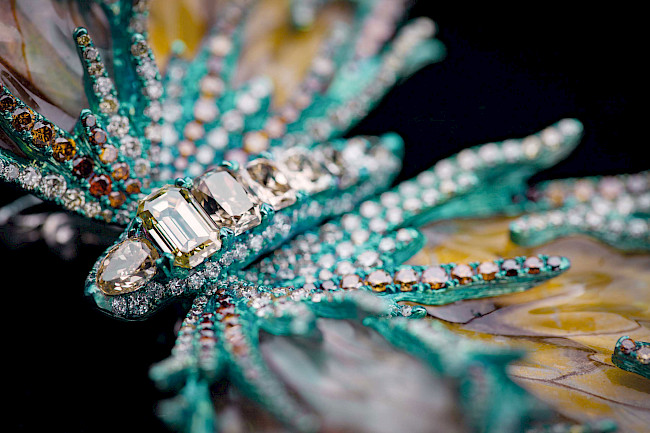 Shatter-proof porcelain is another of your incredible inventions. How much were you able to change this technology?
Everything in this world is destroyable, even a diamond - with effort, you can destroy this super-strong stone. Wallace Chan Porcelain is five times stronger than steel, which is why it can serve as a reliable structural material for jewelry. I studied porcelain for decades, its history - it cannot but admire! In 2010, I planned to create a new type of porcelain. To achieve the desired result, I experimented with this material for a very long time, discovered new properties in it... It was necessary to invent new technical methods, to select the needed materials, ingredients, tools and ovens...
I've been to many different countries in search of producers of furnaces that met exactly the parameters that I needed. In the end, I found two manufacturers in Germany, now I order my furnaces from them. I approach the creation of my products as art. But this does not mean that in the process of their creation there is no place for accurate calculation, science. Precise calculations play a very important role in the success of work. For example, the furnaces must be of a strictly defined size to maintain the optimal heat for each product. In my stoves it is possible to control the temperature precisely and within a fairly wide range, and this is very important.
In addition, it is essential to use only the highest quality ingredients. And with all this, without a special "Wallace Chan cut" it is impossible to make not only complex, but also aesthetically attractive jewelry from this porcelain.
| | |
| --- | --- |
| | |
Your special attitude to titanium has leveled it with traditional precious metals and made it fashionable in the jewelry world. How did this metal deserve such attention?
Somewhere in the early 2000s, I read that someone invented a pacemaker made of titanium - a durable, light and bright metal, favorably getting along with the human body. Titanium is the metal of the space age, the embodiment and reflection of the spirit of our time, a symbol of the latest technologies. Then I decided that it could well serve as the "skeleton" on which the "body" of my products will hold. It took me eight years to solve most of the mysteries that titanium had in it. But when I introduced my products, it turned out that few masters knew about it, and if they knew, they did not see its prospects for jewelry. Why titanium if gold, platinum and silver are sold so well? But I never did anything just for the sake of money, I always sought to create something that no one had managed to create before.

It was Wallace Chan who brought into style titanium jewelry with gold veins, having developed the technology for painting this metal Titanium Jewelry in 2007. He was the first to see the jewelry potential in this metal and even believes that titanium positively affects a person's health and mental state.

What personality trait is most inherent in you?
Perhaps curiosity. I've always been curious. To be honest, with age, this quality began to create a lot of problems for me, but it also helps me discover something new in this world.

Can you name the most significant decoration for you and its owner?
For me, each product is excellent, otherwise why create them? And it's not always about which stone is more expensive or larger. Often, personal and general cultural associations related to the product are more important to me. I am pleased to announce that my first product from Wallace Chan porcelain "A New Generation" is in the collection of the British Museum. – N