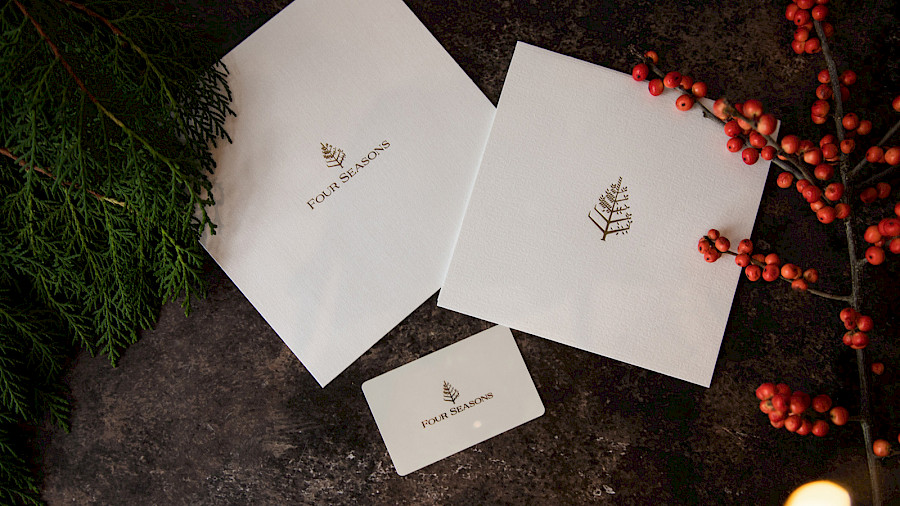 Create unforgettable memories during this festive season and celebrate it in style with Four Seasons Hotel Baku
Being one of the most magical seasons of the year, winter is a perfect time to plan a cozy getaway with family and friends.

Four Seasons Hotel Baku is offering guests to mark the occasion with variety of special experiences both indoors and outdoors to enjoy winter in Baku at its best.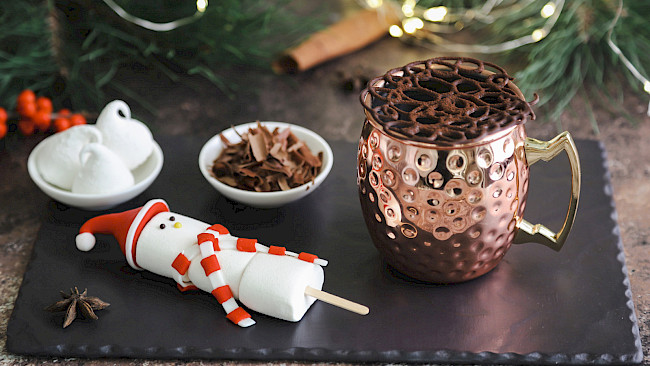 WINTER WONDERLAND
Guests of Four Seasons Hotel Baku are invited to enjoy the world-class skiing facilities at a breath-taking 2,500 metres (8,200 feet) above sea level in Pik Palace Hotel located in Shahdag Mountain Resort with the stunning views of the untouched mountains of Azerbaijan.
Included in the package:
• Three nights stay for the price of two at Four Seasons Hotel Baku
• Complimentary daily shuttle bus to Pik Palace Hotel in Shahdag Mountain Resort
• Complimentary ski lift pass at the resort
• 20% savings on ski equipment
• 15% savings on food and beverage charges in restaurants of Shahdag Mountain Resort (excludes Scalini)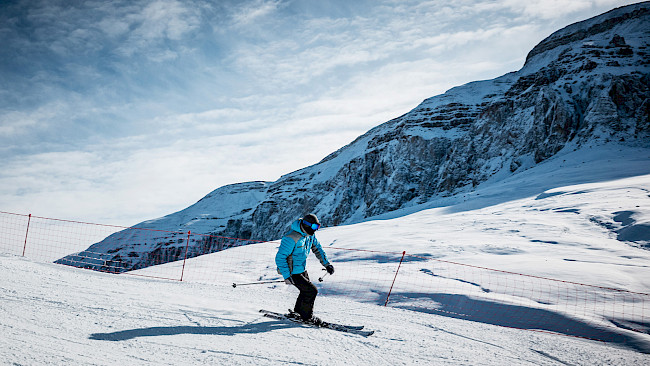 About Shahdag Mountain Resort and Activities
Located in the Greater Caucasus Mountain range, Pik Palace Hotel of Shahgag Mountain Resort is the largest and most prominent winter resort in the country. Try one of the Resort's many winter activities such as snowshoeing, riding a Segway, snowmobile driving and more.
The Winter Wonderland package is available from December 15, 2021 to February 28, 2022, subject to availability.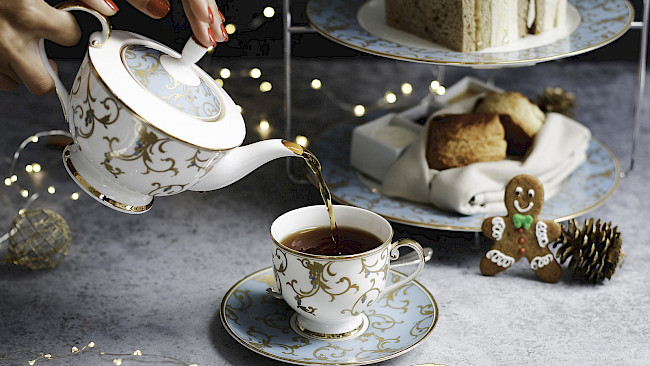 Culinary Delights
Throughout this season, the Hotel will take its guests to a delicious culinary journey with one of the many festive activities prepared by the team of talented Chefs.
Piazza Lounge presents: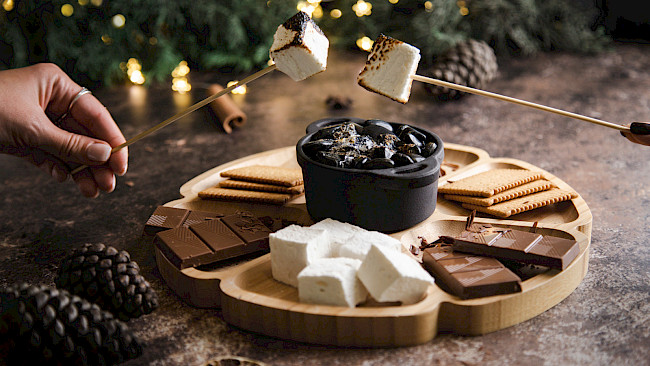 - Hot chocolate served with marshmallows, will evoke the most cozy feelings with every sip.
- Delicious s'mores made with homemade marshmallows which guests can hold over the small fire until roasted and lay on the side of a crunchy cracker with milk chocolate.
- Special Festive Afternoon Tea with traditional English scones, finger sandwiches and sweet tasty bites which can be enjoyed with a cup of coffee or tea and a glass of mulled wine or Prosecco.


Zafferano and Kaspia celebrate Christmas and New Year's Eve with special brunches and dinners.

And finally Bentley's Whiskey Bar invites guests to a Gatsby themed party to continue the celebration and dance the night away on the New Year's Eve.
Enjoy complimentary Glühwein while you're doing your festive shopping with us at Four Seasons Hotel Baku: variety of gingerbread houses, cookies, Christmas cakes, Christmas trees made of chocolate, candy canes, famous Italian festive Panettone and many more
will be awaiting you daily in Piazza Lounge's Christmas market, starting from 7th of December.
Christmas Eve Dinner in Zafferano Restaurant, December 24, 2021, 7 pm - 11 pm – Dine with family and friends on a special night
Christmas Eve in Zafferano and feel the Holiday spirit in a cozy festive setting of the Hotel.
85 AZN per person inclusive of food only.
Christmas Day Brunch in Zafferano & Kaspia Restaurants, December 25 & 26, 2021
12 pm – 3 pm

Join Four Seasons for a bespoke Christmas brunch in Zafferano Restaurant and Kaspia Restaurant and enjoy the delicious buffet, unlimited alcoholic beverages and live music that will add up to the whole Christmas atmosphere.
*Separate kids corner will be available during lunch in Zafferano Restaurant.
90 AZN per person inclusive of food & soft drinks
125 AZN per person inclusive of food and alcoholic beverages
Venetian New Year's Eve Dinner in Zafferano Restaurant, December 31, 2021
8 pm – 12 am

For New Year's Eve, Zafferano Restaurant invites guests for a festive dinner with a true Italian ambiance where they will enjoy a bespoke buffet with high-quality specialties from the Hotel's Chefs along with live Italian tunesand Venetian masks that will be awaiting guests on their tables to start the night.
190 AZN per person inclusive of food & soft drinks
La Noche Blanca New Year's Eve Dinner in Kaspia Restaurant, December 31, 2021
8 pm - 12 am

Celebrate New Year's Eve at the rooftop Kaspia Restaurant with variety of delicious dishes presented in a buffet set up during the specialnight covered in white. Guests are invited to enjoy live music followed by a DJ's performance and spectacular views of the Caspian Sea from the top floor of the Hotel.
210 AZN per person inclusive of food only
Gatsby Night New Year's Eve Dinner in Bentley's Whiskey Bar, December 31, 2021
9 pm - 12 am

Dance the night away in Bentley's Whiskey Bar during the special Gatsby themed after party. Enjoy snacks, unlimited beverages and DJ performance.
110 AZN per person

Terms & Conditions:
Prepayment is required

Kids policy:
0 - 5 years old - on a complimentary basis
6 - 11 years old - with 50% off

Operation hours during New Year's Eve events are based on current governmental regulations
Indulgent Time at Jaleh SPA
Treating yourself to a relaxing SPA experience is a must during festive rush. Guests are welcomed to enjoy wonderful facilities of Jaleh SPA such as Turkish-style hammam, signature massages by professional therapists, steaming room and a one-of-a-kind glass atrium indoor pool.
Holiday Getaway
Enjoy 25% off the best available room rate and enliven the daily routine during the Festive season in Baku. Book our special Residents' offer and let us take care of your stay, so you can focus on the fun.

The Power of Giving
If guests are thinking of a special gift to their beloved ones during this festive season, Four Seasons Hotel Baku can assist in making their family and friends happy by presenting Four Seasons Gift Certificates for any of the above-mentioned experiences and more.
With just a short flight from Europe, GCC and Russia and simplified visa regulations, combined with a complimentary third night's stay and the array of festive activities at the Hotel, Four Seasons Hotel Baku is the ideal location to celebrate the upcoming winter season.
Four Seasons Hotel Team is awaiting to welcome you and become part of memorable celebration during the most magical time of the year.
Contact the Hotel's Reservations team for more information or bookings:
[email protected]
+994 12 404 2424