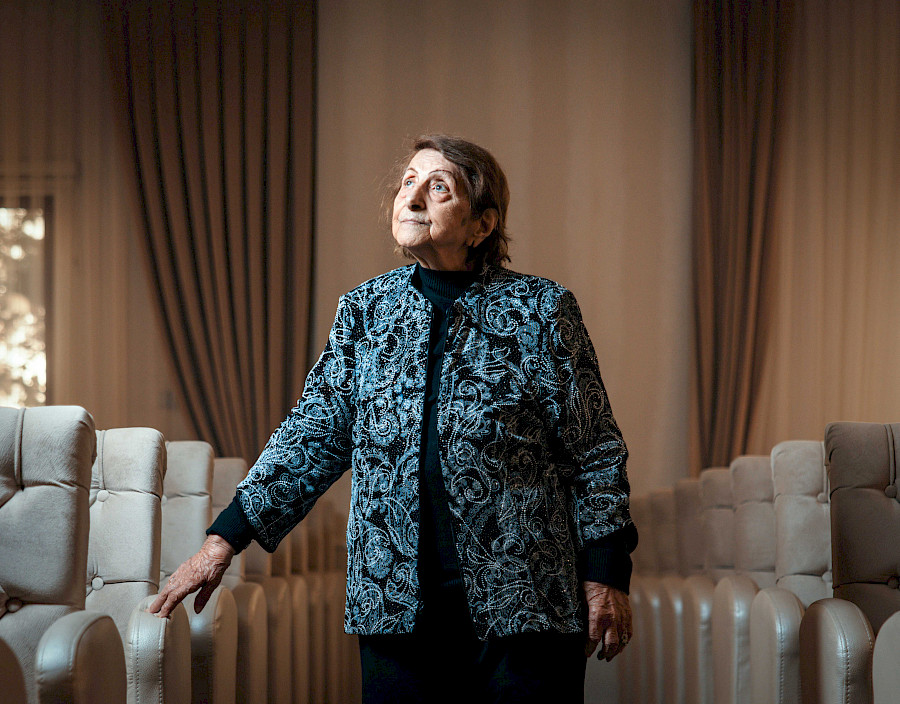 The fate of this, at first sight, fragile yet vigorous lady is like a script to a drama movie – encounters, separations, losses and even war are all there. Official meetings and government events are part of her common weekday routine now: from early morning she is at her desk, handling meetings, hearing out requests and giving orders. Chairman of the Organization of War, Labor and Armed Forces Veterans of the Republic of Azerbaijan Fatma Sattarova celebrated her 100th anniversary last year. She talks about her journey and how, after all, life defeats all adversities.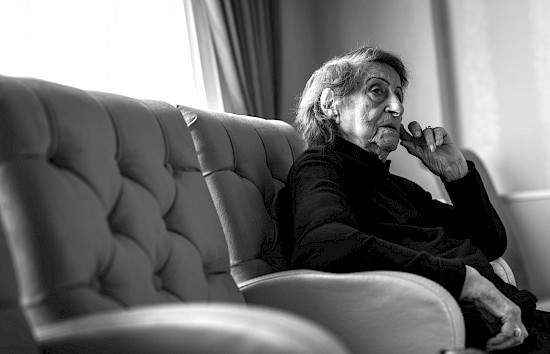 Tell us about your childhood. What were you then?
I have always been very active. The only child in the family was raised like a boy! I remember climbing to the very top of the tree without the slightest fear. I was born on the Polukhin street, but after the death of my father, the apartment was taken away from us, and we moved to the village at the Lenin combine, where my mother worked. She had Persian roots, and many Iranians worked at the combine. In the sixth and seventh grades, literature was taught to me by the great writer Mir Jalal Pashayev. I remember I attended gymnastics, and then went to Moscow, to the All-Union Parade of Athletes. It was a spectacular event, very popular at that time, promoting a healthy lifestyle. A huge number of people were attracted to participate in it. Athletes from each republic had their own uniform. I remember this parade very well...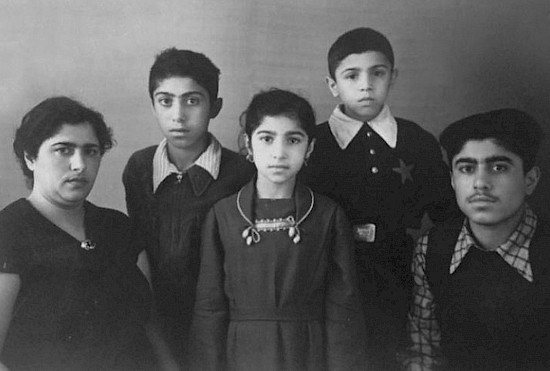 How did you get to the front?
After the accomplishment of the seventh grade at school – at that time it was a rule to complete seven classes, and rarely anyone reached the tenth – I entered the medical school. I studied there for three years, then worked as an obstetrician. Everyone who received a medical education was issued a military ID and was awarded a military rank. I also received them. Of course, I could not even imagine that a military ID would be useful to me so soon. I got married – my husband lived in the neighborhood, we met as children – I was only 17, and he was 22 years old ... Youth is beautiful, because you live everything for the first time. And love at this age is pure and innocent. We got married, but lived together for only five months: the war broke out. Without hesitation, I went to the Army recruitment office and signed up to a volunteer. My husband, Mammad Sattarov, was the director of the Machine-building fabric named after Montin, which urgently reoriented manufacturing to the production of ammunitions, and the workers received the status of rear front fighters.
I participated in the battles near Moscow, visited Leningrad under siege, reached Berlin ... First-aid posts were right in the trains, I provided first aid, made bandaging. Iodine and bandages were the only available means. I never made a distinction between the wounded, no matter who was in front of me – I treated the captured Germans with the same sense of responsibly, because I took the Hippocratic Oath. I have always been at the forefront, saved hundreds of lives, literally pulled soldiers out of battles...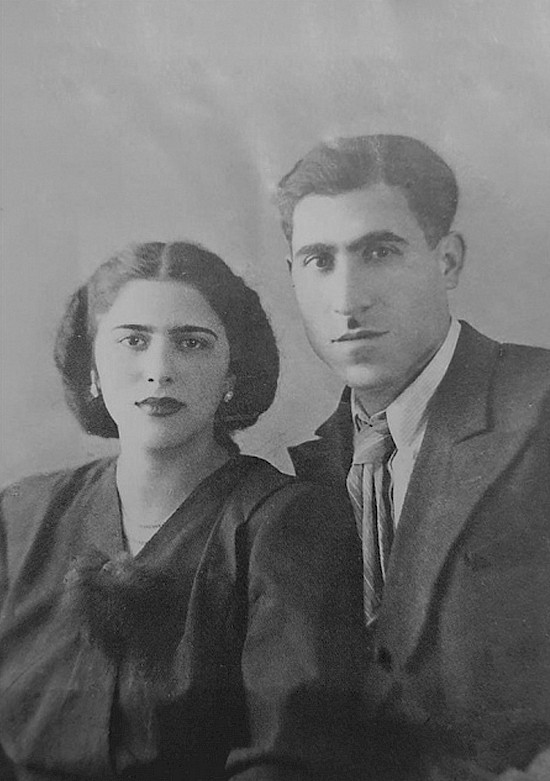 Weren't you afraid?
Never. It may seem that I am a desperate person: I threw myself under bullets, to the front line, risked my life. I made bandaging right in the trenches ... And once German tanks drove right over me, and I sat in the trench all night, covering myself with my overcoat.
We buried our soldiers, including Azerbaijanis, right in the forest, constantly looking into the eyes of death. I must say that we grew up under a very strong ideological influence that accompanied us at all stages of life, starting from kindergarten. We became alternately the Little Octobrists, the Young Pioneers, Komsomol members, then joined the party, and losing a party card was then, perhaps, worse than death. As a teenager I have often noticed how suddenly, for no apparent reason, neighbors who had been declared "enemies of the people" disappeared. It was a very difficult time. But at the same time, I believed that it was my duty to be here. And I did everything I could.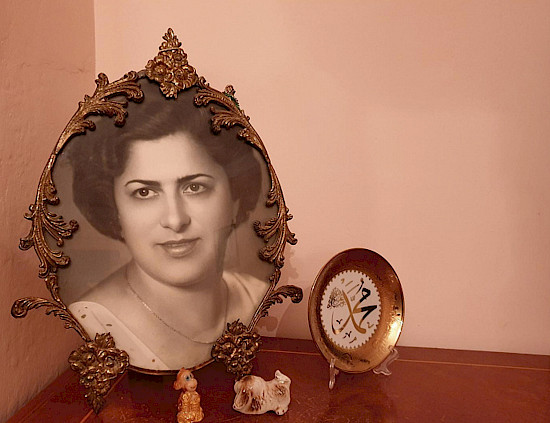 What is the face of war?
Very scary. It is always about tears, pain and loss. In the Battle of Moscow in 1941–42, in besieged Leningrad, I saw everything: how people died in battle, and how people died because of hunger in the street... There were no medicines, and we added dry leaves to the water so that the soldiers thought that they drink medicine. Sometimes it helped, purely psychologically...
I had to go through a lot. We helped evacuate the wounded from Leningrad across Lake Ladoga. Then I ended up on the Stalingrad front, where we were moving step by step, city by city, towards victory. Through Hungary and Romania, we reached Berlin.

I remember the dilapidated streets, the wounded and the dead ... Then I worked for two months in liberated Paris – I was invited as an experienced nurse. After returning home, I took care of the sick already here, in the hospital. My mother begged me not to be sent back to the front, they left me to work in Baku. It was already the end of the war, soon we celebrated the victory.

What thoughts occupied you in the most difficult moments?
I have learned to value time. After all, every moment counted, sometimes saving the life of the wounded was a matter of a few minutes. There was no time to think, all the time in action. Of course, I missed my home. I wrote letters to my husband, but he did not receive them, as he was also at the front. We were often transferred from place to place, and we could not keep constant contact. But even in the most difficult moments, I did not lose spirit, I joked. Everyone knew that I often joked, they loved me for my cheerful disposition, they even fed me, gave me extra pack. I am like this even today. Optimism helps to stay always young at heart!
How were the post-war years?
After returning home, many nurses wrote applications addressed to the first secretary of the Central Committee of the Communist Party of the Azerbaijan SSR, asking to be enrolled in a medical institute without exams. But I entered the Faculty of Economics at the Plekhanov University, then transferred to the Belarusian State University. For about 60 years I worked in senior positions in public catering. My husband's health was severely undermined, the consequences of the war had its negative effect. We had three sons and a daughter. Then I became a widow and raised the children alone. Today I have a big family – 11 grandchildren and 20 great-grandchildren!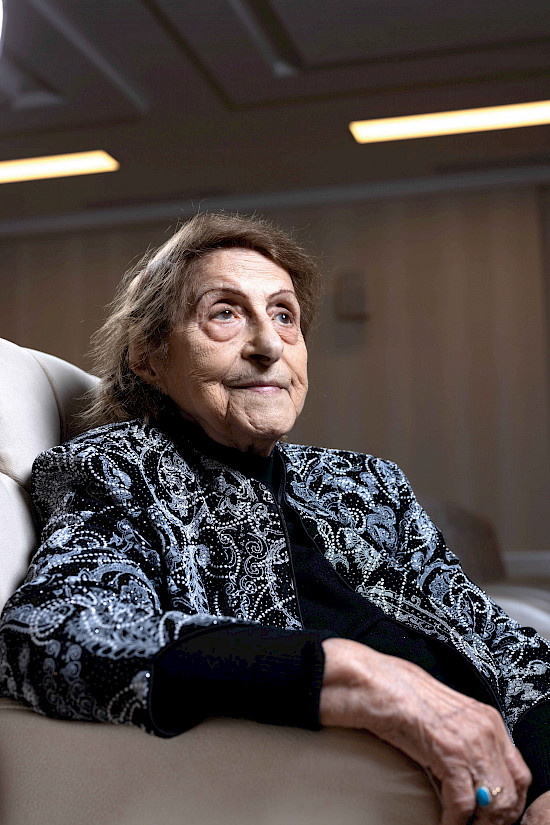 What character traits do you value in people?
Life loves sincere people. If I don't like a person for something, I prefer that he or she knows about it. Causing harm on the sly is not mine. I appreciate the love of work, I have always been hardworking and at the same time, a demanding leader. I think so: if you take up the assigned work, do it conscientiously. It is important. You need to take responsibility for your duties. If someone did not like the work, I offered to write a statement, and not torturing myself and others.
What do orders and awards mean to you?
I have a huge number of them. I can't even put them all together, I keep them in a safe at work. For a centenary, the President awarded me with the "Istiglal" Order for many years of fruitful activity in the public life of the Republic. For me, the main thing is the benefit that I can bring to my people, to my country. I love my people, my homeland. My mother always told me that I forget about myself, even ready to sacrifice myself. It is true. In February of the last year, I was invited to become chairman of the Organization of War, Labor and Armed Forces Veterans of the Republic of Azerbaijan. I dedicated myself to working with veterans. I am dedicated to my work and beliefs, and, of course, I am pleased when this is appreciated. The state, the leadership of the country takes care of me. In fact, I am ordinary an Azerbaijani woman who performs her duty.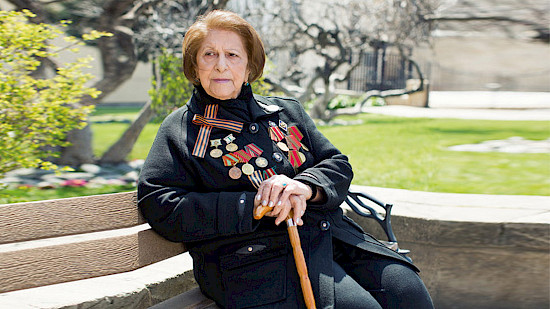 Have you met with your front-line comrades?
Yes, we saw each other all the time, and definitely – on the days of the beginning and end of the war. We were sitting in a cafe and reminiscing about the past. Most of them are no longer alive, because I was the youngest, and I am already a hundred years old. In memory of my front-line friends, I planted and grew a garden. And recently, my fighting friend Maria Mikhailovna Rokhlina was found – 80 years ago we participated together in the battles near Stalingrad. Representatives of the Azerbaijani diaspora in Moscow organized a teleconference of friendship for us, we talked to her, and I invited her to visit.

There is a belief that participants of war try to avoid long stories about how it was...
There is a deal of truth in it. I do a lot of social work, often visit schools, meet with high school students, tell them about the war in general terms. They always listen to me with bated breath and, as a rule, ask me to tell more. Then I invite them to talk about the 44-day war, during which we liberated our lands. They ask me to come more often. Children are very impressionable; these stories evoke a lot of emotion in them. I inform them that there is nothing good in violence and destruction. I have always tried to hide the pain, to keep deep feelings inside. During the pandemic, I lost two sons and a daughter-in-law at once. I was ashamed to cry in public, I grieved quietly, in my soul. After all, during the Karabakh war, Azerbaijani mothers lost their very young sons, who did not have enough time to enjoy life.

What is the meaning of life for you?
Life is fleeting. I did not even notice, did not realize how hundred years had passed. My memory is filled with moments of the past century, but I still think about the future of Azerbaijan. From the place where a person was born, spent his childhood, where his basic values were formed, the tradition of respect for your Motherland begins. Parents bring you into the world, but the Motherland gives you everything you need, and for this you should be grateful to it. The meaning of life for me is in love for the Motherland, my folk, as well as people, with all their advantages and disadvantages. We need to fight disadvantages, and focus on advantages. After all, everything has its good and bad sides, and people are no exception. The meaning of life is to represent your country in the best possible light, to protect it and serve it wholeheartedly.

FACTS
During Eastern Front of World War II (or the Great Patriotic War) every 5th citizen of Azerbaijan fought against the enemy. In 1941 out of 3.4 million population, 681,000 people left for the front, 10,000 of them were women. Young Fatma Sattarova was one of them and she had started a family of her own just 5 months before the war started.
V
She fought battles near Moscow, survived Leningrad blockade, reached Berlin and never differed any wounded no matter who they were. She treated German war prisoners with same obligation because she swore the Hippocratic Oath. She had always been on the front line, saved hundreds of lives, literarily pulled soldiers out of battles…
V
Out of 42 nurses mobilized to front line together with Fatma Sattarova only 19 came back, the rest were killed.
V
Today, Fatma Sattarova has a big family – 11 grandchildren and 20 great-grandchildren. Since February 2021 she has been the Chairman of the Organization of War, Labor and Armed Forces Veterans of the Republic of Azerbaijan that was founded on 21st of March 1987. Today, there is over a million members among them are war, labor, armed forces and law enforcement veterans.
V
Over 170,000 Azerbaijanis were awarded military orders and medals during the Eastern Front.
HERE ARE A FEW OF FATMA SATTAROVA'S MANY AWARDS:
• Order of the Patriotic War
• Nation's Pride Order
• Medal for Valiant Labour during the Great Patriotic War of 1941-1945
• Medal for the Defense of Moscow
• Medal for Medical Merit
• Medal for Charity and Mercy
• Medal for Military Merit
• Medal for Impeccable Service to the MIA of the USSR

On her 100th jubilee President Ilham Aliyev awarded Fatma Sattarova the Order of Independence ("İstiglal") for continuous productive service to the public life of the Republic.