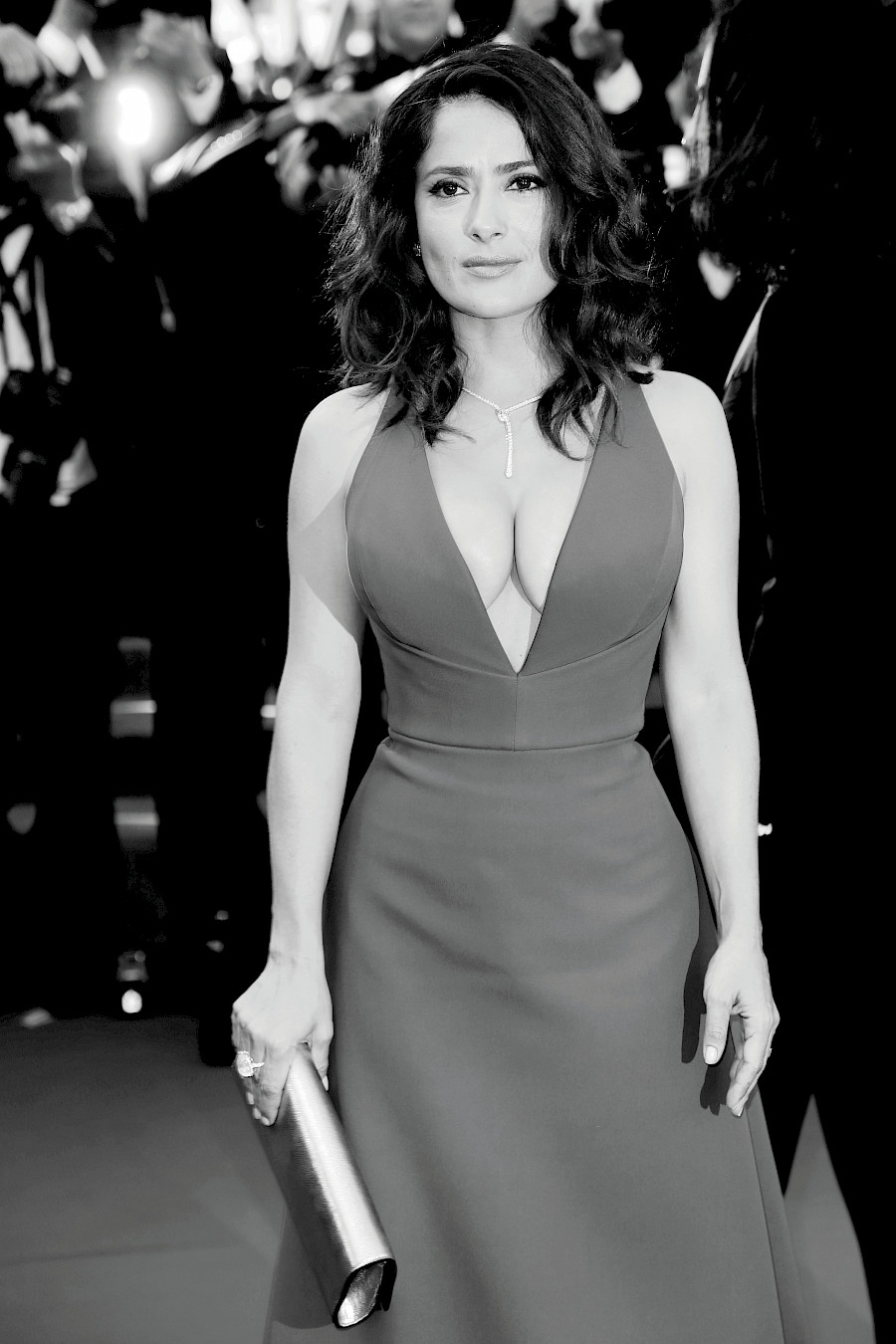 My conversation with the Hollywood diva took place at the 70th Berlin International Film Festival, which presented the new film "The Roads Not Taken", where she played one of the main roles. Coronavirus was already gathering pace, but has not locked people up in homes for quarantine yet. And although television was already talking about its striking effect and precautions, and masked people flashed on the streets and in public places, the bravest ones continued to travel, attend premieres and interviews. Among them was Hollywood star Salma Hayek. Until recently, she appeared at social events exclusively hand in hand with her grown daughter Valentina, but due to the threat of pandemic, she arrived in Berlin without her. To our meeting at the Regent Hotel in the Berlin district of Mitte, Salma arrived in a black pantsuit. She would look almost Puritan if it wasn't for a golden necklace with large chains and in addition to its tone – a golden frame of elegant glasses. Before getting settled in the chair, the actress reached for the purse that the assistant was carrying behind her, and she handed a tube with disinfectant. "What is going on with our world?!" – Salma exclaimed before carefully treating the hands with antiseptic.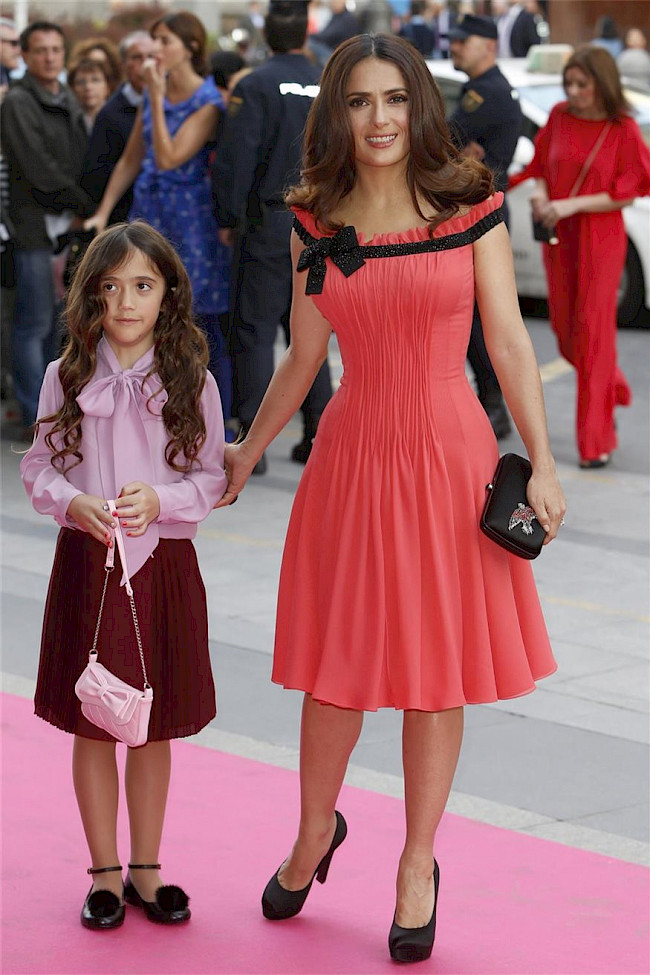 Do you also believe that big changes are coming?
Tell me about it... I usually take my daughter on trips with me, but this time I just didn't risk it. Valentina is 12, she loves to travel – I take her with me almost since she was a baby. I often need time to sleep or adapt because of the time difference, and Valentina can fly from one country to another, without experiencing any discomfort or fatigue. When she was smaller, I could easily leave her at the local kindergarten during the filming, and she over the moon: she liked meeting new people – children, teachers... Sometimes when I come home after the set completely exhausted, my girl rushes to me, gives me a big hug and says: "Mommy, let me share my energy with you!". There is nothing more beautiful in the world than the love of your child! You start to feel it from the second you first saw it, and that moment changes a woman forever. I do not cease to be surprised by wisdom and generosity of nature, because it gives a decent period – as much as nine months – so that we can prepare for this internal change.

Everyone knows how caring you are as a mother. But what can you say about it yourself?
I think every woman is more like her own mother when it comes to raising children. But as for me and my mother, it seems to me that we are completely different. My mother, for example, could spend days walking around the house and singing arias. She loved attention and compliments, did not stop singing, even when my friends came over. When I was a teenager, I was often quite embarrassed about her behavior. But today I appreciate all the warmth and love that she gave us all then...
I wouldn't call myself a strict parent, although, of course, I understand the importance of discipline. Fortunately, my daughter is very smart, and I hardly have to raise my voice on her. Perhaps she got this from her father François-Henri – he is a big strategist. If he is dissatisfied with something, he will never make a remark to her, but will bring his dissatisfaction to me, after which I "attack", while he stands behind me with a sweet smile like nothing happened, and shrugs his hands like: What is the problem? That is why he is the best father, and I get to play the role of a strict mother!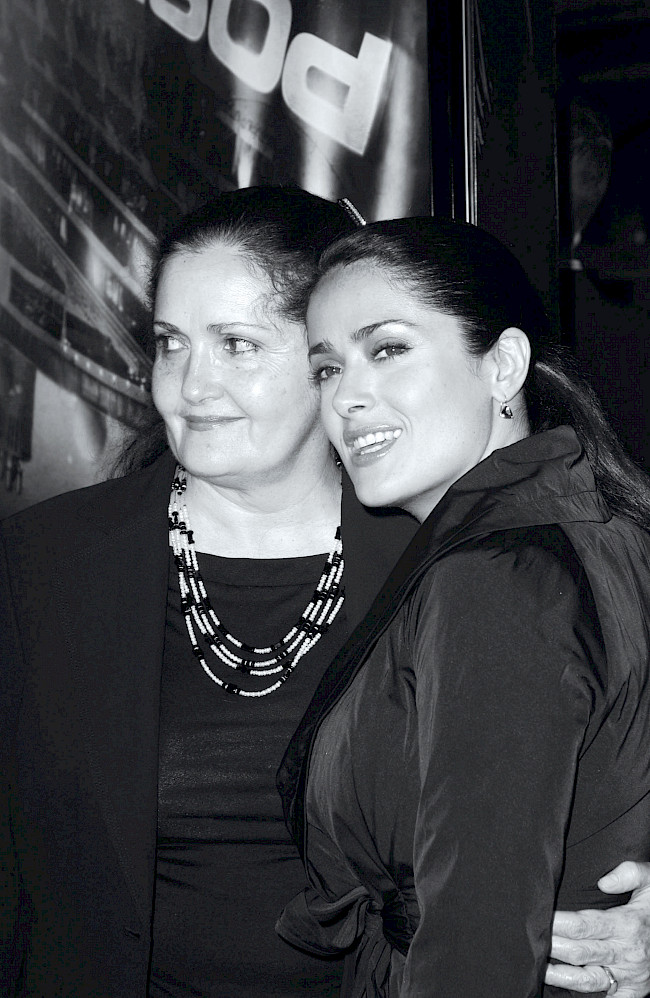 What talents does Valentina already demonstrate?
You won't believe it, but just in two months she managed to learn to play the piano, guitar and ukulele on her own. Also she marvelously draws, sings, plans to make and even produce films!
Your best friend Penelope Cruz once said that she did not want to see her children suffer from the fame of their parents. Do you have any concerns like that?
In Paris or London, where my husband and I spend most of my time, I do not feel the close attention of the public – we all feel better there. We are not chased by paparazzi like this happens in Los Angeles or New York. And do you know what's funny? My daughter loves the attention and camera flashes. Her mother still has willies before going on stage, and this teenager feels like a fish in the water in front of audience. Maybe she got it from her grandmother?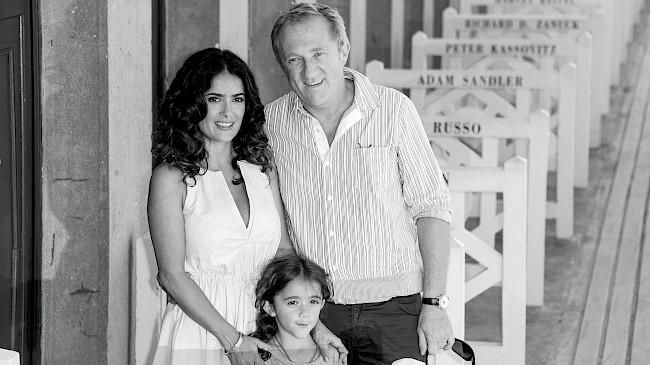 You recently played in the film with Javier Bardem. Was this your first experience with him in cinema?
I always believed that if you want to pick a fight with a friend, then you should either borrow a large amount of money from him, or play in the movie together. Javier is almost a relative to me, he is a friend of my best friend. And in the film "The Roads Not Taken" we had to not only stand together in front of the camera, but also portray a love couple with a tragic fate. Penelope, escorting us to the shooting, delivered her judgment: "It is not going to work!". And I myself had no idea how to focus on work when a person reminding of real life, friends, family stands nearby? However, as soon as we were on the set, Salma and Javier magically disappeared and only Dolores and Leo – the heroes of the movie – and their tragedy remained.

You are one of those who "provoked" the rise in popularity of Latin Americans in Hollywood...
And believe me, it wasn't easy! I got to Hollywood thanks to another director of Latin American origin – Robert Rodriguez, who once a very long time ago treated me as a member of his family, became my friend and teacher. At that time, studios were running everything in Hollywood. I remember how Hollywood bosses immediately made it clear to me that I was born "in the wrong country". Some said just like that: "You will never become a movie star with such a terrible accent that only the maids and cleaners speak". I was full of rage, I often tried to change something, but I failed during those years. In order to win the American audience, I had to create the image of a sexy Latino woman. At the same time, I wanted my heroines to also have brains, but the bosses insisted: "A woman should not be too smart!". Then I decided to add some humor, but I was objected again: "You cannot be smarter than men." Okay, I thought I'd give my heroines some humanity. I put in my image all the best that I was allowed at that time.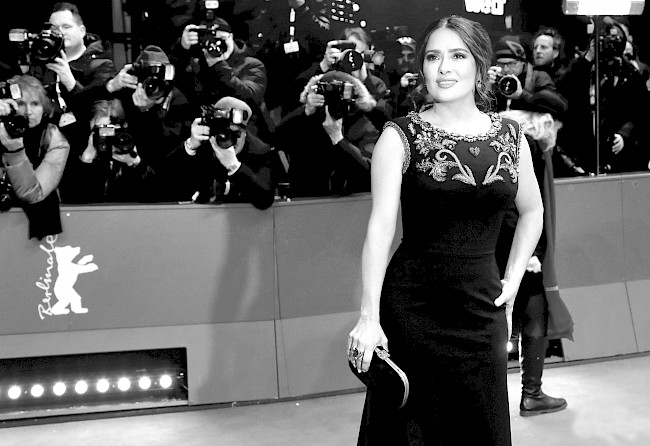 How do you feel about the fact that there is constant gossip going around movie stars?
Because of my origin I got used to different conjectures about me. People always found what to judge me for: my origin, accent, skin color or even for the fact that I married a successful and rich person... So I decided long ago: let all gossips remain on conscience of those who spread them. Many years later, when I turned 50, directors unexpectedly began to offer the roles which became the best in my artistic life. Most Hollywood actresses already in their 40s did not even dare to dream of such roles! Ironically today I appear in front of the cameras more often than before when I so diligently created an image of the sexy Latin American. Isn't that a miracle? My reality completely contradicts the usual fate of women in Hollywood... I was even invited to play a role in the movie by Chloé Zhao "The Eternals", I will play the main super heroine Ajak in it.

You came to Berlinale twice: in 1995, still a little-known actress, and 25 years later – as a superstar. Could you imagine back then, in the 95th, that such popularity would await you?
Even in the most daring dreams I could have not imagined anything like that! For the first time I arrived at the Berlinale with the film "Midaq Alley". Then I just opened for myself the world of cinema and life in general. I never participated in event of such scale before. I remember coming up on a red carpet... My heart was ready to jump out of my breast from excitement, I felt as if publicly naked! And here I was in the hall among thousands of strangers ready in a few moments to examine each pore on my face! The lights went out in the hall. I was sitting, having clutched the armrests and shivering from anxiety. And then my name appeared on screen! I do not know if you will understand me... Huge white letters on a black background − name of my father, my family! This year I felt like I had a déjà vu: the same black screen reopened in front of me, and again − white on black − my name on it. I think even the movie theater was the same. Like there weren't those 25 years! I again felt like a young beginning actress, with great excitement waiting for the reaction of the audience...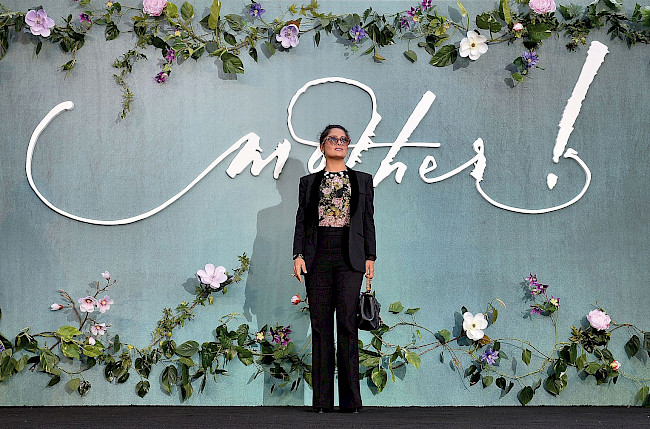 Meaningful name − "The Roads Not Taken "... Did you have in your life such roads which you todau regret not taking?
All the roads that I took led me to my beloved man and to the other greatest love of my life − my daughter Valentina, as well as to my career and the position that I hold now. However... there was one road I wanted to go, but my father decided for me. As a child, I really wanted to study at a sports boarding school. I had a beautiful family, but I wanted more independence, in addition, I loved sports and dreamed that my father would give me to a sports school, where gymnasts were trained for the Olympics. But he considered that it is better for the girl to stay at home, and not to waste time at the training camp, working day and night. So I was left without a sports career. But should I regret it today? After all, I like how my life has turned out! And when I remember my "not taken roads," I think: "I am so lucky that I did not do it then!". After all, I could be stuck in Mexico, playing in Latin American soap operas, could tie my fate with an unloved man and never meet my François-Henri.

How long have you been searching for your love?
I was alone for a long time. There are no guarantees that the love has to overtake necessarily everyone moreover in a certain time. I often had to notice sideway glances or to listen to silly questions like "Well how long you are going to live alone?" or "Have you already given up a thought of a marriage?". But I always held the opinion that it is better to be alone, rather than being in an unhappy or dependent relationships. If the partner does not suit you, and you stay with him, it only keeps you from meeting the one who may become your true destiny. Because of your own cowardice you can miss your true love.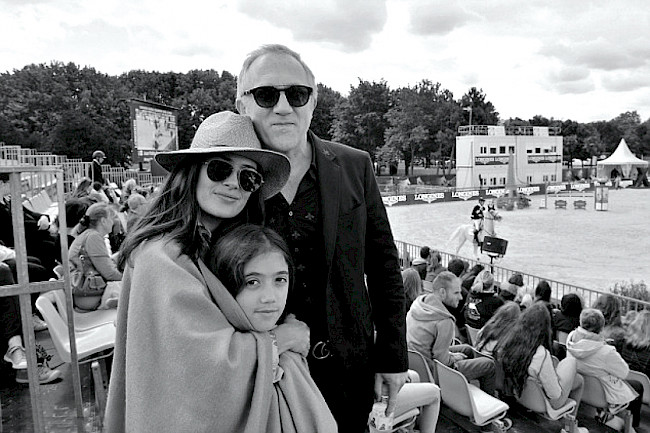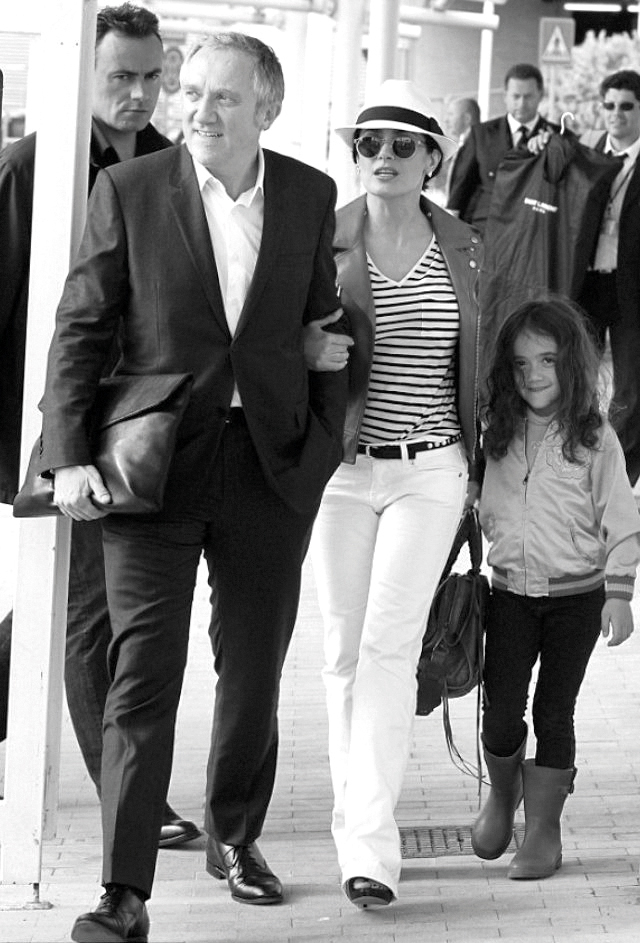 What, in your opinion, is a secret of success?
It seems to me, that you need to live less in illusion in order to not to be disappointed in your expectations, − better try to improve what you are blessed with from life. As one saying goes: "The wrong train can take you to the right station", − this is about me.

Last time we talked about the film "Tale of tales", you told that your daughter dreams to become a director. As we see, that dream is still relevant?
My daughter has so many talents that it is still hard for me to define on what she eventually will stop! I very much worry for her, because it often happens that when children show too many abilities at early age, in adulthood they do not succeed in anything. I do not want to think of something in advance, to set the goal for Valentina, to direct her in some certain way. I noticed one more pattern long ago: when parents decide for children what they should concentrate on, they lose interest for it right away. Fortunately, I never had to force my daughter to do anything. She undertakes everything independently, studies well and with huge pleasure! — N
*Interview published on the 72nd issue.