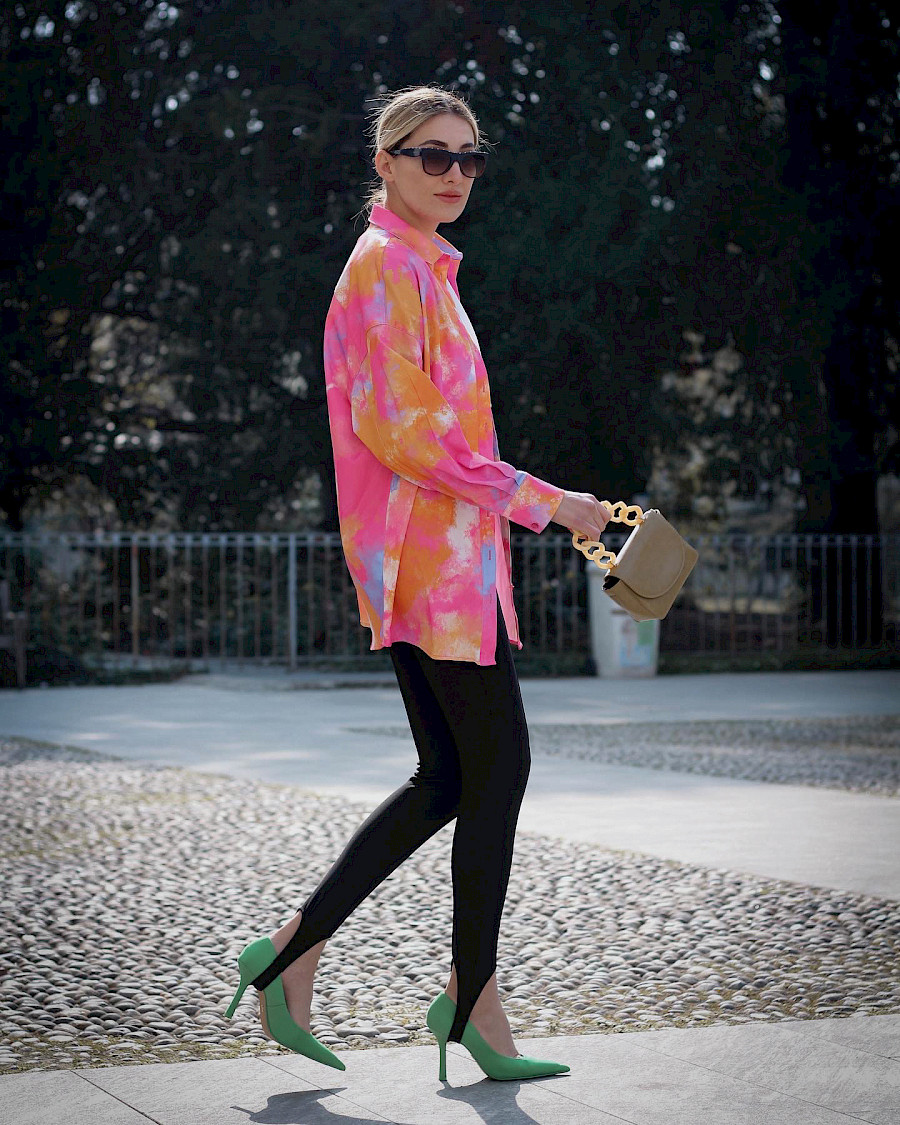 It seems impossible to travel, work, immerse into the virtual world of social media, and never have it negatively influence your private life. Yet Aygiz Rebelle quickly proved us wrong. Coming from a traditional background, Aygiz managed to build for herself a life full of adventures, fashion, and success. We spoke to Aygiz Rebelle about her journey as a fashion influencer and her
relationship with social media.
Tell me a bit about your life before your blog. How would you describe your work?
I was born in a small town where it was difficult to get
fashionable dresses, and I had to resort to some tricks. Even though I come from a traditional family, I have always had their support. I looked through a lot of magazines, fashion websites, and social media. After working as a journalist for a local TV company, I became active on Instagram and believed that it was something more than just a social
network. Even at the time, I organised photo shoots with friends. I began to immerse myself in the history of style and the fashion industry. Having studied the process of making belts and bags and living in Milan, the capital of haute
couture, I became fully involved in the world of fashion.
Currently, I have many collaborations with fashion houses, as well as create content and work as a consultant for young brands and designers.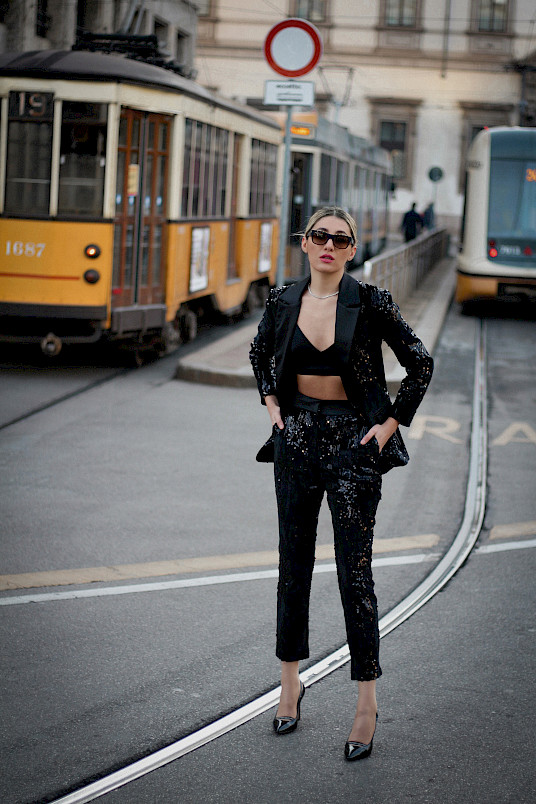 How did you start your path as an influencer?
Everything happened naturally. In fact, there were no plans or goals. At that time, I was studying at university where I used to arrive in different and unusual looks, experimenting with style and colours. I was never afraid to be different; on the contrary, I felt confident because, in this way, I expressed my inner world, despite the environment that made me look strange. It was my best friend who encouraged me to start blogging, at the time, it was BlogSpot, 2012. We opened a blog, learned how to use it, and started sharing our photos. I liked making content for the blog, coming up with images in advance, and choosing accessories. At that time, social media was not popular and did not have the accessibility that it has now. Therefore, I took inspiration from my head, came up with ideas and stories, and all this was embodied in my image. I accumulated enough subscribers, and most of them moved to Instagram. We are still friends with some of them from different parts of the world. It unites and inspires.
Were you always interested in fashion?
Absolutely yes! As a little girl, I always loved to read fashion magazines, and play with clothes, bags, and accessories. When it became possible, I started to delve deeper into it. Clothes and dresses for me are not a way to spend money, but a way to show myself. It's art, it's a play of color and light and a lot of endorphins.

What is your first fashion encounter?
My style is related to my inner world, how I feel and how I see the world. My encounter with fashion was influenced by fashion magazines, in
particular VOGUE, when there were no social networks.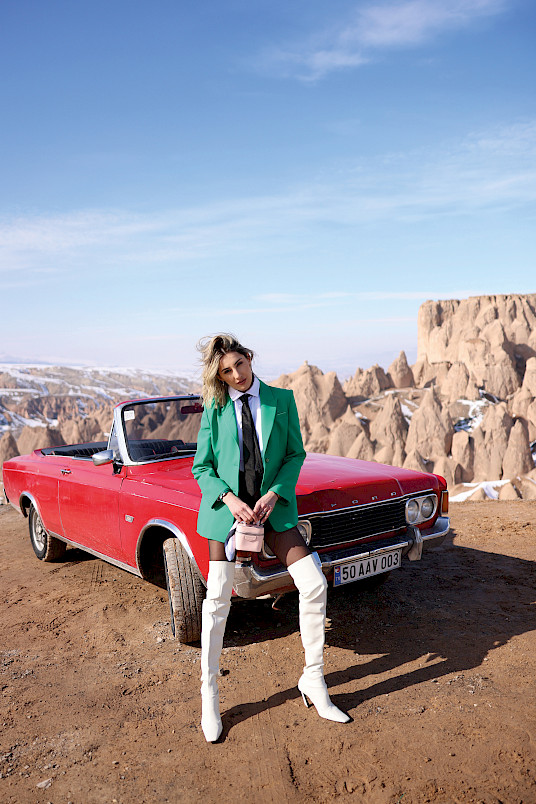 How would you define your style?
Classic, bold, and casual. I would say that my style has character. It is important for me to feel comfortable and find confidence in clothes. I have plenty of masculine elements in my wardrobe: oversized jackets, and shirts in shades of grey, black, and white. But with the advent of the pandemic, a lot of bright items started to appear in my wardrobe too.

Do you have a fashion muse or someone who inspires you?
Katharine Hepburn's style is my perfect inspiration.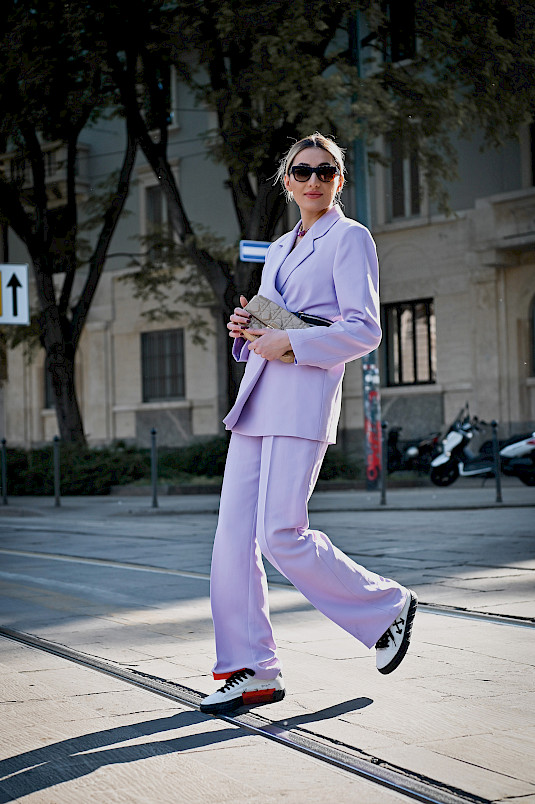 Did you ever want to have a fashion line of your own?
Before the pandemic, I had plans to create my own brand and even began to take the first steps. I made a plan, drew some sketches, and looked for the best manufacturers. Unfortunately, COVID-19 changed my plans. However, I believe that everything that is not done is for a reason and that the best time to launch my fashion brand will arrive. For now, it will stay as my little dream.

You travel a lot. Which of the places you've visited so far is your
favorite and why?
I do travel a lot. I like to study the history of countries, their culture,
customs, and different cuisines. I have many favourite places in every trip. I discover a corner I love where I'd like to return. If I start making a list, then there will not be enough pages. But I can reveal with pleasure the place which is the source of my inspiration: the city of Florence. For me, as an art lover, this is an open-air museum where most of the cultural heritage is concentrated: Leonardo da Vinci, Michelangelo, Dante, Galileo.
How do you manage to resist beauty standards imposed by social media?
In the beauty industry, I always try to listen to myself. It's really hard not to follow trends in both beauty and fashion. But it is important to always be yourself, this is also part of your style. I'm always for natural makeup, but I like to experiment with hairstyles.

Where do you find inspiration for your blog?
I am inspired by beauty in everything, my environment, and my love of creativity. My blog is now more about fashion, travel, events, and art. I share not only my impressions, but also my interests.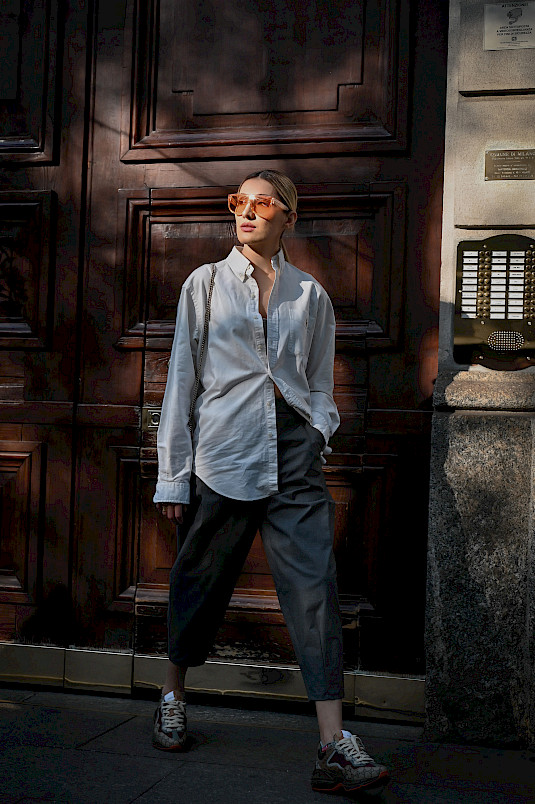 You put great focus and detail into images on your website blogs. What do you think is more important today: visual elements or text?
It's true, I believe that the visual element is now as important as the text in the blog. Especially if it's a site related to beauty. Any creativity should inspire, and the reader should be pleased to look at the visual side, as well as to stay and continue reading the articles. I treat this work with
trepidation, carefully choosing photos for each article. Aesthetics are important to me.

How much time in a day do you spend on your blog?
A lot, since it's my job, as well as my favourite activity. I study news for the site, prepare materials, write texts for articles. Instagram is a pleasant pastime for me, creating content and sharing my day with followers who have almost become a part of my family.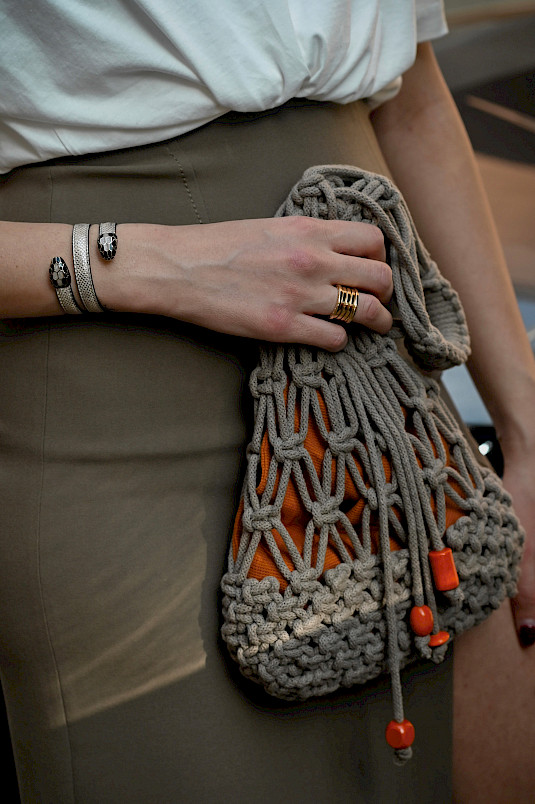 Do you consider your work more emotionally or physically draining?
Neither. My work motivates me and gives me the strength to become a better person. I meet interesting people, designers, and creators. I get wonderful opportunity to be one of the first to see new collections by fashion brands. Therefore, I get to grow in the industry that once seemed to be a dream for me.

Were there any hardships you faced on your
journey as a blogger to date?
Of course, many and I still face various challenges throughout the blogging journey. It makes the work all the more interesting and exciting.

How do you balance virtual life with your real life so that it doesn't affect your relationship with loved ones?
I am one of those people for whom family and loved ones are the most important part of life. I spend as much time as possible with them, it's so precious. Virtual life is a part of my life too and is work itself. Fortunately, it never had a negative effect. The most enjoyable time is the time spent with loved ones.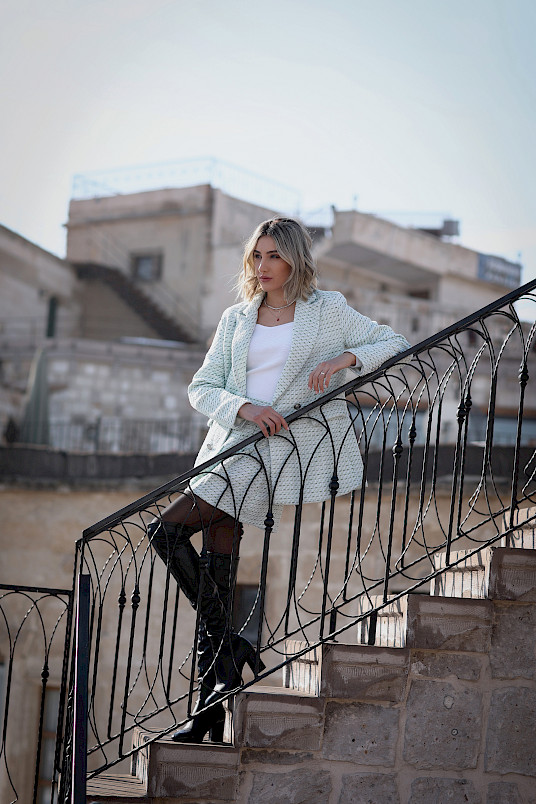 What path would you like to pursue in the future?
I plan to attend fashion weeks in New York,
London, and Paris. I want to focus more on this.

Are there any mistakes or decisions that you wish you didn't make while starting out on your
journey?
Oh, sure. I'm human and I make mistakes too, and that's okay. I made wrong decisions, perhaps
trusted people who shouldn't have been trusted, and allowed myself to be used without realising it. The main part is to learn a lesson from these mistakes and understand why they happened.

What ultimate goal would you like to achieve with your blog?
To keep working hard, as a result will always lead to new achievements.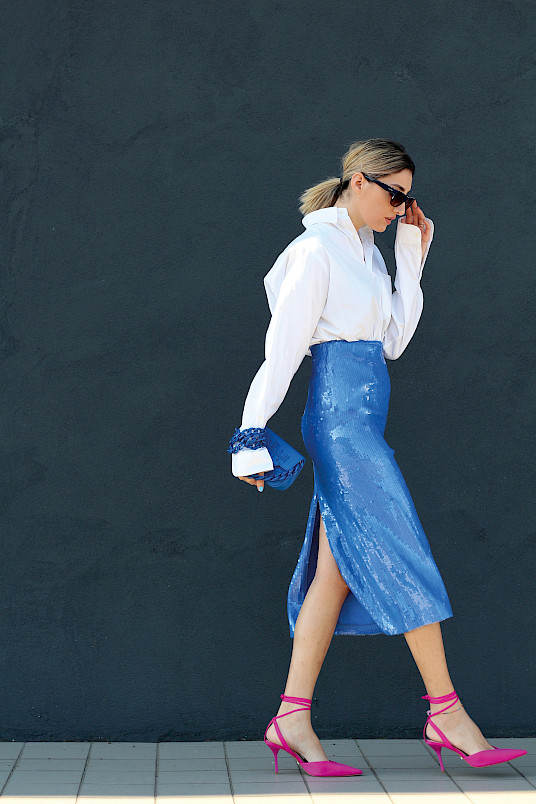 Do you prioritise success or personal
development?
That's a very interesting question, I'll be happy to answer it. I never set myself the goal of being
successful. As Henry Thoreau said: "Success
usually comes to those who are too busy to be looking for it." I work very hard for my personal growth and its development, I believe that without a goal and interests, there is no activity and life.

What is your greatest accomplishment?
My family is my biggest achievement. When I look back on my career, I am proud that no matter what, my family is always with me. This is the greatest achievement anyone can have. This support is invaluable. Of course, I am also happy to work with world-famous fashion houses. To be able to watch fashion shows, attend private events, be among guests such as Rita Ora, Sharon Stone and Kylie Minogue.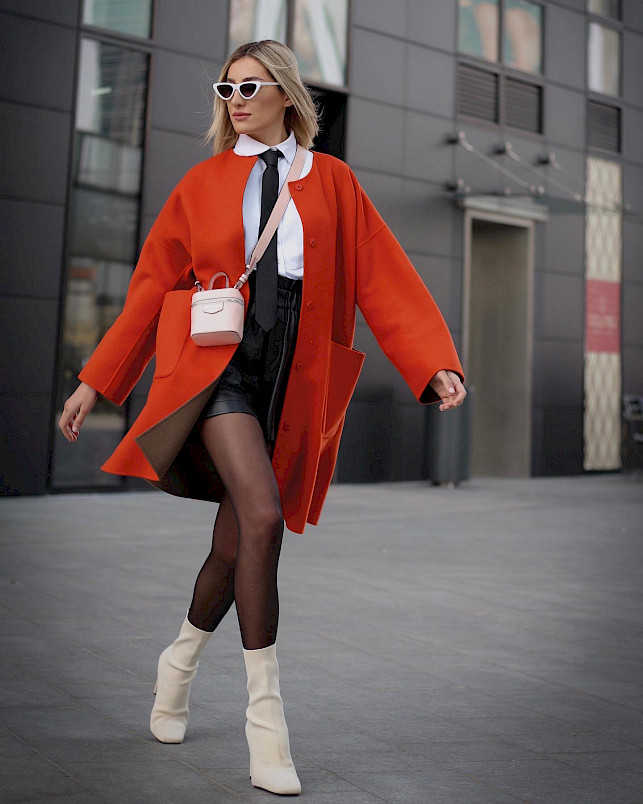 Blitz:

What are your favourite fashion brand?
Fendi, Raf Simons, Gucci

What is the one thing you couldn't live without?
Music

Which movie you can always rewatch?
Titanic

What three bloggers will you never unfollow?
Giovanna Engelbert, Yoyo Cao, Olivia Palermo