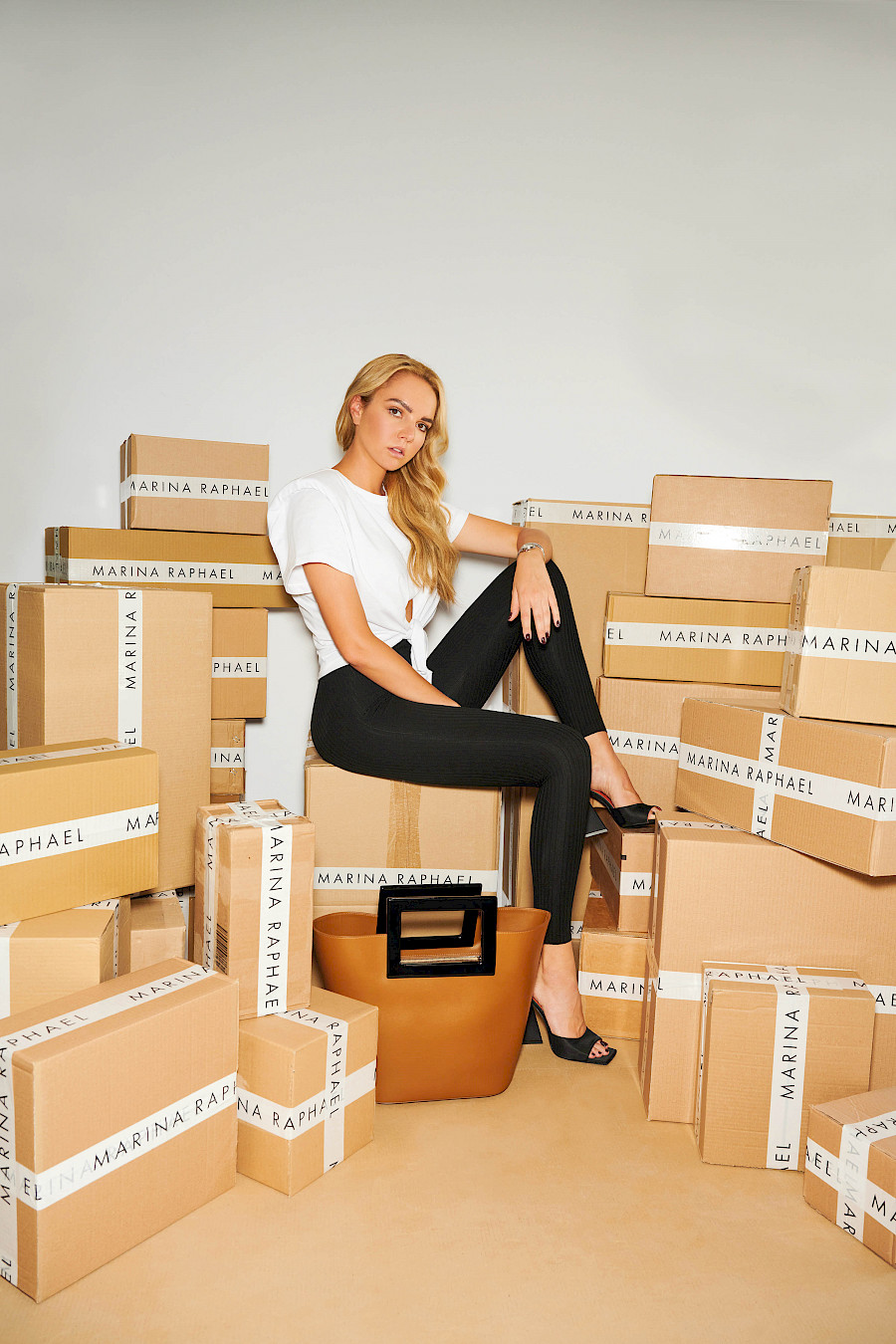 Meet Marina Raphael, 24, a descendant of Daniel Swarovski, designer and eco-activist. In 2008, she founded an eponymous bag brand, to the taste of world celebrities. In an interview with NARGIS, she spoke about the path of development of her brand, environmental collaborations, personal values and inspiring landscapes of native Greece.

What unites you as a person with your brand?
In everything I did, I invariably sought to put my enthusiasm and passion for sophistication, modern and yet timeless design. It's no wonder my brand philosophy shares values with me as a person. Coming from a family famous in the crystal industry, I introduce the same professionalism in my brand as my famous ancestor Daniel Swarovski. I, like him, apply the principle of "quality over quantity." Ultimately, I strive to show fortitude, positivity and creative beginnings in all our pieces, to broadcast confidence and elegance to everyone who chooses Marina Raphael products.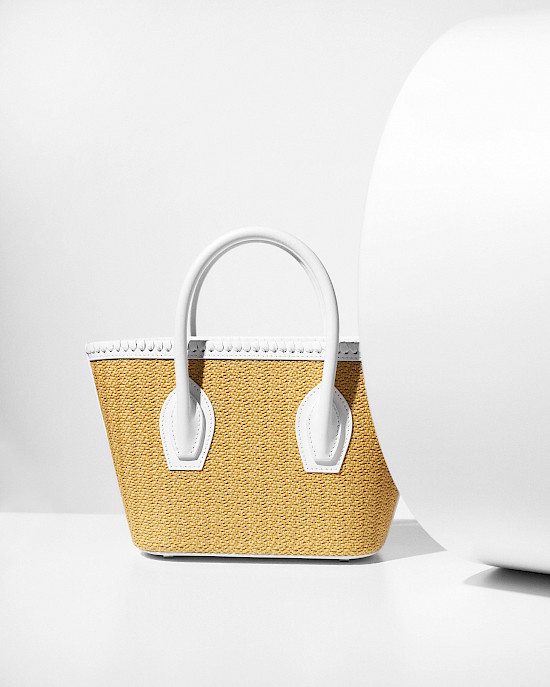 The handbag is an important accessory. How did your brand history start? And why the bags?
The path of the handbag designer that I chose was not always clear to me myself. As a teenager, I was engaged in organizing events, I still love doing it to this day. But studying management at King's College in London, I was looking for a more reliable way to combine my creative nature and love of business. At the same time, it was important for me to do something inclusive, in demand. As a result, I decided to develop and produce bags - after all, this is a key wardrobe item that gives the simplest image confidence and the necessary practicality.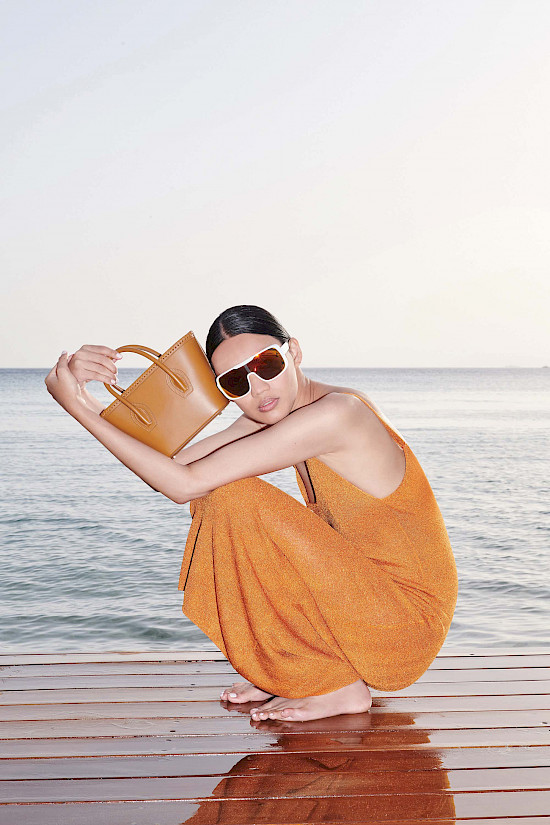 You are closely related to Greece. Must be that the sunny atmosphere of Hellas somehow reflects on your brand, and indeed on the creative process?
True, I was born in Greece, where I still live; it is also the headquarters of the Marina Raphael brand. I love my homeland very much, I can't imagine myself somewhere else! I have always admired that I grew up in a country with such a rich history and beautiful landscapes. I think I was very lucky to call this place my home! Crystal clear blue waters, breathtaking beaches and other scenic spots make this country the perfect inspiration... But still, what I like most about Greece is the people and the way they value hospitality; I try to bring this element to all my projects. I strive to create practical, high-quality pieces that meet human needs and eternal principles of aesthetics.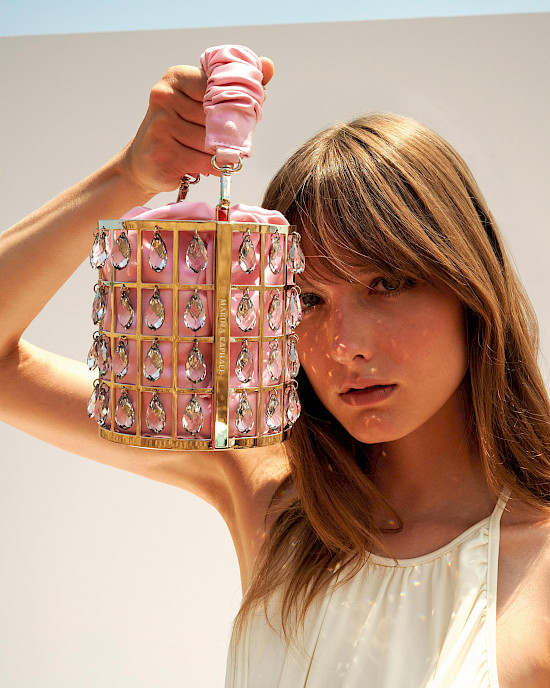 What surprises did you encounter and how did they affect your brand?
It is difficult for young designers to compete with other unique brands, and with well-established fashion houses. One of the biggest challenges I had to face was that shops and the press doubted my professionalism because of my young age. But thanks to the hard work, dedication and perseverance of my team, we quickly managed to show our capabilities. Personally, I think this: the advantages of a young designer are constant growth and the ability to expand the boundaries of traditional fashion. The tremendous support and love of so many wonderful people around the world fuels my creativity, supports in me the desire to overcome any obstacles and continue to do what I love. After all, when following your dream, it is always very important not to lose hope and motivation.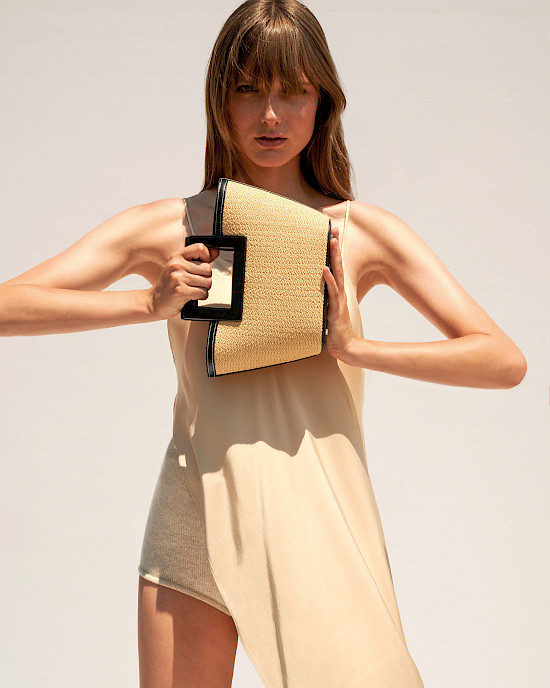 What are the key values of your brand and why did you choose them?
In my opinion, the most important value for a luxury brand is the skill behind every creation. We take the time to create and improve each product, each seam on all Marina Raphael models is made in accordance with the most stringent standards. All our products are created in Ponte Vecchio by experienced craftsmen who honor their leather traditions. With this we also support the local family business. Finally, Marina Raphael bags, moving away from short-term trends, combine durability, practicality and modern aesthetics to allow them to be worn throughout the season.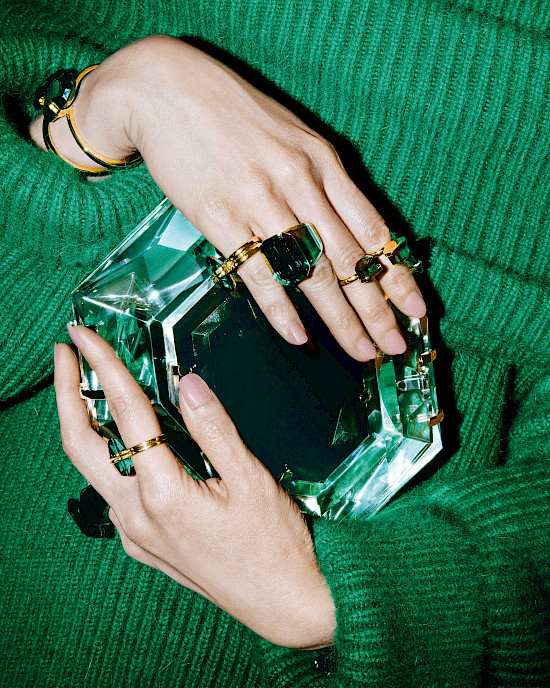 How does your brand adhere to sustainability? Is this a trend or a path to rational consumption and recovery of the planet?
I believe that sustainable fashion is not just a trend, but an important step towards the future. Sustainability has always been one of the main values of Marina Raphael, we are steadily adhering to global environmental standards, exploring new ways to improve the production process. From the very beginning, we tried to introduce innovative methods on the principle of Near-0-Waste: recycling and reuse of materials, tanning a small amount of leather, etc. Moreover, our mission is to create objects that stand the test of time and will be passed down from generation to generation.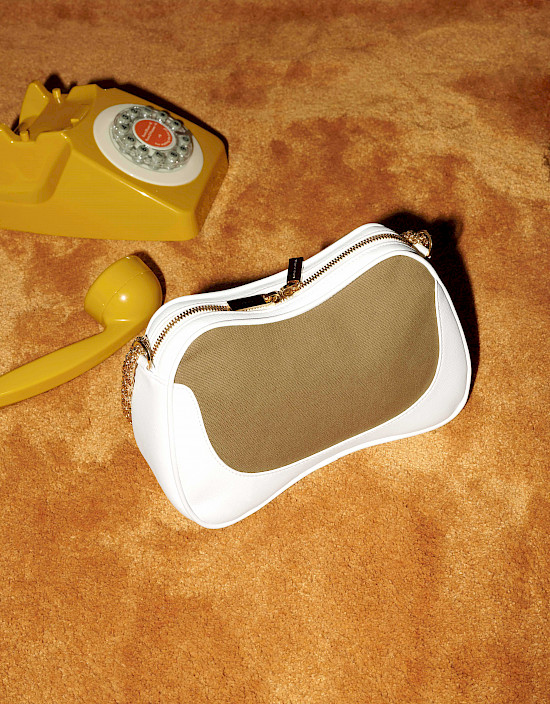 Collaborations are now very popular in the fashion industry, and you are actively introducing them into the history of your brand. Tell us about the three most loved ones.
At Marina Raphael, we believe it's important to have a positive impact and breathe life into objects of art that can be worn. We cooperate with many partners who share our aesthetics and expanding creative boundaries, create limited collections with them. One of the most successful joint projects was a collaboration with Evangelie Smyrniotaki, when we created a bag with more than 5,000 Swarovski crystals. Next, working alongside Swarovski creative director Giovanna Engelbert, I designed a set of eclectic handbags that resemble jewelry. Each of the three designs combines Swarovski traditions with cutting-edge craftsmanship, which allows you to carry a real jewel with you. Finally, sharing a common vision of sustainable fashion with eco-development consultant Doina Ciobanu, we created three exquisite handmade bags, made entirely from vegan leather and a blend of organic and recycled cotton. Unlike most vegan leather, which is usually made from plastic, for our bags we use unique leather derived from leftovers from industrial apple processing.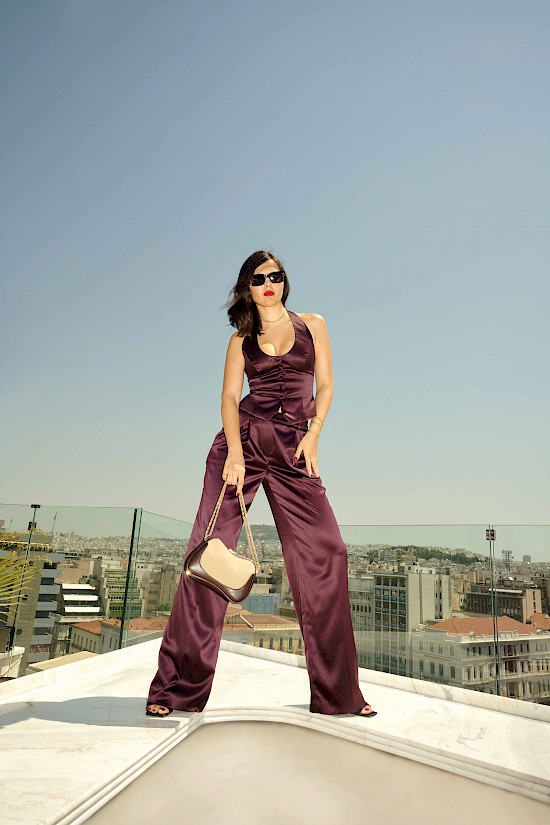 Your brand is known among celebrities and Instagram bloggers. What does this mean for you personally?
Of course, this is a significant achievement. It's a great joy to see people wear my models and make them truly theirs. I am flattered by love and support of such powerful and wonderful people. Our bags were worn by Ashley Benson, Jessica Alba and Kat Graham, supermodels Irina Shayk, Candice Swanepoel and Isabelle Goulard, singer Rita Ora, influencers Chiara Ferragni and Camila Coelho, fashion icons Olivia Palermo, Giovanna Engelbert and Paris Hilton, even Queen Máxima of the Netherlands... I am grateful to fate that my handbags are carried by people I have always looked up to for their confidence and impeccable style.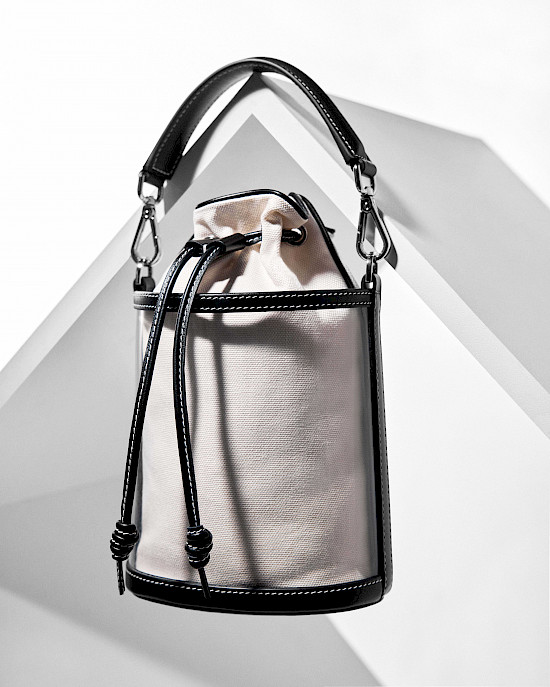 Let's keep talking about trends. Digital fashion is becoming more and more popular and demanded. Do you have any plans or thoughts on this matter? What do you think is the future of fashion?
Yes, virtual catwalks and NFTs are becoming increasingly popular, and there's no denying that digital fashion plays an important role. But I see the future of fashion in another - in its sustainability. We have been seeing for many years: customers want to learn more about the environmental aspects of our brand, as they move away from the fast fashion segment, preferring classic and versatile things. In 2020, it became clear how important it is to reconsider the essence of fashion in these difficult times. During a period of prolonged isolation, instability, social restrictions, clients more than ever sought high-quality and timeless design. That is why Marina Raphael, through sustainability, shows respect for the planet and humanity.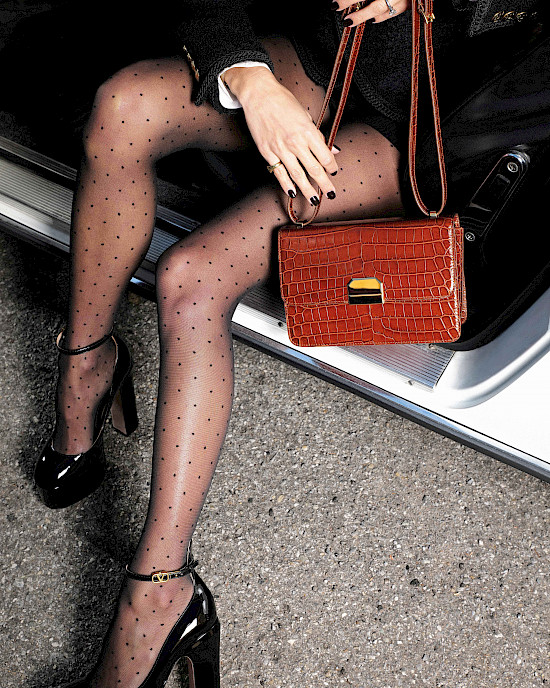 And finally: what kind of bag do you have yourself and what do you carry in it?
Since I spend most of my time doing business, I chose the practical Mini Riviera for myself. She copes with all my daily needs and transforms even the simplest outfit. Some things in my bag help get through a busy day: it's a light day cream with SPF, refreshing perfume in a compact bottle, moisturizing balm for lips, as well as headphones and a small power bank, because my phone is constantly out of charge!