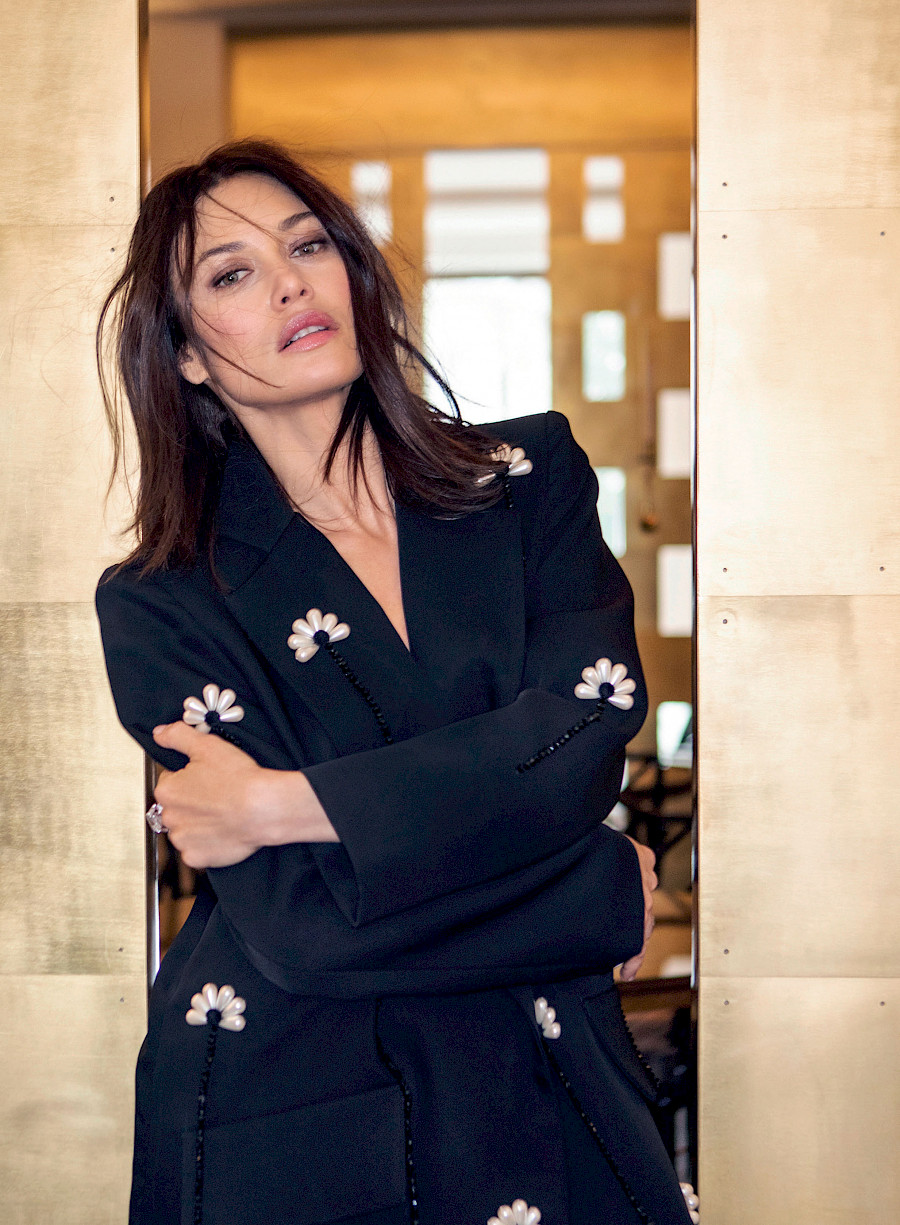 She is great in any role – tragic, comedy, dramatic. Here she runs with messy hair down the field and with enchanting smile, makes Ben Affleck's hero chase her in the film "To the Wonder". And in another movie she shoots with a rifle without blinking and, virtuously braking after a breathtaking turn, with a metal voice commands the agent 007 himself: "Sit down!". She is always different, but invariably real, sincere. The star destiny of Olga Kurylenko sounds like a fairytale: poor childhood in the county level Ukrainian town Berdyansk, at the age of 13 a fateful encounter in the subway with a model headhunter, a contract with the Madison agency in Paris in 16, covers of a world gloss editions in 18, the main roles without casting in films of the best directors with first rank stars... What else this beauty can dream of, who according to a survey by Sleep Cupid company, was recognized as the most attractive and desirable woman for European men?

When you were little, you did music and ballet. And did you dream, like many girls, of becoming famous, shining on stage? In fact, what did you want to be when you were a kid?
When I was little, I didn't dream about the scene at all, on the contrary, I was afraid of it. I remember making the decision to take acting courses, only to get rid of my shyness. I was a very timid girl, I found it difficult. I've always wanted to be a doctor like my grandmother. I remember reading the medicine books she kept at home...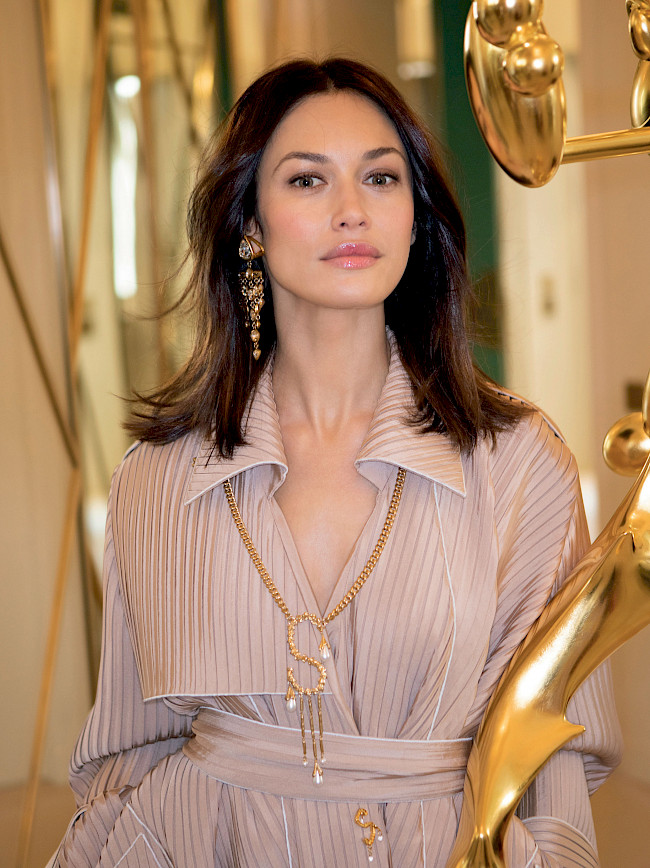 ​​​
Why do you think some people manage to turn their dreams into reality, while the dreams of others remain unfulfilled?
I don't believe the dream is so easy to turn into reality. Anyway, I've never had something like this. I didn't become famous in one night. It is the result of many years of self-work, incredible diligence, because I also have met different obstacles on my way. I studied languages, then I took acting lessons, then I tried myself at auditions. And so it lasted for a while – I chased to my goal, because I got my first serious roles in serious films. I never stood still. Always was engaged in something. Studied. Tried new things. Worked on myself. I never stopped or relaxed. And if a person's dreams remain something unrealistic, then he is just a dreamer and expects that everything will fall to him from the sky. There are some of those people among my friends, who never succeeded. Because you have to take action! And by no means sit still waiting for a miracle.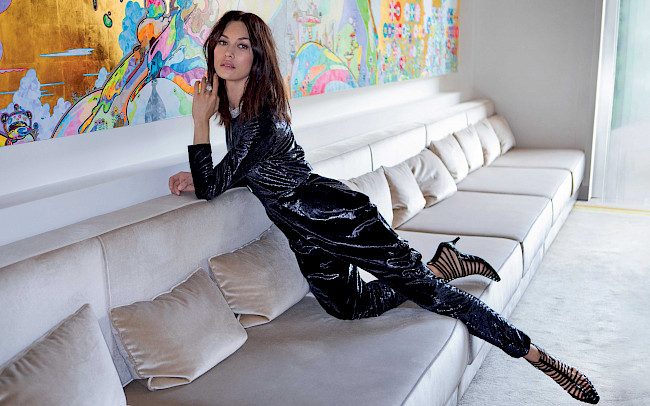 At the age of 16, you received an invitation from the Paris model agency, left your home and went to conquer the world podium. How was the adaptation of an ordinary girl from Ukraine to life in fancy, developed Europe?
At first I was overwhelmed with emotions! Every free minute I roamed Paris and discovered something new for myself. There was no time to miss my home. It wasn't until six months later that I started longing for home and family. And from that very moment on, it was getting harder for me to be in Paris. I went through a very busy time – I was all alone. And the deeper I fell into my loneliness, the harder it was to go out and communicate with people. I became unsociable. But all this time I didn't stop reading, writing and improving my French. And now, looking back, I can say with confidence that although it was a difficult period for me, that's when I was self-developing as effectively as possible, which allowed me to become the person you see.

By the age of eighteen you have been on the covers of the biggest glossy editions, and became the face of famous brands. How did you manage not to be star-struck and cope with all this fame at such a young age?
I didn't consider myself famous. And I still don't. I suppose fame is more of a state of personality: you're either in it or you're not. Personally, I believe that I am unable to feel famous at all. For me, it's just a job, and honestly, at times I was even embarrassed by my fame, especially when people started talking about it in my presence.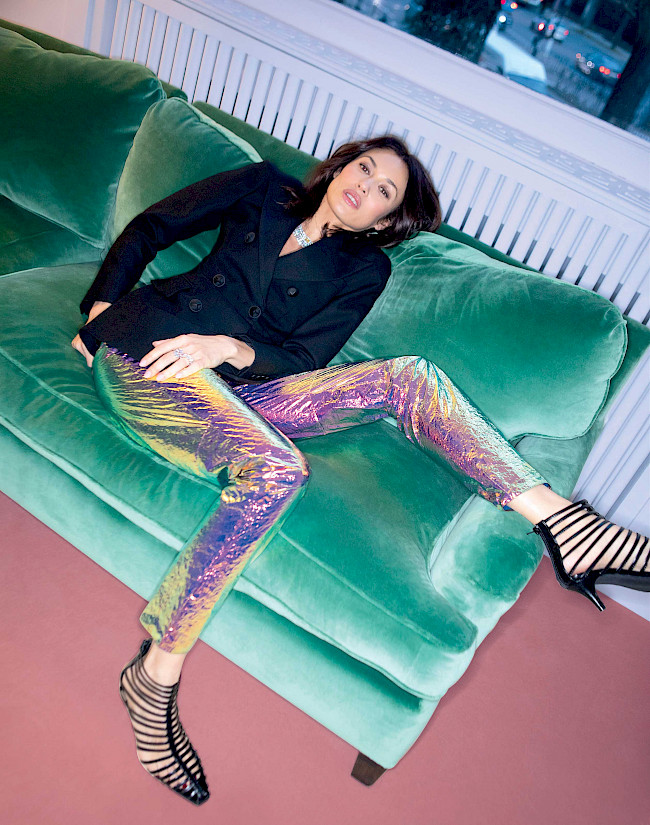 Your horoscope sign is Scorpio. You've probably read about the qualities of people with this sign. And which ones do you have?
Yeah, I read about it online. Perhaps, like all Scorpios, I am full of enthusiasm, I have good intuition and can empathize. But I can't agree with everything it says. Some of the character features described in the horoscope does not match at all.

Today you are a demanded actress. How do you prioritize life, given such a turbulent career?
All my life I put work and career above all else, which is what I always wanted to do. It may be strange to hear it from a woman, but I never dreamed of getting married and having a family, even as a child. For me, the idea that I might never have my own family was normal, I was quite satisfied with it. The desire to become a wife and mother came to me only in 2012, when I began dating a man who already had a daughter. I became some kind of a stepmother to her. Our communication became an unusual experience for me: I was surprised that I was able to enjoy taking care of someone while still giving my unconditional love! That's when I realized I was ready and wanted to have my own baby. As time went, personal life began to take more place in my life, the family continues to absorb me more and more. Although I finally got into this role only after 36 years, I must confess, combining work and family is not easy for me.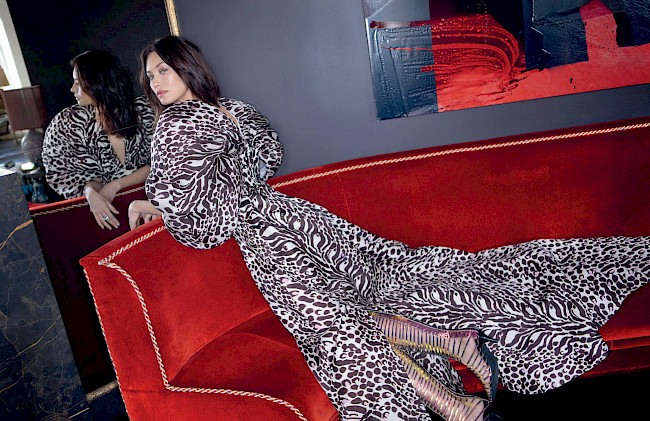 You act in both European and Hollywood movies. Please tell us what, in your opinion, is the difference between these two industries. Which one is closer to you?
I'm close to both, but they're completely different. Europeans, probably, are not as demanding by nature as Americans. And I like their ease more. European camera crews are always smaller, you feel like a part of a small family in them. But at the same time, I love working with Americans. They always have very bright projects, interesting ideas. And they know exactly how to embody them on the screen.

There are both blockbuster and art house in your filmography. What role was the hardest for you to play? Which one became the most favorite?
Difficult question, of course... I've been in a lot of movies. But if I still get to choose from all this diversity, I would say that my favorite was the role of Marina from the movie "To the Wonder". I enjoyed working with Terrence Malick. And the most difficult one was Amy's role in "Two in the Universe", it devastated me emotionally: almost every day I had to cry on camera or play the character's condition when she was about to cry. This period just peaked in the beginning of my pregnancy, which, as you understand, didn't make the task any easier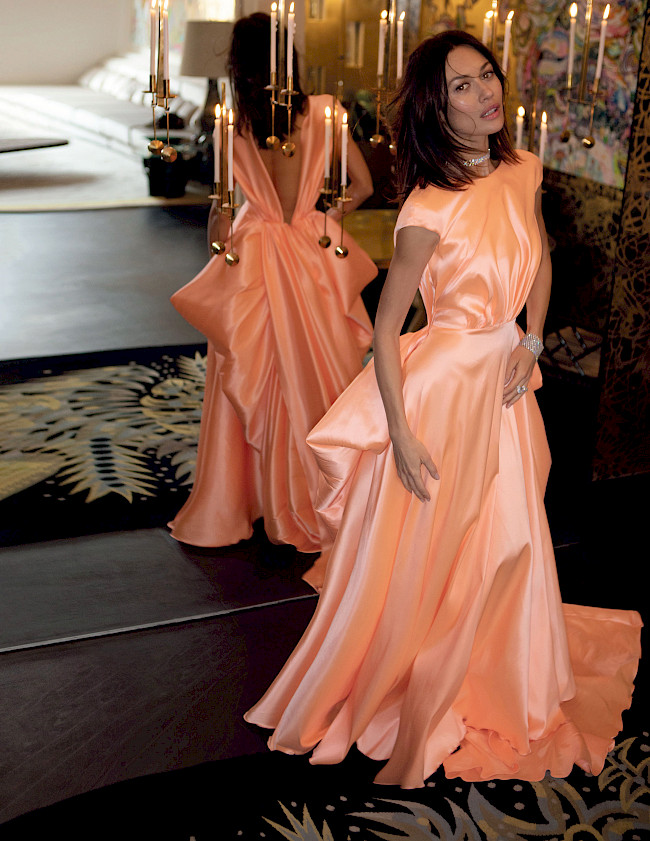 Thanks to your roles, you have gained a reputation of self-confident heartbreaker. And do you fall in love easily in real life? How can a man get your attention?
Really? I never thought I had such reputation! Definitely, I'm not the one to fall in love easily. It's difficult for me to do. It takes time to fall in love. I need to get to know a person closer. And in men I am attracted to a sense of humor, openness, respect and love for other people and for life, the ability not to judge people.

Do you improvise in acting? Can you easily step away from the lines or you strictly follow the script during shooting?
I'm one of the most unpredictable actresses I know. I'm not just saying that from myself, that's what a lot of people think. I am always open to discussion, proposals, always ready to change my point of view if I get strong arguments. And I like to try new things. Improvising is great!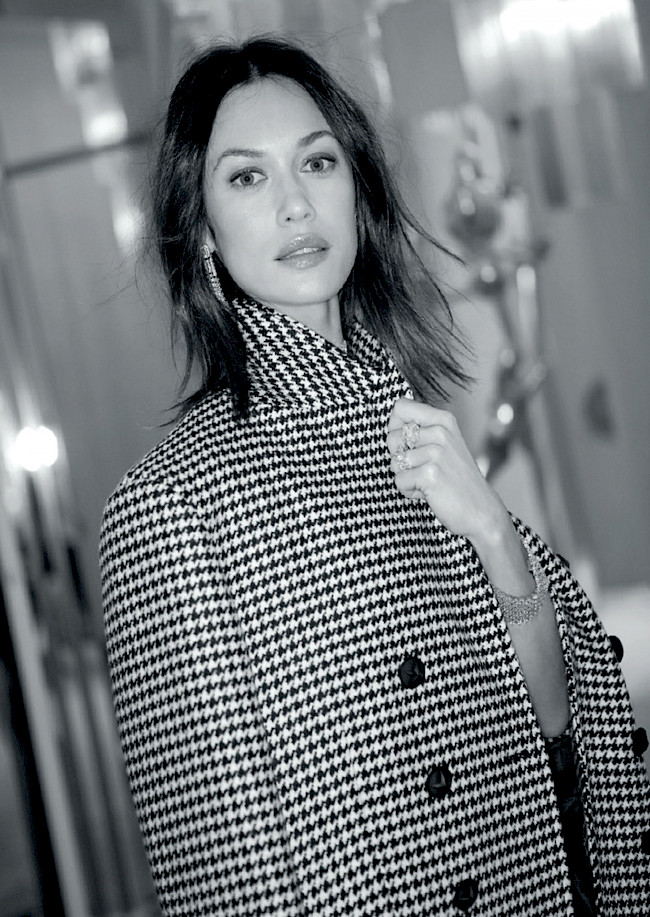 In the film "The Room", you also had a psychologically difficult role of an unhappy woman. How deeply did you dive into it, how did you come out of such an emotionally over-saturated role?
I sink into the role as deeply as it is needed and as much as my consciousness allows. Having transformed into my hero, I truly worry about her feelings. And it's easy for me to get out of the role, I can switch quickly. Besides, the more you work, the easier it is to get into and out of the role: this ability gradually improves, as if you train a muscle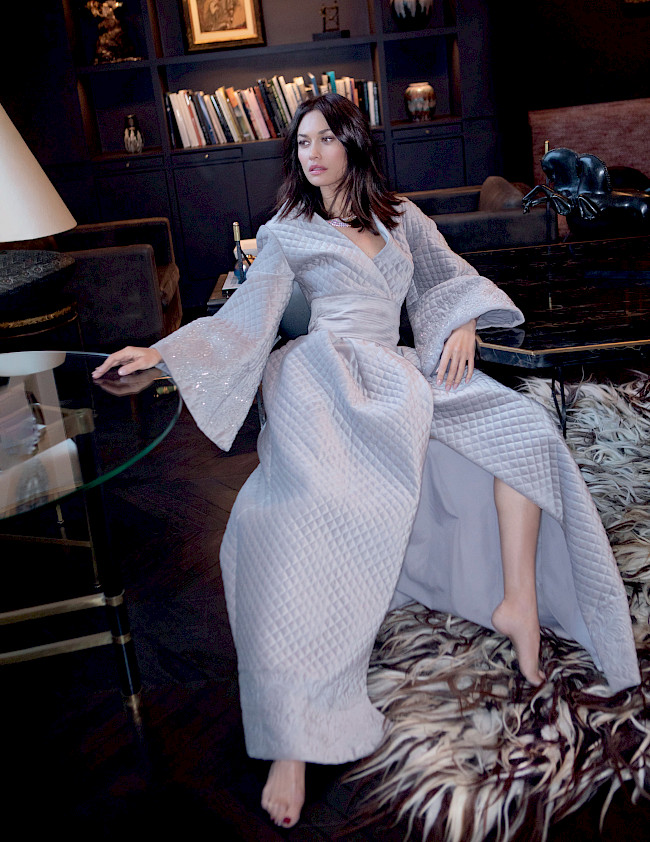 In our times many actors are interested in some psychological practices, yoga, diets, different sports. How do you manage to stay in perfect shape with such a busy schedule?
Unfortunately, I can't teach myself anything useful. I don't do yoga, I don't exercise. And I don't have diets, they're are not needed to me. I believe in a healthy nutrition and, if you stick to it, no diets will be needed. Although, I admit, sometimes slips the idea to possibly do some sports or yoga... Maybe I'll try something in the near future!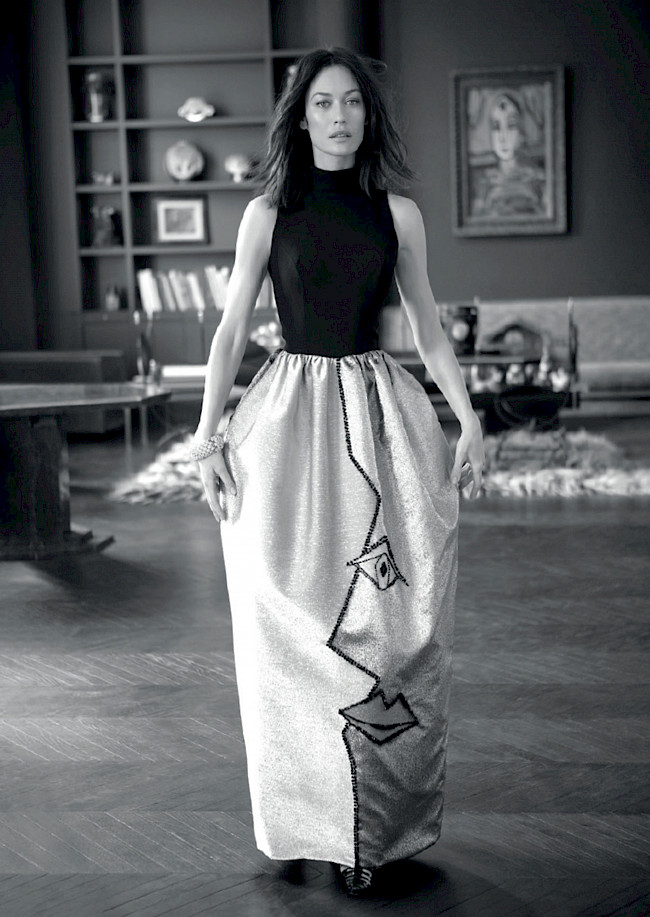 And last question. What is Olga Kurylenko dreaming of now?
Peace, tranquillity, nature... And I also dream of staying away from stress. – N
*Hair John Nollet
Hair master assistant Alex Lagardère Salon John Nollet Suite 101 – Park Hyatt Hotel 75001 – Paris Vendôme
Makeup Jolanta Credo @b-agency.com – Makeup by Guerlain
Manicure Adrienne @b-agency.com – Makeup by Guerlain
Photographer Assistants and post-production Kristina Wießner
Production Jean-Marc Mondelet
Set designer Keti Chkhikvadze
Special appreciation:
Ruth MALKA @KARIN MODELS David BOCQUET @B-Agency.com Tatiana Diaz Medina @John Nollet
*Material published on the 70th issue.