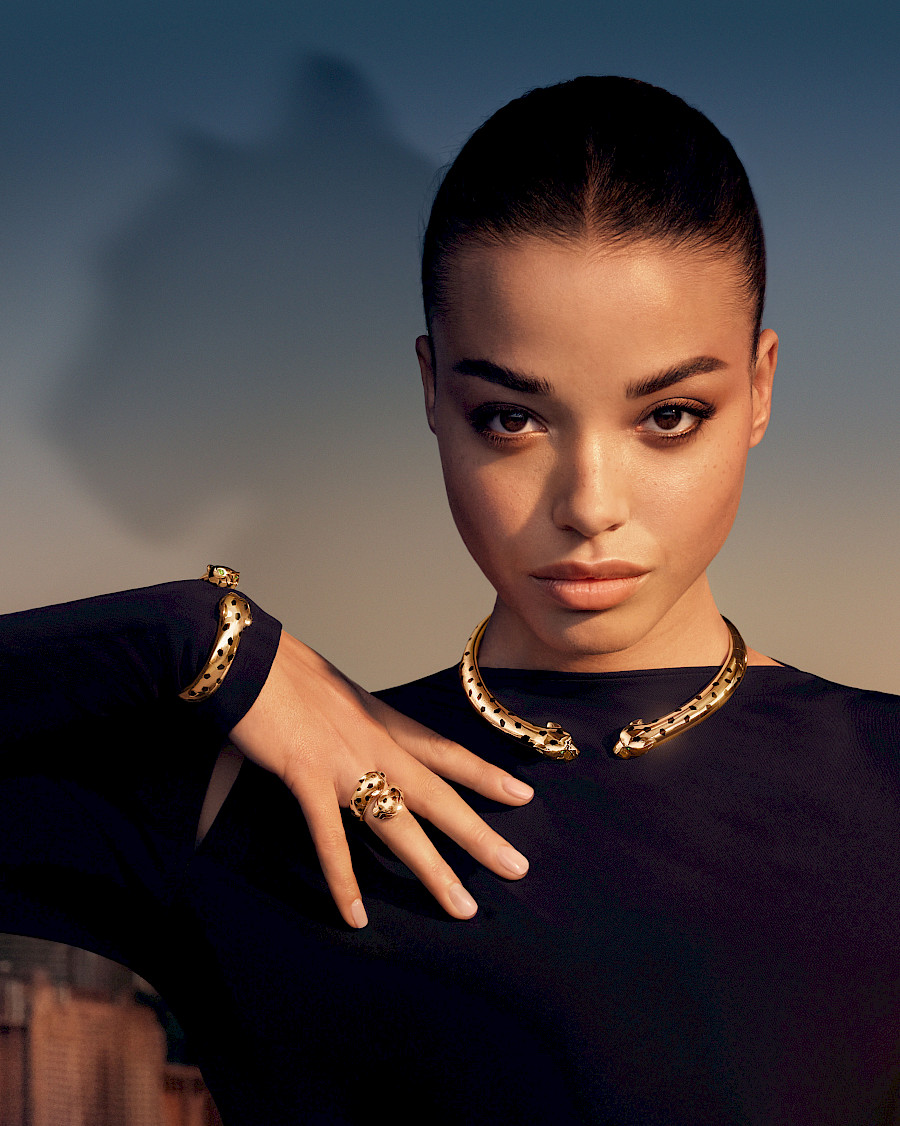 French jewellery house unveils six new La Panthère pieces - precious panther became even more cheeky and graceful.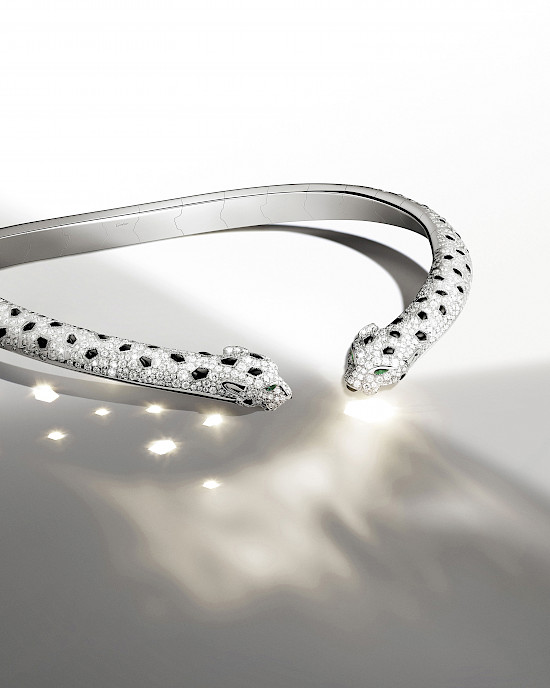 CARTIER Choker Necklace, Panthère Collection
White gold, emeralds, onyxes, diamonds
CARTIER bracelets, Panthère Collection
Yellow gold, varnish, tsavorites, onyx, white gold, emeralds, onyx, diamonds

It's hard to find an image in the jewellery world as recognisable as the Cartier panther. This wild cat combines grace, independent disposition and a soft, springy act. She's always ready to jump, and her chiseled muscles are covered in a luxurious spotted skin. In the artistic bestiary of Cartier, the panther settled more than a hundred years ago. The first images of her were abstract: in 1914, "predatory" black specks decorated a diamond wristwatch, and a year later, a pocket model. Only in 1917, an animal figure appeared on the Cartier product: the predator walked between two cypresses on the cover of a toilet bag made of onyx. The little piece was made on a special order by Louis Cartier for Jeanne Toussaint, who was conected with him not only with business relations, but also with tender feelings. For her wayward character and unique grace, she was nicknamed the panther. But Toussaint's main gift is her innate taste.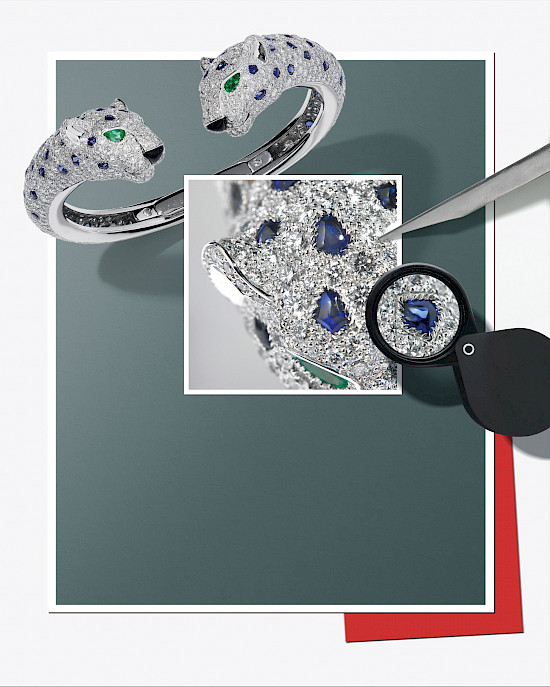 CARTIER bracelet, Panthère Collection
White gold, sapphires, emeralds, onyxes, diamonds
It was she who elevated the panther to the rank of Cartier icon. Having received the position of artistic director of the house in the 1930s, Jeanne began to make sculptural decorations in the form of panther figures. For the Duchess of Windsor in 1949, a platinum brooch was made with a panther sitting on a huge blue sapphire cabochon weighing 152.35 carats. In the same year, Daisy Fellowes ordered a brooch with sapphires and diamonds in the form of a panther hanging from a gold ribbon in the manner of the Order of the Golden Fleece. In 1952, Wallis Simpson ordered another decoration with a wild cat - in the form of a flexible bracelet, softly fitting the wrist. Apparently, it was this thing that became one of the first articulated, i.e. flexible, Cartier jewelry. Nina Dyer was a big fan of precious panthers; in 1958, her husband, Prince Sadruddin Agha Khan, presented her the first open Cartier bracelet with two predatory heads and a sculpted transformer brooch that could be worn as a pearl necklace pendant. The panther on her was like living - her head was turning and her dangling paws and tail were flexible. The two-headed spotted platinum bracelet was also worn by extravagant Mexican actress Maria Felix.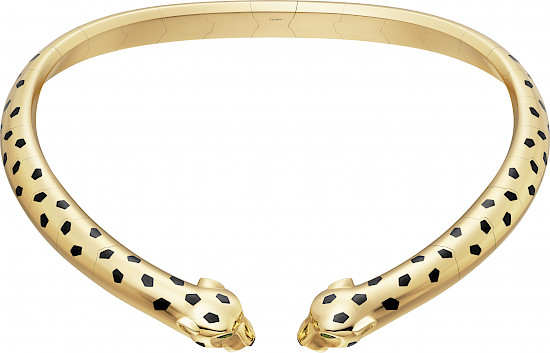 CARTIER Choker Necklace, Panthère Collection
Yellow gold, varnish, tsavorites, onyx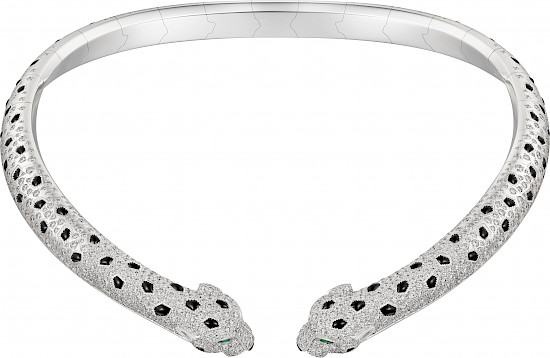 CARTIER Choker Necklace, Panthère Collection
White gold, emeralds, onyxes, diamonds

The new addition to the Panthère de Cartier continued the magnificent tradition with dignity. A total of six pieces have been added to the collection: an open ring, a bracelet and a choker necklace with two sculpted heads at the ends, with each triad in two versions - in yellow gold with black lacquer spots and tsavorite eyes, or in white gold with a pave of colorless diamonds, black onyx spots and emerald eyes. There are no two onyx fragments of the same cut in the Panthère decorations, just as the panther cannot have two identical spots.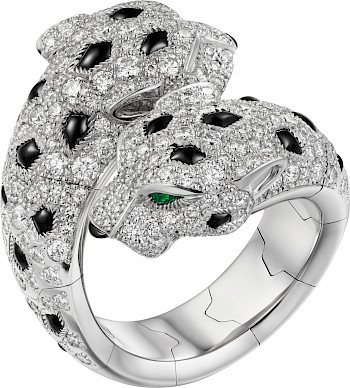 CARTIER Ring, Panthère Collection
White gold, emeralds, onyxes, diamonds
The very jewelry body of the panther easily takes the form of a finger or wrist. It's all about a little technical trick: each piece of jewellery consists of individual fragments with a barely discernible distance between them, and inside there are two gold plates connected to springs in the panther heads. This clever mechanism allows rings and bracelets to extend easily and immediately take their original shape. Thanks to this, the entire structure acquires incredible flexibility and comfortably adjusts to any anatomical features.