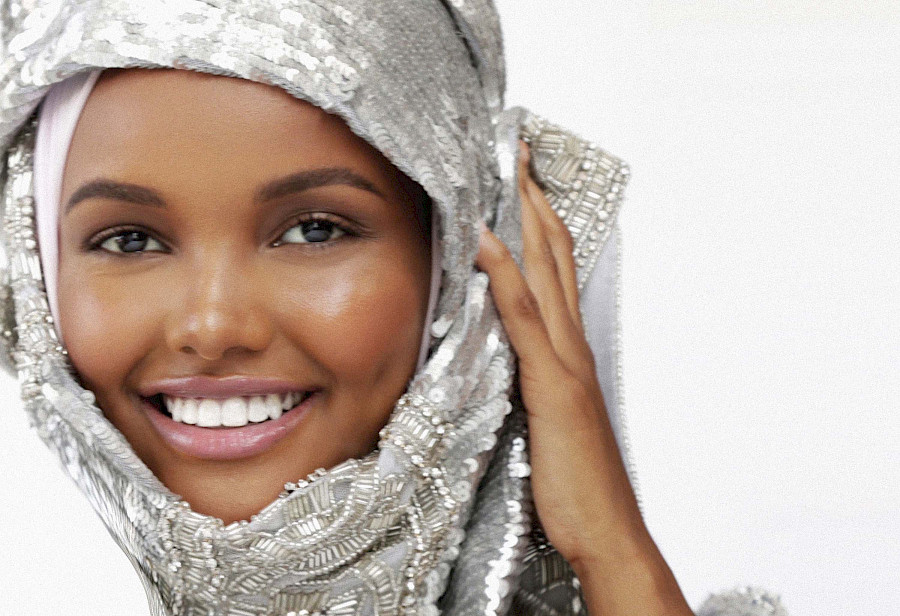 When she walks down the runway, her proud posture, graceful gait, serious for his age look, and then clothes covering the entire body, and finally the scarf covering her head catches the eyes. Halima Aden, a 25-year-old refugee from Somalia, is the first model wearing a hijab to sign an agreement with an international modelling agency; her photos are on the covers of the most famous fashion magazines. She is also a Goodwill Ambassador for the United Nations Children's Fund (UNICEF). But her way to the catwalk of world fashion did not begin smoothly - from a refugee camp, where she was born and lived up to seven years …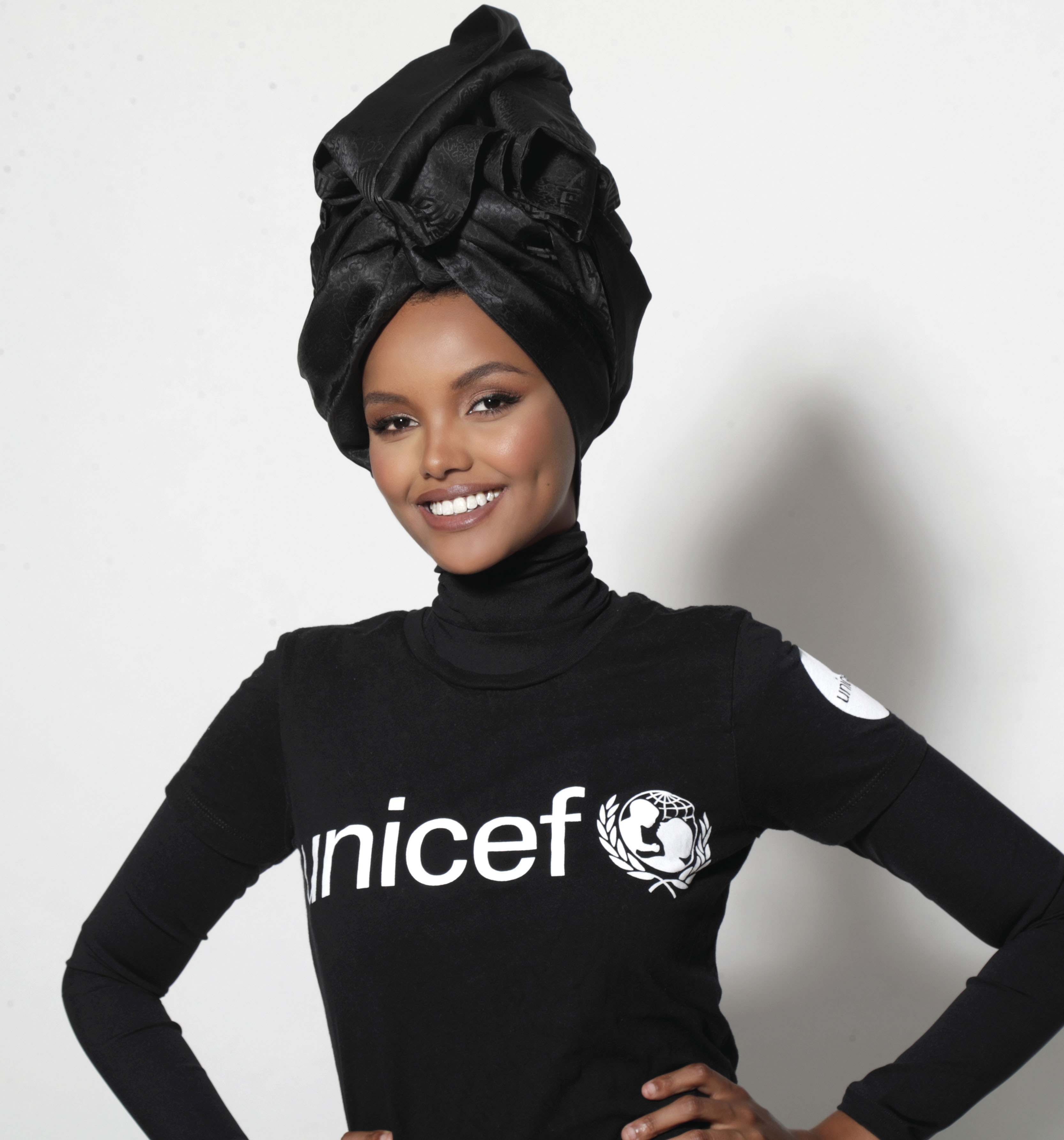 Probably, it is difficult to be the first participant who appeared in the hijab at the beauty contest Miss Minnesota USA, and generally the first model in the hijab?
Being the first is always difficult. The new, the unknown is always scary - if only because people do not know what this may lead to. Also, a negative occurs when someone looks unusual and also occupies an uncharacteristic place. Any famous person on social networks will find ardent detractors, but for one negative comment, there are hundreds of positive ones. The most remarkable thing is that I never have any problems with my work: the brands and magazines I worked with did everything to make me feel comfortable. The media tells my story in a very positive way, and I am amazed at the support of fans around the world. I was very lucky.
How did you decide to become a model? Do you intend to continue your modelling career? Maybe this is just the beginning of something bigger?
Honestly, I never even dreamed that a black Muslim refugee wearing a hijab could become a model. When I was growing up, I never saw women in magazines, on television, on billboards who looked or dressed like me. The Miss Minnesota USA competition opened the way for me in an industry where women like me had never been represented before. The attention of the international press after my performance in hijab and burkini at the swimsuit competition attracted to me the biggest names in the entertainment industry. My life changed quickly: from cleaning up hospital wards after classes at St.Claud College, Minnesota, to taking the podium for famous designers and appearing on the covers of numerous fashion magazines. When I first met my model agent from IMG Models, I let them know that my ultimate goal would be to return sometime to my camp in Kenya, to give hope to these children and that I would like to cooperate with an organization that helped me when I was a little girl - with UNICEF. Last summer I visited Kakuma, my refugee camp at UNICEF, and spoke at TED Talk. A few weeks later, I was appointed ambassador of UNICEF, and now I am planning a new trip to see with my own eyes their work for children all over the world. So far I have personally seen the work of UNICEF on the southern border of Mexico, in Kenya, and also on Capitol Hill in Washington.
"Star of the podium, breaking stereotypes," - so you call. Do you feel yourself a star?
I was very lucky: in a completely alien field, I was able to succeed on my own terms, staying true to my personal convictions and understanding of my Muslim faith. My motto has always been: "Do not change yourself, change the game!". I think I managed to do this by changing the perception of Muslim women.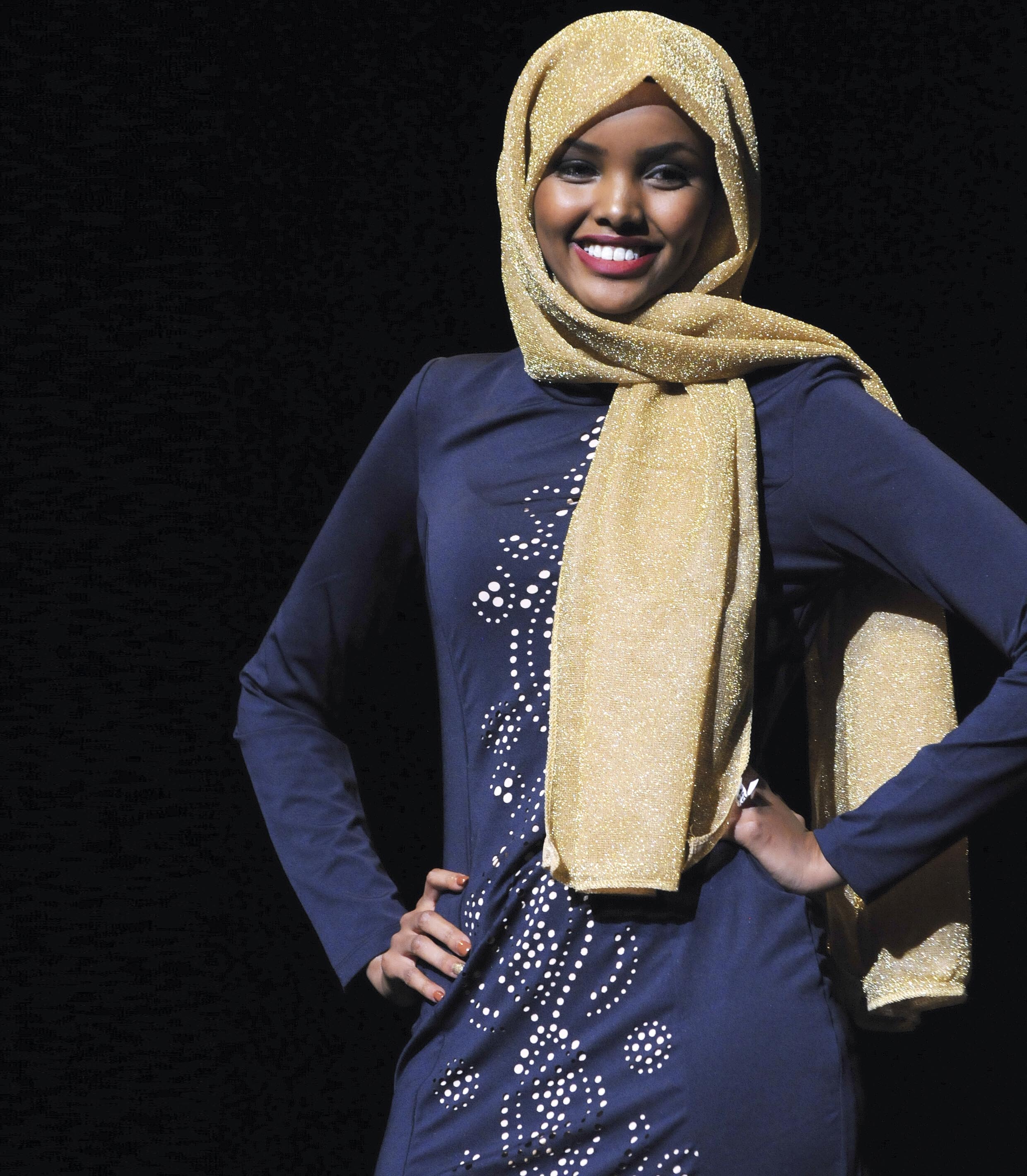 Did your relatives support you? Did your mother change your attitude to your work?
The unknown may be frightening, but now my loved ones who used to hesitate are already familiar with what I do when travelling to work, and they know that I don't take off the hijab. Mom is most proud of my partnership with UNICEF, which could not have been on such a scale if it were not for my modelling career. Last fall, I showed her the cover of the CR Fashion Book, where Gigi Hadid and I were wearing UNICEF T-shirts, and this was an important point for her because she knows what UNICEF is and what they did for our family.
Now in the model industry era of diversification. Do you think that the hijab has made its way onto the global catwalk and in the near future models in the hijab will become more likely to participate in fashion shows?
I think we will see more models in hijabs soon. Designers recognize a large market, mainly in the Middle East, where Muslim women want to dress fashionably and have the means to do so. One who cannot imagine himself in some kind of clothes simply does not buy it. But when people see someone like that in advertising or on the podium, everything falls into place. I don't know if the fashion industry welcomed models in the hijab before me or just women in the hijab never tried themselves in this industry, because they waited for them to be invited, instead of demanding their own place …
Do you want to be a role model? Who is this sample for you and why?
I have never claimed the title of an ideal Muslim woman, but I make every effort to just be myself and be kind to everyone. Yes, I would like to be an example for other young girls and always try not to forget that they look at me. I have a lot of role models for myself - my mother, models Ashley Graham and Iman, my former teachers, former social workers, my female management team, my friends …
You said that you would like to return to Kakuma, to work with refugee children. How do you think you can help them better: working with them in a camp or telling their story internationally?
I always think about how to put everything together, and I want to do everything in my power to give hope to the children of Kakuma. Having been there last summer, I was amazed that many children dream of becoming pilots. I immediately thought of my working relationship with Etihad Airways and asked the IMG team to contact them to see if their pilots could write letters to the children of Kakuma or send photos from work. It is important to tell the stories of these children, and mine to everyone who wants to listen. I want the children of Kakuma to know that they are not forgotten.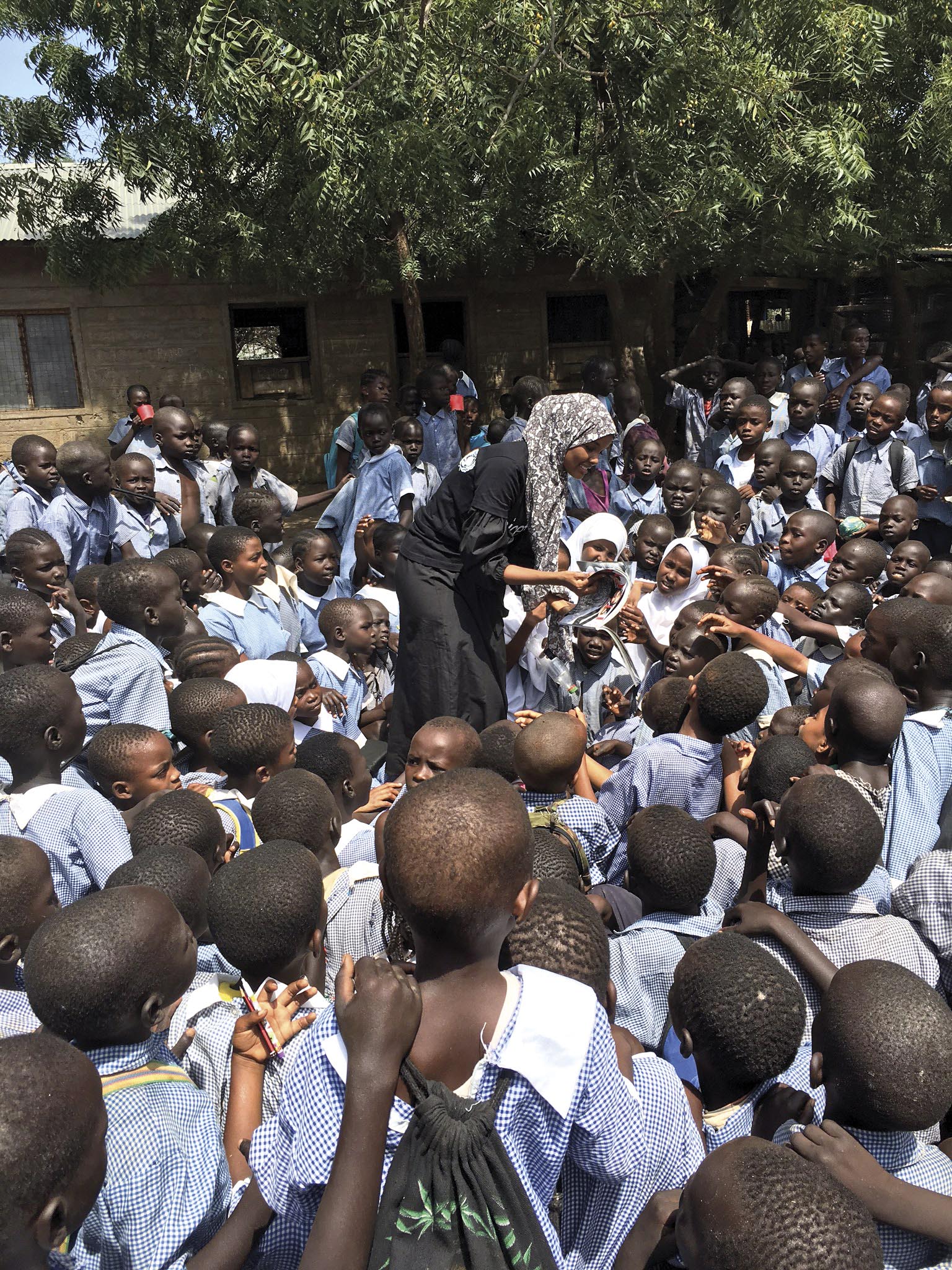 What did life in the refugee camp teach you that it would be useful for everyone to know?
As children, when you have nothing material, you soon realize that you have each other. In the refugee camp, there were no separate groups - we all played together, we were one.
Once you said that life after the camp did not become easier. What was the most difficult in your new life in the USA? Did you feel oppressed by the hijab?
The main difficulty was the language barrier. Unfortunately, in St. Louis, Missouri, where I found myself, there was no advanced English language program at school, so I sat in class every day without understanding anything. The district itself was like a camp: the streets were poor, they were shooting at night ... Only six months later, my mother learned that many Somalis settled in St. Cloud, and we moved to Minnesota. I began to work in English, and the teachers did everything to help me and studied with me even at lunchtime and after school. But in Minnesota, another difficulty awaited us — snow and cold, to which we were not accustomed. When I started wearing hijab in high school, they started teasing me. But I was very proud of my hijab, so teasing me though annoyed, I did not feel depressed.
When you visit a refugee camp, how do they react when they learn that you are not just a well-known person, but you are one of them?
Of course, they are surprised. I think this is what allows them to open up to me. They always have a lot of questions, some want to impress me with their English or jumps with a rope. And once I met ... "Miss Kakuma," the winner of a beauty contest organized in a refugee camp. Her sister acted as a designer, she herself sewed clothes. It was very nice to see girls in the camp who are passionate about what I do in the USA!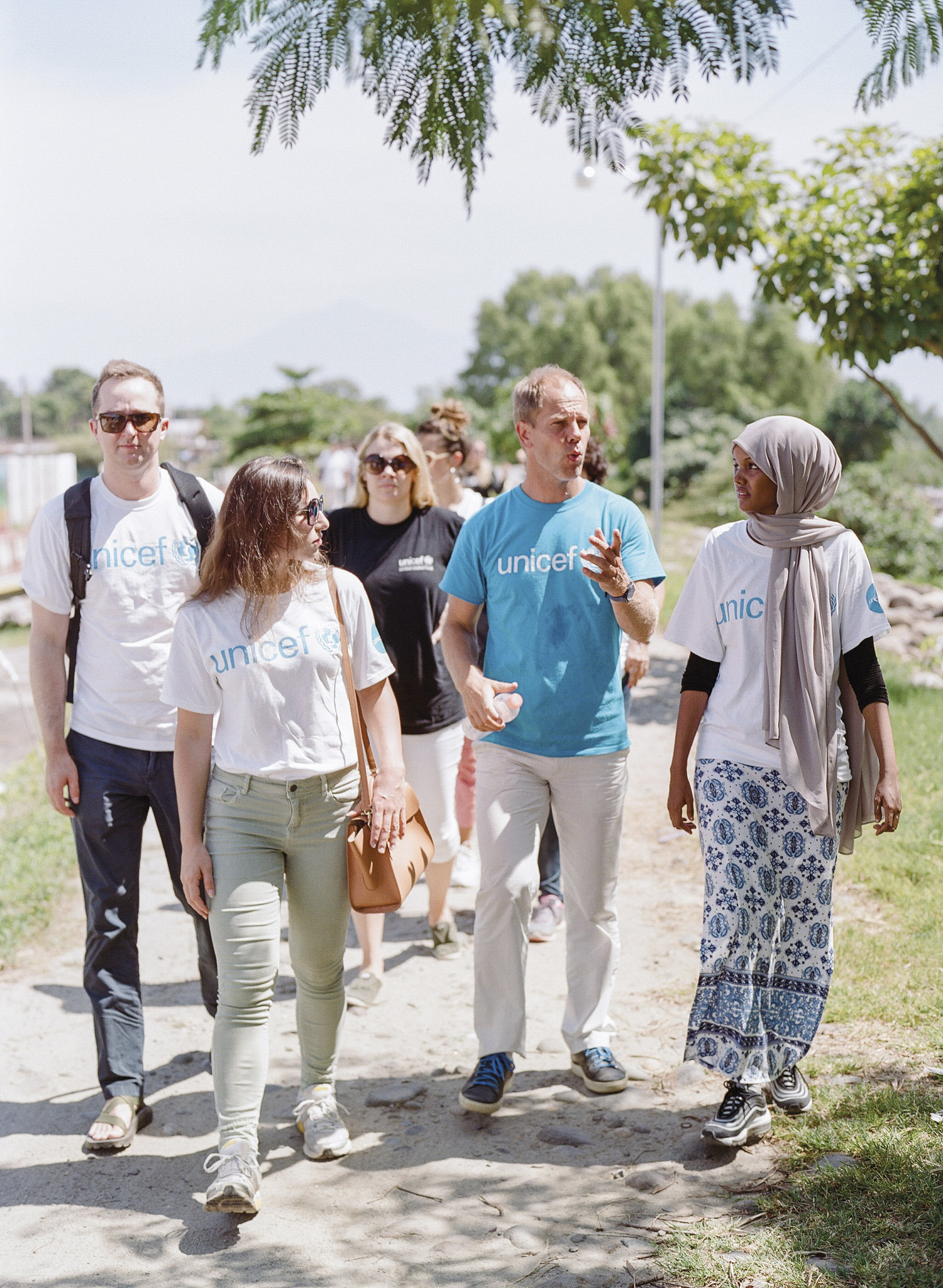 What did UNICEF give you in childhood? And what are you sharing with refugee children as a Goodwill Ambassador?
The staff of this organization were with us and gave me hope. Being a little girl born in a camp, I didn't know exactly what they were doing, but I knew that I wanted to be one of them when I grew up. I wanted to help people in the camp, and I help.
Young Muslim women in the fashion world do a lot for Muslim women - from hijab emoticons to the covers of famous magazines. But not all Muslim women support these efforts. How do you explain this?
I can only explain this by fear of the unknown. Instead of learning something new, people rush to condemn, based on old dogmas, the words of their parents, or what they read or see on TV. Everyone practices their religion in their own way, and it is wonderful that we live in a world where everyone can do it. In principle, it is even normal that some Muslim women do not support what I am doing - that is their right, I do not mind. Yes, I am Muslim, but first of all, I am a person and I respect people who relate to things in some other way. I may not wear shorts or short tops in public, but I support women who feel confident and beautiful in these things. Women, I believe, must zealously protect the interests of each other, be like-minded. Women supporting other women are the pinnacle of my dreams!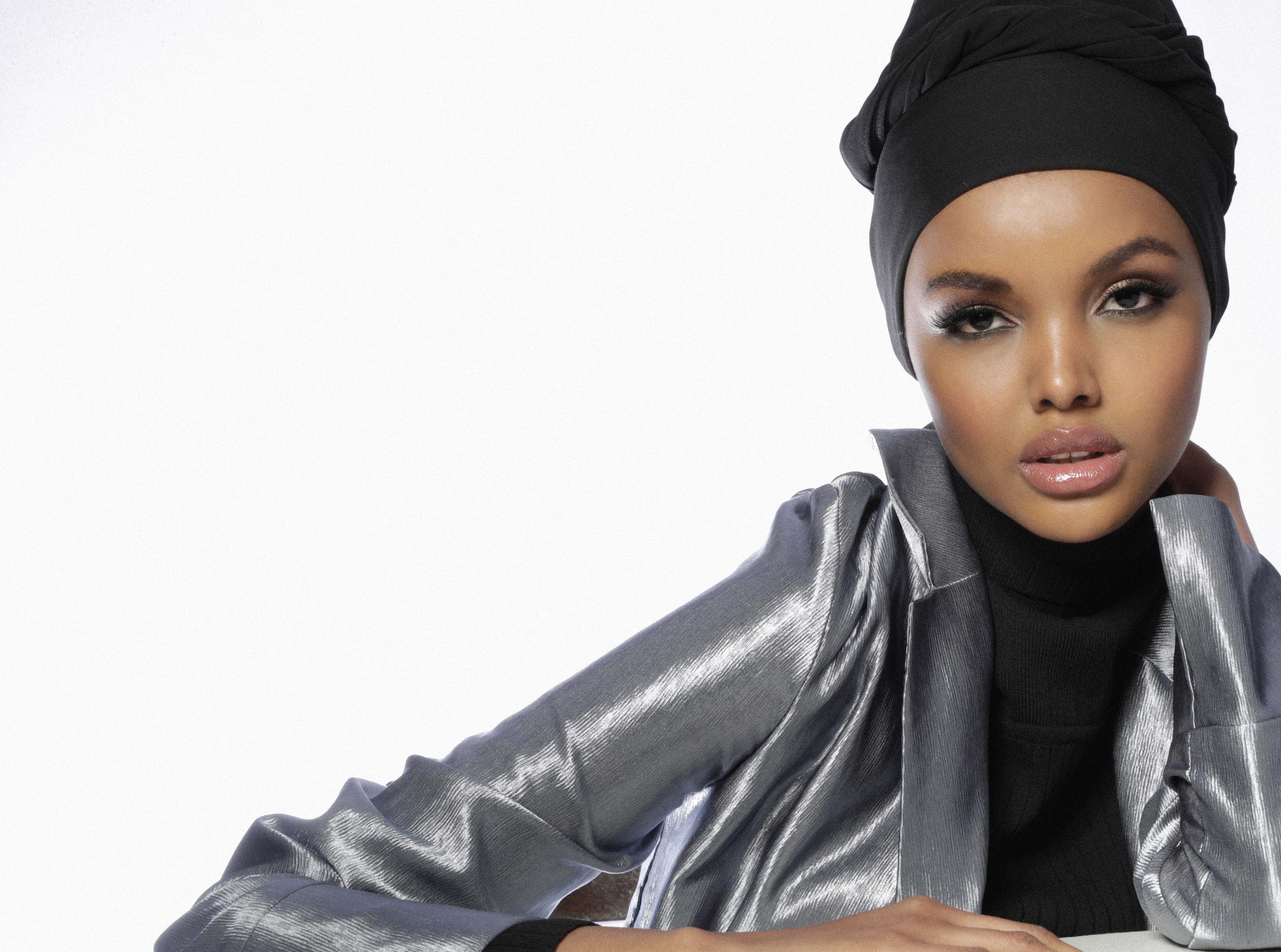 WHAT IS BEAUTY FOR YOU?
TO BE YOUR BEST POSSIBLE VERSION
YOUR FAVOURITE BOOK?
ASHLEY GRAHAM BOOKS
WHAT MAKES YOU LAUGH?
MEMES.
WHAT DREAM WOULD YOU LIKE TO CARRY OUT IN THE NEAR FUTURE?
TO WRITE A BOOK AND BECOME FACE OF AN ADVERTISING CAMPAIGN FOR COSMETICS BRANDS.
WHAT DO YOU DREAM OF AS A MODEL?
OF PARIS FASHION WEEK.
AND WHAT DO YOU DREAM OF AS A MUSLIM?
SHOWING YOUNG GIRLS THAT THEY ARE NOT OBLIGED TO BE HOW EVERYTHING AND TO MEET STEREOTYPES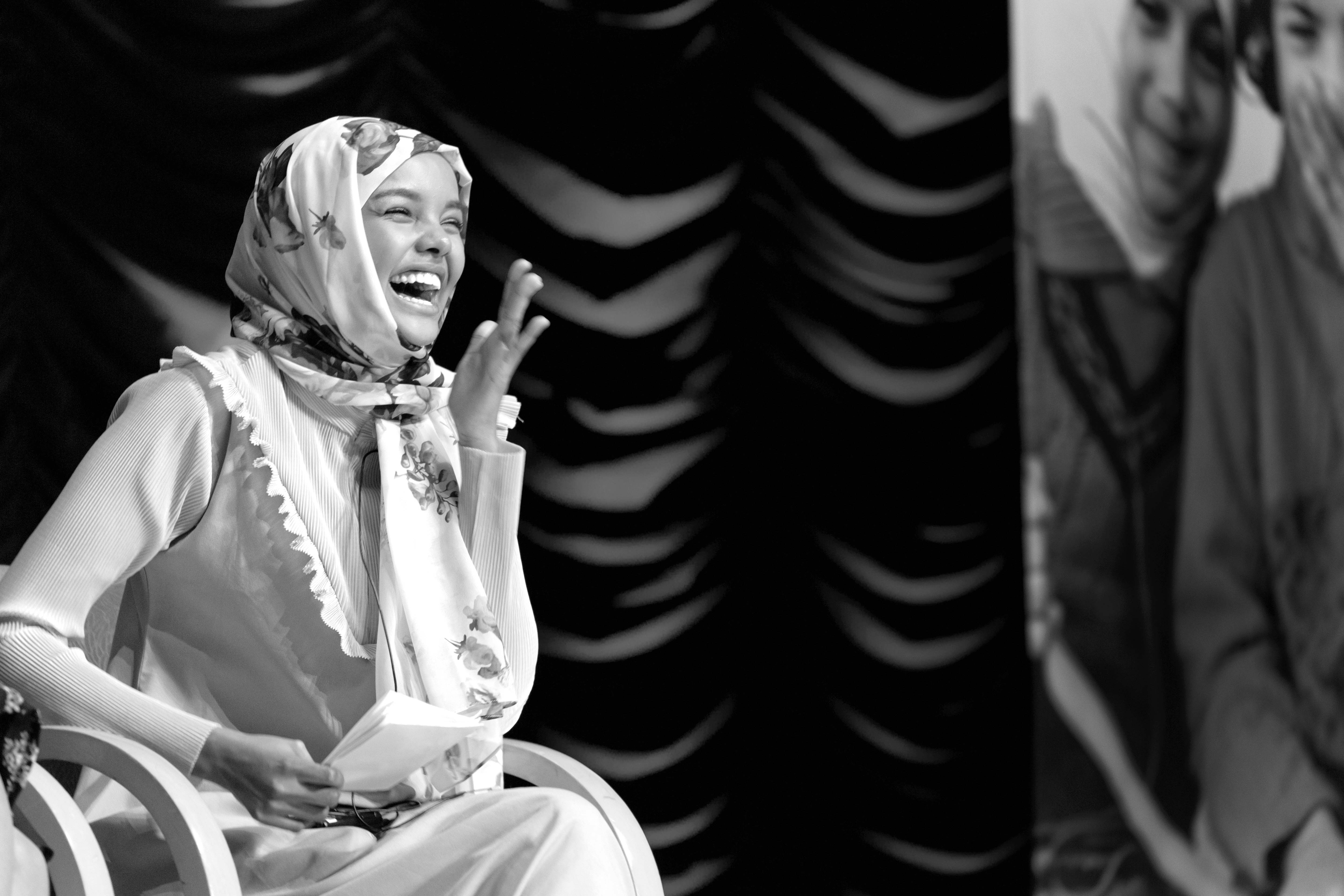 From the biography of Halima Aden:
Halima's family fled Somalia, where the civil war has not stopped since 1988. Halima was born on September 19, 1997 in Kakuma, Kenya, in a refugee camp.
2004 - moving with family to the USA.
2016 - participation in the competition Miss Minnesota USA, where Halima became the first participant to come out on the podium in hijab and burkini.
2017 - the signing of a three-year contract with the international modeling agency IMG Models.
2017 - debut as a model at the Yeezy Season 5 Kanye West collection show. This was followed by shows of Max Mara, Philipp Plein, Dolce & Gabbana and others. Halima Aden became the first hijab model in the world and the first hijab model to appear on the covers of American magazines CR Fashion Book and Allure, Vogue for the United Arab Emirates and the UK, British Glamor and Elle, as well as the first model to pose for the American magazine Sports Illustrated and other well-known publications.
2018 - meeting at the Kakuma camp with refugees and performing on TED Talk.
2018 - Halima became the youngest Goodwill Ambassador for UNICEF. She decided to focus her attention on protecting the rights of children.