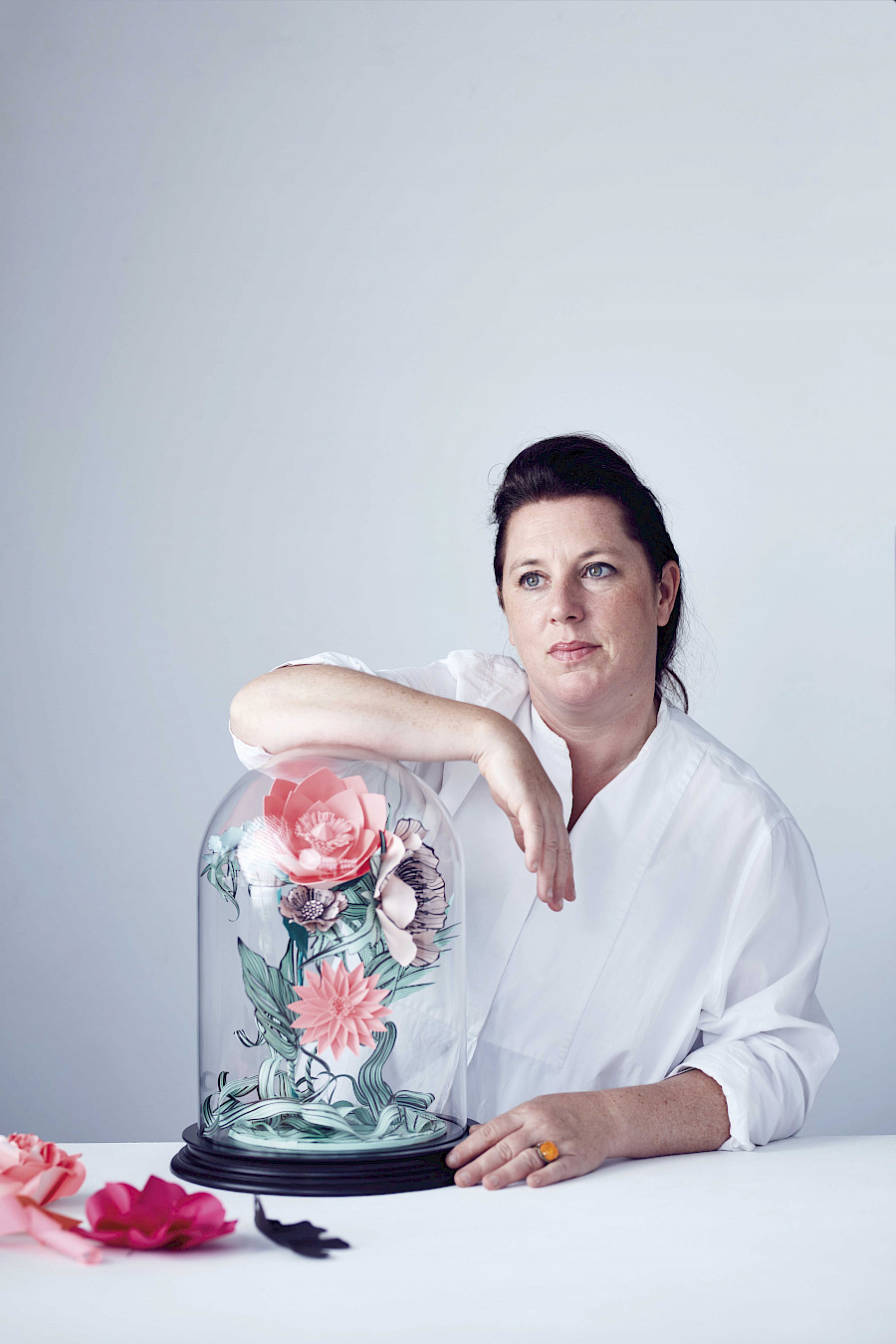 Paper artist Zoe Bradley immersed herself into art of fashion, working on Alexander Mcqueen's collection No. 13, then creating couture paper dresses for Michiko Koshino. Over the last fifteen years, the artist has been mixing disciplines creating bespoke artworks for Louis Vuitton, Mont Blanc, Christian Dior, Missoni, Tiffany & Co., Chopard, De Beers, Harrods, Selfridges, and many other international brands. Turning 2D paper into 3D sculpture, Bradley aims to produce a powerful theatrical impression and imitates nature to evoke feelings of escapism.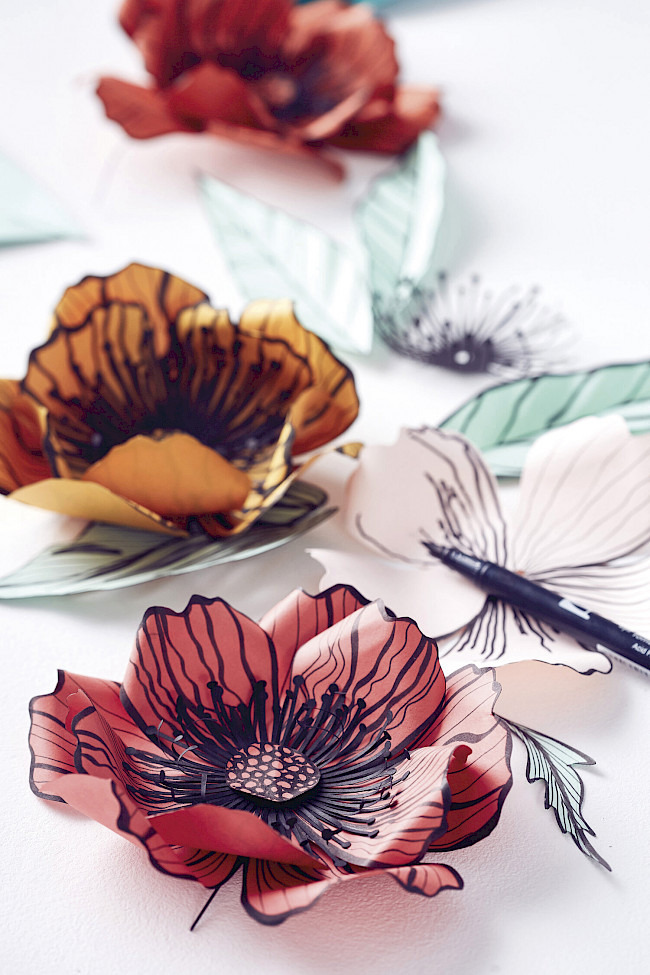 Do you remember when you became interested in fashion?
I grew up in a rural village in Warwickshire, England, which meant you had to use your imagination and be inventive to entertain yourself. I used to collect images from Vogue magazine and National Geographic, tearing out the pages and decorating my bedroom walls with them. I was always making and creating with my hands. I've always been interested in creating something from nothing from a very young age. I remember one summer crafting a pair of slippers from paper and trying to walk in them. My mum encouraged creativity and gave my sisters and me a sense of freedom in learning. I was taught to be curious from an early age. While studying art foundation course, I discovered Issey Miyake; it opened my eyes in terms of how fashion could be seen as a wearable art form. I related to his unconventional approach to design and creativity, which allowed me to express my ideas.

You started your career in fashion working with Alexander McQueen. What were your duties?
In 1997, when I graduated in fashion design from Middlesex University, my tutor Richard Gray recommended I apply for an apprenticeship at Alexander McQueen. It was a small design studio in Old Street, East London at the time, with a small core team. I found myself working closely with Lee and his team, namely Sebastian Pons and Sarah Burton (nee Heard), along with one more intern. I worked there for two years, learning from the McQueen studio during the day and working as a theatre usher by night to pay the bills. It was an extraordinary experience watching and learning from a designer so unique and visionary. It was something I could immediately relate to as I was never a 'conventional' designer', I loved the theatre and spectacle of what fashion could offer. Performance art and theatre is still something that informs my work and where I draw most inspiration. My role developed quickly from studio assistant to working on showpieces as he realized I had a skill for working in non-conventional materials. So, I ended up working exclusively on the more unusual pieces that were commissioned for the studio. I took on a lot of responsibility in engineering, the visions and sketches of Lee. I had to recruit and manage a team of students to create the ever-growing silhouettes and vision of Lee. I remember doing a deep dive into researching workshops that were highly specialist in wood carving. I found one who created ornate woodwork for Windsor Castle and Queen Mary's Roehampton, who designed prosthetics limbs for thalidomide patients. Although I was thrown in at the deep end, I absorbed every part of the experience, as the environment was such a creative hub with few boundaries. It was my dream. You never knew who would enter the studio, it was a revolving door with the likes of Isabella Blow, to photographer Nick Knight, to hairstylist Guido Palau, and milliner Philip Treacy.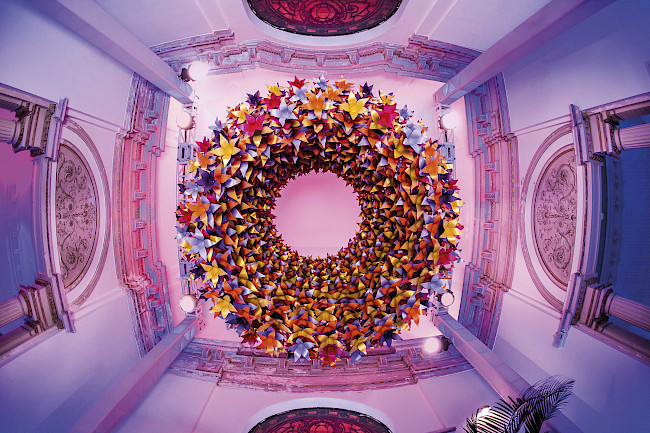 What was the most significant experience for you from work with the designer?
Working on show No. 13. It was a seminal moment for me personally and the wider fashion industry. Creating fashion as art, being able to push those boundaries with storytelling through fashion and the clothes resonated with me and my approach to creating. The drama and spectacle drive me, the pure theatre and spectacle of that fashion show were so thrilling. I witnessed the whole process, from the music, stage design to draping on the stand. Craftsmanship was at the heart of what Alexander McQueen produced, we were hand punching holes into plywood by hand, which spread eagle like into a fan corset or knitting with drain pipes. The design brief pushed your creativity to its limits. Creating some of the key pieces for his SS 1999 Ready-to-Wear catwalk show was a real honor and responsibility, including the headline- grabbing hole punched wood fan corset and skirts, as well as the prosthetic legs carved from elmwood and worn by Aimee Mullins.

Was it at Alexander McQueen studio when you decided to concentrate on working with paper?
Working at McQueen's was certainly my introduction to unconventional materials, which led to my next project with Japanese designer Michiko Koshino. I collaborated on a series of showpieces for the AW 2005 collection, which included creating a showpiece made from paper. I worked closely with the creative director, Chris Baker, on the design and creation of six showpiece dresses of vast scale, working in paper and felt. This was the first time I sculpted paper into a wearable garment, so I'll always remember it for that reason.
At the end of the show, we had a standing ovation. We were challenged by a tight budget, so I looked around my studio for alternatives to the fabric. I started experimenting with a roll of black poster paper. I think it was the immediate form that pleating and folding the paper created that captivated my imagination. I machine stitched it and found ways of binding it onto ribbons to be wrapped onto the dress structures that were made from a willow frame. I worked with paper just as a designer works with fabric, folding, curling, scoring, and stitching the paper.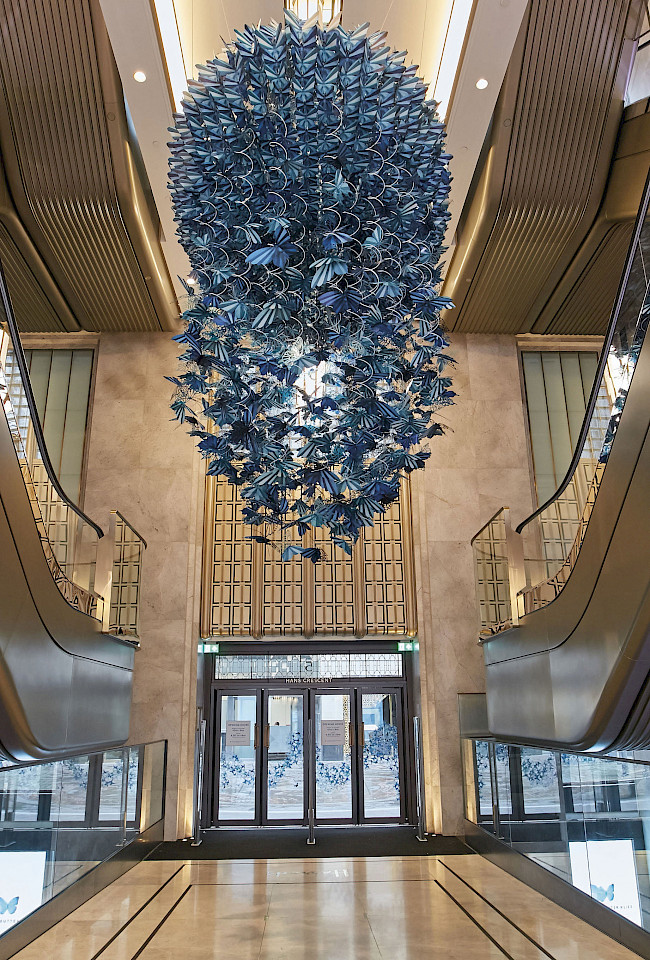 What has changed your mind from working in fashion and become an artist?
I loved fashion for the show, that sense of theatre the best shows can bring. But fashion brands are really about moving numbers and selling units. I wanted to move people on an emotional level. I used my installations in retail to create windows that the passing person on the street could look at as a gallery space.
Your paper sculptures have been presented in museums and galleries. How did you become a paper sculptor?
I've always been fascinated with form and texture. I am fascinated with taking everyday materials and transforming them into a new form. My challenge is always to create something unexpected from its original 2D sheet form into a magical 3D sculpture.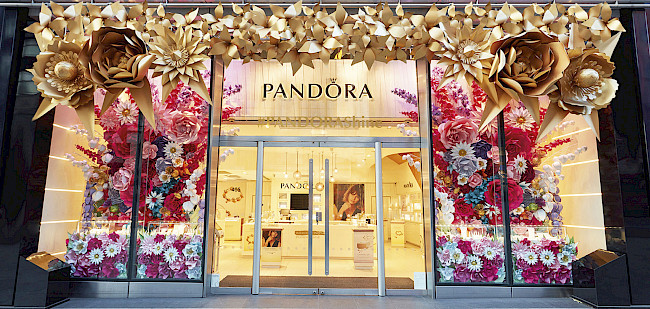 Why did you choose paper as the material of your artworks?
Whilst I was studying Fashion design, I was drawn to finding a material that would hold its silhouette. I found lots of ways to back fabrics, so they behaved in a ridged form. Now I work with a metallic paper that looks like silk but is paper. I work as a tailor just using paper: folding, pleating, curling, scoring, and stitching the material.

How many paper dresses have you created since 2005?
I have created over 20 paper couture gowns in the last 15 years. They are a real labor of love and can take up to 6 weeks to build. My favourite gown to date was a monumental red ruffle paper couture gown complete with a six-meter train created for Sotheby's London. The dress was sculpted on a scale much larger than life to hold a magnifying glass up for the spectator to see all the intricacies of this heavily detailed gown. The red dress's texture was decorated with over 6000 hand-sculpted paper ruffles from small to large, along with accents of hand-sculpted roses. The paper couture gown is given its royal status through the application of hundreds of red coral Swarovski crystals. The bodice is adorned with miniature ruffles, ribbons, and roses that embellish a plunging bodice's neckline with large mutton shaped sleeves. The entire dress is created from a metallic red paper with an iridescent silk-like finish fitted onto a steel frame base crinoline. The design is a fusion of modern-day couture and 18th-century royal court dress, as red was the symbolic color of wealth at that time.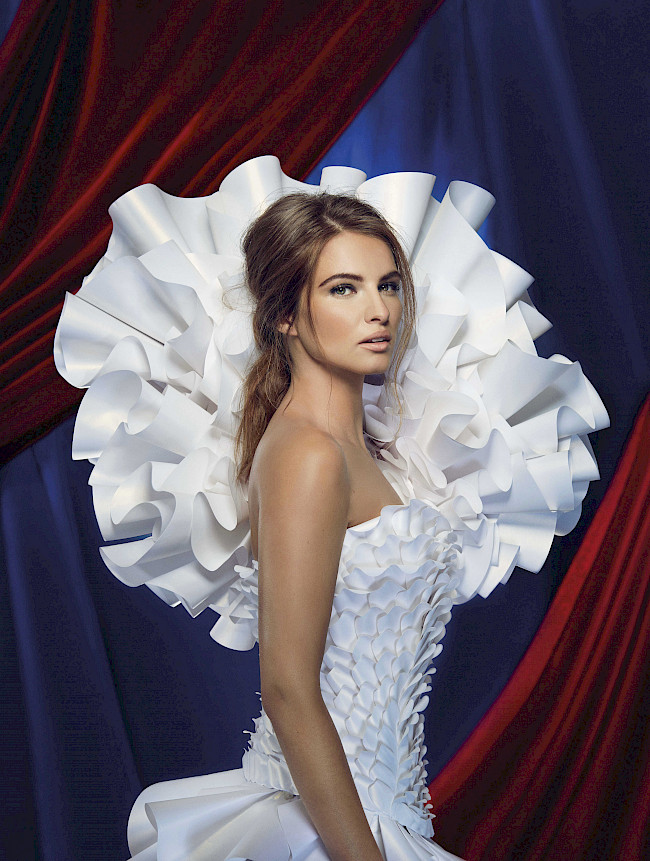 You have created bespoke installations and commercials for world-renowned brands. How did these collaborations work?
It usually starts with a client coming to me with an idea to create a piece of sculpture. It can add a focal point to an exclusive launch, or it can be as diverse as creating an art piece for a hotel lobby. I've created paper sculptures for a series of windows for luxury department stores or within large shopping malls. When I start collecting ideas, they come from everywhere. It can be a print I've seen on a vintage seed packet, a piece of theatre, a sculpture, these all filter down into creating a mood board. I try to visit the space and get a feel for the silhouette of the sculpture and sketch out ideas that will work in the space. I work with my team on storyboarding visuals, color palettes, silhouettes, and textures of papers. The initial process can start quite organically, but quickly it becomes more mathematical with scale plans interpreting window sizes from architectural drawings. Then my team and I look at the process of creating the paper textile to form the right silhouette. For example, if it is flowers, we then go into a sample stage where shapes are created that can have multiple layers and components that are all made by hand, scored, molded, and glued in many processes. By the time it comes to installation, it can feel like we have grown the flowers from seeds! The Zoe Bradley style is modern, clean, elegant, and fashion-focused with a timeless quality.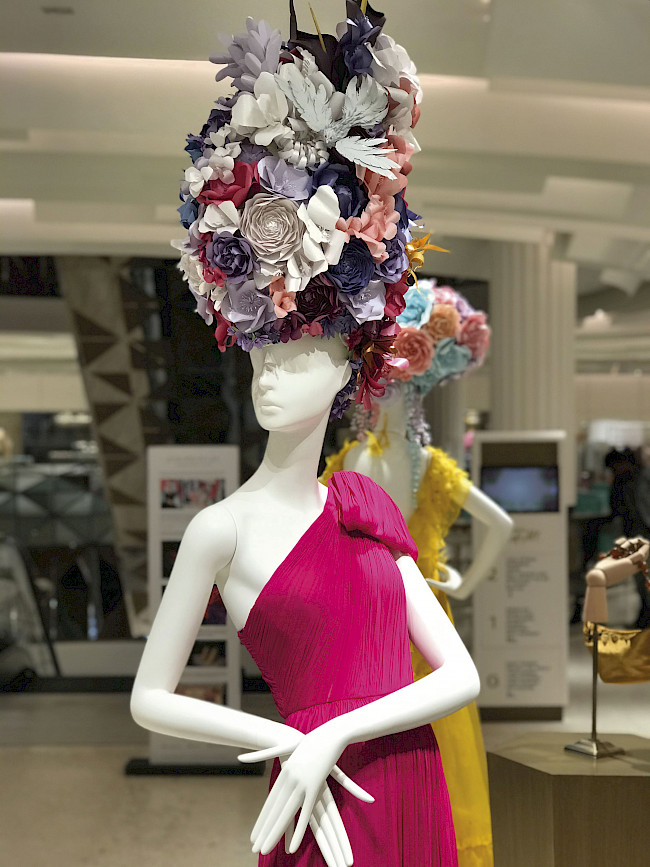 Your windows installations look like a fairy-tale. Where do you capture your inspiration?
Inspired by the natural world and the beauty of flowers and nature that surround my rural home, I am passionate about sculpting in paper and using this medium to create the most detailed representation of flower varieties. My love of nature and gardening has been passed down from previous generations from my grandfather and mother, who were both keen and inventive gardeners. I love fashion couture and Avant-Garde designers and architecture. I am forever photographing and documenting ideas I see to keep in an image bank for later.

What was the most challenging fashion commission for you so far?
A recent collaboration with Brazilian shoe label Melissa in the heart of London's Covent Garden was an excellent opportunity to combine film, sculpture, and photography. The commission was to create an engaging installation within the gallery space, from the large main entrance, which looked out onto the main piazza, to the smaller gallery space below ground.
I remember it was a tight timeline, but I was keen to make it a multi-disciplinary installation, incorporating an animated film, moving flowers, and an immersive 360-degree flower-covered space. Galleria Melissa was the perfect venue for this floral spectacle, once home to the original London flower market. I created an exotic garden, celebrating the feminine, architectural forms of flowers. From the Piazza, we suspended a huge metal lotus sculpture, which appeared floating in the air. This was surrounded by three huge glass screens, which played a mesmerizing kaleidoscopic floral animation. It showed our 3D paper flowers blooming and bursting into life across giant screens. The viewer continued their journey downstairs, entering a psychedelic neon garden where the walls and floor were covered in vinyl paper, which had a photographic print of the Zoe Bradley exotic neon flowers onto it. It felt very 'other worldly', a bit like Alice in Wonderland, as the floral landscape played with the scale of the flowers and covered every inch of the room, even the doors were covered in the floral print. It received fantastic comments from the visitors to the gallery and was on display for a couple of months over the summer.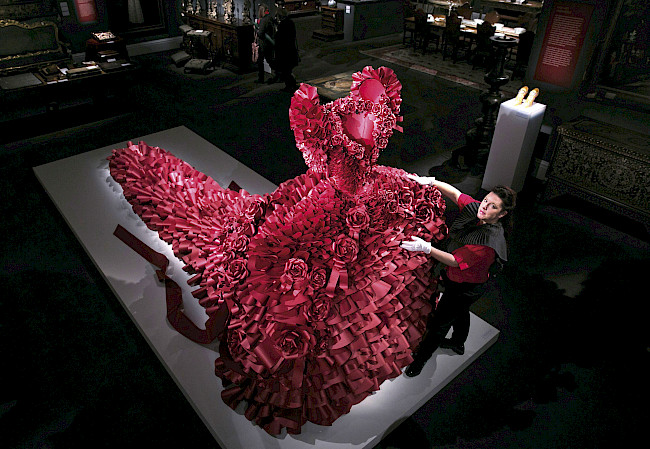 Flowers are your signature. What do you like the most about flowers?
My work is drawn from nature and the natural rhythms in nature. There is always an element of symmetry in my career, from the floral elements to the piece's overall silhouette. I look for balance and natural patterns. I work rather instinctively with the paper than mathematically; the flow of the piece is essential to me, so there is life and movement in the silhouette. Flowers are one of nature's most mesmerizing and captivating designs. I'm always inspired by so much intricacy that comes from varieties of flowers. All that beauty and structure wrapped within a small seed that blossoms time again never gets dull.

What do flowers symbolize in your artworks?
Celebrating the feminine, powerful messages of life and energy. They symbolize the beauty of the natural world and the joy flowers give both to us as humans and the food source they give to wildlife.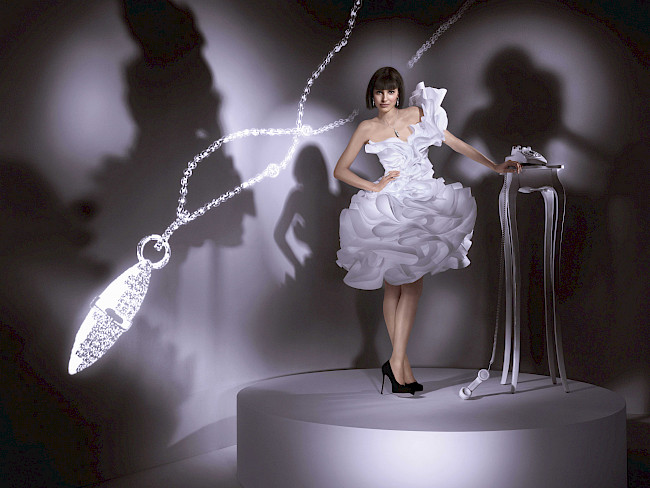 Your artworks look like real flowers. How do you manage to achieve this result?
I will dissect real flowers to study the petals' form and shape, tracing these and altering shape to stylize them. I then work with my art worker, who follows my sketches and drawings, transferring the designs into illustrator files, which can then be cut by machine. It is then the real work starts, as it's the hand sculpting of the paper, which I use a tool called a bradawl to help curl the paper. A process of bringing each petal to life.

While the lifespan of the real flowers is not long, your flowers can live much longer on the installations. Nevertheless, the installations have to be changed. How do you feel about that?
Initially, it concerned me as the sculptures would be destroyed after use, especially as some take up to 3-6 weeks to produce with my team, which can be up to six people. When they get broken down after their time on display, I can feel quite deflated after you put so much work and emotion into creating the pieces. Over the last 10 years, we are now able to archive more of the spectacular pieces, the ones with lots of detail. Some of the pieces are large scale, some fit into a shoebox. Hopefully, they can all see the light of day again in a Zoe Bradley retrospective exhibition.
Has your art changed with modern technology, including metallic and plastic paper?
Yes, initially, all the work was cut by hand, but this was too time-consuming. So, today we use a process of vinyl cutting, die-cutting. This means that we can cut multiples and scale up the patterns to suit each brief. Ultimately, the initial process is a machine, but the finishing is always hand-sculpted to give that emotional human touch. I strive to echo a natural line in the paper and bring a sense of a poetic line to the work, imitating nature.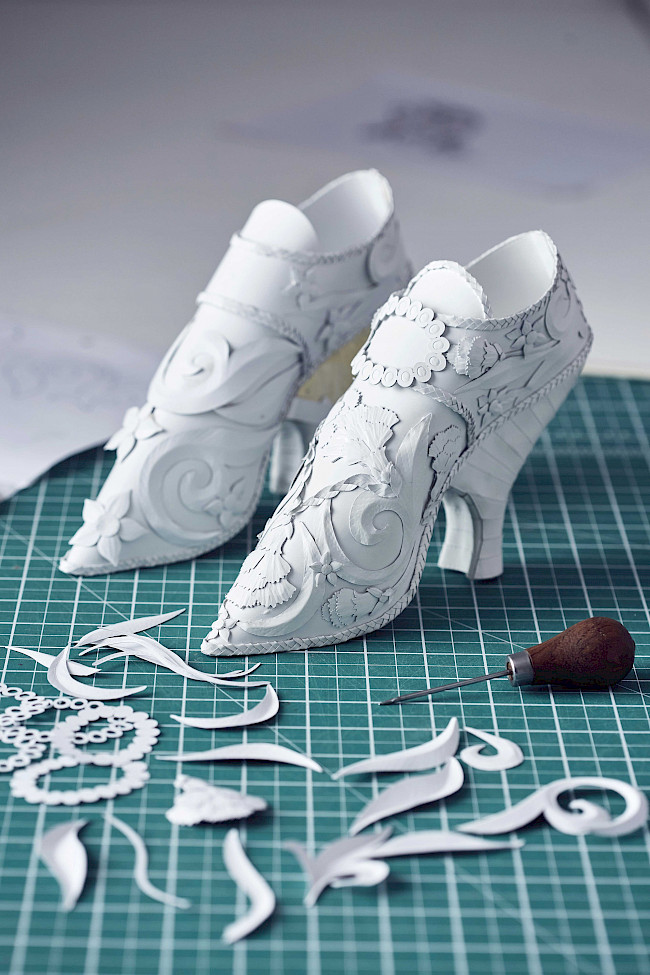 What emotions do you want to provoke with your art?
My aim is always to inspire and use nature to evoke feelings of escapism for the viewer. I use the natural world to heighten emotion. Ultimately it is a play on what's in my imagination that becomes the end vision. My motivation is always to draw the theatrical nature out of my sculptures.
| | |
| --- | --- |
| | |
What was your latest favourite fashion project?
I created a blossom dress and a series of floral headpieces for the luxury department store, La Galleries Lafayette in Doha. The Mother Blossom dress and headpieces were designed and created to celebrate their campaign Mother Blossom, celebrating Mother's Day. The floral couture gown was 3 meters in length and over 2 meters high. We designed and executed the project in 3 weeks from my studio in Wales, along with four bespoke headpieces using spring blossom flowers, such as cherry blossom and roses, crafting over 1500 pink petals. With any of my creations, it's about the impact and creating the WOW factor, which I hope the Galleries Lafayette customers appreciated.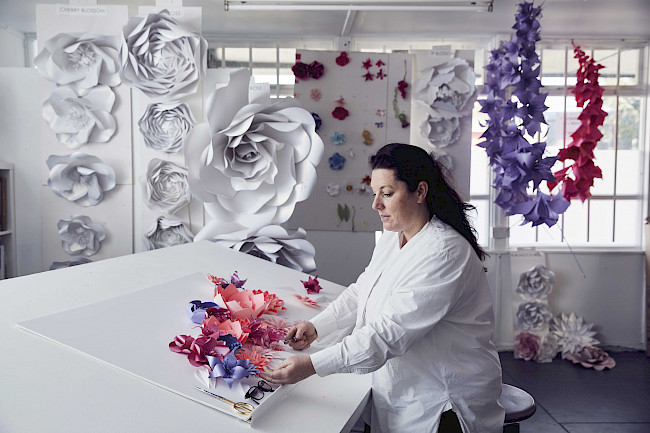 What is your professional dream?
To design and curate my exhibition of paper sculptures that could travel the world. I'd like to explore offering design courses to encourage creativity and empower students to express themselves through art.

What is the biggest challenge in the art for you?
Being able to see my paper floral art in different environments across the globe. Taking my work more online since the global pandemic has restricted travel and selling more one-off art pieces. — N