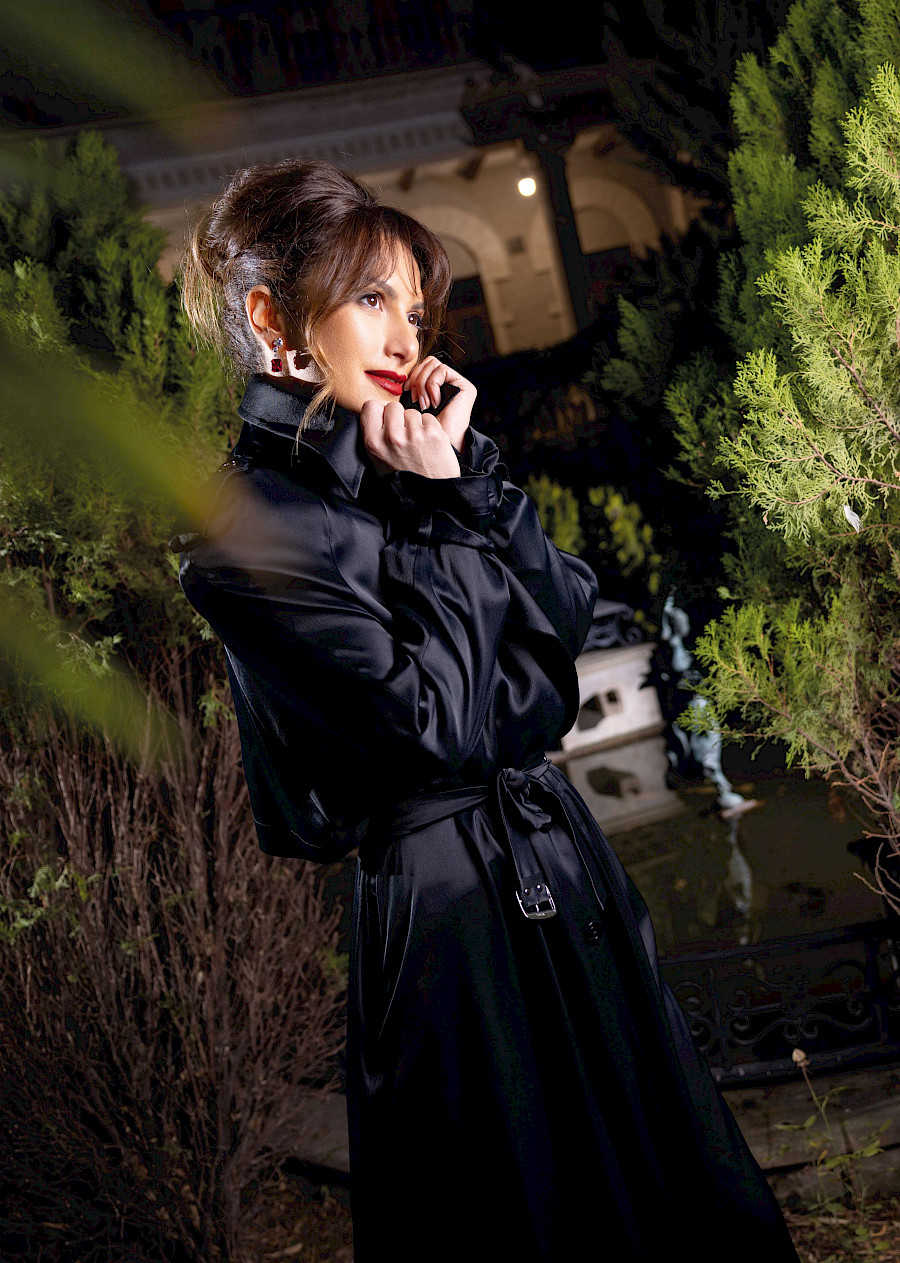 Sophisticated, smart and elegant these words can characterize both Sara Akhundova's personality and wardrobe. The trained eye, creative soul and free spirit always reflect in her looks. She reveals a few styling tips, talks about personal
lifestyle and her past and current projects.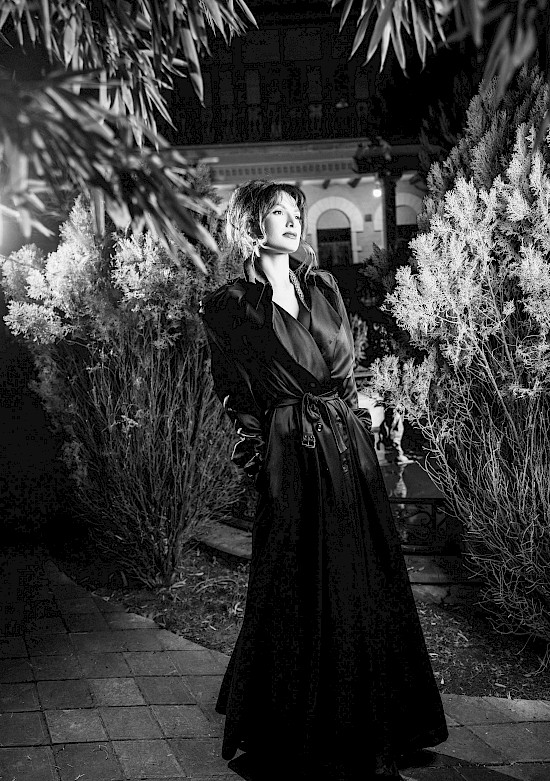 Coat DATUNA, jewellery JUST BRILLIANT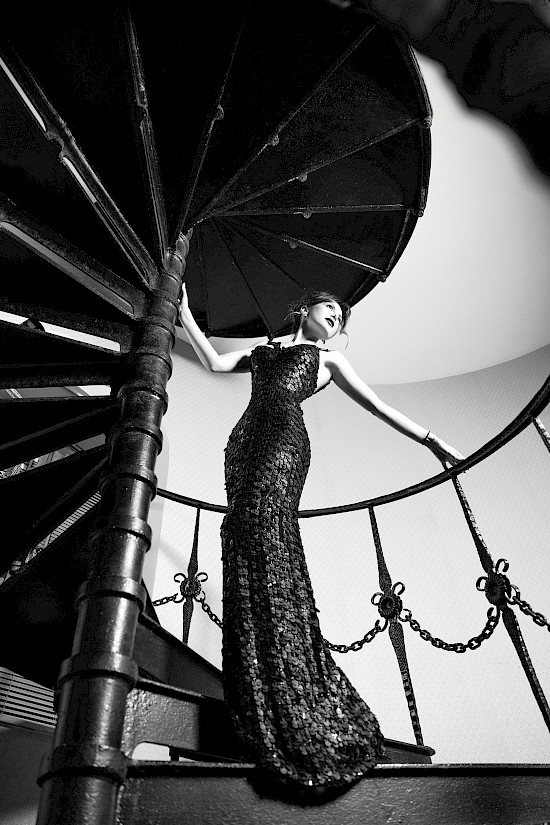 Gown ATELIER JAN, jewellery JUST BRILLIANT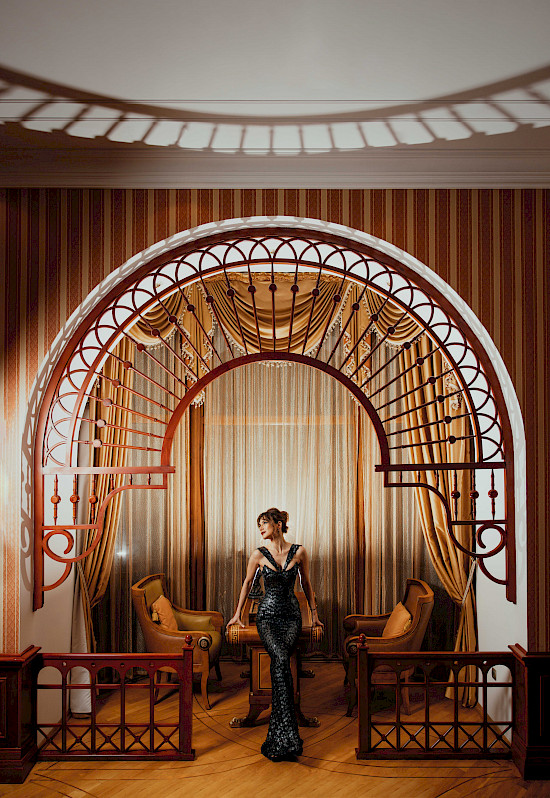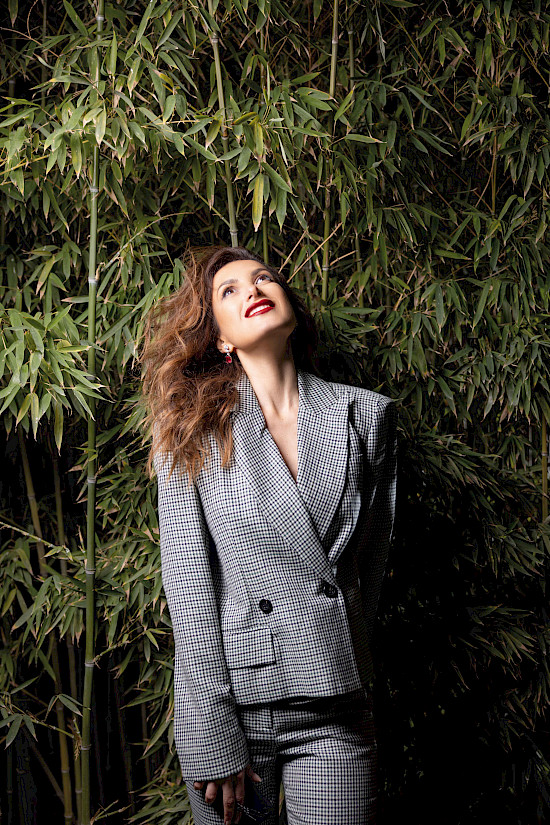 Blazer and pants BIANCA SPENDER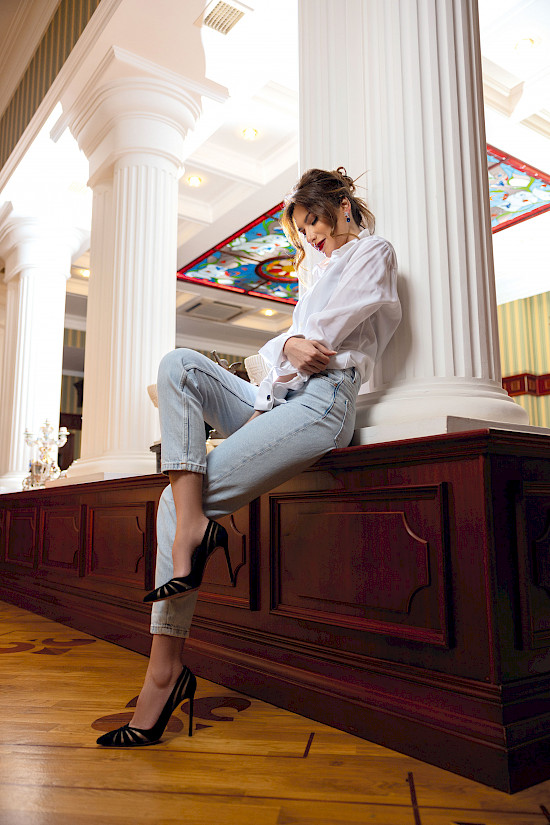 Shirt KENZO, jeans ZARA, shoes AQUAZZURA, jewellery JUST BRILLIANT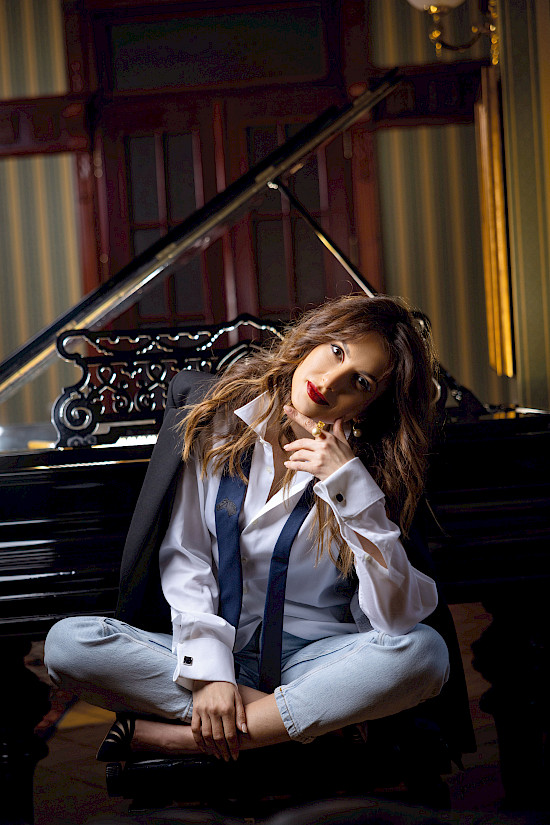 Shirt KENZO, blazer STELLA MCCARTNEY, jeans ZARA, tie HERMÈS, shoes AQUAZZURA, jewellery JUST BRILLIANT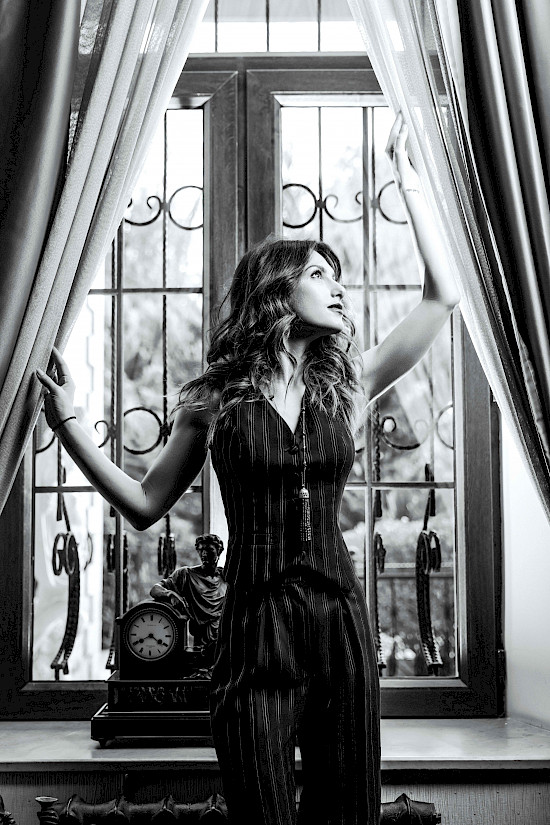 Waistcoat and pants ATELIER JAN, jewellery JUST BRILLIANT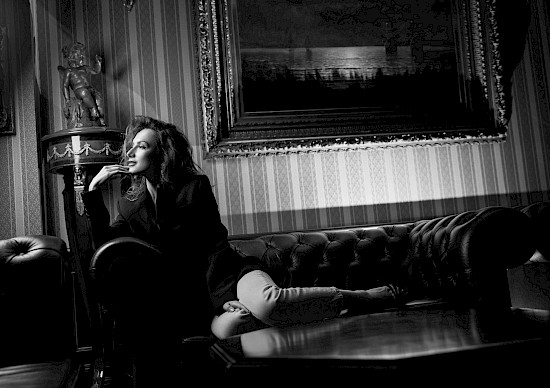 Shirt KENZO, blazer STELLA MCCARTNEY, jeans ZARA, tie HERMÈS, shoes AQUAZZURA, jewellery JUST BRILLIANT
Sara's story
I studied construction design. I love simple colours but different and rather complex shapes. It reminds me of a puzzle that you have to solve; find your own way without discretion. I was lucky enough to own two restaurants in my early ages, and it was my first experience in construction design. I also owned an atelier called Atelier Jan, where we used to create evening gowns. The best part of it was producing printed fabrics. My most favourite collection from the atelier is the carpet collection. I was inspired by old carpets and produced a new distinct interpretation of the old historic ornaments, presenting the collection at Tbilisi fashion week. Moreover, we printed scarfs in Italy with inscribed poems of our greatest poets Mahsati Ganjavi and Nasimi. When my daughter moved to Switzerland to continue further education, I had to travel and spend more time with her. It was a period of time when I chose to be a mother rather than a designer. But every decision we make opens new perspectives and viewpoints, as well as opportunities to use our experiences for greater ventures. While I was travelling back and forth, I decided to adapt and translate an autobiography of my grandfather's cousin Sureyya Agaoglu, the first female lawyer in the whole Turkic world, into Azerbaijani language. My intention was to inform and educate the young generation about their roots. We have to be proud and we are blessed to be born in Azerbaijan — a land of so many talented and brave people. Now I'm involved in a new project. My desire is to help and give hope to women and children, victims of domestic violence, and to educate and enlighten them about their rights and independence. After all, mothers spend much more time with their children hence educated women are the future of an educated nation. Sometimes you come to a point where you have to choose between your job and the dedication to your precious child. Love heals hearts, and the first and only unconditional love that children receive comes from their parents. It's a ground for the flowers to blossom. I stand by women because sometimes they don't even understand how important their work is, and how their love for family and kids is vital for the future of their loved ones. Unfortunately, sometimes we come across cases of domestic abuse and violence. For that reason, we are trying to build a shelter that will be named after the first female lawyer Sureyya Agaoglu. In this home we'll share our love and care, providing psychological help, education and a safe place to recover. As for the style and fashion advice, simply listen to your heart and never follow the rules. Always try to stay unique and comfortable with your true self. You have to like what you see in the mirror and not what the runway wants you to be.
A white shirt and a pair of blue jeans is always a good idea.
MAKEUP AISHA IBADOVA @MAKEUPBYAISHA._
HAIR TEHRAN ALIYEV @ALIYEVTEHRAN_
ETAGE BY ELNUR HASANOV @ETAGECELEBRITYPOINT
WE EXPRESS OUR SPECIAL GRATITUDE TO BAKU NOBEL OIL CLUB FOR THE SUPPORT IN ORGANISING THE PHOTOSHOOT
LOCATION @VILLAPETROLEA