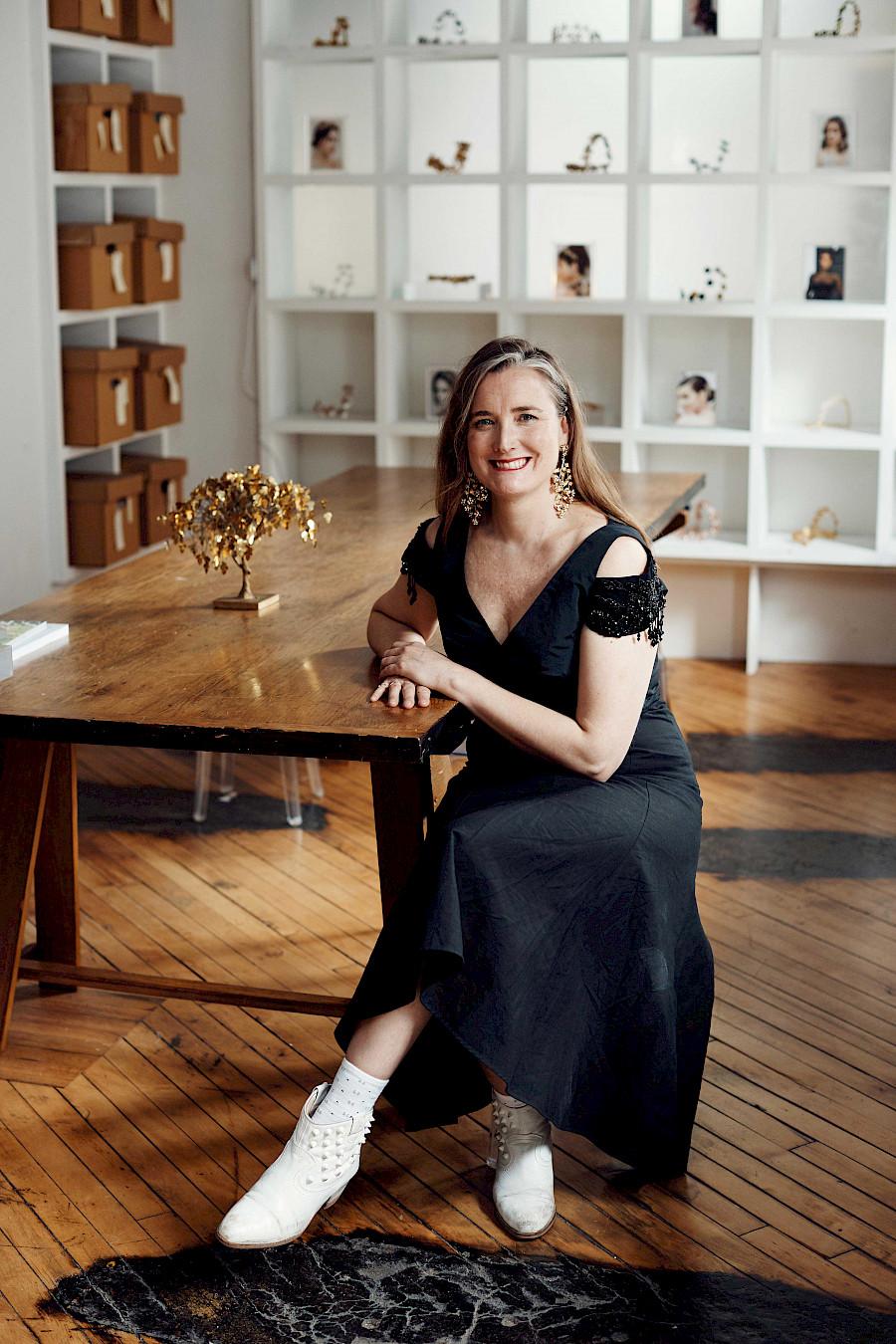 Modern romantic Jennifer Behr has always had an eye for exciting accessories. Receiving Education in art, she decided to revolutionize the headpieces industry some 16 years ago. Today, Emma Stone, Nicole Kidman, Chiara Ferragni, Hailey Baldwin, Jennifer Lawrence, Zendaya, Ashley Graham, and Chrissy Teigen choose luxury handmade hair accessories designed by Jennifer Behr. The designer told NARGIS about her experience, inspiration, and expecations.
Most girls dream of being a princess and wear a tiara every day. Was it like this in your childhood?
I didn't have any princess-related fantasies, but as a kid, my mom always kept a box of "dress-up" clothes for us to play with. We'd put on elaborate plays or come up with costume extravaganzas in the backyard. This is probably where I developed my lifelong love of dramatic dresses.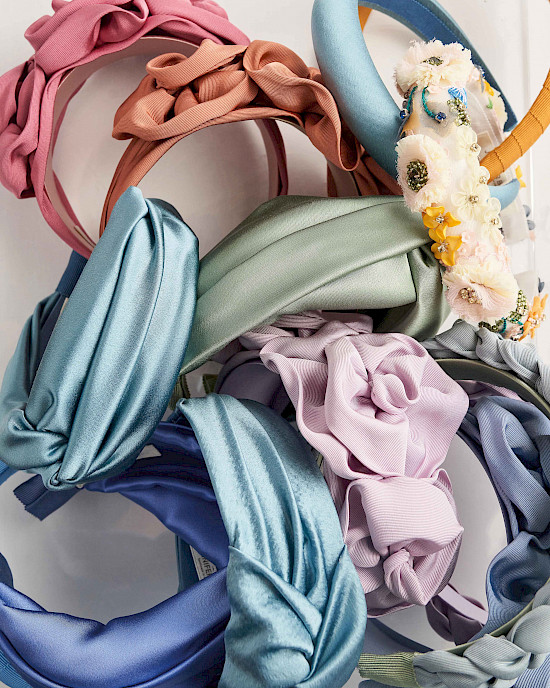 Your accessories are artistic and sculptural; no wonder you have an education in art. Why did you decide to concentrate on millinery first and head accessories eventually?
I think there's something incredibly magical about millinery and hats. People love hats of all types, and their history is extraordinary. Headpieces as well, they are often ceremonial in many cultures – from European crowns to Native American war bonnets to the makuta of Southeast Asia. I've always thought headpieces are very powerful, and there's a rich past even in bridal: headpieces are worn in many cultures as the 'signifier' of the bride and continue to evolve across cultures and time. We make some very ornate designs and then some that are simpler to create a modern evolution of the headpiece.
When you started, there was no business of headpieces. What was your challenge 16 years ago, and what is your biggest challenge today?
The challenge 16 years ago was inspiring people to wear headbands at all, as they had dropped out of the fashion world.
So, in the beginning, I spent so much time working with stylists and editors to elevate the category and show people how to wear headpieces again. Pivoting to the challenges of today, we love that our e-shop is a destination for headband collectors because we can connect with customers all over the world. Clients consistently tell us how the pieces look even more beautiful in real life, but it can be difficult to showcase our level of detail and craftsmanship through these little screens. We are hoping to open our own tiny store someday and also hope that boutiques are able to survive and thrive post-pandemic.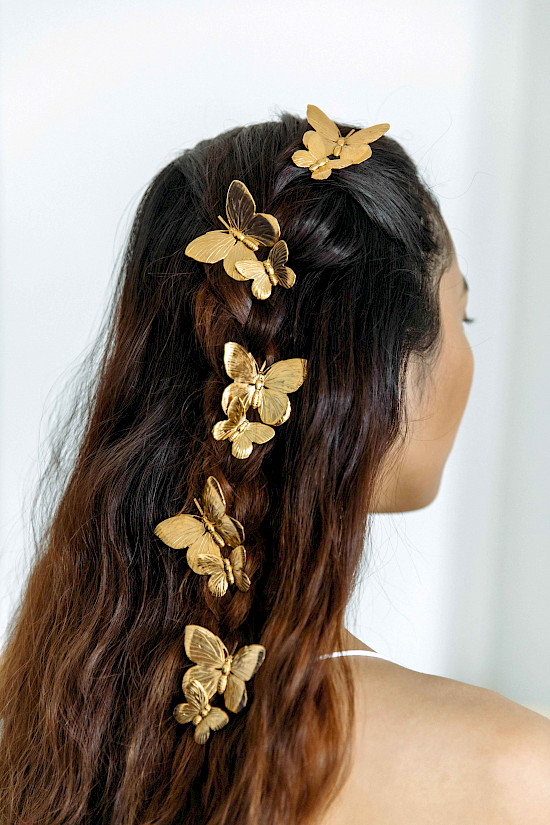 Do you prefer to create trendy pieces or timeless accessories?
I don't think the two are mutually exclusive. I think you can have something that is timeless but still very fashion-forward. The word "trendy" makes me think of something cheaply made or a throw-away item, and that's not what we create. We make pieces that are fashionable and modern, but something that also will last. The DNA of our brand is very much built on hair accessories and jewelry that are designed to be worn for a long time while still being of the moment.
You are a fan of vintage. Do you consider that your accessories will one day become vintage too while creating them?
I hope so! Quality and craftsmanship are always at the core of what we do. We are an atelier-based company, and we make so many things by hand in our studio in the hopes that these pieces will stand the test of time.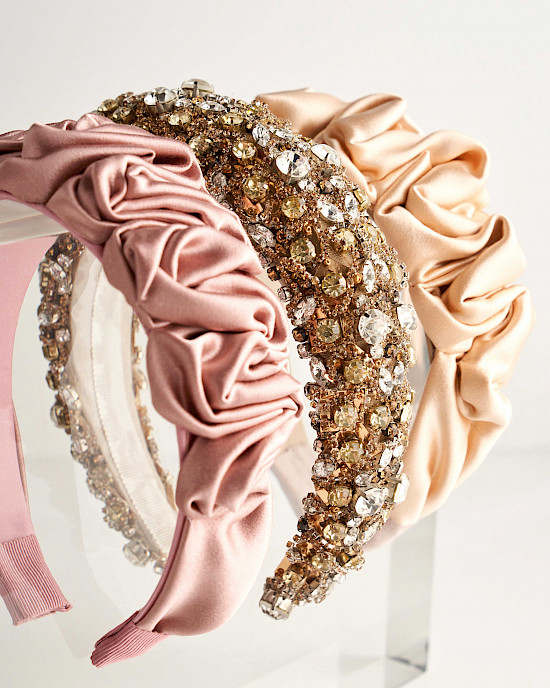 Not long-ago brides do not even consider wearing headpieces on their special day. Why do you think the situation changed now?
Because there are sophisticated headpieces now. When we started back in 2005, most bridal shops only carried cheaply made tiaras and a couple of hairpins. There was
no one designing anything elevated with an eye for fashion. We didn't start with bridal, but so many editors and friends of the brand started coming to us asking for custom pieces in white to wear to their weddings that we eventually started a line. Now we offer so much of our bridal online that brides come to us from all over the globe.

Who is Jennifer Behr's girl?
We have customers of all ages and demographics so we don't have a profile based on that but instead on sensibility. We know our customer has an incredible eye for detail and hand for quality.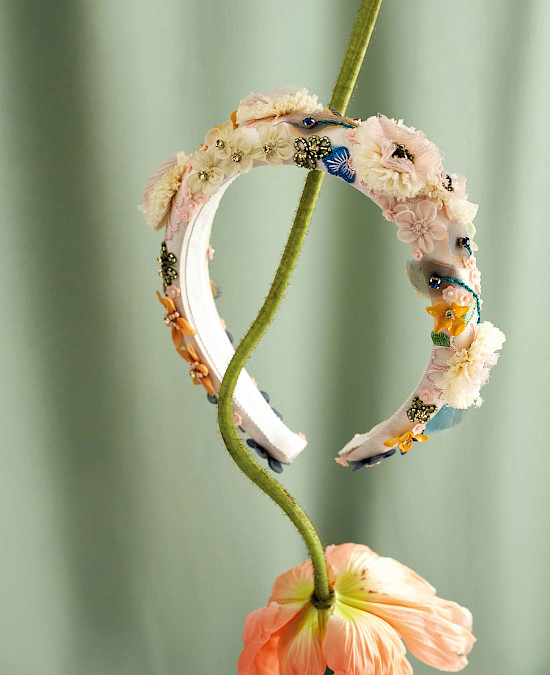 How would you explain the brand aesthetic?
Generally speaking we say "modern romantic." But I do believe most women have a pretty diverse wardrobe now, myself included, so we have a wardrobe of headband offerings to match that. Everything from architectural vegan leather pieces to embroidered flowers to delicate pearls and sleek silks.

Why do you decide to concentrate on handmade pieces?
I'm not really interested in things that are mass-produced in a factory – there's too much of that already in the world. I come from a background in making things, and it's largely how I interact with the world. I'm inspired by beautiful materials and I have a strong appreciation for handmade things. I'm always looking to collect special items – from super intricate and delicate vintage dresses to handblown glass and chunky ceramics.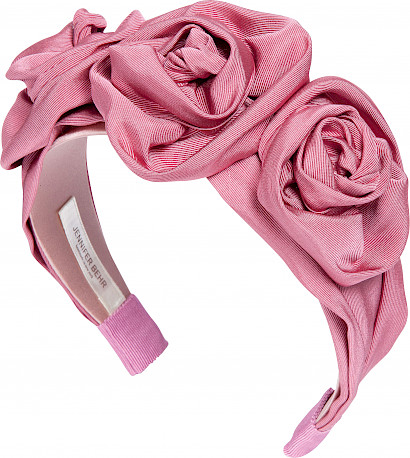 Which hair accessory should every woman have in her wardrobe?
We think every woman should have a headband wardrobe in the same way that you would have a shoe wardrobe – there's definitely not one piece to fit all occasions. At a bare minimum, every woman should have a sleek silk headband in a color that compliments her and makes her feel confident.

What are the main working principles you have established in your studio?
As an independent business and an atelier, the design is at the core of our ethos. Because creativity is the foundation of our business, I like to think we have a process of experimentation and are working on innovation constantly.
We are also a female-founded and women- run company, and it's important for us to have a supportive community for everyone who works in the studio.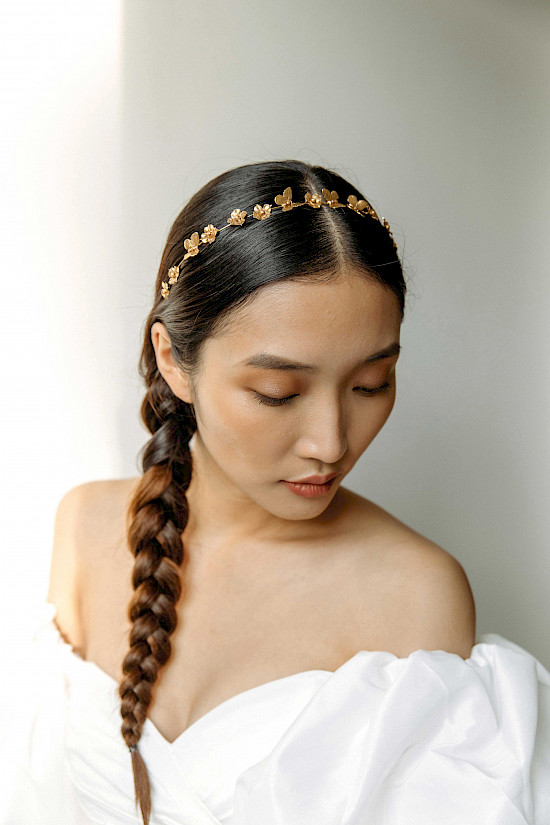 Can your brand be called sustainable?
We are sustainable in that we work hard not to overproduce and most of our pieces are evergreen and made-to-order. At the end of each year, our obsolete inventory usually fits in one shoebox. One of the biggest issues in fashion sustainability is waste. There is such a huge volume of materials and goods getting dumped on a daily basis, but by making things here in our own studio we are able to monitor how much of something we need, create minimal waste, source our fabrics locally as well as pack and ship orders in-house for a much smaller carbon footprint. We also create jobs for New York City manufacturing. Unlike brands that produce overseas, we have direct control over working conditions for the seamstresses that make our work. Many of them have been with me for years. We offer fair wages and benefits to our community of women and ensure that people have a good work environment. Whenever we work with partners, we ask that they also adhere to these standards.

Headbands, scrunchies, and hair bows are popular head accessories now. Do you prefer to follow the trends or create them?
We create the trends. I don't turn to what others are doing to set the tone for our collections, it's definitely an organic process that comes from my own inspirations, mainly the materials and beautiful fabrics I find. From there it's all about figuring out how to turn them into something truly special.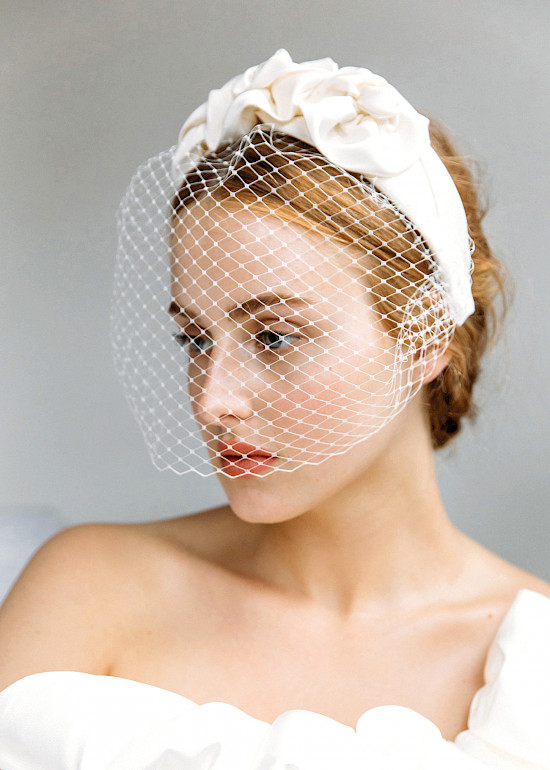 Would you like to collaborate with a fashion house?
We love the idea of collaboration and right now are working on really fun projects with some of our favorite hair stylists who make our pieces shine in action. Other creatives' work is always so inspiring, and it would be a dream to work with so many of the major ateliers or even a fine jewelry house. As a female designer, consistently working and collaborating with other women is also important to me.

Who is your favorite fashion designer?
Coco Chanel. She's a woman who started as a milliner and built Chanel into a global brand that's still revered worldwide.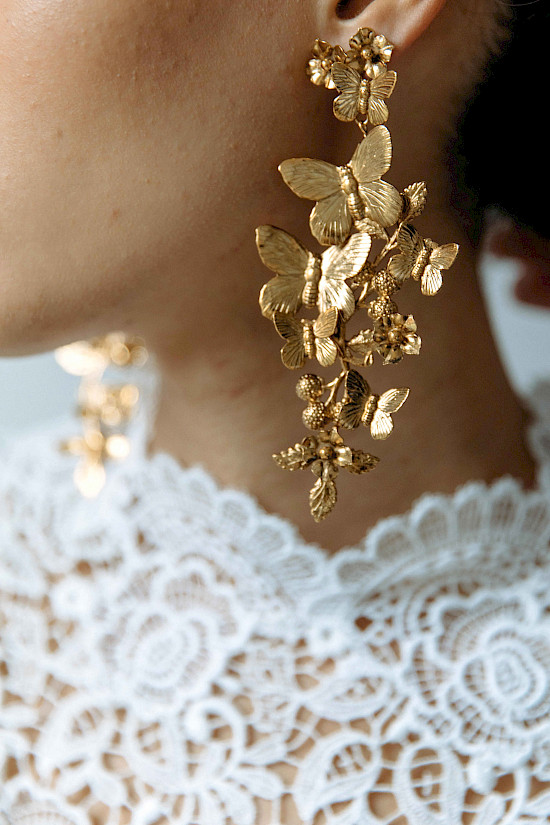 Which hair accessories do you wear every day?
I like to keep my hair out of my face more these days, especially as we continue to wear masks everywhere, so I find myself gravitating towards many bows, and headbands are also great for that. The Triple Rosette is one of my all-time favorites.

What is the most memorable accessory you have created so far?
There have been so many, but I think the more dramatic custom styles we've made for editorial are always my favorites. Some highlights have been hand-dyed neon lace cathedral veils for Vogue Paris, foot-tall silk turbans covered in crystal & safety pins for Patti Wilson, and tiaras made from actual Swarovski crystal chandeliers. And then there was the time that Brandon Maxwell tricked me into making a leather unicorn horn for Lady Gaga's horse.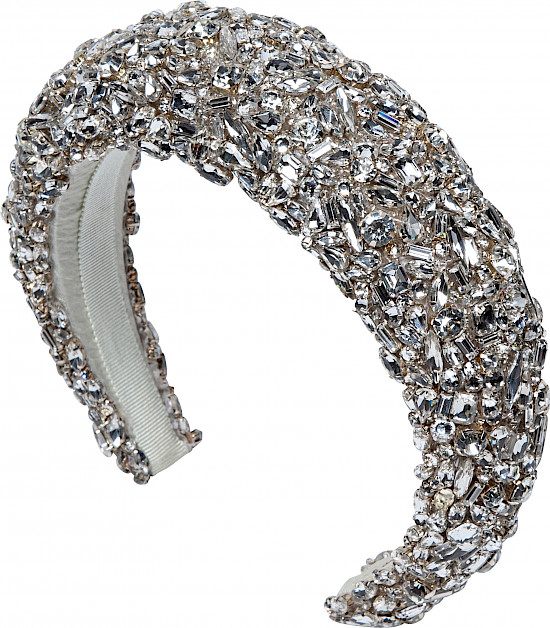 What are your favorite headpiece trends this season?
Color! We've always been known for our color palette and people are embracing colors full on this season. I think everyone is looking for some optimism this spring and using their headband wardrobes to express that.

Where do you find inspiration for the new collection?
I find it everywhere, which is part of the problem. I'm a bit like a magpie, I'll collect all sorts of vintage pieces and materials, which means the studio is overflowing.

Do you think talent is a gift or the result of hard work?
I think it's both. You can have all the talent in the world but it takes a lot of work to get it out there. That said, I have been lucky enough to be given this gift of creativity and to be born at a time that I could build a company and a collection that allows me to express it.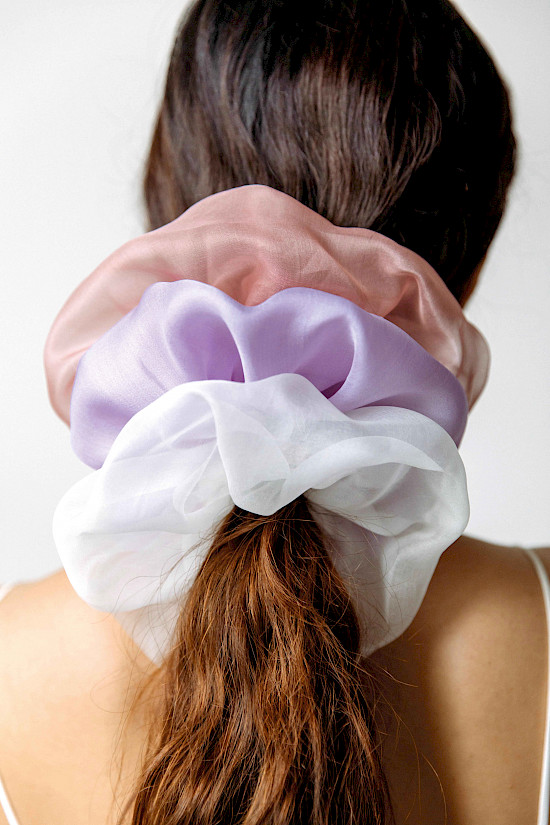 What makes you happy as a designer?
When I see people wearing our designs. It's especially exciting when you see a piece on someone whose style you admire or those times when you see a person wearing a headband or pair of earrings in a way you wouldn't expect. That's when the pieces really come alive.

How do you cope with copycats?
We work so hard to innovate, which makes it frustrating as small designer to see companies steal those ideas. It happens so frequently to small companies like us, and it does ultimately harm our businesses. I understand that not everybody can afford our price points, but
it does hurt us as a small company to have these big corporations come in and steal our designs. But innovation is what we do, so we keep making the things we love and make them in special materials and in ways that other people just can't reproduce. Clients who know our work are loyal to us because they know the difference.