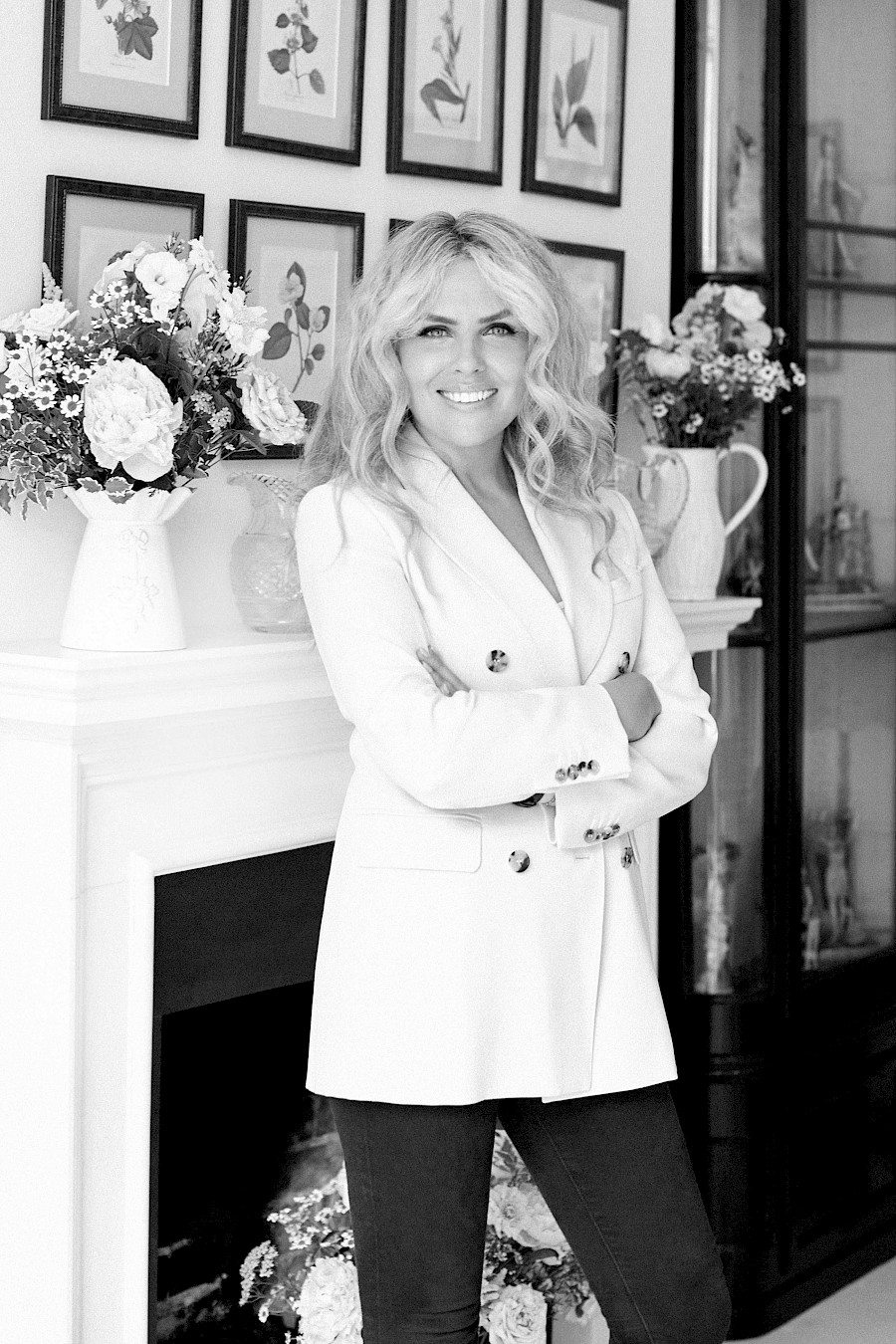 Founder and Ceo of Needle & Thread brand, Hannah Coffin came to fashion business prepared. Her grandmother taught her how to use a needle and thread, and that was the starting point of a long journey resulting in a successful London-based company. Ten years later, the brand continues to gain recognition around the world. Hannah shared her story and future expectations, revealed what a bride wants in 2023, and gave advice on planning a wedding.
This year Needle & Thread is celebrating its tenth anniversary. First and foremost, congratulations! What milestone have you reached over this decade that makes you feel most proud of?
There are so many milestones that come to mind — from our first e-commerce order to being stocked in some of the world's most prestigious stores. Yet dressing iconic women such as Catherine, Princess of Wales, Sarah Jessica Parker and Julia Roberts has been a personal highlight for me. And of course, it also gives me huge pleasure seeing women from all around the world choose Needle & Thread for their special occasions. I'm also proud of the daily initiatives within our business, whether that's our ongoing commitment to sustainability or our philanthropic partnerships with Save The Children and The Prince's Trust.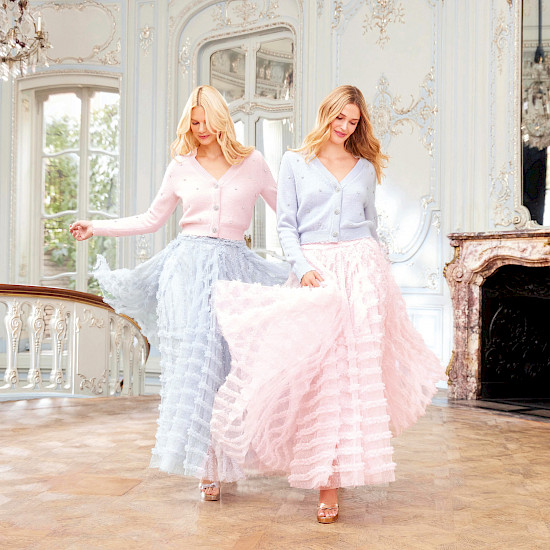 What are the brands' milestones for the next ten years?
I'd love for Needle & Thread to continue flourishing as a highly successful business, and to launch in new and emerging markets. We also plan to broaden our product offering and continue to listen to our customer's needs. A Needle & Thread flagship store could also be on the horizon.
How did the festive dressing change in the past years?
My goal and aesthetic from the beginning was to create timeless pieces for real women all over the world. Our designs have, of course, evolved over time, but our timeless, contemporary style remains original – with craft, embellishment and femininity at the heart of our brand. Women come to Needle & Thread in the same way they have since the beginning – to choose a special piece they'll cherish for years to come. Our product has subtly evolved over the years to accommodate more global markets.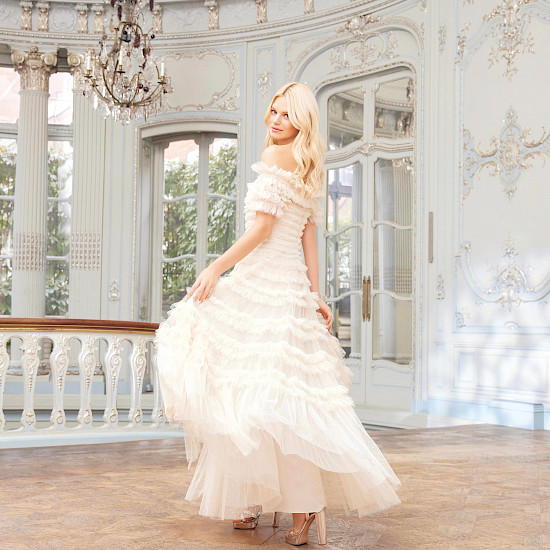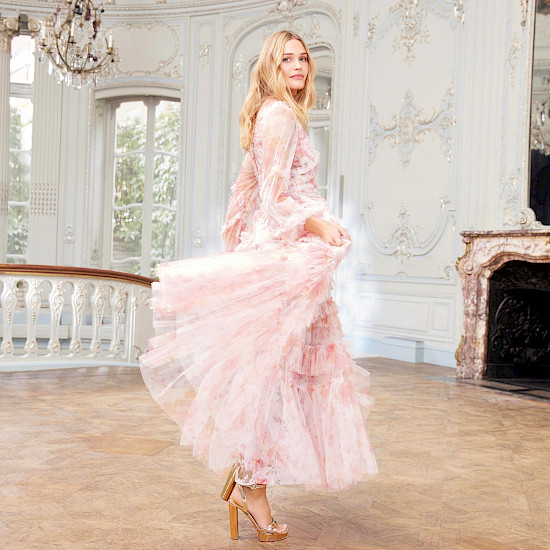 The pandemic changed the essence of weddings around the world. You were a bride yourself in 2021. Why did you choose to have your wedding that particular year? Was it the wedding of your dreams, despite all the restrictions?
My husband and I got engaged at the end of 2020 whilst the UK was in full lockdown. We knew we didn't want to wait long to get married, and with restrictions still very much in place, we decided to go ahead and set the date for May'21. We chose to have a more intimate wedding sooner rather than wait for many months! It was just my husband and I, and it was such a romantic day with a simple ceremony at Marylebone Town Hall, followed by a decadent evening at the The Ritz in London. After months of lockdown, it felt like a real treat and was a truly memorable celebration of our love for each other.
Is there a specific reason behind the choice of your wedding dress — the Lunette Blossom Ankle Gown?
I instantly fell in love with its effortless design and intricate details, such as embroidered flowers, ruched scallop trims and hand appliquéd sequins. I loved its soft colour combination and feminine silhouette. The Lunette is such a standout piece and I immediately knew it was the one. This dress was also perfect for an intimate city wedding.
Azerbaijanis love opulent weddings, although the pandemic has also changed the way we celebrate love today. Based on your experience, what would a bride want in 2023?
The bridal landscape has really changed over the past few years because of the pandemic. There has been an increased appetite for contemporary designs, stepping away from the traditional wedding gowns. With the increased accessibility of brands and points of purchase, largely through social media, brides are able to curate their wedding wardrobes in a more personal way. During the pandemic, brides were forced to pivot their wedding plans and scale everything back – their wedding dresses included. Following this, we continue to see a demand for very wearable dresses, so we have recently expanded our contemporary bridal collection, offering now a broader range of length and designs in whites, pale pinks and even bridal pastels. In the UK, it has become more common for couples to have smaller and more relaxed wedding ceremonies.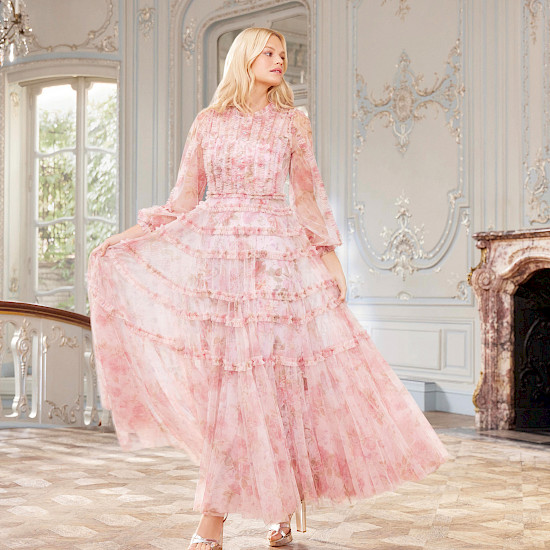 What is your advice on wedding planning to a bride?
From my own experience, it was so important to stay focused on the commitment my husband and I were making to one another. It's easy to get swept up in the planning and all the details, but it's such a precious, sacred day, and so important to enjoy every moment. Feeling beautiful and true to yourself is also key, so trust your intuition, and choose a dress that reflects your authentic style. Finally, having a trusted pair of hands is invaluable, be it a best friend, a wedding planner or a bridesmaid. Knowing someone else is keeping an eye on everything really takes the pressure off!
Please, tell us about the new RTW collection.
The PS23 'Lavender Rose Collection' is all about beautiful and effortless silhouettes in a pastel colour palette. Delicate floral dresses and signature separates such as our iconic tulle skirts and matching knitwear offer the perfect step into spring. The collection also features statement gowns ideal for glamorous parties, alongside elegant cotton dresses for a perfect day-wear option.
As a young mom, how do you maintain your work-life balance?
I've watched many women struggle with balancing work and family, including myself! I realised that it takes a conscious commitment to protect the balance that suits your family. I work really hard to have quality time with my son but it's not easy, as running a business is very demanding!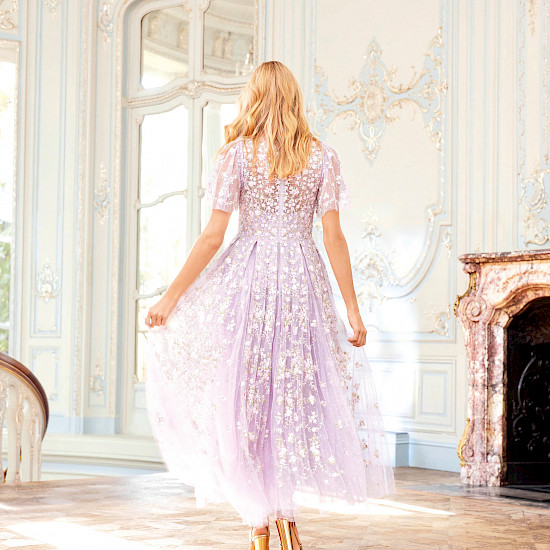 Your designs are sold all over the world. What are the differences between European and Middle Eastern women?
We have worldwide customers of all ages from the Middle East, UK, US, Europe and many more territories. We are mindful of embracing different requirements and diversifying our offerings for each territory. Our natural design DNA is very modest which resonates well with our Middle Eastern clientele that is also more confident with colour and will gravitate to brighter elements of our collection, which we love!
From the outset, you wanted the make women feel beautiful. What does being beautiful mean to you?
For me personally, beauty comes from within. If you are feeling well on the inside, you will radiate on the outside. I look after myself by eating healthy, being as active as I can in my busy schedule, and I also work on mental health with meditation and breath-work coaches. At Needle & Thread we celebrate all kinds of beauty, and we want all women to feel special in our designs.
You aim to produce 90% of your collections from recycled materials in a year's time. Does that seem approachable now?
Sustainability is something we're very passionate about. Over the past few years, we have invested heavily in recycled fabrics and sequins. In 2022, 75% of the entire collection was made from recycled materials. We continue to work on innovative ways to keep increasing this percentage. By 2024, we are committed to achieving 90% — it's a big challenge but one I'm excited to take on, and we're on track!
Following kids-wear and loungewear, what other lines do you plan on adding next?
It's all about expanding our offering and that comes from paying attention to the women who wear our designs. Brides requesting our most popular gowns in white, for example, prompted me to launch our bridal range. In the same way, the pandemic initiated a more relaxed way of dressing, so we launched our first knit loungewear collection in 2021. We are also offering more choice in our dress selection, with a broader range of necklines and lengths for international appeal, as well as a range of knitwear, tops and day dresses.
Not all brands can suggest such a broad size chart. Why did you pick this strategy?
I'm very passionate about dressing as many women as possible. I feel curvy customers are failed by so many brands and I wanted to change that in the contemporary dress sector. We currently manufacture up to size UK 22 and we are expanding that to UK 24, which I'm very excited about. We grade all of our embellishment and embroidery artworks per size so a UK 4 through to a UK 24 are all hand drawn, hence each size is lovingly created.