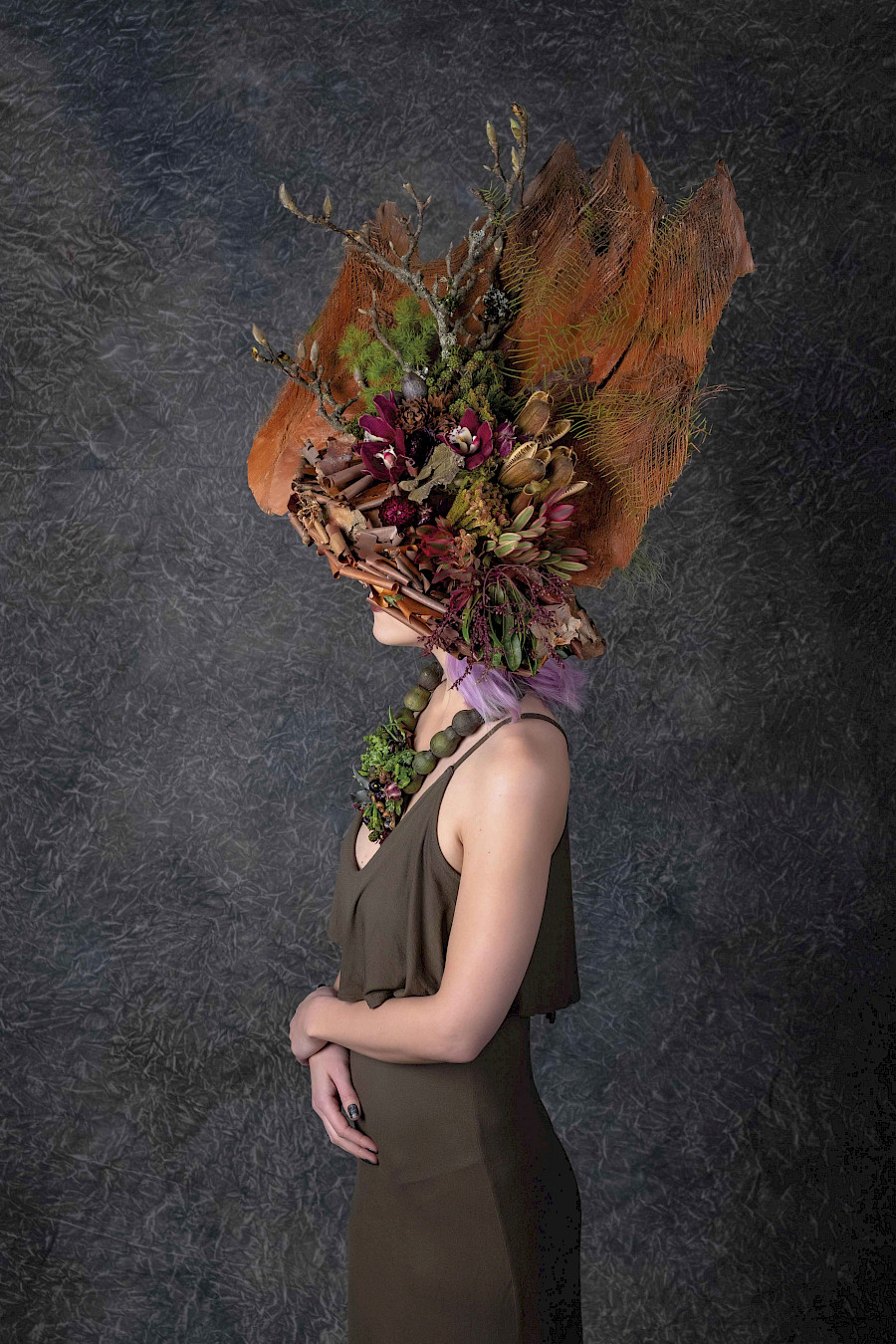 Born in Belgium, one of the world's biggest flower producers, Francoise Weeks infuses her work with a European reverence for flowers and nature. Her creativity and mechanical ingenuity together have formed a singular style, while curiosity opened up a brand-new direction to her – botanical haute couture. Using the beauty of nature, Francoise Weeks creates one-of-a-kind pieces of fashion, from dresses and shoes to accessories and jewellery. Francoise Weeks told NARGIS about her art, even more beautiful for its ephemerality.
What inspired you to become a florist?
I grew up in Belgium where flowers are part of everyday life. We always had flowers at home. From a very young age I absolutely loved them – helping my mother with flowers was always a treat. I got a teaching degree at college, but when I decided to move to the USA in 1977, I knew that I wanted to work in the flower industry. Unfortunately, at that time the flower industry on the west coast of the USA was a far cry from what I had been used to in Belgium. I put the dream on hold for nineteen years and worked in a medical lab. In 1996, I started my business, working out of our home and focused on weddings and events.
| | |
| --- | --- |
| | |
When and why did you decide to create floral accessories?
Twelve years ago, I saw a picture in a design book of a beautifully set table in a home in Paris. On each plate was a wonderful botanical purse as a gift from the hostess. They all were different and they really struck my fancy. I figured out how to make them and sold a lot of them for flower girls. Next, I was inspired by pictures of beautiful flower shoes in a book by Michel Tcherevkoff called Shoe Fleur: A Footwear Fantasy. It is a gorgeous book of a selection of virtual botanical shoes and purses. Curiosity drove me to figure out how to design botanical shoes. A couple of years later, a local photographer asked me to do a botanical headpiece for a photoshoot, and I figured out how to make one. Nine years later, we still do several photoshoots a year on botanical headpieces. In 2013, a student asked me how to make a botanical ring, and curiosity once again drove me to explore botanical jewellery.
Did you figure out how to make them yourself?
I did figure out the mechanics, because they simply were not available anywhere twelve years ago, before social media. Curiosity has always driven me to figure out what I was interested in designing. It is very fun to figure it out with trial and error, and then to find endless variations on the theme.
You call your creations 'Botanical Couture', and your work is incredibly unique. But can they be used in real life, or are they only for photoshoots?
I have made several dresses, a coat and accessories such as scarves and shawls and so on. They are very time-consuming to make. Most of them are for photoshoots, but a few times I have been hired to do botanical jewellery and headpieces for fashion shows, events and weddings. Because the flowers do not have a water source, they only last for a day or two, but that is not any different to the lifespan of corsages and boutonnieres for weddings... It is ephemeral creative work.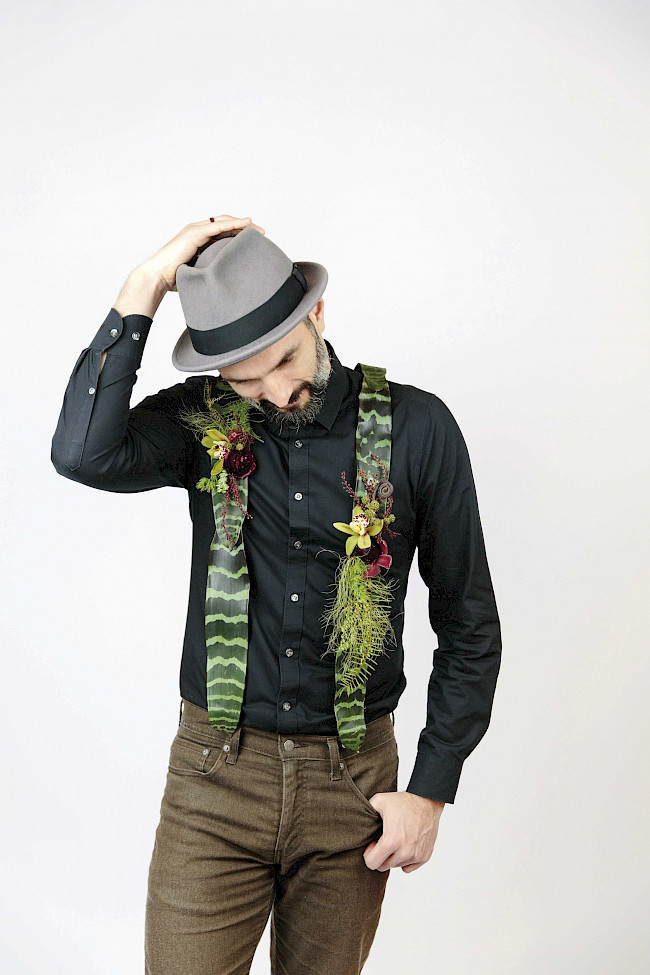 How long is the life of such art pieces?
It depends, if you only use textures like seedpods, succulents, sedums, bark, branches, fungi and so on, they will last for weeks. But any time that flowers are added without a water source, they will last anywhere from one to three days. Orchids and tropical flowers do well out of water for a few days.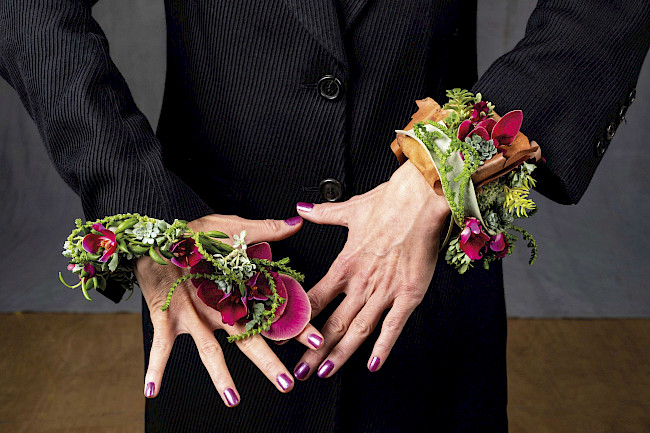 Do you not feel bad that your creations are so perishable?
I don't. It is the nature of flowers. For me, it is all about the process of coming up with an idea, figuring out the mechanics and making it. Good food or a bottle of good wine don't last long either. People never ask cooks if they feel bad about their beautifully cooked meals disappearing once they are consumed.

You also make botanical jewellery. What is the creative process like for this?
I love the process. I choose to make the base of all the jewellery and basically use aluminum wire from Smithers-Oasis to make them all. I love the flexibility to simply buy the wire and be able to design any shape I want. It is also a lot less expensive to create your own.
Where do you find your inspiration for creating Botanical Couture?
From the botanical material, basically. And I certainly have also been influenced by the beautiful work of many European designers.

Who usually orders your Botanical Couture pieces?
Sometimes brides, sometimes I do them for fashion shows and events. But the majority of the time I am hired to teach designers how to do it. I have taught at many flower shops, at garden clubs, Art in Bloom events at museums, wholesalers and conferences. I love sharing and then seeing how everyone interprets the knowledge and runs with it.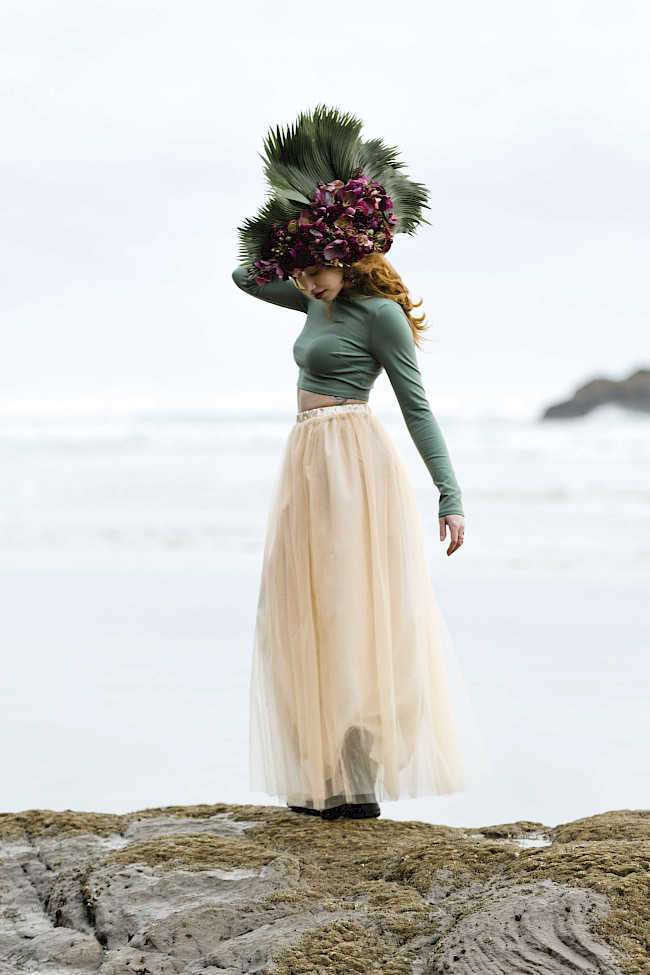 Did you have any experience connected with fashion before?
I didn't. To be really honest, I never was interested in fashion. Blue jeans, t-shirts, turtlenecks and sweaters are my wardrobe. But somehow, once I started to explore botanical couture and flowers were involved, everything changed.

Do you follow fashion trends in your work?
I don't. I follow some designers on Instagram, because they do fascinating work, but that is it. Honestly, I never understood the concept of trends: why would everyone want to do or wear the same as everyone else?
Who is your favourite fashion designer?
I discovered the Dutch designer Iris Van Herpen on Instagram. Her designs are sublime, very detailed and simply brilliant.

Please describe your work in three words.
Detailed, textural, nature-inspired.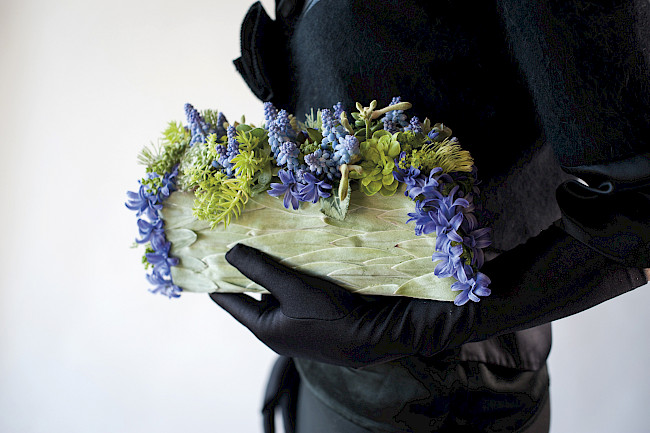 Which plants do you prefer to work with?
My preference always goes towards locally grown flowers and plants, whether they are grown in the fields or in greenhouses.

Do you have a favourite flower?
It depends on the season, but these are at the top of the list: Hellebore, Fritillaria Meleagris and poppies. And I love succulents, seedpods, green blackberries and blueberries.
You are also an author of a book on healing plants. Do you have a specialist education or is the book based on your personal experience?
Timber Press, the publisher, contacted me two years ago to illustrate a journal on medicinal plants with my designs. I honestly knew nothing about healing plants. I did a lot of research and, to my amazement, discovered that almost every single plant, shrub and tree has medicinal qualities. The great news was that I could use just about any plant I wanted to for this fun project, where the publisher gave me total creative license. The book is a journal, where people can write recipes, or write how, when and where they grow medicinal plants. Besides the introduction, there is no text in the journal. – N