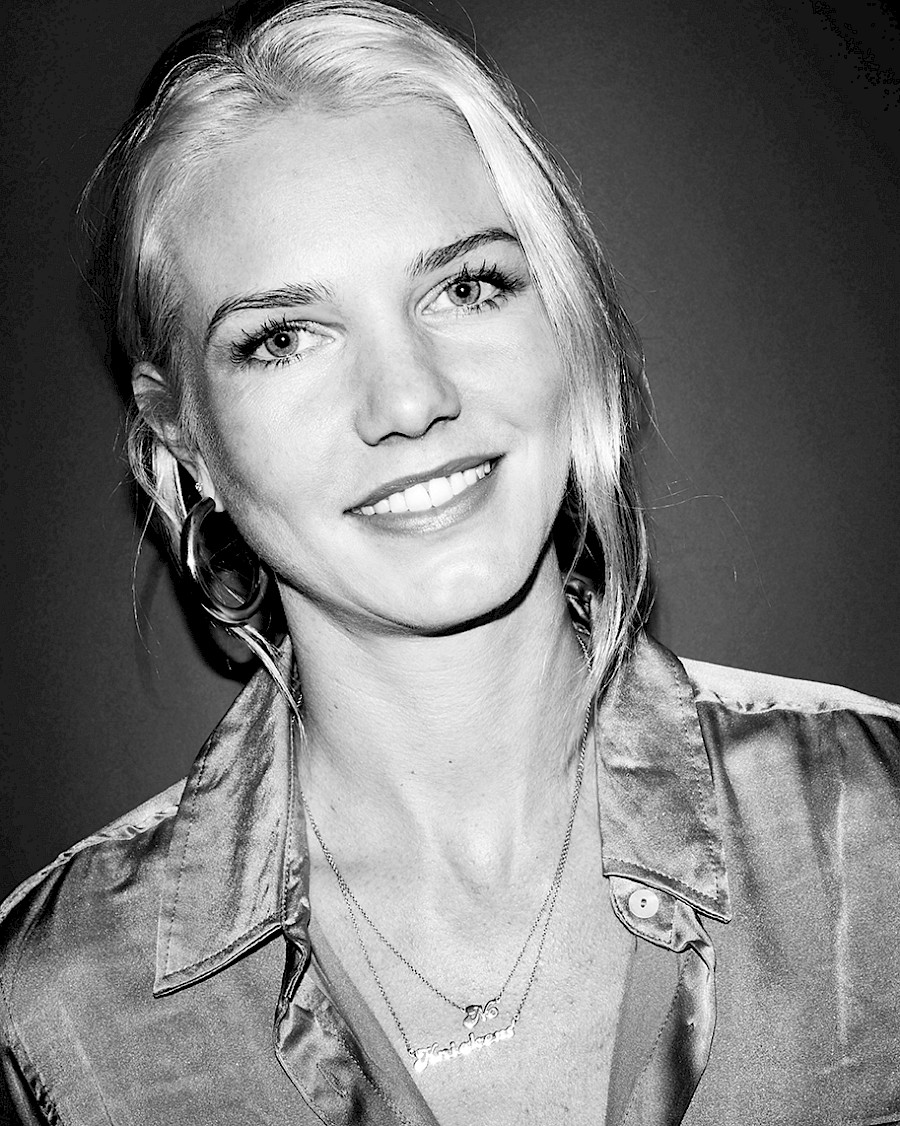 Do you remember the iconic cut-out dress worn by Julia Roberts in pretty women? Georgiana Huddart liked the fabric so much that she collaborated with the founder of Hunza to create a brand of swimwear that would flatter any woman. Today, the UK label is available around the globe, while Lady Gaga, Rihanna, Rosie Huntington-Whiteley, Bella Hadid and Emily Ratajkowski, among others, are all wearing Hunza G. Georgiana spoke with NARGIS about the past, present and future of the brand.
You started the brand Hunza G with quite a back story. Why did you decide to start this way?
Originally, it wasn't out of choice that I started it this way. I tried for a few years to source the fabric, but I ended up with bad quality versions. I hadn't thought about reviving the original brand, I just loved the fabric but wanted to create my own shapes and aesthetic with it. The fabric is very hard to make as it has to have the perfect stretch, softness and texture, and the person who makes it has been making it for Hunza for years. It's a very technical and long process, so you cannot go online and find the person (luckily for us!) Eventually, someone put me in touch with Peter Meadows and we had a chat in a coffee shop. He said he would love to 'give it a whirl' again but wasn't sure that anyone would be that interested in it. We began the next day. He had everything in place for production from the old Hunza years, and we created Hunza G that week. I designed a collection and we put it into production immediately. I opened an Instagram account and the rest is history.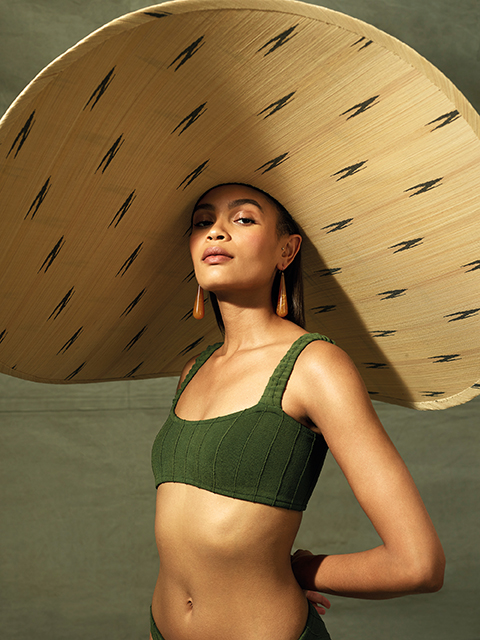 Do you think that nostalgia helped you at all?
Yes, definitely. But also, in some cases, no. Some people associate it with bad 80s raving and a bit of a dodgy style, some people absolutely love it and it reminds them of being a child or swimming in the sea, it's very individual. But, as a general rule, the nostalgia is brilliant, not just because it's recognisable but since it also gives the brand a heritage feeling. The archive is amazing to look through and we have been on such a journey. Authenticity is something that I think people are becoming far more interested in from a consumer point of view. Especially with the COVID-19 pandemic, people want to know how and where things are made: what the story/history/ethos is of a brand or store. People want the story as much as the product.

Why did you decide to base your production in London?
Peter and I were always very keen on the concept of Hunza G to be British made and based. It's very unusual for a swimwear brand to be based in London, most are in Australia, LA, etc. We wanted to keep it all in the UK: the fabric, the production, the team. We even shoot everything in the UK, so we have never travelled abroad to do a shoot. We just try our best to make it look very hot and exotic, even if we are shooting on a windy beach in Essex! We offer quite a bespoke service in terms of styles, colours and exclusives. A lot of the production team are from the original Hunza days: they are not very digitised, so it also makes sense from a communication point of view.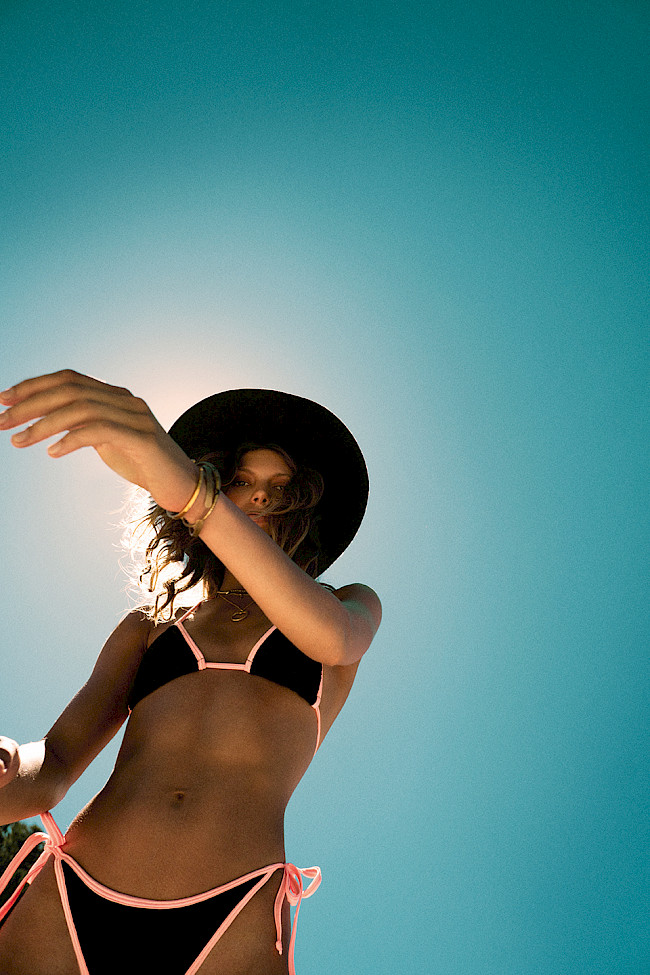 Please tell us about the unique material used by Hunza G. How is it made and how is it environmentally friendly?
It's knitted on a circular loom, made by hand in small batches to order. We make to order so we don't get left with any waste. We are not producing crazy minimums of 20,000 metres per colour, which a lot of people are forced to do if outside the UK. The process and dyeing are all done with environmentally friendly equipment and products. I can't say too much more about the process, or I will give all the Hunza G fabric secrets away!
Do you consider Hunza G's swimsuits as a piece for a season or can they stand the test of time?
I hope we offer both. Each season there are more pieces that I think are more led by trends. Then there is the core, which just continues to sell year after year. We never stop selling a collection, so the styles don't ever become 'past season'. NET-A-PORTER, for example, sells styles that are three years old as part of their new season, because we update a colour, or they remain part of the best-selling core. Each store can curate their own collection really, as we make bespoke colour options for people, which is possible because of the way we produce everything ourselves and in the UK. I, personally, am not someone who buys into trends, so I would like to think the designs reflect this and aren't too fleeting in terms of the style.

Do you always find inspiration in the 80s while creating your swimwear?
No, I most often try to avoid the 80s! It's so much a part of original Hunza that I don't think it needs anymore 80s. I think there is a natural association with the 80s and therefore I am always trying to move away from this to make it more relevant and current. I find inspiration in lots of different places. One collection was inspired by a paperweight I found on a market stall... Whilst I love the 80s, there is good and bad 80s and it's a very fine line!
| | |
| --- | --- |
| | |

Do you follow fashion trends in swimwear while creating a new collection?
I think, subconsciously, yes, but not specifically. Our customer base is so expansive and varied, that I don't think following fashion trends closely would appeal to everyone. The concept is always a sporty, functional swim piece that also has an element of design and fashion incorporated into it. It has to fit a huge range of sizes and ages, the demographic is vast, and it has to make this collective group of women feel fabulous at the same time. So, it's a combination of all of the above, but the key is how it makes one feel and if
it makes women feel body confident, whilst being able to jump into a pool or the sea and not worry its going to fall down, come apart or get ruined.
You had a background in interior design before turning to fashion. How does this help you with the brand?
It means that I am naturally curious about aesthetics. I have always loved fabric, the texture of fabric, and how that adds depth and beauty to things, whether it's a sofa or a body. I think creative worlds are all very linked in terms of the type of brain that is excited by them. Curiosity, as I said earlier, is key. Old reference images – whether it's of 1950s gymnasiums, beaches, 1940s interiors... The Nile Collection and shoot was all designed with Bauhaus style imagery as a reference point and 1950s swimming caps. That's what I ended up with when thinking of shapes, colours and fabric. Having a natural index that knows what Bauhaus means or looks like is, for sure, a huge help. I think the references that are not literal most often produce a better collection. It's hard to get inspiration from 'iconic 1950s beach' and for it not to be a fairly repetitive aesthetic that most people have seen before.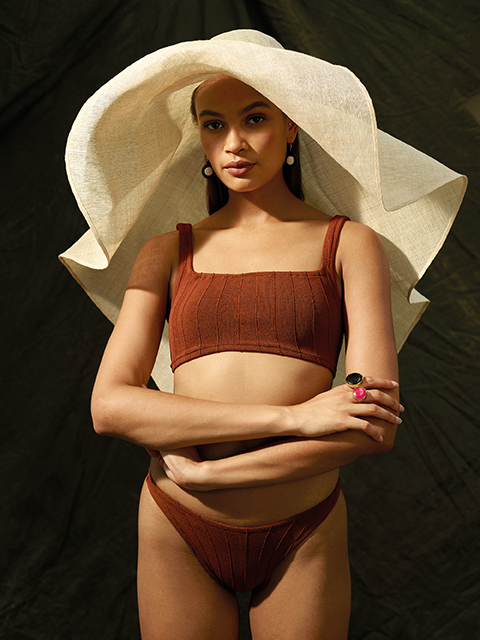 Why did you decide to concentrate on swimsuits?
Because Hunza G took off pretty quickly once we launched, so I had to make the decision pretty early on. There wasn't a moment's hesitation or question of what to focus on.

Starting the brand, you decided not to give your products to influencers. Nevertheless, you have become famous on Instagram in a short time. Why do you think this happened?
Hopefully, it means that the product is actually good; that people enjoy wearing it and it isn't a flash in the pan; that it actually makes people feel and look great when they are wearing their Hunza G. The fabric is also very recognisable, so it's easy for people to trace where the bikini they have seen someone in is from, although a few brands are trying to copy us now, which is frustrating. People also like the story and the fact that it's all made in the UK.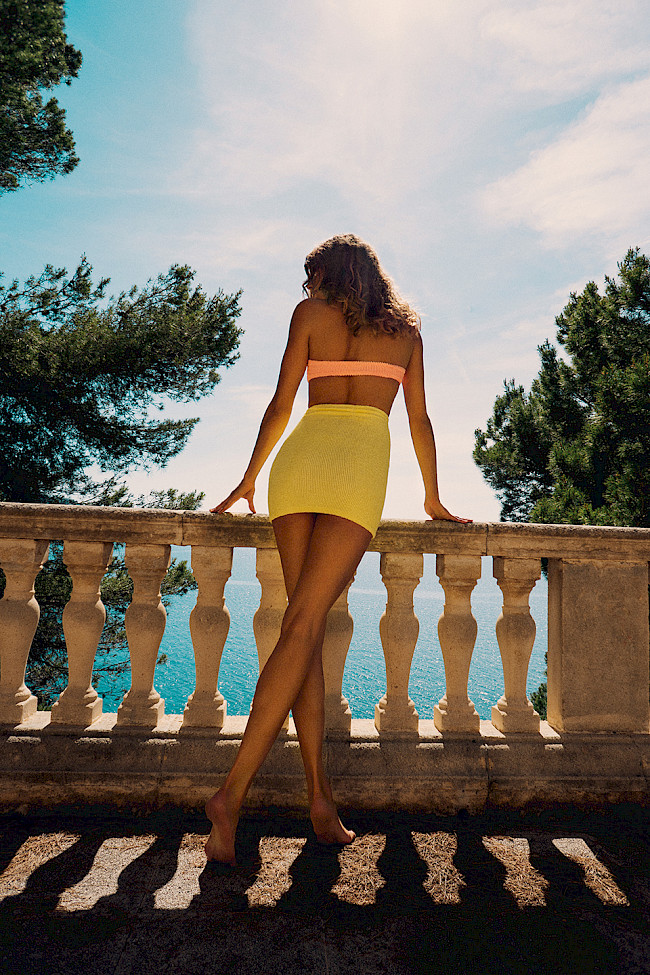 You are also popular among celebrities. Which celebrity wearing Hunza G would you like to see?
Susan Sarandon, Dame Judi Dench, Billie Eilish.

What is your favourite piece by Hunza G?
Gigi Bikini in lilac from the new RAINBOW COLLECTION.
How would you characterise the aesthetic of Hunza G?
Sporty, timeless, flattering.

Does the aesthetic of Hunza G reflect your style?
I hope so, I am pretty practically dressed without being totally function led. I like to wear things that make me feel good, but that I can still move in, be a mother in, run in, pop to the shops in, meet friends in. Multi-purpose clothing that isn't ugly or mundane. But I do not wear high heels everyday and weird tops with things dangling off them or that you can't move in.

Who is the Hunza G girl?
Anyone! That is totally the point.
What makes swimwear by Hunza G great for women of all sizes?
The fabric stretches and finds your best shape, because it doesn't have seams, so it acts like a tube whilst remaining really comfortable.

Why did you decide to turn to a one-size fit format?
It just made sense to try to make a product that was inclusive. Everyone is looking at the same product and buying the same thing, I think that's a nice feeling for a woman, not worrying that maybe you are bigger on your top half and then trying to work out if the sizing of this brand comes up large or small – then having to return items. It's great for men, they purchase them for their girlfriends and wives and never have to worry that they have made a giant mistake by getting the size wrong, which is, A, annoying to do, and, B, could cause some offense! It's great for stores as they don't get left with lots of stock in random sizes. It just made sense.

Do you plan to expand your product line? If so, which products might that include?
We are launching a baby range. But yes, we have plans to do more products, although it's been delayed by COVID-19. But eventually, I would love to do some shapewear, basics for underwear in one size fits all.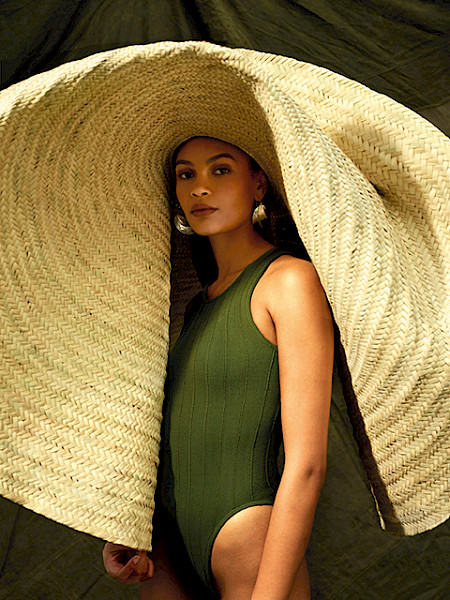 Please describe one of your work days from morning until evening.
Frank (baby, 11 months) wakes me up at 7am. I have breakfast with him, go for a run at 9am. I get to work and have a load of meetings with the team. Some production, some PR, some just general studio tasks. My team is incredible. I get home at around 5pm to give Frank his tea.

What is your advice to all who are planning their holiday wardrobe to avoid panic buying?
Think about whether you would wear the piece not on holiday. I don't think you have to have totally different wardrobes for different occasions. It's lovely to have a few amazing holiday dresses that you probably wouldn't go around in on the London Underground, but generally speaking don't buy a load of 'holiday clothing' as I don't know what that means. It means things you wear for five days and then never look at again. You just need good key pieces.
What three things do you always take to the beach?
Book, suncream, sunglasses
What is your favourite travel destination?
Ibiza
Which countries would you like to visit for the first time?
Mexico, Mexico city specifically, not Tulum
Which music plays in your earphones while you are designing a new collection?
It changes all the time, listening to a lot of Eagle Eye Cherry, Neneh Cherry at the moment, I am on a late 90s vibe
What is your favourite netflix show?
Sex education or Unorthodox