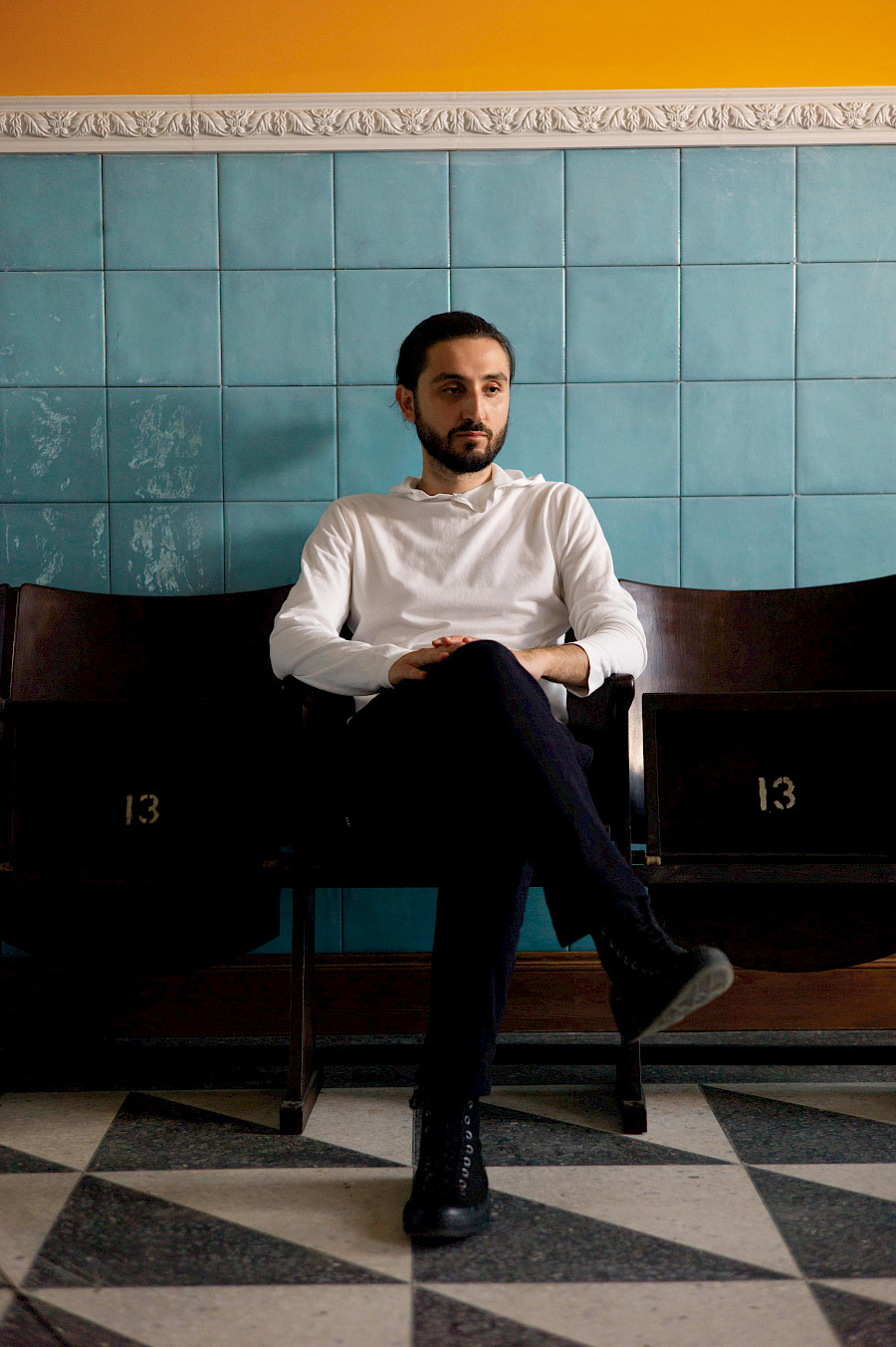 Pianist and composer Isfar Sarabski, Honored Artist of Azerbaijan, Zirva State Prize laureate, winner of the 43rd Jazz Festival in Swiss Montreux, the first Azerbaijani musician working in jazz and electronic music genres, signed a business contract with Warner Music Group label. In his exclusive interview with NARGIS, Isfar talks about the making of his new album and DJ performances, what jazz and freedom mean for the musician and how music helps solve mental problems.

What did your collaboration with Warner start from?
A lot of effort was made to meet with people from Warner. I have long had the goal of getting to Warner, because the best world musicians, whose work I have always found interesting gathered there. At first, we negotiated. They listened to my music, watched video clips, we talked about music. Eventually, they said that they were fully interested and wanted to start cooperation. By the way, at that time I already had a lot of offers from other labels, so I also had something to think about. Therefore, I took a pause, considered everything and decided to sign a contract with Warner.

What is the difference between a vinyl record and a regular album?
It's all about an acquired taste. In principle, digital recordings are in very high quality now, although this, again, depends on the studio. I would not say that in terms of the sound quality vinyl is very different from CD. But it's nice that vinyl fashion is coming back, because it's a wonderful bridge from the past to the present, which gives us the opportunity to experience the feelings and emotions that our parents had when they listened to the record. It's great that vinyl has its collectors again, there are lots of them. I myself am a fan of vinyl and often buy records. I hope vinyl fashion does not fade! Any music medium is always interesting.

Your new album is called "Planet". Why?
Because all this was written during my, so to speak, journey through life. Each track, each composition has its own time, mood and connection with some kind of mental state. Initially, I had no ideas about the name of the album. But when I wrote the song "Planet", I had a peculiar state. First, I shifted it for the piano, and then I recorded it with the orchestra.
The idea was just to create a melody, but hearing it in a Moscow studio, while recording with an orchestra, I was very impressed: I myself did not expect that the music I wrote could sound like that! And it occurred to me that all my tracks were recorded in the key of my great journey through life, on this planet. And I named the track "Planet".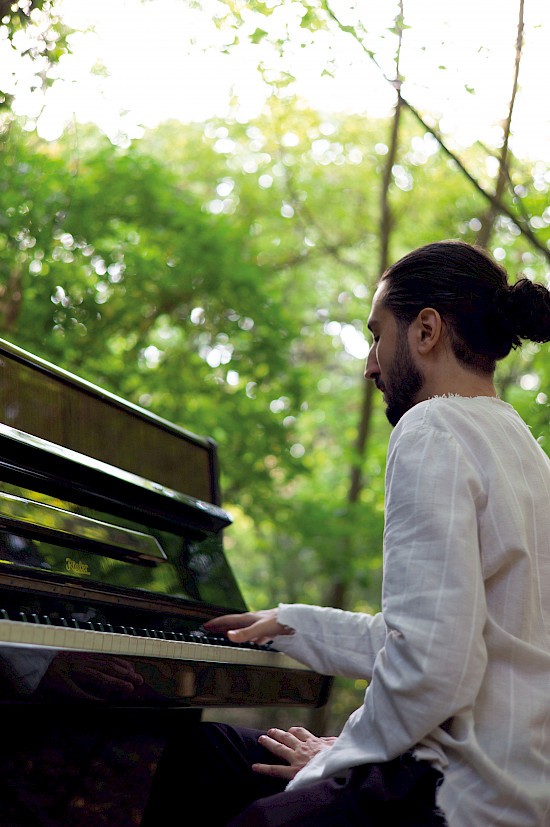 And why did you record in Moscow, and not in Baku?
This is not an easy case. It is still hard to record music in good quality in Baku - string instruments, orchestra, the same piano. The grand piano is not so easy to record at all. Therefore, unfortunately, you have to go either to Berlin or Moscow to record. I hope that in the future I will create my own studio in Baku and I will not need to travel to another country.
How did you create the cover for the album?
Just sent samples and music to the design company, which does covers as well. I sent my short biography so that they would have some idea about me. The team approached the task very professionally, this can be judged by its associative ideas on the cover - there is a connection with classics, retro, folklore, even with my roots.

A few years ago, in interview with NARGIS, you said that Montreux was a new stage of growing up for you - realizing yourself not as a boy, but already as a man. Can you call the release of the album "Planet" some sort of the next stage?
Of course. I like communicating with adults, experienced people, especially from the musical world, who have gone through some trials - I am always interested in listening to their opinion, to get valuable advice. And in one of these conversations I heard: the next album is your story, which you must finish and put aside to start doing something else. It happened that the album was written for a very long time. I wrote, rewrote, I constantly disliked something in it... In parallel, I was engaged in many projects. In addition, some events constantly took place and I had to postpone work... Musician-friends advised: "Finish the album - it will be easier, new interesting projects will open".
Now, of course, everything is different: I am ready for new creative adventures. We can say that the album was really another important stage passed, like Montreux. And now I need to go further - set a new goal and work.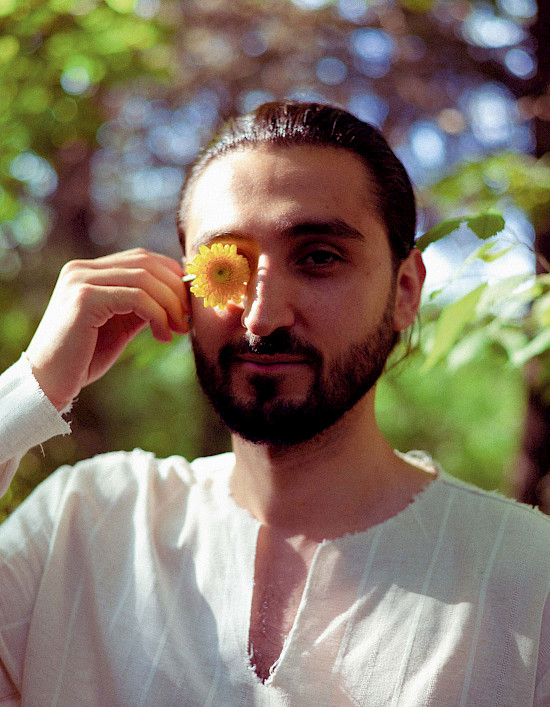 Jazz is the music of freedom. How free of a person are you? And what does freedom mean to you?
It is difficult to answer, because even jazz music cannot always be called free. There is measure in everything, and in the same freedom as well. This is one of the factors of our consciousness when we try to control our freedom, by actually blocking this energy. We can say that there are always some external reasons, and you cannot constantly be in a free state. The ability to find the same balance when you can free yourself and really manage your freedom is perhaps one of the most important qualities for me. I feel free when I perform something. At such a moment, I am very open and feel how my emotions are transmitted to listeners.

It is believed that now we are less free than our predecessors in the 60s and even 90s. Where is the line between your own freedom and the freedom of others?
It probably depends on the personality. The spirit and desire for freedom are always stronger than conditions. You just need a great desire to be free. In my opinion, a person is able to do everything he wants himself. At the same time, there will always be some problems, difficulties, hard moments... But a person himself can get out of some state, fall into it and even dissolve in it. Or vice versa - open up and go on. Our reality is so complex that people lose their ability to feel. It seems to me that everyone lives somehow very quickly and, in this hurry, they do not have time to feel anything. We could fully feel the emotions of photography or track before. Now the tracks have become minute long, and the photos are instant. We don't have time to understand anything. This all creates some kind of chaos in the head and does not give an opportunity to get free internally. We cannot just relax and really wrap our head around something, realize what is happening. Understand what we feel. It's like we just close our eyes, blink - and life passes by. It seems to me that it is worth slowing down the course of events and focusing on the main thing, learning to enjoy moments, the very same nature - it will never make you feel bored. And draw feelings, interest and freedom from this.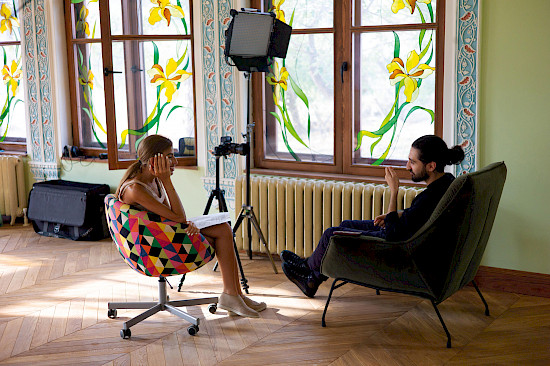 So, you mean "being here and now"?
Yes! I think that's the most important thing. Then we can both see and understand what is happening around. Now we are in a stormy, fast stream of what is happening in the world, on the Internet - in everything. I think you should not strive to master all this the quickest possible. You need to be able to choose what's closer to you. Then it will be both freer and more interesting, and it will be possible to reveal new feelings and states in yourself.

Does the legacy of jazz titans of the 20th century put pressure on you as a musician?
No way! It can't pressure, it can only inspire. When you listen to people who performed, created, recorded real music, this is always inspiration. In my profession, I like to analyze, watch how it was built, in what year, what track, in which album - I am into it. This is a legacy that allows you to move forward. Those who created music in the 20th century were, of course, innovators, but they took their origins from the 19th century. If we do not build on our legacy, we can quickly exhaust our potential. Our predecessors, creative people, like scientists, were searching for the properties of harmony, the derivation of universal formulas - what sounds more harmonious together. And this applies to any sphere of art, not only music. Therefore, I always listen with great pleasure to classical music and jazz. I love this diversity and believe that we should be grateful to the people who left us with such a rich cultural heritage.

How important is fundamental education for a jazz musician?
Very important. Maybe I would have answered differently before, doubtfully, but now I'm just sure that this makes a lot of sense. If you set yourself professional goals, you are ready to somehow develop, then fundamental education is the key, without which you cannot open the necessary doors. This is my position: the musician needs education first.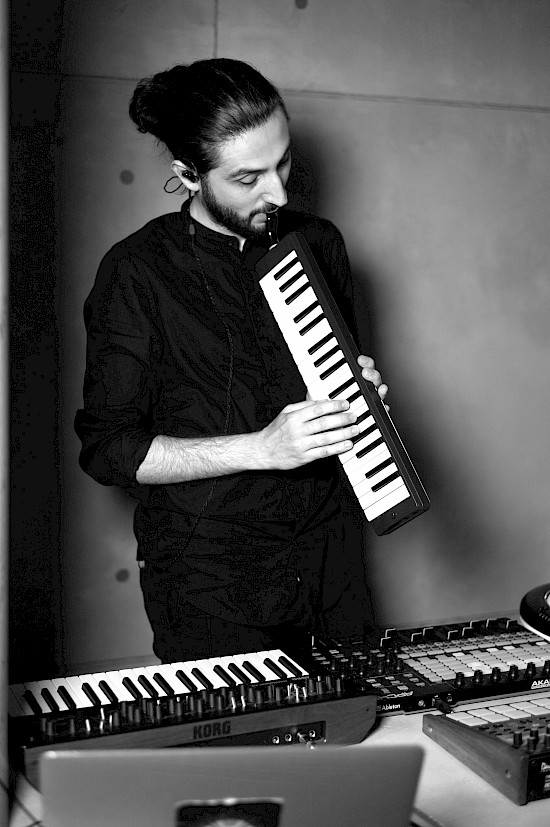 It is easier for an educated person in all spheres...
Yes, this is a worked-out mechanism: you just understand what and how to build next. And without it, you can just get lost at some point and not understand what to do next.

You worked on the album during the lockdown. How did this affect your work?
I would not say that I worked on the album only during the pandemic. Some compositions by that time had already been completed. This period itself was specific and unexpected, of course. Everyone was in a state of uncertainty, a lot of things happened that questioned - to create or not to create? But I realized something: I have nothing left but to continue. Moreover, a lot of free time came up, which was always lacking. You could just sit down at the instrument and play endlessly, sometimes take a break to eat or smoke. I always dreamed of free time and now I got the opportunity to engage in self-education. Therefore - yes, to some extent during this difficult period I revealed myself. And not just in music. There were many different realizations, discoveries inside myself...

Your album was released on International Jazz Day. Was that planned?
We were just discussing with the label the release date of the finished album and thought that this date would be symbolic. I participated more than once in Jazz Day at the main events in Paris, with the support of UNESCO. I experienced incredible delight and brightest emotions, met Herbie Hancock, Wayne Shorter and many other musical "Giants". We talked behind the scenes as participants of one concert – it was a fantastic feeling!
| | |
| --- | --- |
| | |

Duke Ellington once said that "Jazz is like an act of murder; you play with intent to commit something". And what thoughts do you have when you play jazz?
About the murder - definitely not. I generally don't like such parallels. We creative people, of course, send some kind of message for those who see or listen to us. For me, music is the language in which I try to tell the stories and the emotions I have experienced. I often cannot express in words how I feel, and I do it through music. Playing or listening to music, I feel a connection with a listener or musician - this is very important for me. The reaction of the listener is very important. This is a valuable "fuel" for my soul, thanks to which I keep on doing something. For me, live feelings, a sense of reality are the most important. Remembering, feeling, seeing, paying attention are simple things nested in us by nature that we forget about. And we get caught in chaos.

Do you agree that human is a resource that must be replenished all the time? For example, with music?
Yes, sure. I can listen to some musician for hours with my eyes closed, being in a comfortable state that I could not dive into without music. Everyone has their own formulas that work at the moment when you need to relax, listen, feel...

If not a secret, who are you listening to now more often than others?
Brad Mehldau. I am very interested to see what he creates and what he wants to say. I analyze his works as a professional musician. I listen, wondering why there is such a chord, I create my own "web", I wonder why everything is built this way, I observe the technical side. In addition, this artist can sometimes create something that has no explanation, just a kind of emotional splash- an amazing climax or an element of silence. It's inexplicable! I also like to listen to Fred Hersch.

You have a contract for two albums and you have already released the first one. So when is the second album expected?
We plan to publish by the beginning of next year, with condition, that no lockdowns happen. This time there will probably be more electronic music.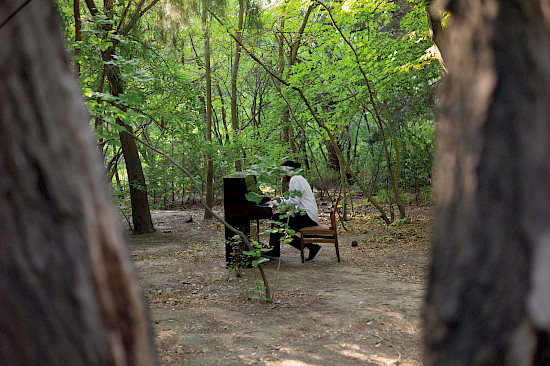 Which place in your life holds electronic music, and which is jazz? How compatible are they in the work of one person?
It is difficult for me to name myself: a jazzman, as many jazz musicians call themselves, an electronic or classical musician. I consider myself just a musician, getting inspiration from electronic music, and from jazz, and from classical, and from rock, pop and everything else. Everything has its time and condition. When you do classical or jazz music, it is only piano, you and scores. And when you do electronic there are already a laptop, controllers, the whole story with cables, cords, compressors, effects... But I manage to combine. If I have a project - I only do that, an electronic set - I find time for electronic music. It's difficult, every time you really need to rebuild your brain. But for now, I like it, and I will experiment with genres further. Perhaps someday I will work with an orchestra or deal with something else - I have many questions for the future!

On which platform would you like to perform?
I used to wish to perform at the Albert Hall or Montreux, but thank God it all came true. Now there is no specific scene on which I would dream of coming up. I have a desire to perform, to be with the audience, no matter where. If it will be a large hall - well, great, but basically, it no longer matters for my work.

What kind of vibe do you sense during the performance?
Sometimes it is euphoria, sometimes devastation - it's different. It depends on the atmosphere.
For example, the performance in the Boiler Room. Going out and playing a set was something new for me, it was interesting to experiment and see how I would feel at the same time - me, a musician who usually plays in front of audience sitting in the hall. And here people are standing or walking around - it's not so easy to adapt! But it was a very cool experience, colossal emotions. People spilled out different kind of energy there - with the help of body movements. By the way, when an artist is on stage, it does not mean that he is in his "bubble" and he does not care what is going on around. It is always important for the performer to feel the mood of people sitting in the hall or moving around, to see the attention and pleasure they listen to you with, to understand whether there has been contact at the emotional level. After all, only such emotional linkage creates a real show.

What does jazz mean to you?
As a child, it was an interesting game for me: something improvisational, unusual. I even have an interesting story. We listened to different musicians at home, among them was an incredible trumpeter - Dizzy Gillespie, who performed jazz at the highest level. We have a musical family; many different instruments have always been at our home. Once I tried to play something on the trumpet, and it seemed to me that I was playing exactly like Dizzy. But my parents took the trumpet away: I was very stressed, and this, as it turned out, is a very difficult tool. But in the future, I still played the trumpet, the piano, and the guitar - I was interested in it. Over time, I realized that music is a whole ocean of desires, emotions, states, improvisations... It's freedom! Jazz music is very revealing, although some people might find it too complicated.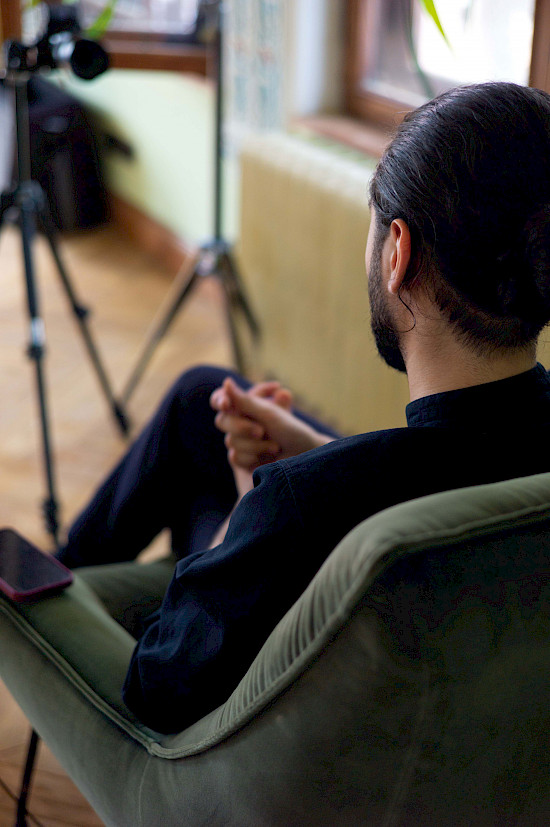 Does music help you solve some mental issues?
Sure, it does! When I want to talk about personal stuff, I always sit at the tool. This often results in some compositions, musical fragments... I do not record them, at such moments I just want to play - spill it out, so to say. And the tool is always happy for you and ready for communication... By the way, recently Fred Hersch, a great musician whom I met at his concert in Montreux, said a very important thing: "When we sit down at the piano, we must understand that there are many of us musicians and we have different organisms and different perceptions of sound. We have different ears, and everyone reproduces and perceives sounds in their own way, although the instrument seems to be one. Therefore, the instrument becomes a mirror reflecting the feelings and emotions of the performer". And I agree with what I experienced myself: music is a reflection of my inner state.

And what feeling dominates in your life right now?
I always try to bring my spirit to balance in order to be able to develop. It's very important to me. I try to balance knowledge and changes within myself, bring the internal regulator into operation. This is an attempt to accept the world, to create a channel through which I can draw my emotions, and then give them to others. With such a "regulator", I can continue to work on myself and create something important.

Have you felt regret for unscripted music?
Of course, more than once. Although I understand: it should have happened - what I played then should have remained in that time, and no one else would hear it. Sometimes the melody suddenly pops up in memory itself, and sometimes you try to remember and it doesn't work out... And sometimes you perform a large finished composition in a dream, and in the morning, you cannot remember it. I approach this philosophically: your work becomes part of you, even if you have not recorded something - you still performed it, even in a dream. Maybe that was enough. And the fact that this happened already feels good!