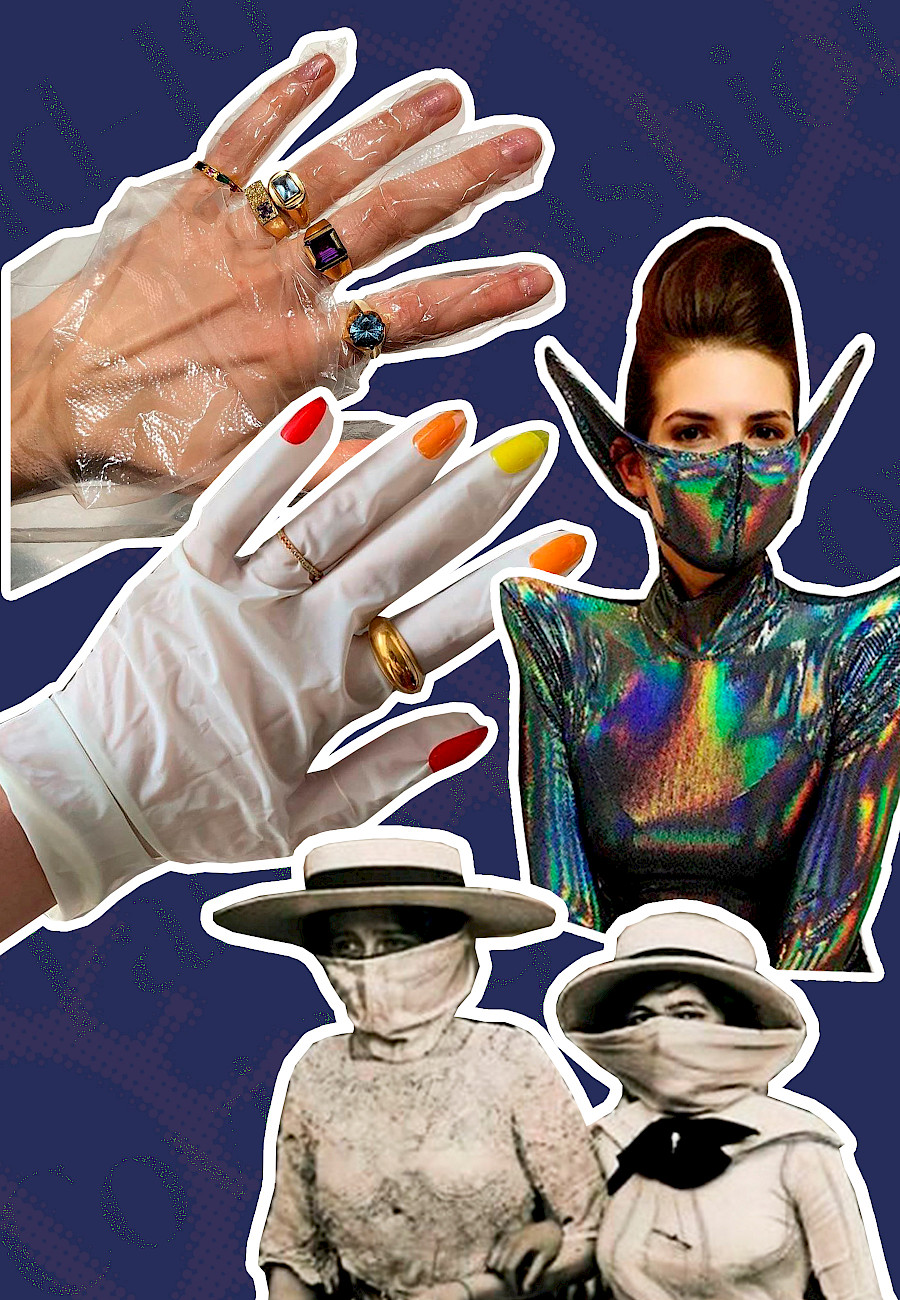 Spring. Time of year usually led by a renewal of nature and wardrobe. The whole beautiful half of the society gets a gym membership in advance and goes on a diet in order to confidently flaunt in light dresses with the arrival of warm days. In 2020 something went wrong, Grounders caught up not only with seasonal allergies, but also with a rapidly growing pandemic that turned the world and the normal way of life upside down. Not only the showing up in new outfit at theatres and restaurants was cancelled, but there was a chance to feel the real borders of the countries not on one example, but across all continents. "Travel" in many countries is at best limited to going to the nearest pharmacy or grocery store. Everyone tries to contribute as much as possible to prevent the spread of the virus, someone self-isolates and complies with all WHO instructions, and someone sponsors hospitals and laboratories. Luxury brands were no exception – Bvlgari, Versace, Dolce & Gabbana, Giorgio Armani provided financial support to hospitals, Civil Protection Agencies and research organizations to combat coronavirus.
The global resonance has also been raised in the world of high fashion. An article about Fashion Week in New York I reasonably concluded with a positive assessment of the fashion industry's response to environmental problems. Admittedly, technology of clothing recycling has been hand-to-mouth adopted, the culture of conscious shopping is carefully instilled, many designers have reduced the number of collections produced per year, and trends have become stable and hold in tops for more than one season, which allows to increase the "period of relevance" of things in the wardrobes of fashionistas. This year the press was surprised to talk about reducing the scope of the shows, Covid-19 decided to support this good idea – the show of Giorgio Armani's collection in Milan took place behind closed doors due to outbreaks of the epidemic in Italy.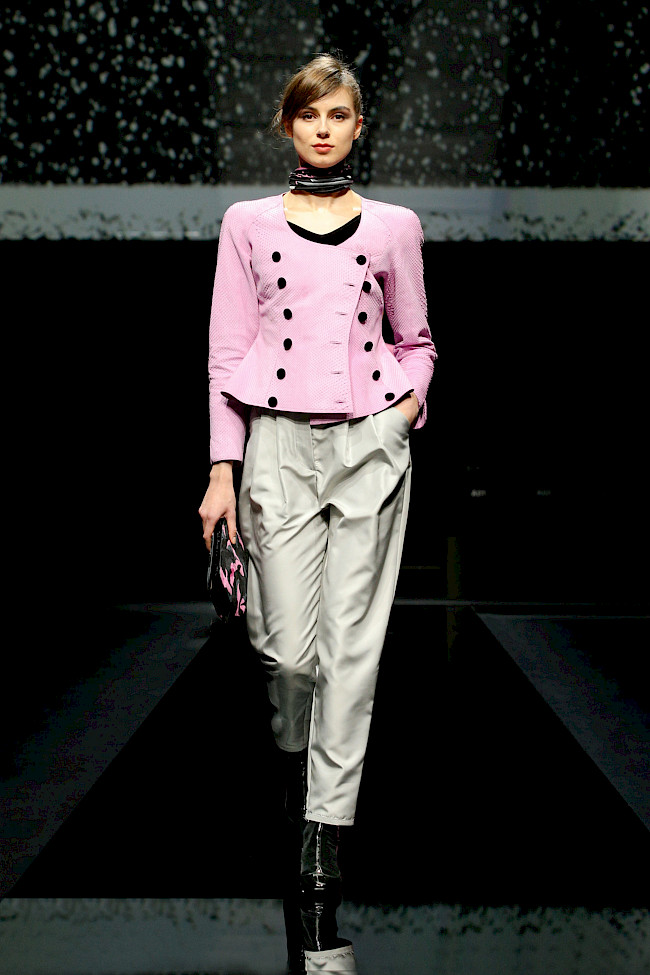 Giorgio Armani Fall 2020 Ready-to-Wear Fashion Show
Street masquerade
To date, scientists have not produced a single effective vaccine formula that could prevent the spread of the virus and reduce the number of deaths among the infected. It is known that the virus is transmitted through airborne droplets, and this information provoked the population to buy three-layer medical masks, and many even tried to speculate on it. As they say, demand generates supply, and creative minds took advantage of it. Designers from all over the world promptly reacted to the situation and released a line of masks. The daily use of masks in Asian megacities has been no stranger, in this way the residents protect the airways from smog, and of course, fashion people have adapted them to their style long ago. For the last couple years many Western fashion designers have created decorative masks for podium looks, but they have never reached the masses. The "masks" are also trending in social networks: every self-respecting blogger creates at least one for his followers on Instagram. The conclusion is that society would long ago be happy to decorate its face not in classical ways, and the pandemic only kick-started this process.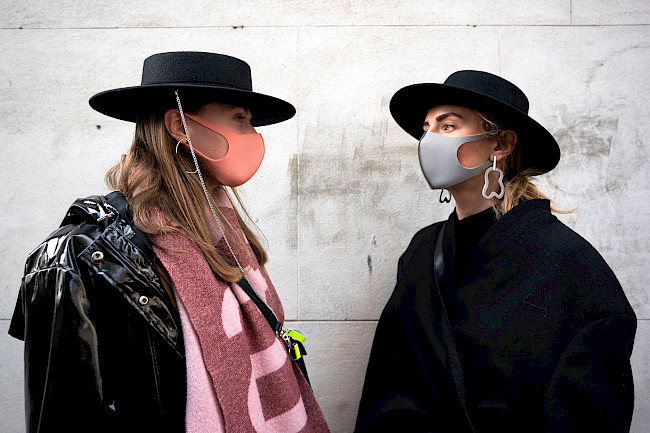 In the post-Soviet space the "medical three-layer" masks as an element of the look still did not stick, and there were no special reasons to use it on a regular basis. In addition, the historically formed matrix of concepts that do not imply trust towards people hiding their face in society without visible reasons is not cancelled, as a result people do not dare to turn this accessory into a trend. Decorated masks are a relative innovation for our market, yet there were designers who created one piece items, and they were used by very individual persons. At fashion week in Paris, Yana Rudkovskaya showed up in a black mask embroidered with white camellias by Chanel, she explained the choice of three-dimensional floral design by saying that the dark mask did not harmonize with her spring look. Everyone without exception liked the idea, so returning to Russia the producer decided to release masks for sale.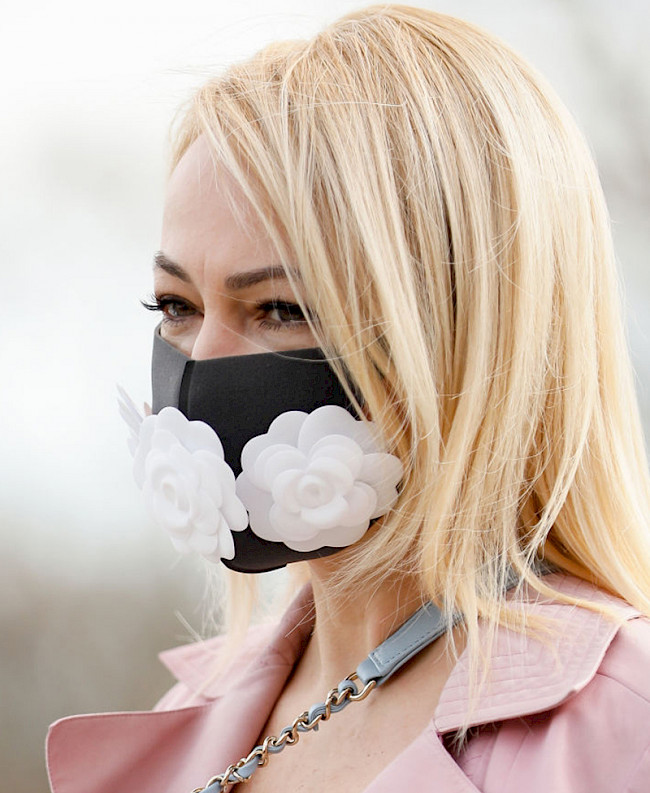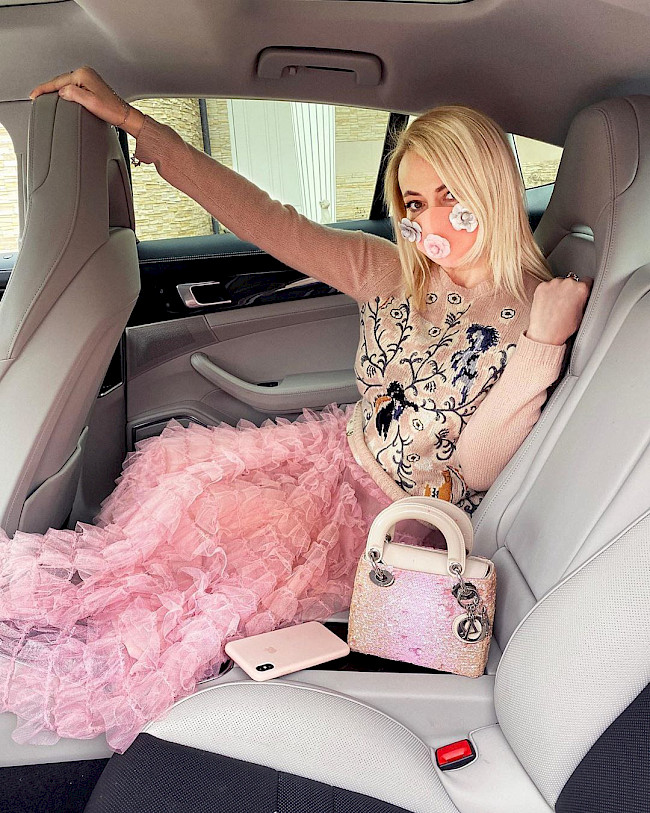 Despite all the growing popularity of the fashion item under the posts of Russian brands in social networks serious battles are going on, subscribers accuse designers of inefficiency of their product in protection against the virus, forgetting that it is just an accessory that has no less protection than the same three-layer medical mask.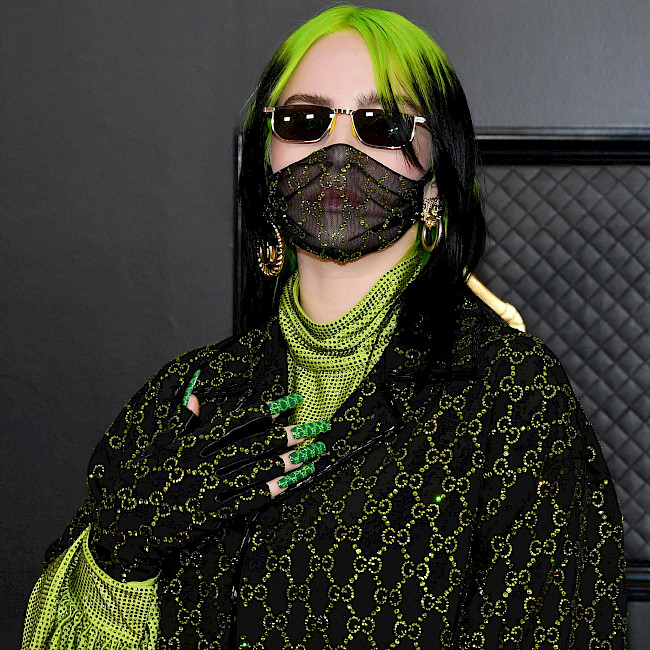 Billie Eilish at the Grammy Awards 2020

Therefore, there is no significant difference, other than financial, between buying a regular mask at a regular pharmacy or ordered at Ssense, Farfetch and Net-a-Porter.
The exception is respiratory masks from the new Marine Serre Urban Air Mask 2.0 collection. The French brand has teamed up with medical goods manufacturer Airinum, which uses filters in masks that meet the same standards as American N95.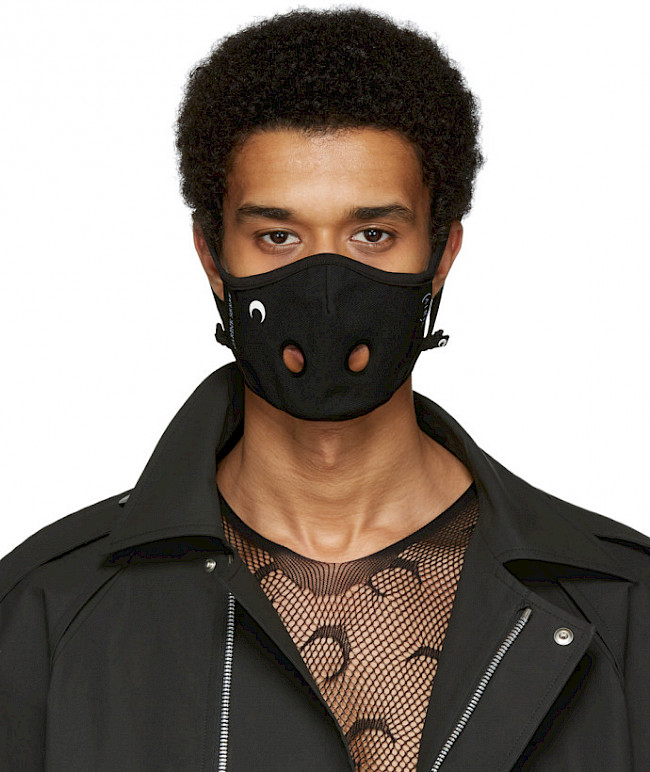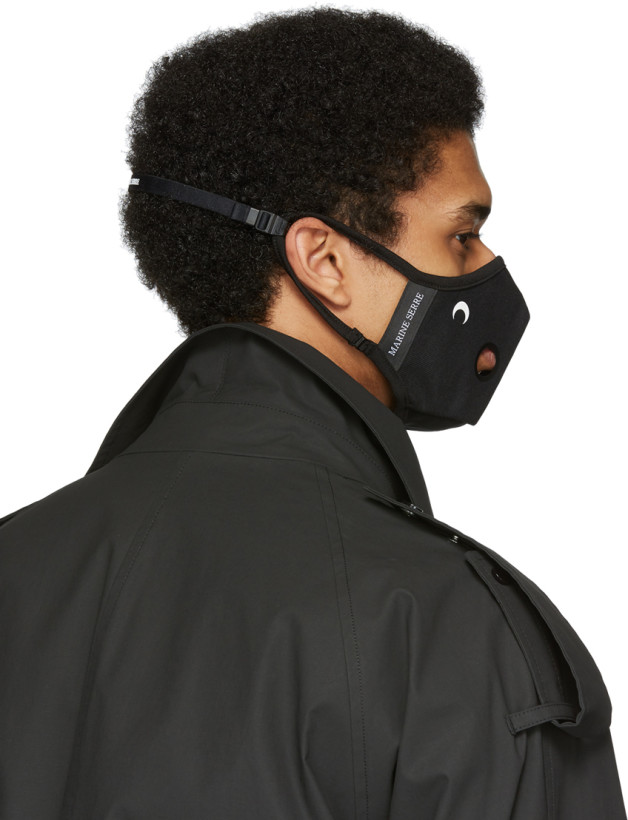 Marine Serre Urban Air Mask 2.0
Back to 90s
At the Paris Fashion Week shows were demonstrated suits with rough silhouettes and purposely highlighted male fit in women's collections, despite the prevalence of elegant rigour, latex returned to the podium, thanks to Saint Laurent, Balmain и Balenciaga. Since there are such high bets on this fabric in autumn 2020, why not introduce now into the image some piquant detail from this material, for example, gloves. WHO requires the preservation of hand hygiene, the use of disinfectants and avoiding handshakes, in this situation it is desirable to use disposable latex gloves, besides fashion does not preclude, but vice versa. Everything is much easier here than with masks, still there is the established for centuries culture of wearing gloves and their stylistic diversity, however, today you need to count only on good old medical and household ones, which are represented in a wide range of colors – from transparent to acid-yellow. Boring? Moscow designer Diana Dzhanelli owner of the same name jewelry house Diana Dzhanelli calls not to give up and suggests continuing to decorate the gloves with rings with large and bright stones, wearing them on top of black latex gloves. It's not velvet and velour, but modern and protects skin from direct contact with pathogenic infectious agents. And who will pay attention to gloves when there is a sparkling yellow sapphire from Tanzania on a finger on a black background – trendy color combination, isn't it? In her Instagram account designer helps with choice of the precious mineral: "Especially stunning on rubber gloves look tourmalin, paraiba, rhodolite, opal and sapphires in rings" – and not without her usual humor she promises gloves as bonus.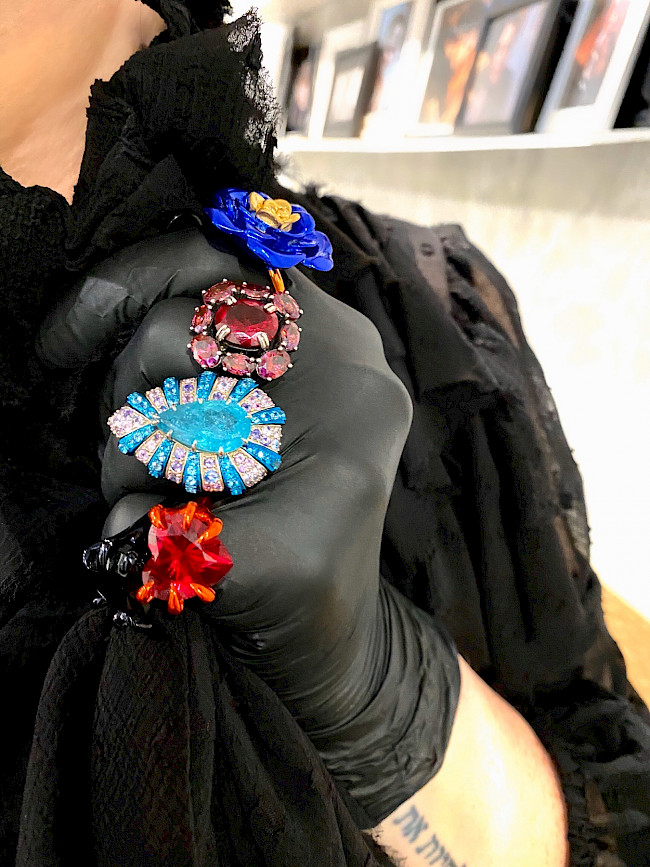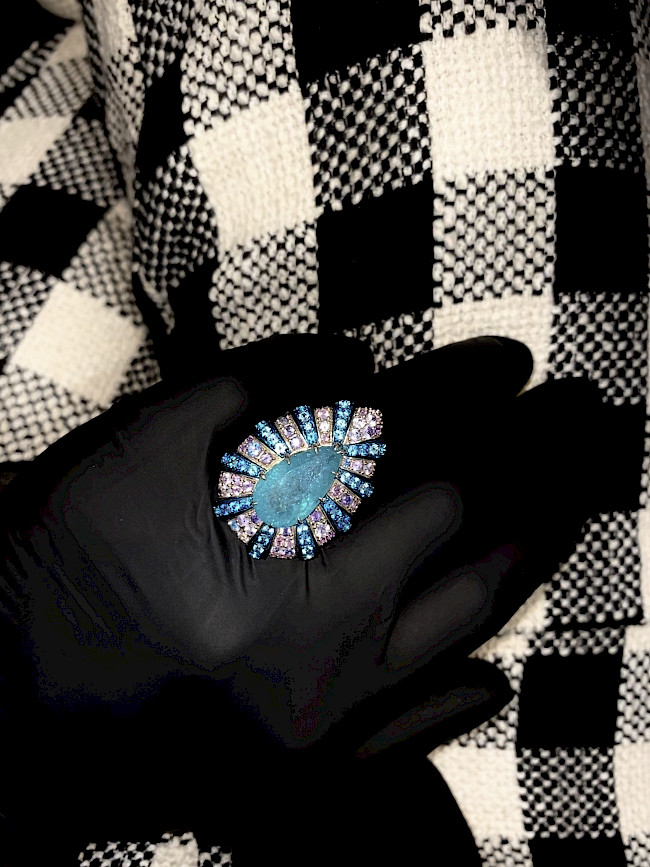 However you put it, the history is cyclic
In the history of mankind, the pandemic is not the first case. "Spanish flu" also known as the 1918 flu pandemic, began in the last months of World War I and caused death by approximate calculations of up to one hundred million victims, in Spain alone eight million people died. Some countries closed public places, courts, schools, churches, theatres for a whole year, and banned any mass gatherings of people. The owners of taverns and restaurants served customers only outside. It is accepted that this pandemic is one of the major disasters in human history. There was a footage survived showing two ladies attaching sanitary bandages to hats, without which it was not customary to leave the house at the time.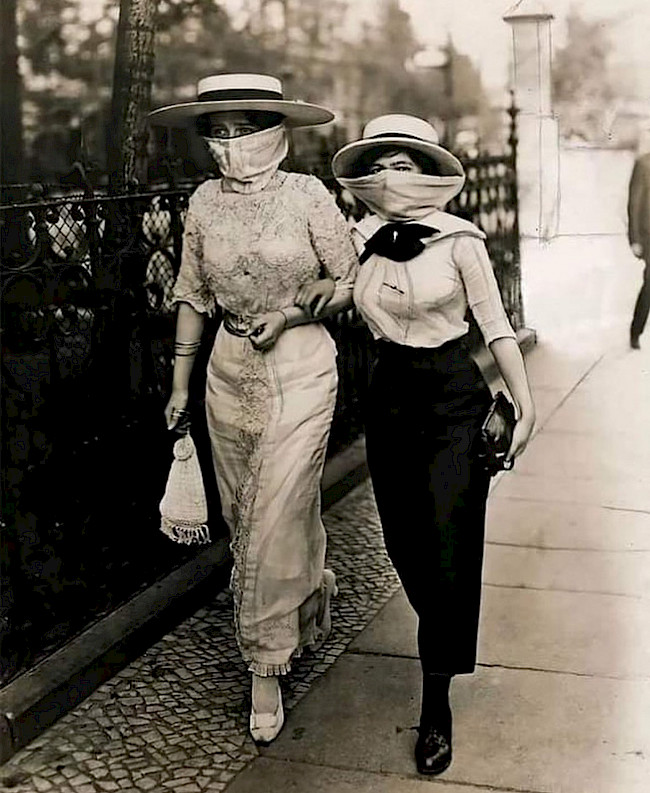 Another picture taken during that period shows partly the humor and vigilance of the family and their pet, who pose in medical masks. – N