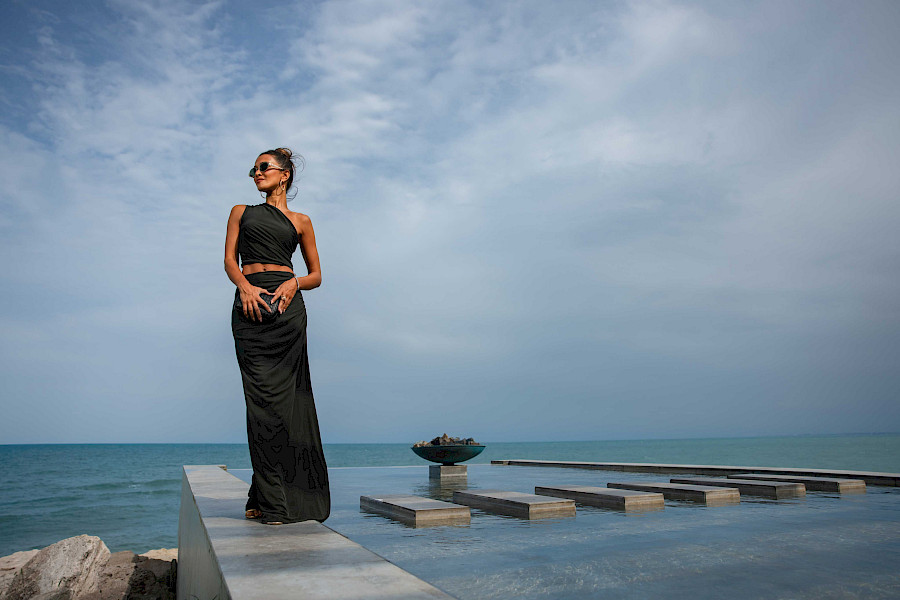 FASHION IS A PASSIONATE WORLD DRIVEN BY INSPIRATION. LET'S STEP INTO THE WORLD OF OUR NEW ICON – SUAD AGAMALOVA AND DISCOVER THE SECRETS BEHIND HER ICONIC STYLE, AND THE KEYS TO HER ENDURING SUCCESS IN THE EVER-EVOLVING WORLD OF FASHION. SHE IS A LIVING PROOF THAT FASHION IS NOT JUST ABOUT WHAT WE WEAR – BUT WHO WE ARE, WHAT WE STAND FOR, AND THE IMPACT WE HAVE ON THE WORLD.
SUAD'S STORY
Total look: PRADA
One of the most important qualities a person can possess, in my opinion, is a curiosity about life. A person should always remain "hungry" for new emotions, experiences, and sensations. I've always had a deep need to keep moving forward, to uncover new facets of life, challenge myself to achieve more and better and take risks along the way. I remember, when I completed the first year of university, I realised that I wanted to work and almost immediately started my first internship in a bank, where I remained for several years. However, the urge for creative self-realisation took over and I realised that it was time to change something, to try something new for myself. This marked the beginning of my journey in the fashion industry, a path that helped me to unveil a completely different side of myself. I worked as a buyer for a concept shop "Bisque" for about 8 years and it was a wonderful and exciting journey into the "backstage" of the fashion world. I am profoundly thankful for this experience as it introduced me to a lot of talented individuals, international designers, attend mesmerising fashion shows, partake in stunning events, and witness firsthand the dynamic and vibrant nature of this industry.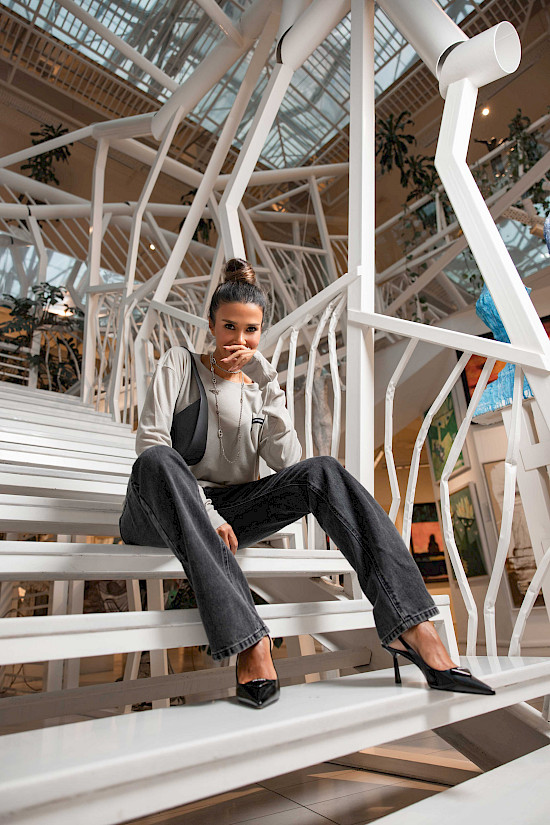 Top & jeans: MIU MIU; shoes: PRADA; bag: THE ROW; jewellery: HERMES
However, my taste and appreciation for beauty were cultivated during my childhood by my parents. They nurtured my love for art, literature, theatre, and good music. I believe that beauty and aesthetics can be found in everything that surrounds us. It's in the aroma of coffee, the bustling chatter at the airport, the enchanting sunsets, the stories shared by people from all walks of life, our favourite books, captivating architecture, the adventures of travel, and delectable cuisine. Our style is shaped by what we love and what inspires us. I believe that a person should feel and accept themselves, not be afraid to show themselves the way they want to. What makes people fascinating is their uniqueness and the distinctive stories they carry. The image we create for ourselves is our little creativity, and clothes and accessories give us endless opportunities to express ourselves.
Vest: SAINT LAURENT; jeans: BOTTEGA VENETA; sunglasses: CELINE
My clothes are always a reflection of my character and mood. It could be a leopard print dress or a leather jacket with "masculine" jeans, each outfit tells a story. I have only one small weakness - collecting shoes and I have come to the conclusion that even the most basic outfit can be transformed with a beautiful pair of shoes.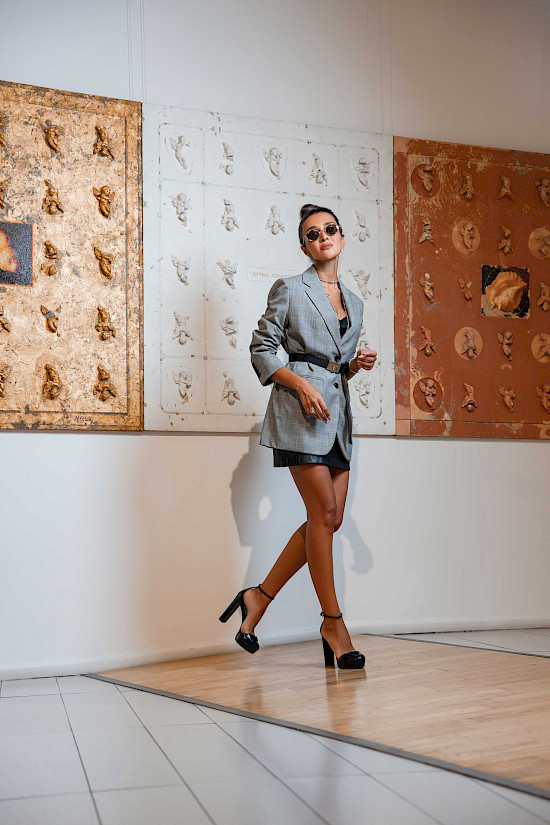 Jacket & shoes: PRADA; skirt: SIMONETTA RAVIZZA; sunglasses: CHROME HEARTS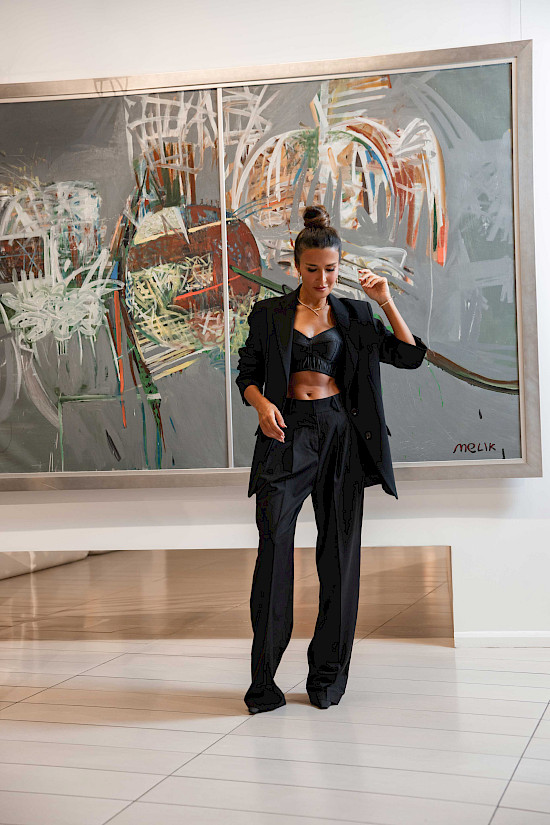 Jeans: MM6; top & pants: DOLCE&GABANA
"LISTEN TO YOURSELF; THERE ARE SO MANY BEAUTIFUL AND ADMIRABLE THINGS WITHIN EACH OF US! INSPIRE AND BE INSPIRED!"