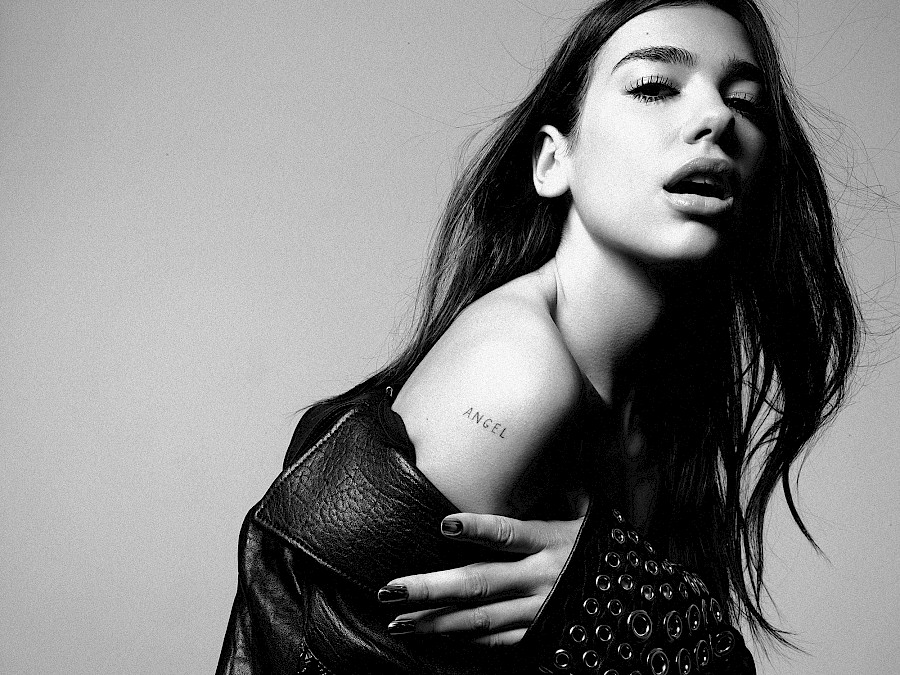 PUBLISHER, ACTRESS, CHARITY ORGANISATION FOUNDER, PODCASTER, BOOK CLUB HOST, CO-DESIGNER FOR VERSACE'S LATEST COLLECTION, AND... WELL, A POP STAR.
BORN IN LONDON, LIPA STARTED SINGING AT THE AGE OF FIVE AND CONTINUED TO
DO SO WHEN HER FAMILY MOVED BACK TO KOSOVO WHEN SHE WAS 11 YEARS OLD. SHE GREW UP SINGING COVERS SUCH AS 'BEAUTIFUL' BY CHRISTINA AGUILERA AND 'IF I AIN'T GOT YOU' BY ALICIA KEYS ON YOUTUBE. WHILE IN KOSOVO, DUA CONTINUOUSLY ASKED HER PARENTS TO LET HER MOVE 2500 KM TO LONDON FOR A ONE-IN-A-MILLION CHANCE TO BECOME A POP STAR. LUCKILY, SHE DID AND IN 2014, LIPA SIGNED A RECORD DEAL WITH WARNER BROS. RECORDS.
IN OUR INTERVIEW, WE HAD THE PLEASURE OF SPEAKING WITH DUA ABOUT HER KOSOVAN HERITAGE, STRONG WORK ETHIC, AND NEVER-ENDING PROJECTS.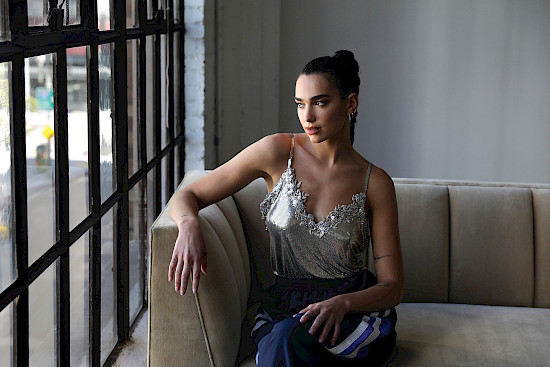 What role do you think your upbringing in Kosovo and London has played in shaping your musical style?
Since I can remember, I had the dream of being a pop star, but moving between Kosovo and London made it seem impossible. In London, people often asked me where my name was from, and back then I wished I had a normal name. However, now I am so grateful that I don't. From an early age, I understood that I had dual heritage, and both Kosovo and London were home. As a child with dual heritage, insecurities sometimes set in, and I was not sure where I belonged. Those insecurities lead me to music, and from it came the desire to make my dreams a reality. I was deeply determined to follow my dreams, and I knew what I wanted to do. It has reached the point where even my parents knew I wasn't going to stop pursuing my dream.
Who were the artists that served as your sources of inspiration when you initially embarked on your music career?
Since I was a little child, I absolutely adored Kylie Minogue. She is more than a pop star, she is an absolute idol. It is her style, her music videos, her songs – everything is perfect. I even got the opportunity to work with her during a digital concert during the pandemic, and it was an incredible experience. My Dad played David Bowie and Prince when I was growing up, and it's impossible not to be influenced by these two great artists. Lizzo and Billie Eilish are also killing it currently.
What role do your fans play in your career, and how do their support and feedback impact you as an artist?
The great thing about social media is being able to interact with my fans, and while social media is far from being perfect that is one of the big positives for me. When performing live, fan support is vital. They might not realise it, but their energy and love are what fuel performers.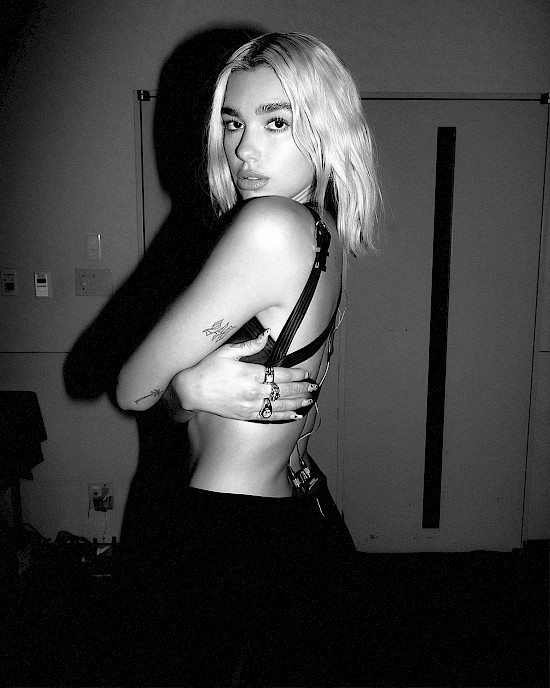 Could you please elaborate on the various aspects of your personality that you enjoy expressing and embodying?
I know that some performers have an alter ego or a stage personality and that's great if it works for them – but it has never been something I am able to do. I am the same person when I am performing as when I am in private. I have never woken up and thought I am going to play this character today. I have never had any real problem figuring out who I am – so I guess I have a pretty direct personality. It also means I feel comfortable expressing myself as I want to.
What would you say is your proudest achievement so far in your music career?
Winning awards is obviously nice, winning Grammys and Brit Awards is humbling. I am not sure if I have a single proudest moment but I love being on tour and on stage. When I am on stage, I feel this sense of freedom that I am not really able to put into words. I will always remember performing at Madison Square Garden for the first time – that was a really special moment.
You have been named one of Time magazine's 100 most influential people in the world. How does it feel to be recognised in this way?
There is no other way to describe it other than it being a real honour. To be in the Time 100 and to also be on the cover was a total honour. Think of all the incredible people who have been on the cover over the years, it really is humbling.
"I was deeply determined to follow my dreams, and I knew what I wanted to do"
Donatella Versace has described you as a muse and someone who embodies the spirit of the Versace brand. How does it feel to have such a close connection with a fashion icon like her?
We have built up a real friendship. For me, to be able to sketch ideas on a piece of paper and show Donatella is incredible. The fact that I get to bounce my ideas off one of the biggest names in fashion is so special. Donatella is passionate about wanting those who wear Versace to feel amazing and I also have that same passion. We want to create pieces where people can express themselves, and knowing that Donatella is only ever a text away has been so important to me on this fashion journey. She listens to my ideas, she respects my ideas, and she has become a great friend, as well as somebody I work with.
How do you think your music and fashion intersect?
Fashion, just like music, can't be forced – they are both expressions and expression can't be forced. People should be able to wear whatever they want, when people feel accepted enough to be able to express themselves that is when we can move forward with the world. People choose the music they like to listen to, the music that speaks to them and the same is true of fashion. It is unrealistic to think all types of fashion will work for all body shapes. There have been pieces that I have loved when I have seen them on the runway, but when I try them on they were not for my body shape.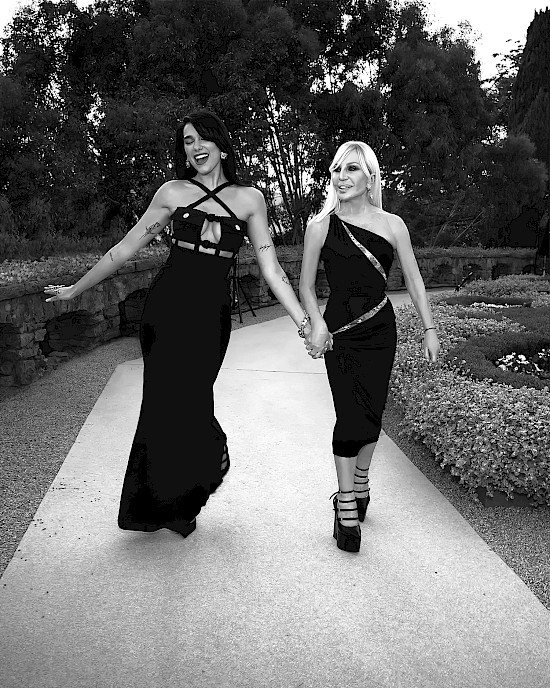 What motivated you to create Service95, your weekly newsletter? What can subscribers expect to find in each edition?
Why we created it is all in the name – it's quite simple, we want to be of service to our readers. We really wanted to broaden the horizons of our readers by putting out stories that wouldn't be in the mainstream media. We are passionate about people and places and that's something we really want to share with our readers. Young talent has always been the future – the future of hope and change.
In order to change we need to give these young people a voice and that is what we are doing at Service95.
Can you tell us more about your forthcoming role in Argylle, the spy thriller directed by Matthew Vaughn? What attracted you to the project, and what can audiences expect from your character?
I had the best time filming Argylle but for me it was really important to take baby steps. If I had taken on a huge rule there is always the concern I could have found it overwhelming. When you are filming and the camera is on you, you have all these feelings and emotions that are totally different to music. But obviously it is really exciting and the level of talent we have in the film is incredible.
How did your friendship with Donatella Versace impact your own fashion choices and sense of style?
While obviously it is important to maintain your own sense of style, when you work with people like Donatella it is impossible not to be influenced by their passion. That is one of the things I love about her – after all these years she still has so much passion for what she does. Designing the latest La Vacanza line with her was honestly so much fun – we had the best time creating it. And fashion should be fun, it should be passionate, that is when you will create pieces that people feel great in.
What are some personal rules that you follow in your life and career that have contributed to your success and happiness?
If a situation or person is bad for your mental health – remove yourself. Social media can be a great thing for communicating but it can also be such a hateful place. If you find yourself are going on social media and feeling bad about yourself or feeling upset then it's time to remove yourself and have a social media break. Then there are basics as well, basics that will make you feel so much better about yourself. For me, that is taking my vitamins and making sure I get a good night sleep.
How often do you break the rules? What was the last rule you broke?
I don't like rules, though not in a rebellious sort of way, but I always think of conforming when I think of rules. Wear what you want, listen to whatever music you want, and express yourself however you want.
What was the best thing that somebody ever did for you?
The support I have from my family and friends is the best thing I have ever had. Nobody prepares you for your journey so it is so important that you have good people around you.