Once in cold foggy London he will find himself on the exhibition "Flight to Baku: contemporary arts from Azerbaijan". the works of the 21 artists will impress him so much that he rushes to the airport...
It's already his ten flight to Baku. Edward Twohig - is a printmaker, art collector, author and head of art at marlborough college in wiltshire, one of the most esteemed public schools in the UK. In 2016, he was elected as a member of the royal society of painter-printmakers (r.e.) in London and in 2018 created a fellow of the society. He currently sits on their council at the Bankside gallery as a trustee. His "100 views of old city, Baku" was shown at the national museum of art of Azerbaijan in 2017. He is the author and curator of "Print rebels, haden, palmer, whistler" published in 2018. His works are in the collections of the Crawford art gallery, Cork, Ireland; Museo bella artes, Caracas, Venezuela; National art museum of Azerbaijan, British council and British embassy, Baku, Azerbaijan; the British museum, Victoria & Albert museum, H M the Queen, embassy of Azerbaijan and university of the arts, London. Eames fine art, in London, represents Edward, and his works can also be purchased from the Bankside gallery in London and the Q gallery or Qiz qalasi gallery, in Baku.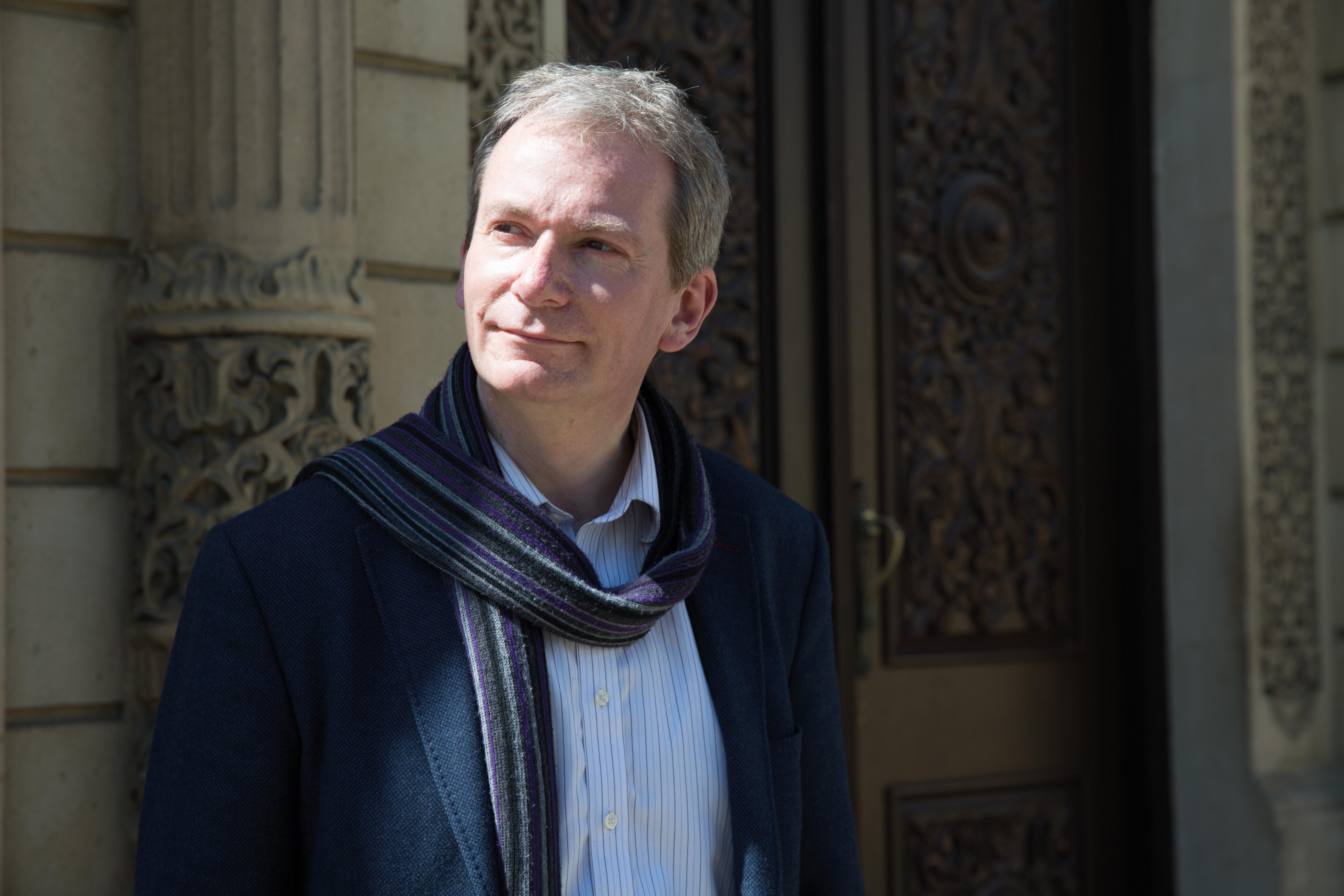 What was your idea of Baku and Azerbaijan before you arrived, and did it correspond later on when you walked the streets of our city?
Baku and especially Icheri Sheher on my first morning in Azerbaijan was a revelation, certainly much than I had envisaged or anticipated. The quality of light and shadow on the distinctive range of picturesque facades, range of buildings and balconies, the compelling character of Icheri Sheher and how its aura unfolds was evident and felt. I remember this first day vividly and it has cast a spell on me which has not diminished. I am proud to convey that I have drawn many parts, infusing my intensity of feeling stirred by the distinctively individual pathways and laneway within Icheri Sheher, many I now know stone by stone, touch by touch from drawing direct from observation and from the threads of memory.
A few months before my first visit, in preparation, I attended the landmark exhibition opening in London of Fly to Baku: Contemporary Art from Azerbaijan, organised at the Philips de Pury Gallery by the Heydar Aliyev Foundation. This sharpened my anticipation. Not long afterwards, I did just that: I flew to Baku. 
I first travelled in 2012, when I had the privilege of seeing Iraqi–British architect Zaha Hadid's masterpiece, the Heydar Aliyev Centre, together with the under-construction Flame Towers, designed by Barry Hughes; and experienced a Public Art Festival. Obviously, I was aware that Baku's visible transformation into a vibrant 21st century city was well underway. I have subsequently returned nine times, each time with drawing materials, sketchbook and etching plates at the ready, and now eagerly await my next visit in July. Baku's energetic exuberance is palpable. In the UK and Ireland I frequently recommend to others to book a flight to see the delights of Baku, particularly Icheri Sheher and the Azerbaijani countryside.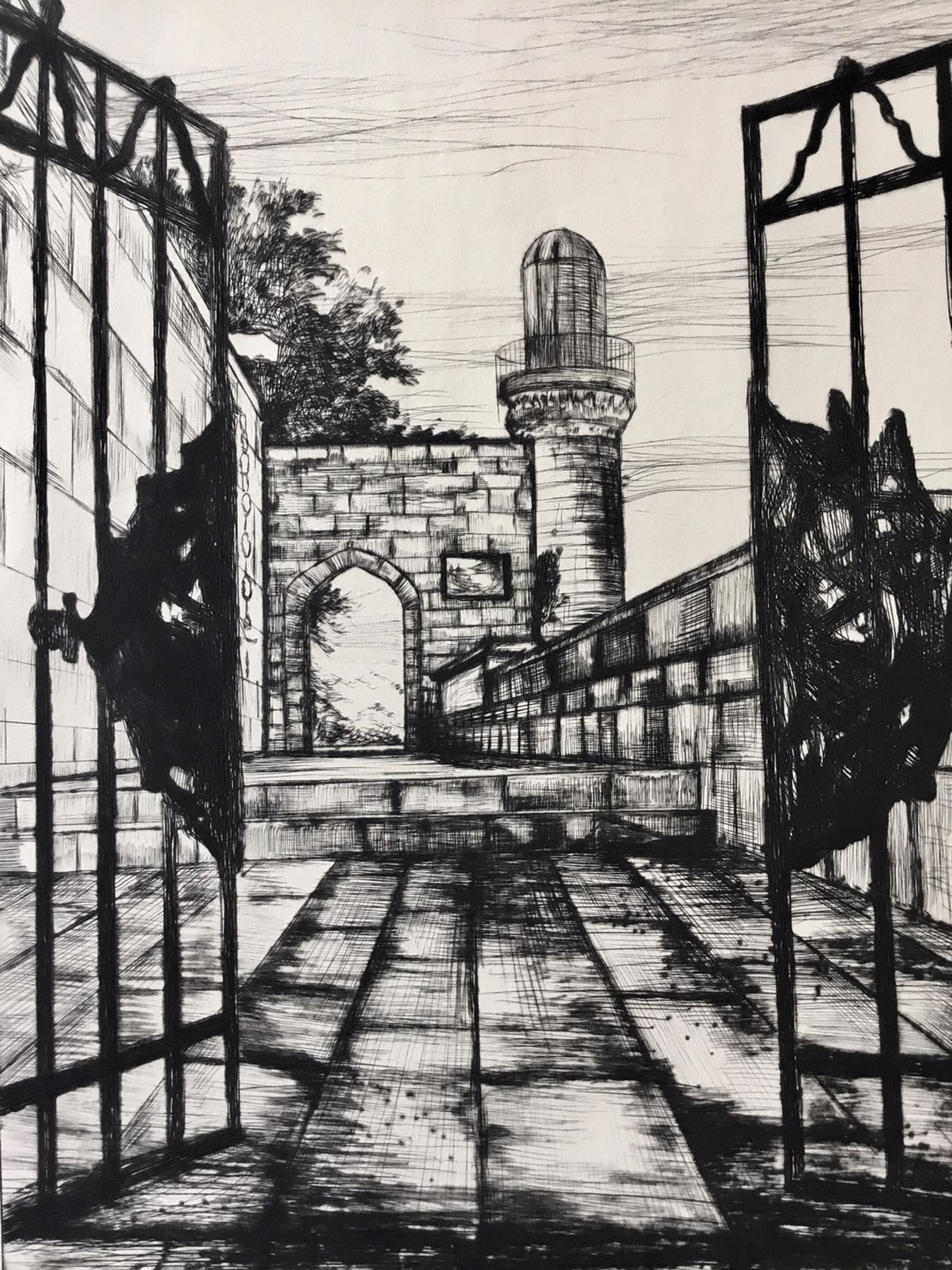 Old Town, Gobustan, Sheki - how did you figure out the places that are so heavily coloured traditionally? Who helped or directed you?
I stayed in Icheri Sheher during my first visits to Baku. My interest must have been tangible while in the process of creating drawings for I received help and friendly advice from individuals in brief conversation. After this quietly magnetic visit and on my return to the UK, I created 40 one meter by one meter oil paintings portraying the experience of my visit. Upon hearing the words Icheri Sheher in relation to an inner-city fortress in the historic core of Baku, I must say I tingle in my spine. "I should like to draw all, stone by stone, to eat it all up into my mind, touch by touch" wrote the young John Ruskin to his father regarding the sights in Venice in 1851. The same could be said today of your Bakuvian Icheri Sheher. Writing this in the U.K., an invisible thread immediately brings me back to a citadel that resonates and infuses me with a carousel of images that comprise a high-density maze of narrow alleys, ancient stone buildings, domed cupolas, characterful minarets and cobbled streets. Arabic, central Asian, Iranian and Jewish influences, together with Russian and European traits and characteristics, have resulted in a cross-cultural pollination, all of which combine to make physical Baku what it is – a sort of 'back to the future'. All is aesthetic, down to the tea stands and carpets, which are rich and playfully decorative, with a quiet dignity. I am responsive to this, and identify keenly with this place; the root of my interest and mirroring this in my Old City architectural etchings. I have travelled to every European country, but part of my heart firmly remains in the heart of Baku.
Yes, I have visited Gobustan six times, and have come to love the petroglyphs and mud volcanoes, together with the omnipresent sense of presence, peace and space. Each of my Gobustan etchings are figurative. The carved figures are timeless and so modern. The majority of my oeuvre is a visible, emotional response to a place with which I have a relationship. Following the return from my second and third visits and before creating the series entitled 100 Views of Icheri Sheher, I created fifty five coloured etchings and mono-prints, inspired by my return trips from Sheki. This focused on the landscapes surrounding the Gochay and Kura rivers and are semi-abstract in character and mood, as I wanted to recreate the mystery of the astoundingly beautiful Azerbaijani countryside. I also employed mixed media, using water-soluble pens and wax-resist with watercolours. I sometimes create in colour over etchings to amplify mood.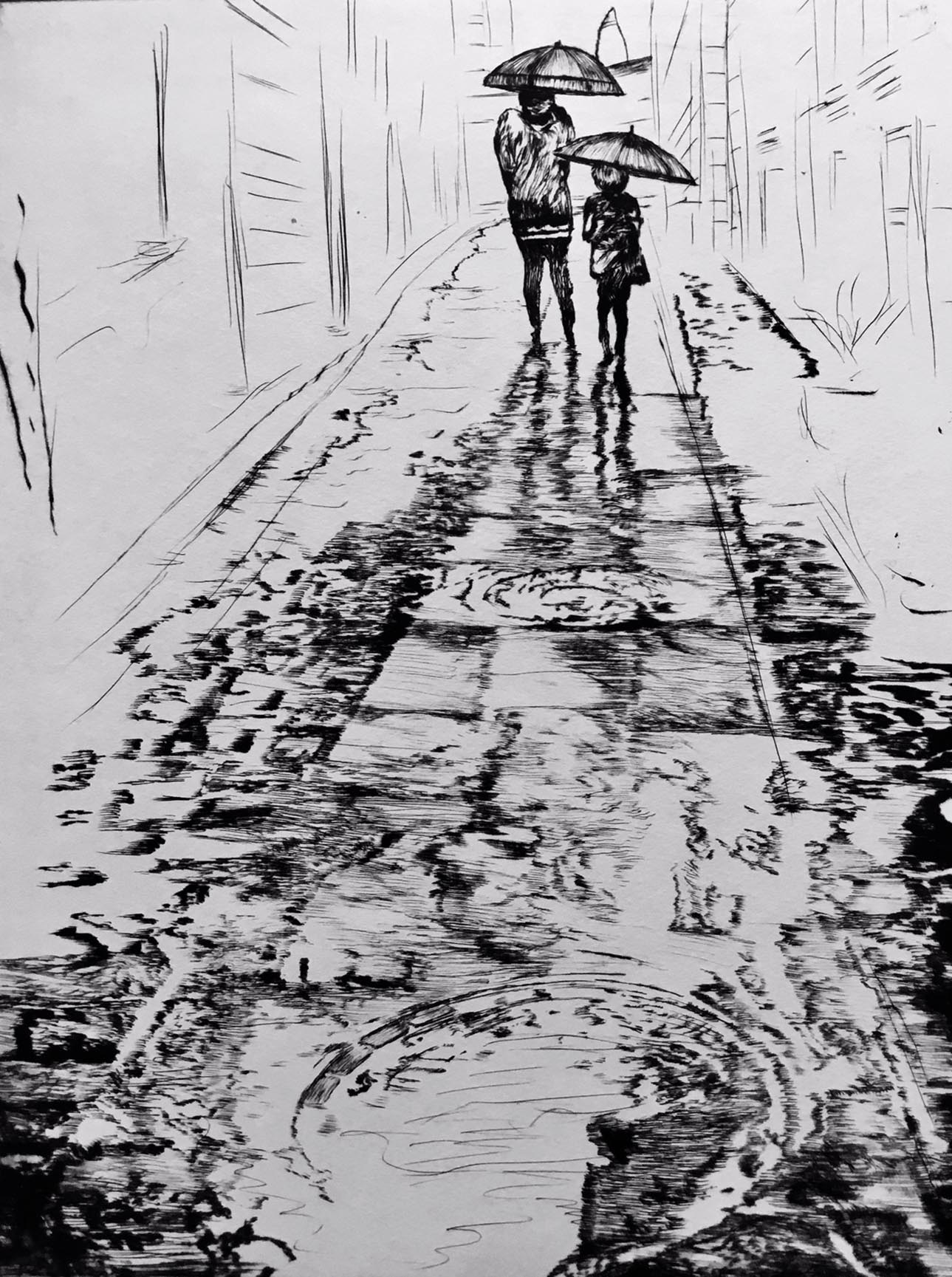 I actually knew of the decorative interiors within the Khan Palace in Sheki from my art teacher in secondary school in Ireland. I have made several pilgrimages to this Palace and will return again. Words are insufficient to do justice to its magical eternal spring and summer-like interior! Alongside the Palazzo Ducale in Urbino, and Ca' d'Oro in Venice, I am of the view that the Khan Palace in Sheki, so playfully lyrical, has the finest artistic exterior and interior in the world. Nazim Hikmet (1902-1963), the Turkish poet, playwright and author, once said: "If there were no other ancient structure in Azerbaijan, it would be sufficient to show the world nothing else other than the Khan's Palace in Sheki." High, justifiable praise. It is worth visiting Sheki for the halva alone! Furthermore, I have also visited the Gakh, Qabala and Ismailli regions; have drunk tea and tasted kutabs with close Bakuvian friends sitting by the sea in Sumgayit; and have been all round Baku. I have drawn, painted and photographed each location.
I am most fortunate in having  excellent friendships of many Bakuvians; in particular Fuad Huseynov; Anar Yolchiyev; Elyar Alimirzoyev and Kira Vekshina amongst many others. Of course my understanding of Azeri culture has magnified and blossomed due to such company. I have recorded each in the acknowledgements section within my 346 page book on the history of printmaking in the U.K., entitled "Print REbels" published by the Royal Society of Painter-Printmakers, London, in April 2018. I conclude my acknowledgements with "finally, thanks to Liana Latipova for her practical help, love and support from day one." My 100 Views of Icheri Sheher are dedicated to this special individual.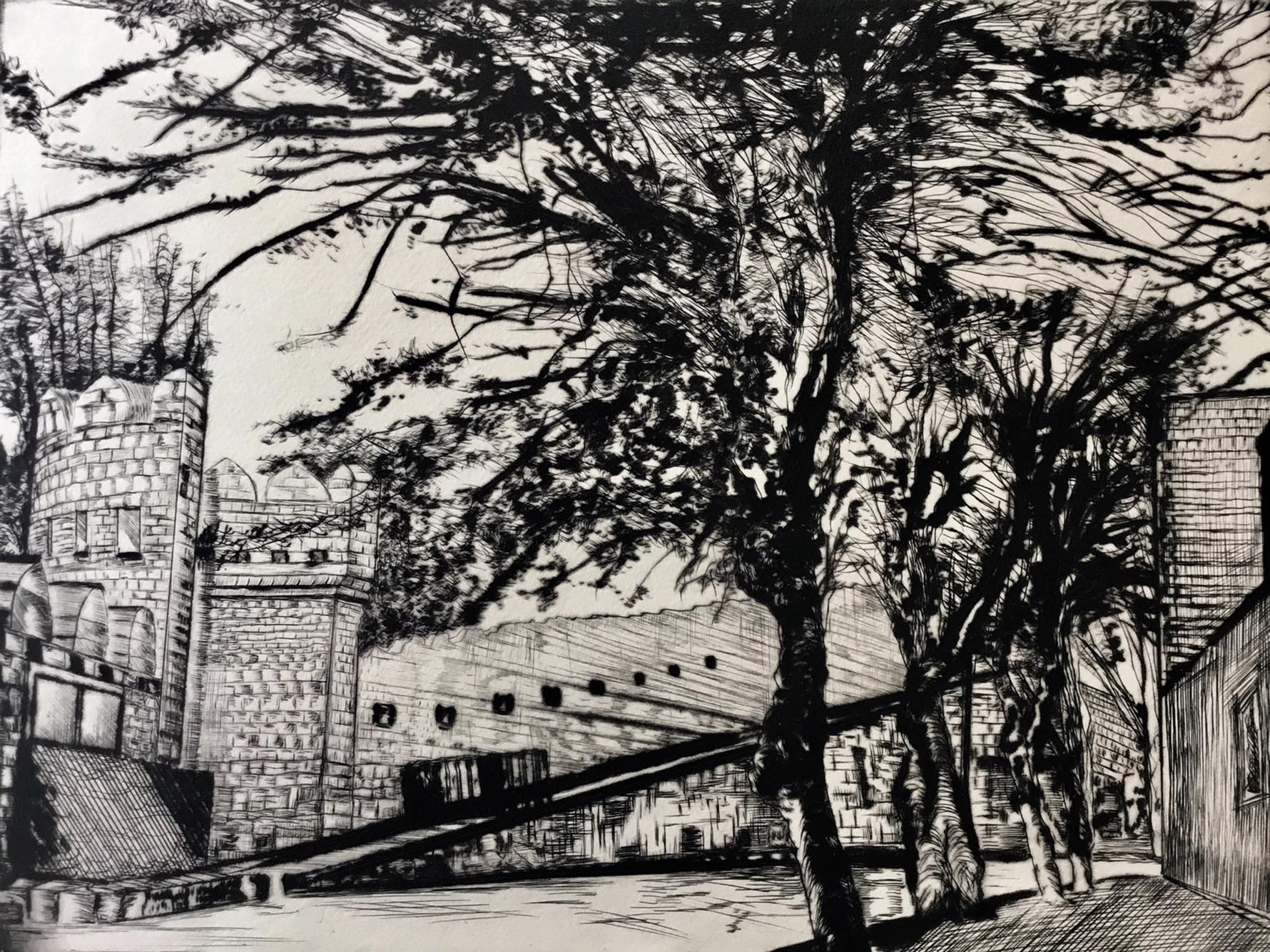 Once you said that you could not reach the detail of the window on the upper floor in the Old City. Seeing this, a woman living next, brought a ladder to help you. Tell us about the cases when ordinary Azerbaijanis, who are not at all like the English (I mean we are more open and extravert), rushed to help sometimes without understanding why.
Yes, this is true. During my fifth visit to Azerbaijan, in 2015, I was in the process of drawing and could not get the detail correct and I was perplexed. As I was drawing a window nearby opened and a woman appeared with her teenage son and daughter. Each spoke excellent English. Within minutes tea was handed to me and I mentioned and explained my difficulty with my drawing due to the angle. The lady left and as I was chatting to her children a ladder appeared. Due to this excellent help I completed my drawing; one step forward in my trajectory of portraying Old City. On my seventh visit, few days before my Opening of 100 Views of Icheri Sheher at the National Art Museum of Azerbaijan, last year, I presented this supportive family with a personal invitation to see my exhibition and an impression of the completed etching. 
Bakuvians living in Icheri Sheher are, on the whole, very helpful and practical with good intent. I have experienced this often, for example, when sitting and in the process of drawing, a chair with a cushion is brought out by the person living near where I'm drawing and when I return the chair usually a conversation is struck up which leads to interesting facets about the immediate location. All this adds to my mental jigsaw ofIcheri Sheher. When in Baku I get up early and walk, stop, draw or photograph places that hold my interest. To see Icheri Sheher at dawn, in quietness and it come alive as the sun rises higher is wonderful; school children off to school, smells of fried breakfast an hour before tourists arrive. To illustrate how thoughtful Icheri Sheher inhabitance are; on many, many occasions while sitting and drawing in Icheri Sheher a pot of hot tea and a glass cup are brought out on a tray.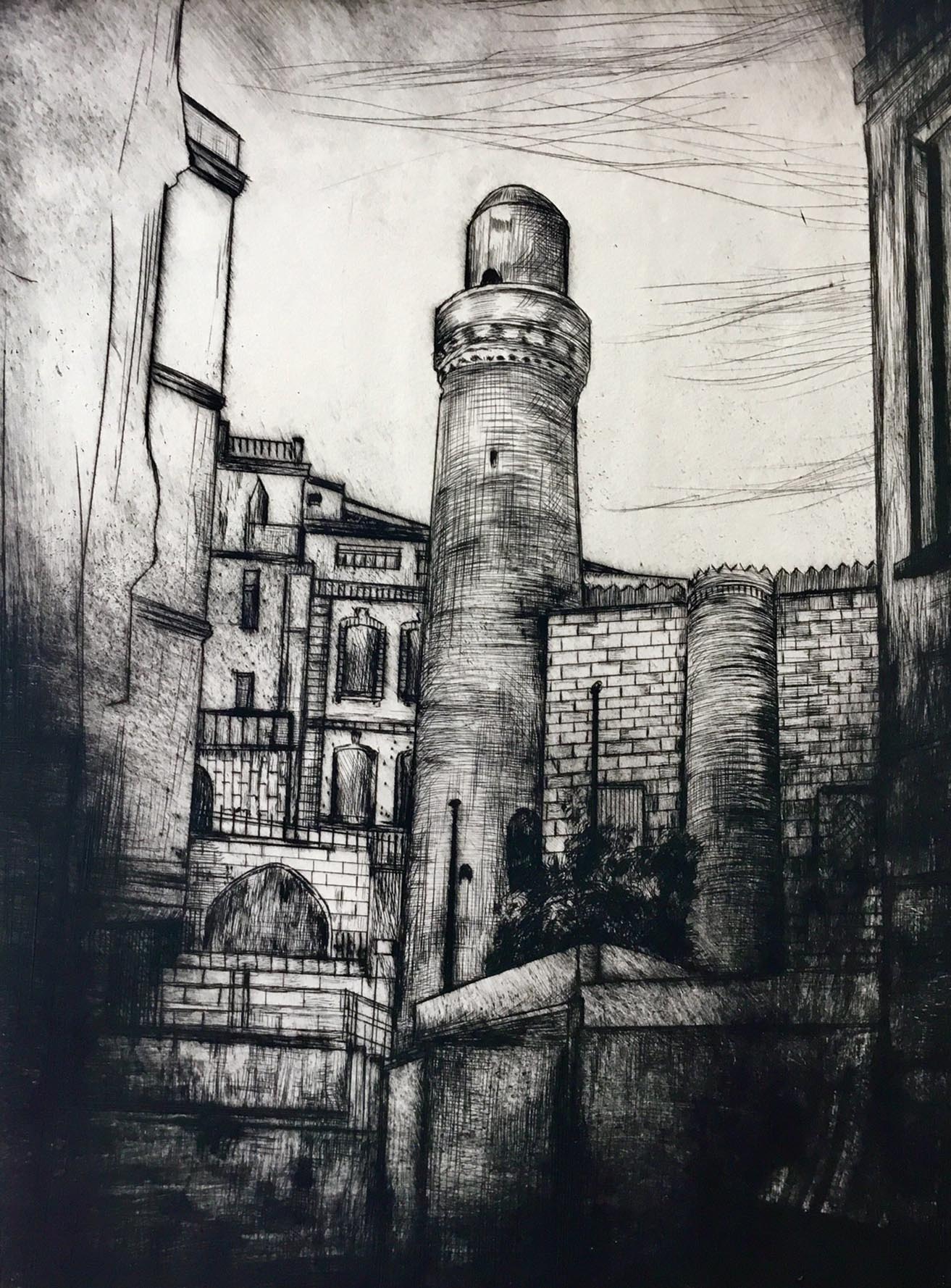 Yes, this would rarely happen in Britain due to the English, in general, having a national habit of reticence or self-effacement. But on the island next to England, the support and friendliness from Irish people, particularly when drawing scenes near villages in the country, can be super abundant. Perhaps this is why I love Azerbaijani culture so very much; it reminds me of my childhood, growing up in Ireland. I believe there is a book to be written on Muslim and Celtic inter-connectivity which is more intertwined and deep-rooted the more one explores. 
One of the finest complements I have had about my art work came unexpectedly before departure at Baku airport in 2016.  My folio of drawings and working etchings were examined by the airport authorities, their faces more grave on turning the pages of my drawings. It became apparent they thought I was aiming to smuggle out of the country works by Azeri Old Masters! It took some explaining that I was their author, works made from my time in Baku. This was when I embarked on an ambitious series of 100 etchings, depicting the distinctive character and majesty of Icheri Sheher, which were shown in a solo exhibition at the National Art Museum of Azerbaijan in May and June 2017. These works were realised during a period of over one intense year. This project absorbed and delighted me and I am still creating Bakuvian work, long bypassing 100 etchings and creating close to 250 compositions. Some of these will be shown in....in Icheri Sheher, the Opening is on July 6th 2018. Close friends, who are also my sharpest critics, have remarked that these compositions rank amongst my very finest work, and upon showing this series to the gallery directors of Eames Fine Art in London, both said:"We especially love your new work. The air, light, and your love of the place shine through. We want to go to Baku!"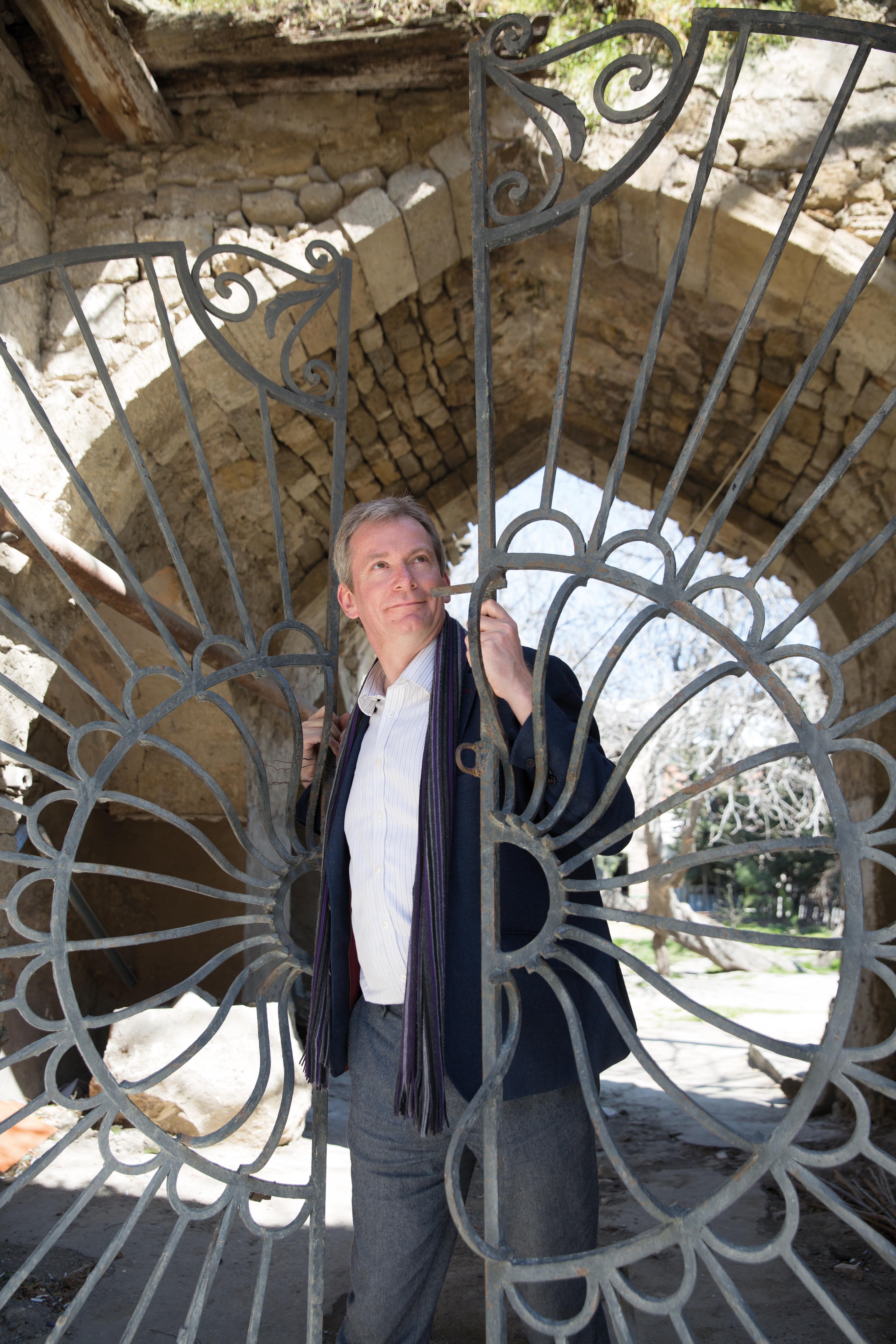 Your drawings and original prints are in the most prestigious collections. Of course, this is another chain in the lasting relations between our two countries. Can you tell about it more?

I was the first student from an Irish Art College to be awarded a British Council Scholarship for postgraduate studies in printmaking at the Chelsea College of Art in London, and since then I have been a committed printmaker. Out of my commitment and love of line drawing and etching is, as well as creating, the added joy having my work collected and on walls all over the world. This has gathered pace in the last three years. I have become friends with a number of collectors of my work. Over the last eight years I have been represented by Eames Fine Art in London and have held five successful solo shows in London with this gallery. The first public gallery to purchase my work for their permanent collection was the Crawford Art Gallery, in Ireland, in 2014. In 2016, I was elected a member of the Royal Society of Painter-Printmakers (R.E.) in London, and recently in March 2018, a Fellow for life. These accolades are significant honours as the R.E. is the premier Society for original printmaking in the UK, possibly the world. The process of election is rigorous; based on the quality of one's work selected and judged by peer review. I am proud to say half my submission for the R.E. were compositions created in Azerbaijan. 
Some of my Baku inspired compositions are held in the permanent collections in the British Museum in London and the Ashmolean Museum in Oxford. My etchings are also held in the collection of H M Queen Elizabeth The Second, the Victoria & Albert Museum and the National Museum of Art, in Caracas, Venezuela, as well as the National Art Museum of Azerbaijan. Twenty of my Baku and Gobustan-inspired etchings form part of the Art collection at the Azerbaijani Embassy in London and ten each in the British Embassy and British Council offices in Baku. Several of my Bakuvian Icheri Sheher etchings are displayed in BP Xazar Centre and in Simbrella Communications, in Baku.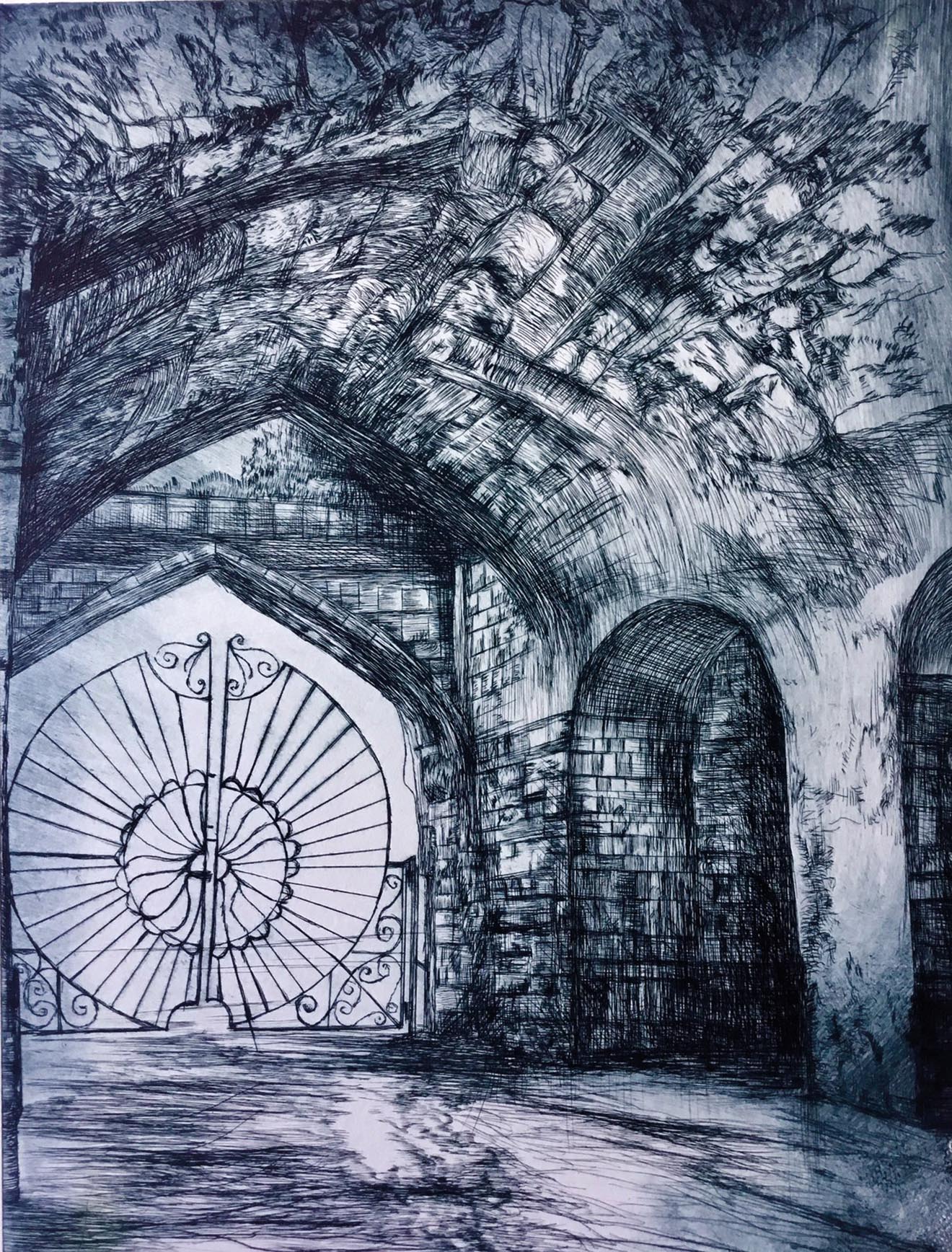 The alchemy in creating an etching is indeed wonderful, as is the 'moment of truth', after the plate on which one has drawn is printed and an impression is transferred to paper – this delight or excitement has not diminished. Currently, 35 of my etchings, inspired by Old City and the Gobustan petroglyphs, can be found in the Qiz Qalasi Gallery or Q Gallery, in the shadow of the iconic Maiden Tower in Central Baku. This vital and influential gallery exclusively showcases works by the finest artists working in Azerbaijan. I was proud to share a browser in this gallery exhibition space with works by the Bakuvian artist Alakbar Rezaguliyev (1903–74). A recent email correspondence with this gallery captured an important symbiotic relationship, reading: "Happy to hear great news from you, Edward. After you left, I displayed your work to several customers, all of whom were delighted. Hope to meet you soon, and don't forget you have supporters in Baku."
You know many artists from Azerbaijan, you studied their work. We're you afraid that their influence, as the influence of the bearer of culture, would put pressure on you in your creativity.
No, not at all! I have made great friends with many excellent, committed Azerbaijani artists who embrace visual original thinking. I delight in there influence, especially as it's a  positive, cogent and bountiful influence. I see these influences as tributaries that flow into my own river of creativity. It keeps me artistically and mentally alert. As a result I believe my own creative path is richer, healthier and vibrant. 
As I mentioned earlier having attended the London opening of Fly to Baku – Contemporary Art from Azerbaijan in 2012, I found myself faced with a wealth of ideas, questioning and unusual techniques from twenty one Azerbaijani artists of different generations. This exhibition – where delicious Azerbaijani food and sweets were served in abundance – was a milestone in showing the UK and UK-based international art cognoscenti that Azerbaijani artists express fearless emotion through the visual, and this certainly struck a chord with me. My views were confirmed following visits to the Baku Museum of Modern Art.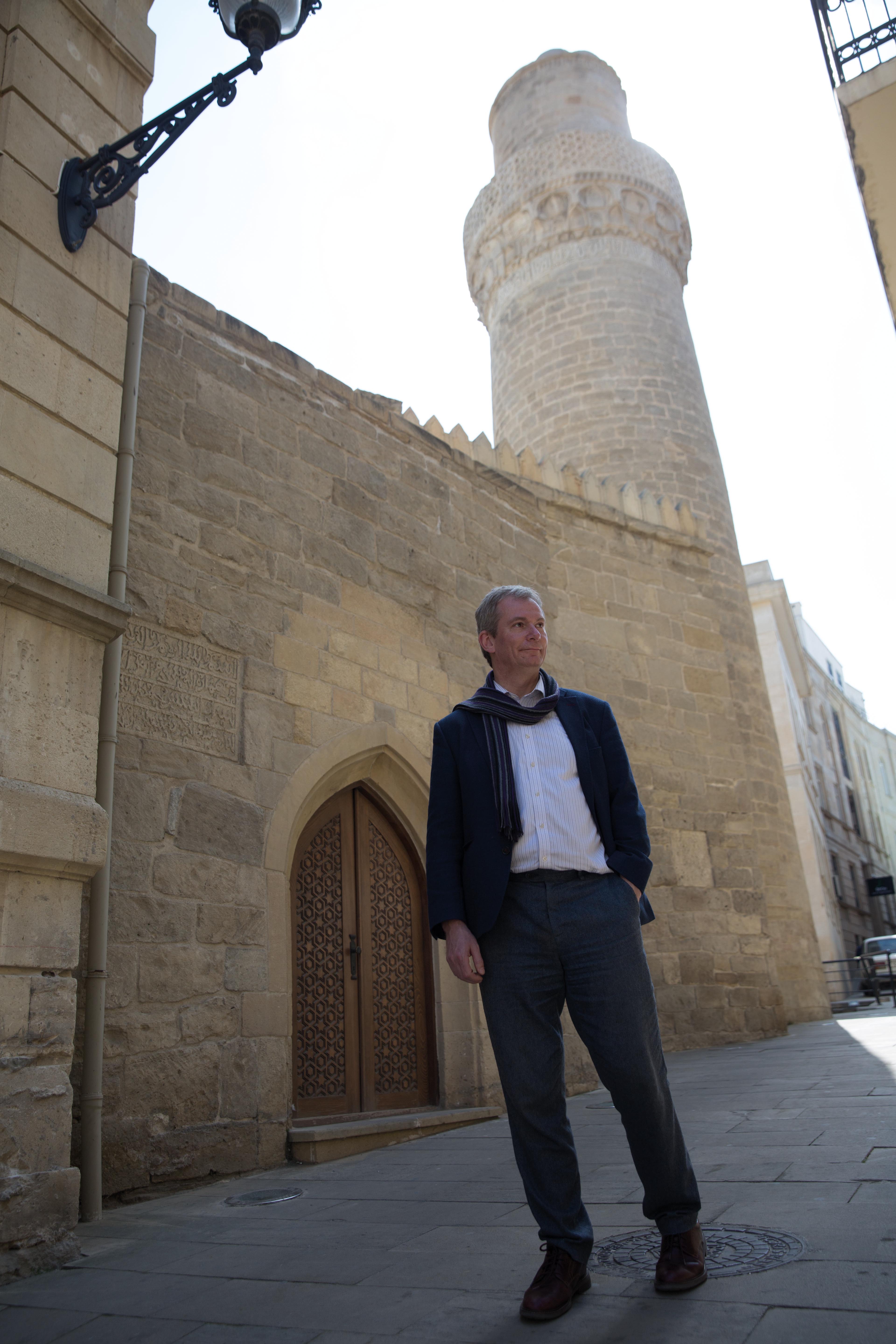 In truth, my thoughts were overwhelmed with emotion after having viewed the work of Azerbaijani artists. I am attuned to creating compositions based on experience, creating an ongoing dialogue between the lyrical line, colour and emotion in-between, in conjunction with a great heart, such as in the work of Eliyar Alimirzoyev (1961-). If I can make the analogy with Azerbaijani national sweets, I think the paintings and drawings of People's Artist Tahir Salahov (1928–) and Mikayil Abdullayev (1921–2008) can be compared to a tray of rich and tasty Guba pakhlava! I have been swapping my own compositions for works by Alakbar Rezaguliyev, a compelling 20th century Baku-inspired artist whose linoprints can be compared to Shekerbura! My favourite 'Old Master' or, more correctly, 'Old Mistress' is Bakuvian artist Maral Rehmanzade (1916–2008), whose work can be compared to biting into a full Shor Gogal! Maral's vivid and varied paintings, drawings and linoprints, fortified by her knowledge, love, sensibility and precision, I admire profoundly. In fact, three of her linoprints, two figurative and one, a hand coloured linoprint entitled "Rays of the Sun" from her "Oil Rocks Series" from 1972, are proudly on display in my living room. 
Whilst showing works at the Q Gallery or Qiz Qalasi Gallery in Icheri Sheher, I was handed a beautiful volume containing photographs of Huseyn Alirza oglu Aliyev's paintings whose techniques employed and spirit are in parallel with my own thinking, reminding me that artists are never alone. 
The continuity from these 20th century masters is established amongst contemporary Azerbaijani artists; I love the lines and rhythms in the sculptures of Kamran Asadov and Rovshan Hajizade sculptures, and have enjoyed the company, conversations and visits to the studio homes of Ali Shamsi and Anar Yolchiyev. The latter, a powerful painter of Biblical-inspired stories in a realistic, universal setting, wrote to me recently saying:"Edward! Your work is amazing!! I recognise all the places, and your lines exactly catch my feelings about Isheri Sheher – you are excellent at showing stone and its geometrical weight. At the same time, I can feel wind in the trees, and the eternal wind of Baku – great! I have shown your works to my artist friends (with whom I will be sure to introduce to you) and they have the same feelings…"
Azerbaijani music also inspires me, and I enjoy the sound of the Azerbaijani national instruments of mugham – the tar, kamancha and daf. I also listened to recordings of the pianists Shahin Novrasli and Renara Akhoundova, alongside classical symphonic works by Fikret Amirov, whilst executing my Icheri Sheher Suite of etchings and printing this series in my studio. This music speaks of love, heat, memory, passion, tenderness, hope, texture and colour – just like the artists of Azerbaijan.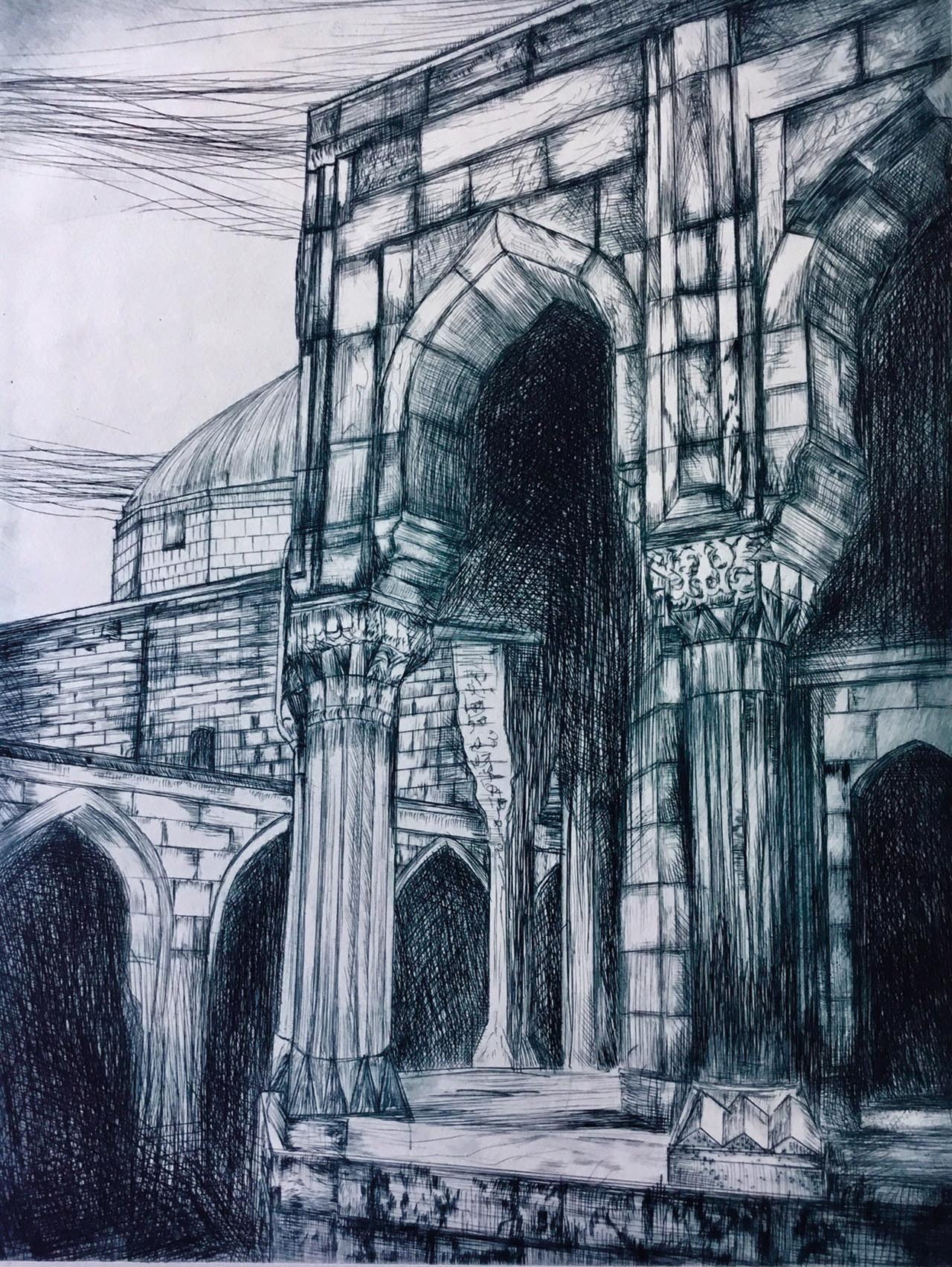 What are the three things you have learnt most from Azerbaijani artists? 
Firstly, to be daring when in the process of creativity as well as fearless; say visually what you wish to say. Secondly, to open one's heart whilst observing. And thirdly, commitment to work; to be fully involved in the making is equally essential and important to creativity, one's work and an artist's wellbeing. 
What do you want to convey about Azerbaijan in your works?
I wish to convey the distinctive beauty of what is in Icheri Sheher, in Gobustan and with in the distinctively varied and beautiful Azerbaijani countryside. I ultimate hope is for my Azeri compositions to inspire a few, remind more, and interest all. I have been attracted to the beauty of line and its compelling power since my boyhood. This is why I was drawn to the characteristics of linear etching and drypoint and love conveying the distinctive buildings and alleyways within my series of Bakuvian etchings. It is a thrill to see during printing; the making and seeing rich raised lines on paper, printed from an incised line or mark along with the velvety 'burr' – the delight is better than tasting chocolate; I see my Baku etchings as a culmination, to date, of my artistic journey. 
You are the Head of the Faculty of Art, you also have many awards for educational services. What would you like to teach your students? How can you curb a young often eccentric vision and put it in the framework of something laid and traditional? After all, it is always difficult without a serious academic base, whatever you do.
"Mastery of form leads to ever increasing freedom" and, "praise the young and they will blossom" are my mottos in Art and Art education that have lead to extensive and far reaching successes. I work and aim to instill both beliefs in young artists, many who have gone on to become award winning artists and designers. I have been a Head of Faculty for over eighteen years in three of the top Colleges in the U.K.; at Brighton College from 2000-2012, Wellington College from 2013-2017 and Marlborough College from September 2017.  My previous boss, the Master of Wellington College and Headmaster at Brighton College, now Vice-Chancellor of the University of Buckingham, Sir Anthony Seldon, wrote "Edward Twohig is the best Head of Art in the country" [U.K.] 
I would never curb an eccentric vision, in fact, I nurture and celebrate individuality. Learning and practicing the skills of drawing and painting are important but not as much as the ideas pupils wish to express or amplifying their visual voice. 
"You will never love art well until you love what she mirrors most." It - refers to nature. You often say that nature is your main inspiration. Nature is so different, bright. But you use don't colour in your compositions? What is the reason for that? You don't want the viewer to be distracted?
This is a quotation from an artist-writer hero of mine, John Ruskin (1819-1900) who advocated learning through nature. He practiced what he preached. To quote from Vincent Eames, Director, Eames Fine Art, in London: "Edward's Art is the embodiment of John Ruskin's maxim: 'You will never love art well, till you love what she mirrors better.' For Edward, location is obviously of paramount importance – he focuses on Berkshire, Sussex, Ireland, Paris, Italy and Azerbaijan. From there, a whole series of rapid drawings, photographs and etchings, taken direct from motifs, comprise a reservoir of images in an increasingly in-depth emotional relationship, so as to become completely in tune with a place, and often in complete immersion. The distilled essence of a place is Edward's objective in search of mood, space and line. Time is spent in this journey and, over time, a series of work results. This is enhanced by Edward's impeccable technique, fluent mastery of line and, whilst acknowledging tradition, his own unique contribution in extending the original printmaking tradition."
It is true; the majority of my compositions are landscape and my first series of Icheri Sheher etchings are monochromatic; concerned with tonality, abounding in rich and juicy blacks, contrasted with white and complemented by a range of silver greys bound by line. Throughout a unifying underlying theme of light, concentrating on exploring form and space to capture the spirit of place. In my latest Icheri Sheher inspired etchings I go further, unlocking Old City's mysteries and rejoice in an exploration and celebration of seasonal atmosphere through colour fused with line.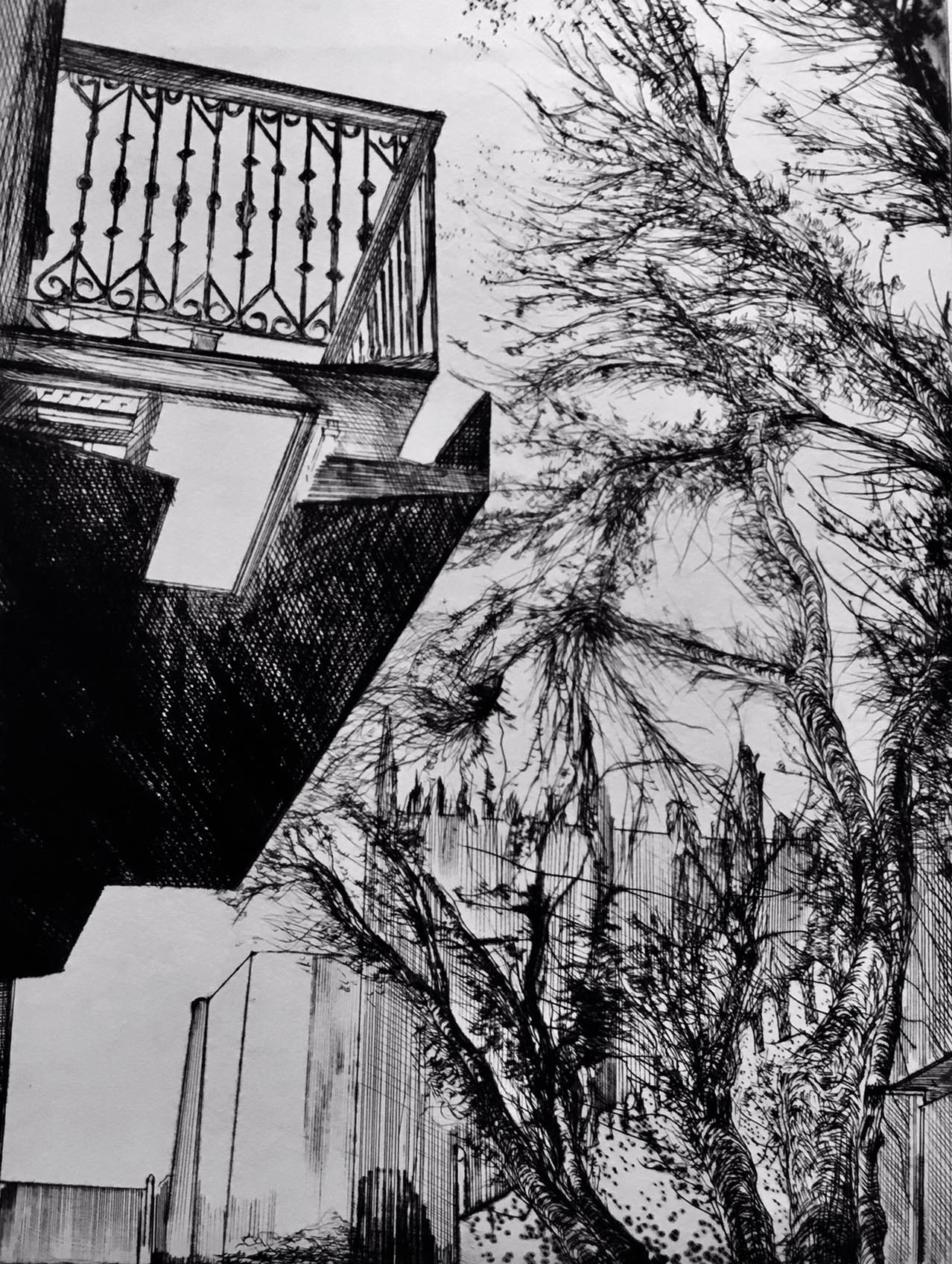 You noted that clear lines of buildings are more difficult to draw. After all, the slightest mistake - and the whole puzzle would be shattered. In the Old City, in addition to a huge amount of national ornament, there are many clear lines. Were they disturbing you?
A good question! I almost hold my breath in concentration while drawing from observation in Icheri Sheher and also in my studio in the UK working upon drawings based on Old City. It is a delicate balancing: portraying underlying structure and form with light, line, rhythm and shapes. Each run riot in Icheri Sheher, where both traditional and contemporary life and architecture go hand-in-hand. The vibe is real and pulsating, whether the time is dawn, early morning, the apogee of noon, in afternoon or evening. I have got to know Icheri Sheher in early spring, late autumn and early summer, the weather and its distinctive buildings, even when wet and windy are always beautiful and exhilarating. My aim is to capture and yarat (create) all this within my Icheri Sheher Suite of monochromatic and coloured etchings.
INTERVIEW ARZU JAEED
PHOTO PARVIZ GASIMZADE, ARCHIVE