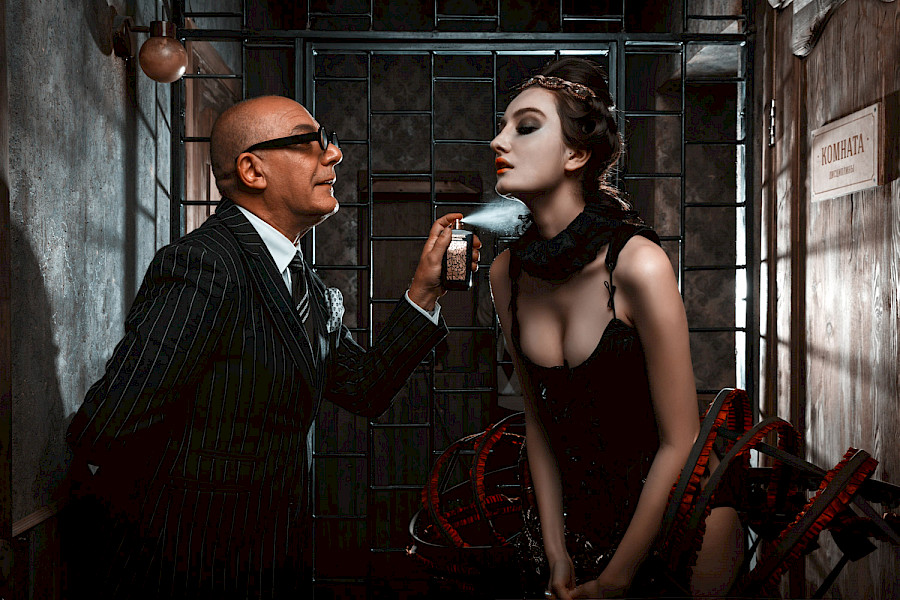 Since 90th he has been known, as a Prince Maurice (Principe Maurice), official master of Venetian carnival's ceremony, an organizer of exclusive parties and a key figure at night life of Italy. Maurizio Agosti's creative way started from Cocoricò discotheque, where he established theatric performance in Baroque style and continued in Milano club Plastic, considered by Andy Warhol, as one of the best in the world. He was a unique person from the whole Italian aristocracy, who was invited to the Queen Elizabeth's 90th anniversary. He has hundred thousand faces, like all of us. And he spent years to find tools for self-expression. As a great transformer, the Prince Maurice changes masks easily from Casanova to Carthaginian queen Dido, and his every image is thought over up to delightful little things.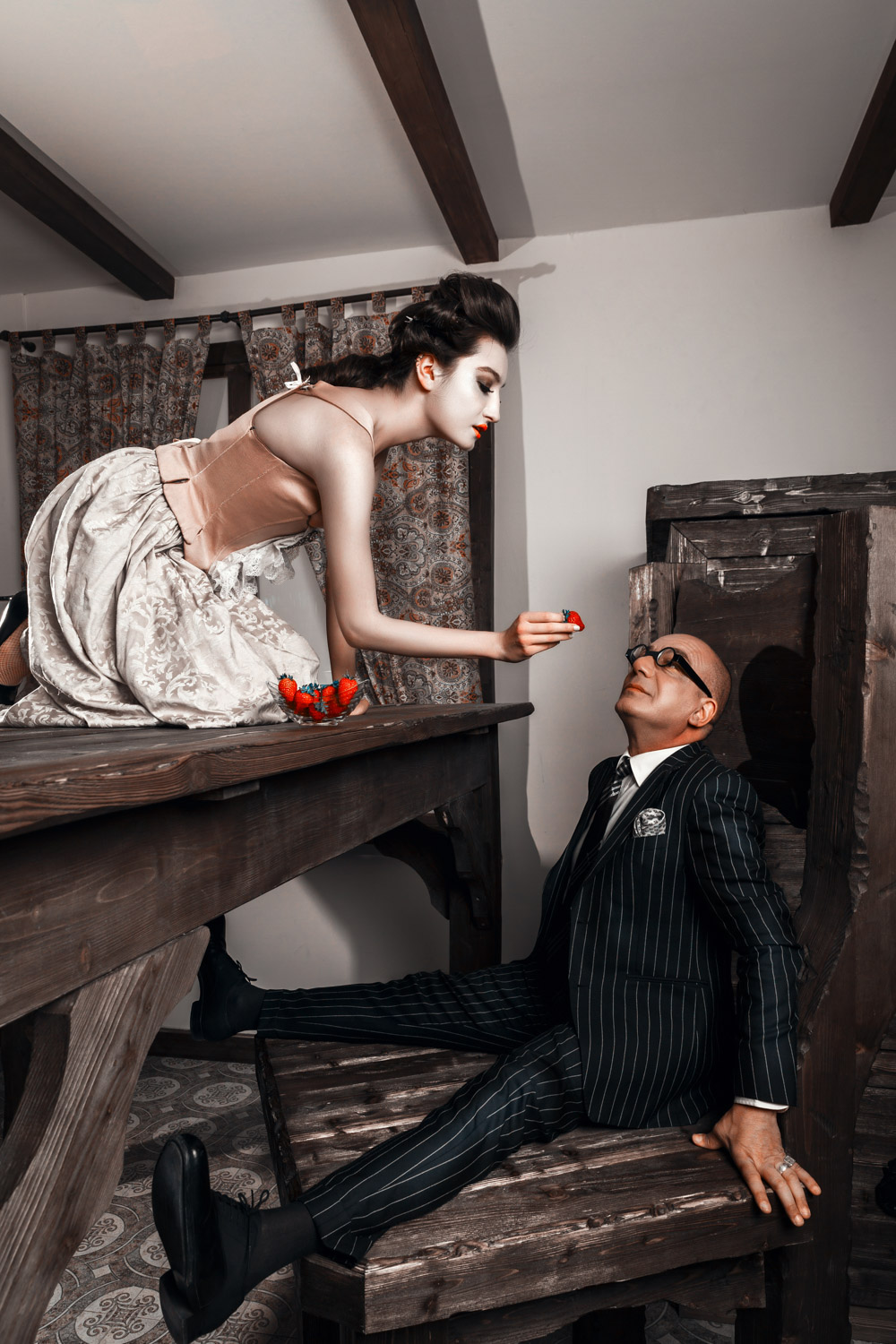 Let's start over: How did you learn, as a boy, that you could turn to an adult person with multiple faces and such diverse activity?
To tell you the truth, I did not know. Simply since my childhood I created that day by day, step by step. I was well-trained and had proper surrounding. At my early age I lost my twin brother and somehow I felt necessary to fill this immense void. Parents accustomed me to art, particularly to music; I was brought up in such places, where everything had an aura of history and beauty, and my inquisitiveness sharpened my vision. I studied with excitement everything, which helped me developing my abilities and my family supported me in everything. As a result, I stand here before you, unlike anyone, second to none. I would like to show all sides of my talent and I have a lot of them, like a diamond has... I like glowing, however, I like darkness too. I express myself freely by means of the multi-faced image, and this is a Prince Maurice.
Possessing a unique range of voice, starting from baritone to falsetto like Farinelli, sharp mind, capable capturing and evaluating whole beauty of Venetian decadence and education, worthy its aristocratic origin, Maurizio Agosti searched unbeaten tracks, aspiring to express his individuality. Music turns only to one of her feelings and he complemented it with plastics of body. Led by Daniel Ezralow he searched for internal freedom, his movements were loosened up and his body found a tongue. A legendary Lindsay Kemp (he died 25 August, this year) taught him pantomime techniques, where this ancient art interlaced with avant-guard. He borrowed playful manner from David Parsons to conduct performance, and  taste to a visual shock  from Klaus Nomi, he learned skills of the best stylists.
He sees secrets of his success, namely, in fundamental approach and remarkable teachers.
For more than twenty years you play Casanova role in Saint Mark's square, you are the author of several scenic representations about him. Couldn't you introduce him to us? What is your attitude to him?
Giacomo Casanova was an outstanding witness and a main hero of his time, that is XVIII century.
Certainly, he was an adventurer and a womanizer, however, first of all Casanova was a philosopher, a recognized writer,  a fine violinist, a cabbalist and a mathematician and only next his most passionate mission became cultivation of sensual pleasures. His bright memoirs (Histoire de ma Vie), written in precious French language, became for me, a boy, as revelation, instilled a perception of "delightful decadence" into my consciousness which has been accompanying me hitherto. Hence I am an internationally acknowledged expert on Casanova's life.
Like Casanova, Prince Maurice could start writing autobiography himself: «For me cultivation of pleasure of feelings was the basic employment during whole my life». It is said that Casanova was also short and delicate, with burning dark eyes and mesmerized women's hearts by his undivided attention. He «lived, as a philosopher», but at the same time, he fell in love at every turn, changed professions, like changed gloves... He didn't make any big discovery in science, however Jules Verne would hardly write about traveling to the centre of the Earth without his unique science fiction "Icosameron" novel, which was  visionary one for that time. The glory played a cruel joke with him: Marcello Mastroianni, playing Casanova, was upset, that he became the same symbol for Italy, like a pizza and a spaghetti. However, Prince Maurice's clever and attentive sight finds something exciting and fine in this common image.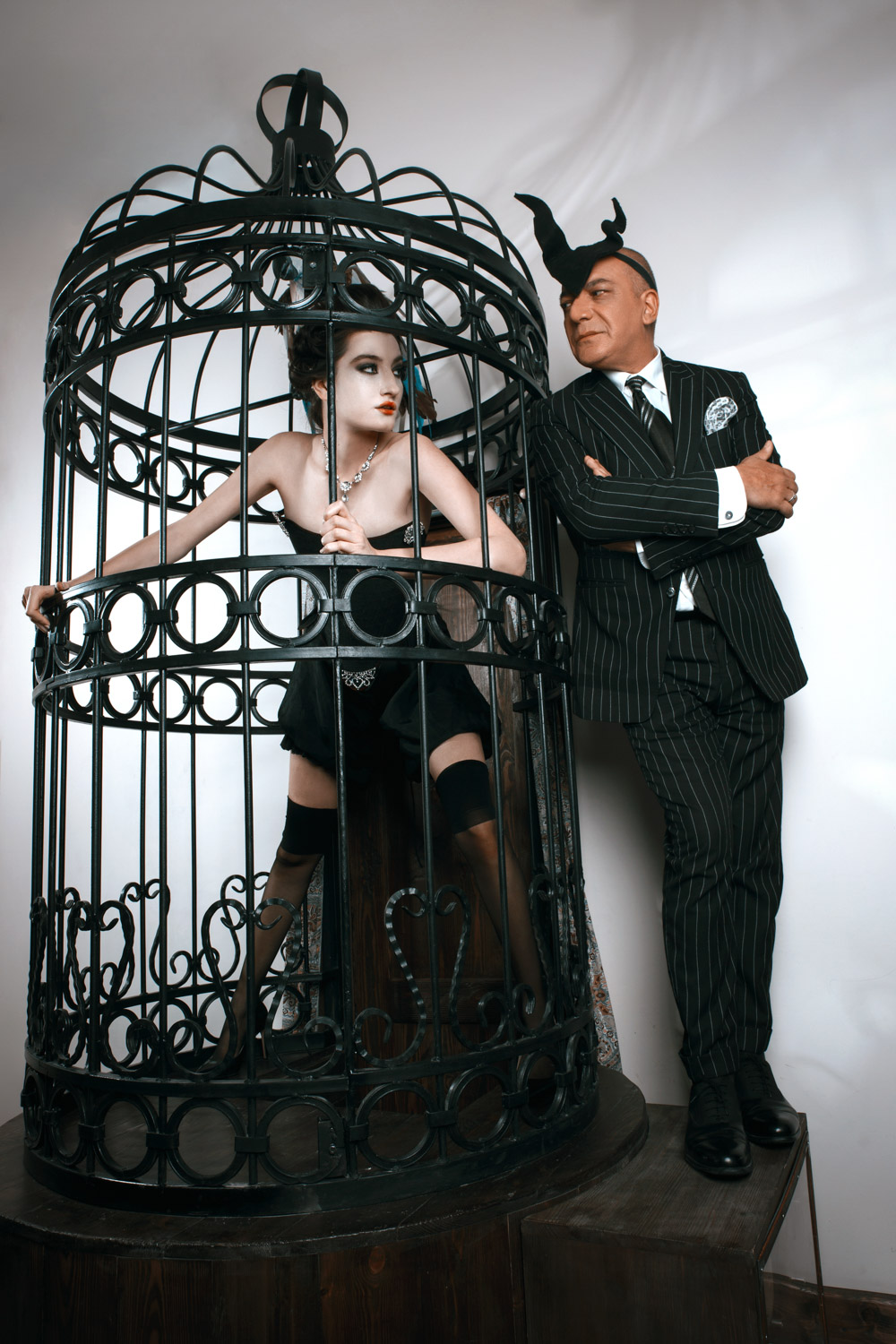 Casanova called himself, as a free person and appreciated above all truthfulness and this is a quality of a genuine artist. Ten years ago Daniel Ezralow, producing his ballet «Why?», wrote: the only thing, which is required to be exclusive, is to stay yourself. What does this internal freedom start from? How do you come up to your  "I"?
Everything starts from obvious example and that protection presented by knowledge, if a person understands importance of culture for disclosing of his mind. Self-confidence, self-esteem and self-perception also provide fundamental feeling of freedom from outsider's judgements.
One of my teachers, Daniel Ezralow possessed that power and was able transferring it to me. And finally, intensive realization of each life experience teaches much more, than any other discipline.
Tell about yours «Night Theatre Show». What is it about?
This is my original artistic work. I invented it to bring whole magic of lively emotions to uncommon places, such, as discotheques. Traditional performance art in combination with modern technologies allows youth touching to La Grande Bellezza, great beauty. I perform in the most famous clubs throughout Europe, I collaborate, both with internationally famous DJs and producers and with young talents. And I am very proud of it.
Prince Maurice not only sings and DJs, he searches and supports new talents. His Emotional DJ Set sounds throughout Europe. He accompanies Grace Jones' concerts, arranges burlesque Agent Provocateur shows in Paris, London, Vienna, Athenes. He aims to wake discotheque public, which instead of sensations, goes after superstars. Namely, synthesis of various art forms has made Cocoricò and Plastique famous all over the world. After all with, one can't surprise by freedom in «the world of night», a revolutionary approach, an exclusive format is required! And Prince Maurice has no equal in this.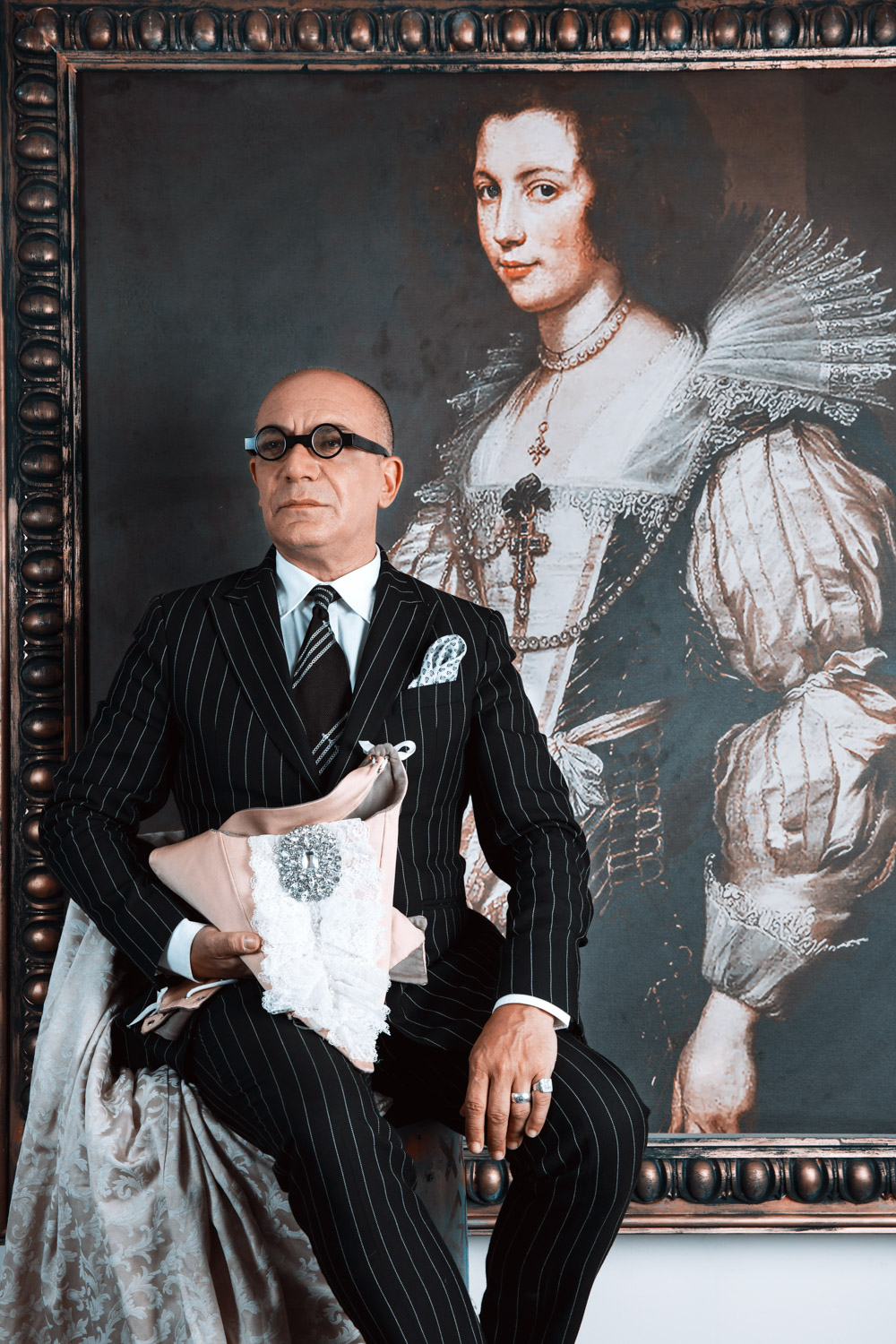 Once you said that emotions are not successful in this "world of night" and in contrary to superstars, it needs revolutions. Do people actually lack emotional intelligence? And do you attempt changing it somehow?
A system of superstars is spoilt by marketing, majority of idols is just "products", instead of actual talents. What is needed, then it is re-evaluation of passion, professionalism and interaction between an artist and audience. The virtual world of Internet and social networks takes away authenticity and spontaneity from people. And with my work I wish to convey my desire to communicate in actual way - to look at each other, to touch each other, to talk with each other, even to perceive each other! Like Casanova, I would like much anew teaching people to pleasure of feelings, which lead to love himself, other persons and beautiful world around us.
What do you think about point, that a lot of people is around you? What do you prefer: to give love or to receive it?
I like, when a lot of people is around me, but they should share my philosophy with me, be clever, sharp and aspire to artistic and spiritual growth. I don't dispute on social status or aesthetic canons. Even cultural level is not of such importance, if there is a sensibility and natural grace. As for love, then I like both to give and to receive it. Love is a continuous harmonious exchange... at least in ideal sense. Loyalty, respect and mutual attention are of great importance. Naturally, seduction and partnership are always intriguing...
Please, complete this phrase: «I am here to...»
I am here to study, to enjoy and to share.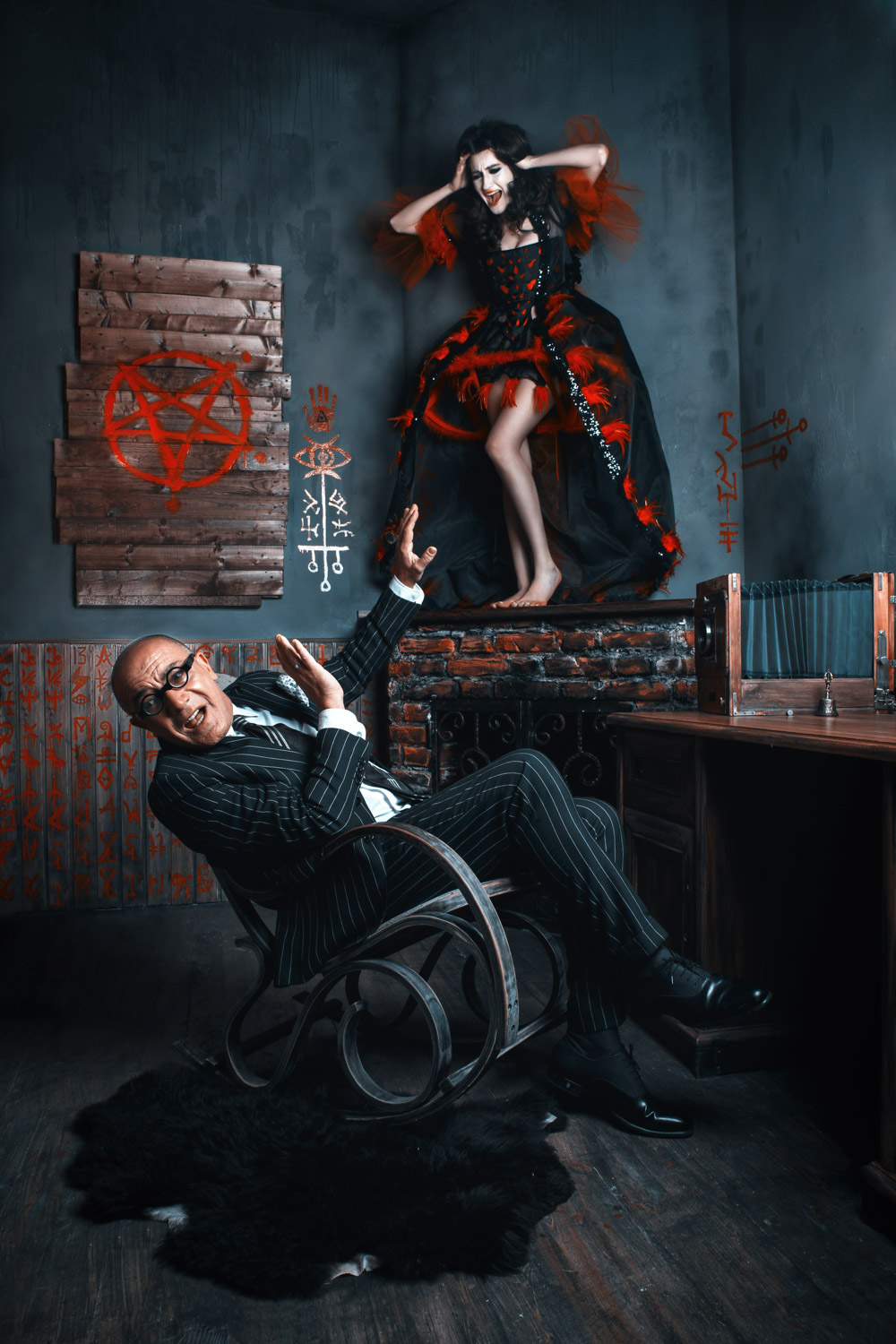 Are there still such original persons, like Lindsay Kemp or David Bowie in the XXI century? Can you call somebody else?
There is a lot of people, that I think, are awesome. Grace Johns draws my particular admiration and she is an actual muse for me.
Prince Maurice realizes his communicative intentions consciously. Meticulousness of his work was correspondingly illustrated in 2016 by Daniel Sartori in his "Principe Maurice # Tribute": instant pause, as if video signal was gone, and audience concentrates its attention on acoustical perception. This documentary reel, in the best way possible, conveys Prince Maurice's style.
What are you working on now?
I have got a lot of projects, however, the main thing is my Academy's further development, training of new talents for continuing my business.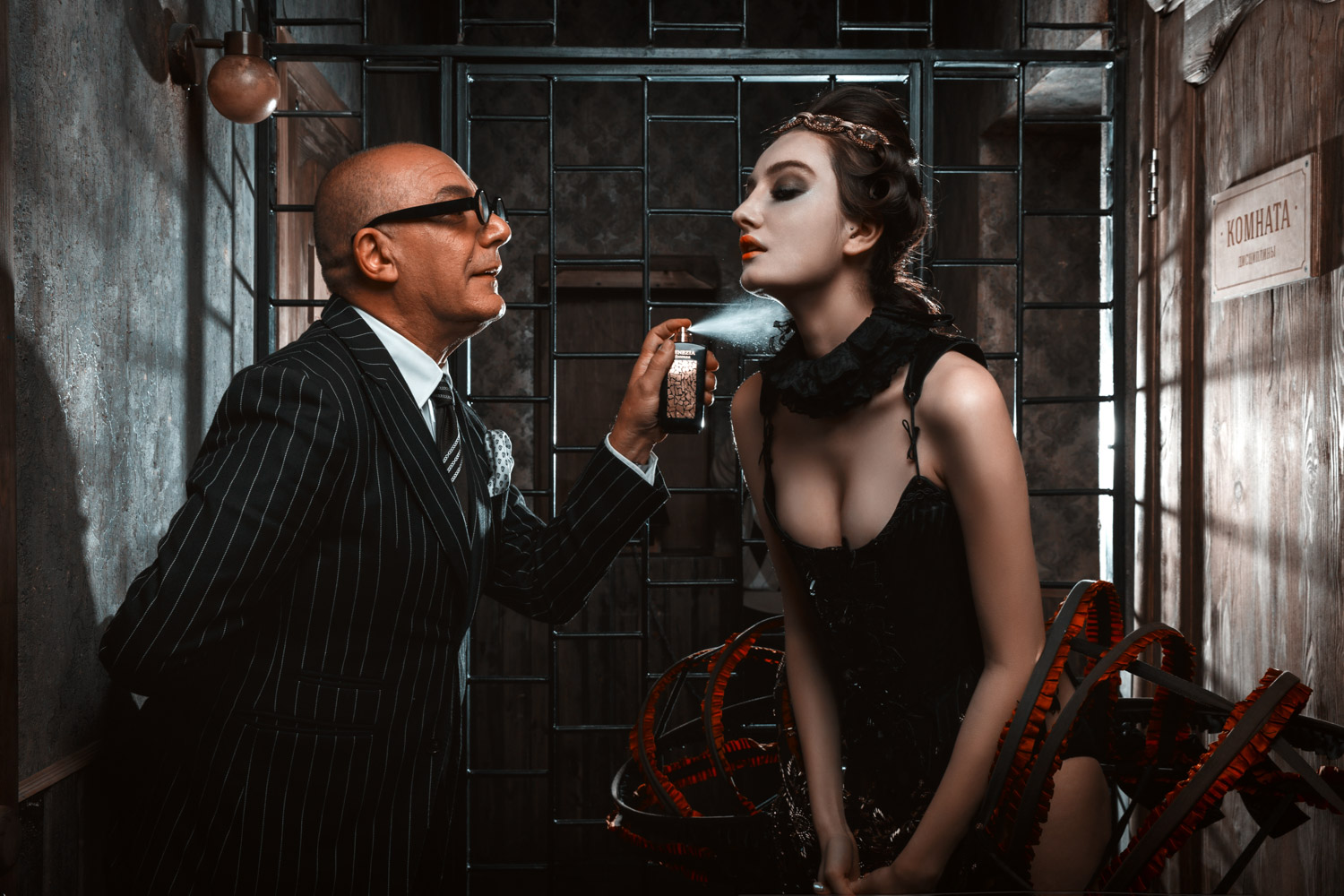 During Baku Formula-1 races you performed a show «Senso: the Venetian dream». If we speak about perceptions: then what were your first impressions of our city?
It is a magical place! I perceived power of nature and charm of the Azerbaijan culture. I would like much to learn more about this beautiful land and its people.
If you discover a time machine, where you would travel?
I would return to Venice of XVIII century, to enjoy my favorite historic epoch and, probably, to become Casanova's partner in his  improbable adventures.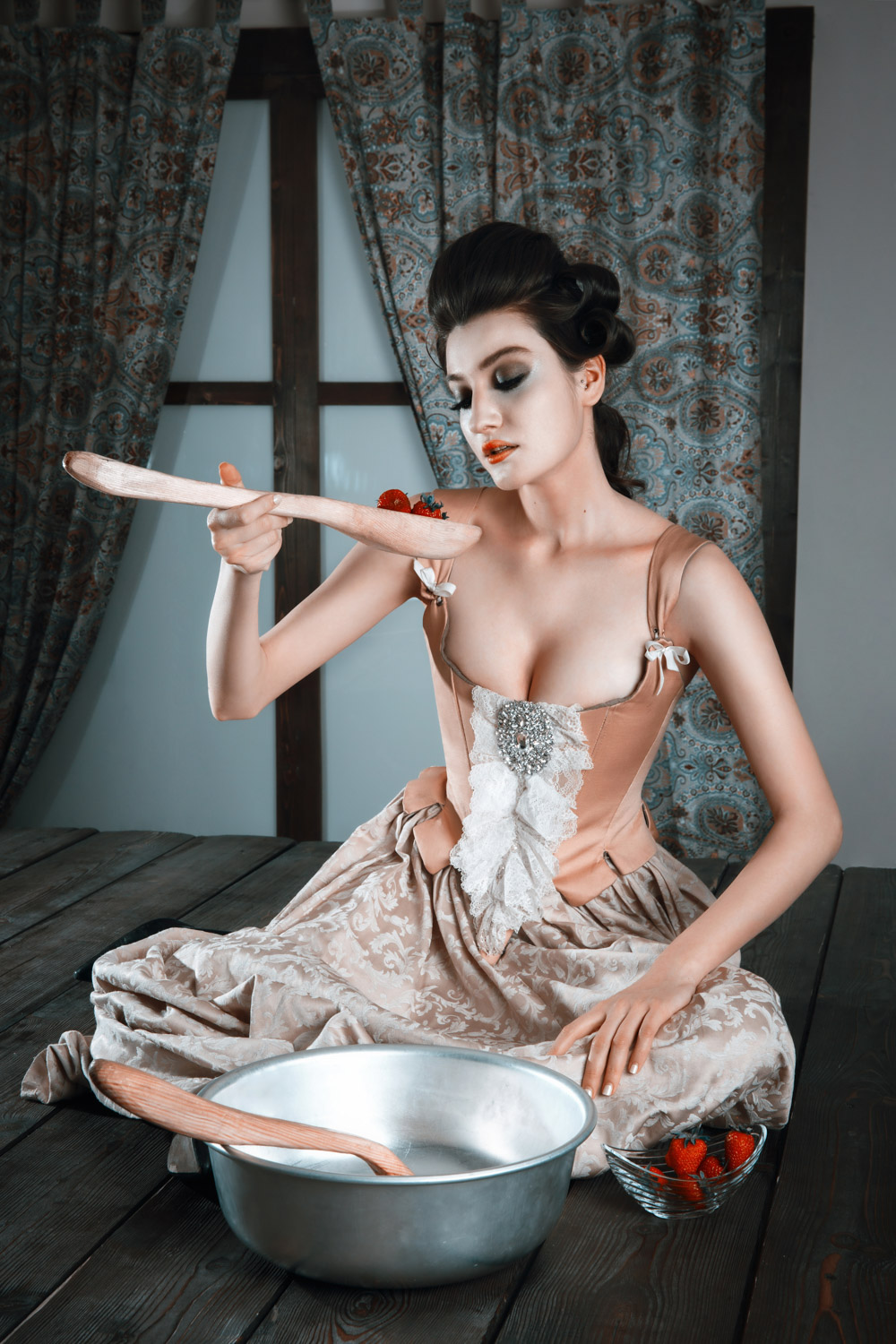 INTERVIEW: SONA NASIBOVA
PHOTO: PARVIZ GASYMZADE
COSTUMES: Atelier Pietro Longhi 
PERFUME: The Merchant of Venice
Nargis Magazine thanks Claustraphobia Baku for assistance at photo session.