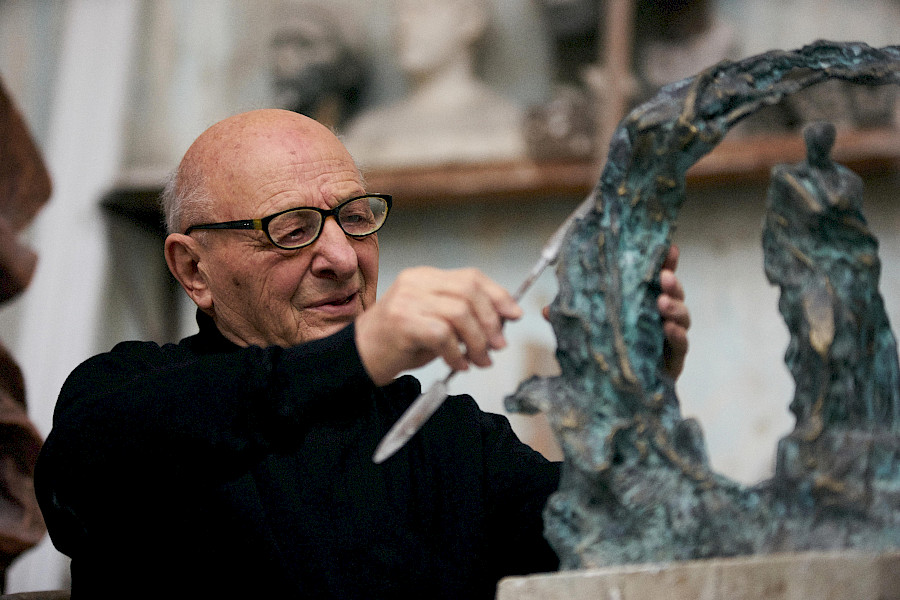 FOR SEVERAL YEARS OF MY STUDENT LIFE I PASSED BY HUSEYN JAVID'S MONUMENT AND EACH AND EVERY TIME IT AMAZED ME BY ITS MONUMENTALISM. IT WAS IMPOSSIBLE NOT TO ADMIRE BY TRAVEL OF DEVIL, SIYAVUSH, KHAYYAM, INSANE PRINCE AND POET'S OTHER IMAGES, AS IF IN WHIRLING VORTEX, WHEREAS HE IS DESCENDED WITH SADNESS, RAPT IN DEEP CONTEMPLATION ON TRAGIC COLLISIONS OF HIS LIFE AND HIS MOTHERLAND'S FORTUNES...
AS THE YEARS WENT BY, THIS MONUMENT'S AUTHOR GALLANTLY KISSED MY HAND AFTER OUR CONVERSATION. AFTER REACHING AGE OF 90 AND EXPERIENCING HAPPINESS AND LOSSES, HE WENT BEFORE ME IN COMMON, SMILING AND LITTLE BIT CONFUSED STATE, DUE TO EXCESSIVE ATTENTION TO HIS PERSONALITY. IT WAS AMAZING TO SEE, HOW A FAMOUS SCULPTOR, SPREADING HIS IMPRESSIVE WORKS ALL OVER BAKU (OTHER PLACES JUST AS WELL), BRUSHED AWAY INVOLUNTARY TEAR AND… TIRELESSLY SNICKERED AT HIMSELF. HOW SUCH DIFFERENT EMOTIONS ARE COMBINED IN A PERSON, DEVOTING HIMSELF TO SERVICE OF COLD AND STIFF SHAPE?
THUS, OMAR ELDAROV IS BEFORE YOU, HE IS AN ARTIST, GENTRIFYING BAKU IMAGE ALL HIS LIFE, TENDING TO PRESERVE ITS RICH HISTORY. FOLLOWING ADVICE OF GREAT PERSONS TO REDACT EVERYTHING EXTRA, I WILL REDACT MY AUTHORIAL "I" WITH AIM TO LEAVE A READER TETE-A-TETE WITH HERO OF INTERVIEW AND HIS EMOTIONS.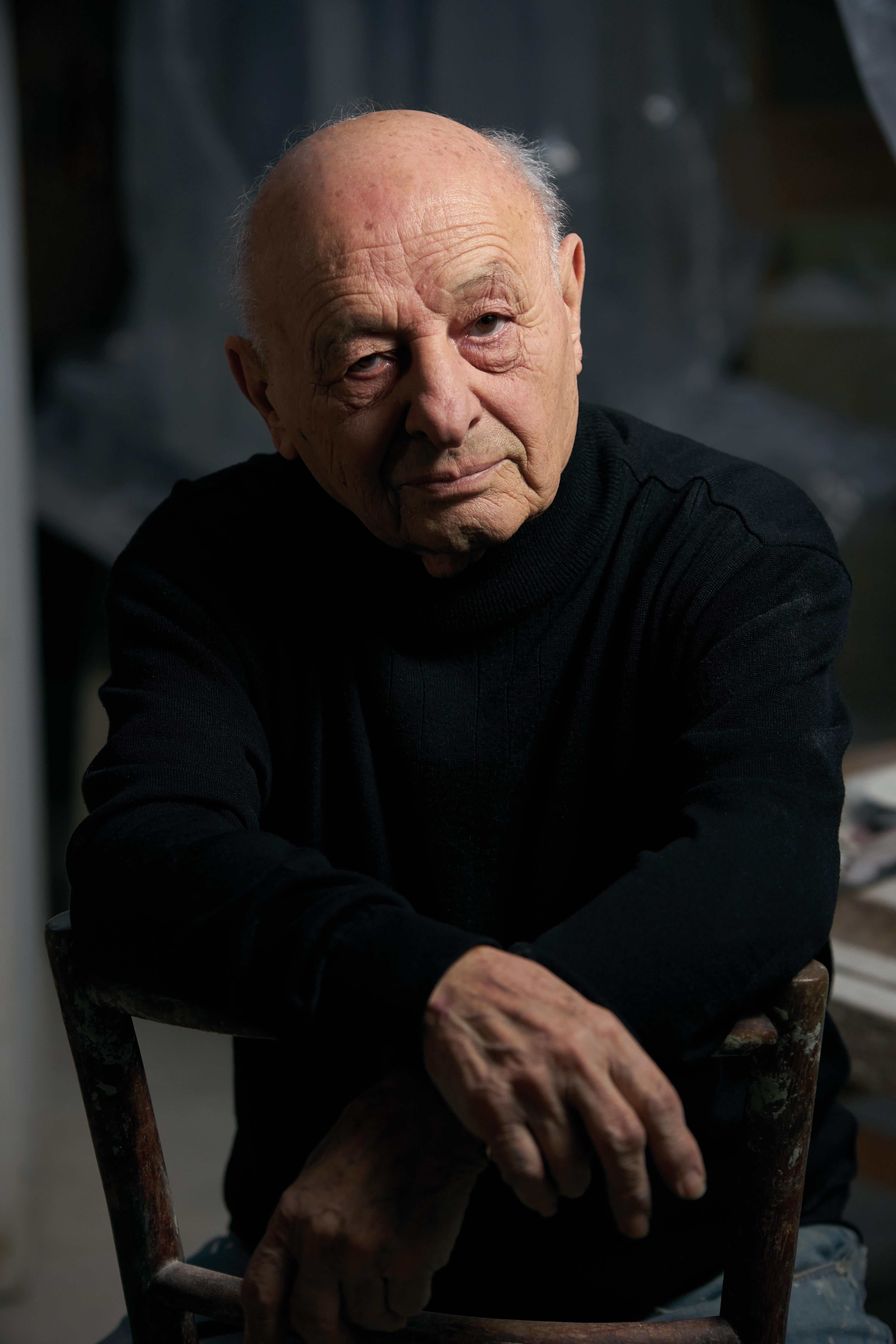 IT IS IRRETRIEVABLE
Time was like that… it was different. While I was riding on a wagon roof, other guys were sitting in trenches. However, I would willingly return to the past, directly to my first class... Such a long, intensive road opened before me, there were many new persons, much laughter... As it is I was a naughty child. Though I was the shortest boy in the class, nevertheless I adored picking up a fight to the tallest pupil, as a rule, such guys are slowcoaches to some extent. And once he nearly killed me. I made fun of him, derided of him, but he hushed up and then seized, as far as I understood, an inkpot and aimed it at me! I could hardly bend down. The inkpot was smashed. I didn't look at his side anymore.
IT IS PASSIONATE
I wasn't engrossed in thoughts about my opponents. Namely, innovation attracted me, to be more exact, set me to creativity. You can't take clay home and it was impossible to find common plasticine in shops... And all of a sudden a boy is given the very same clay and he is told: "Kiddie, model an apple in clay!" And if he is even praised after that, he will additionally shape even a pigeon for you... However, the main thing is he is inspired in the process itself. Thus, my first teacher, who gave me clay for the first time, supported my creative ambitions, though prior to that point I dealt only with drawing.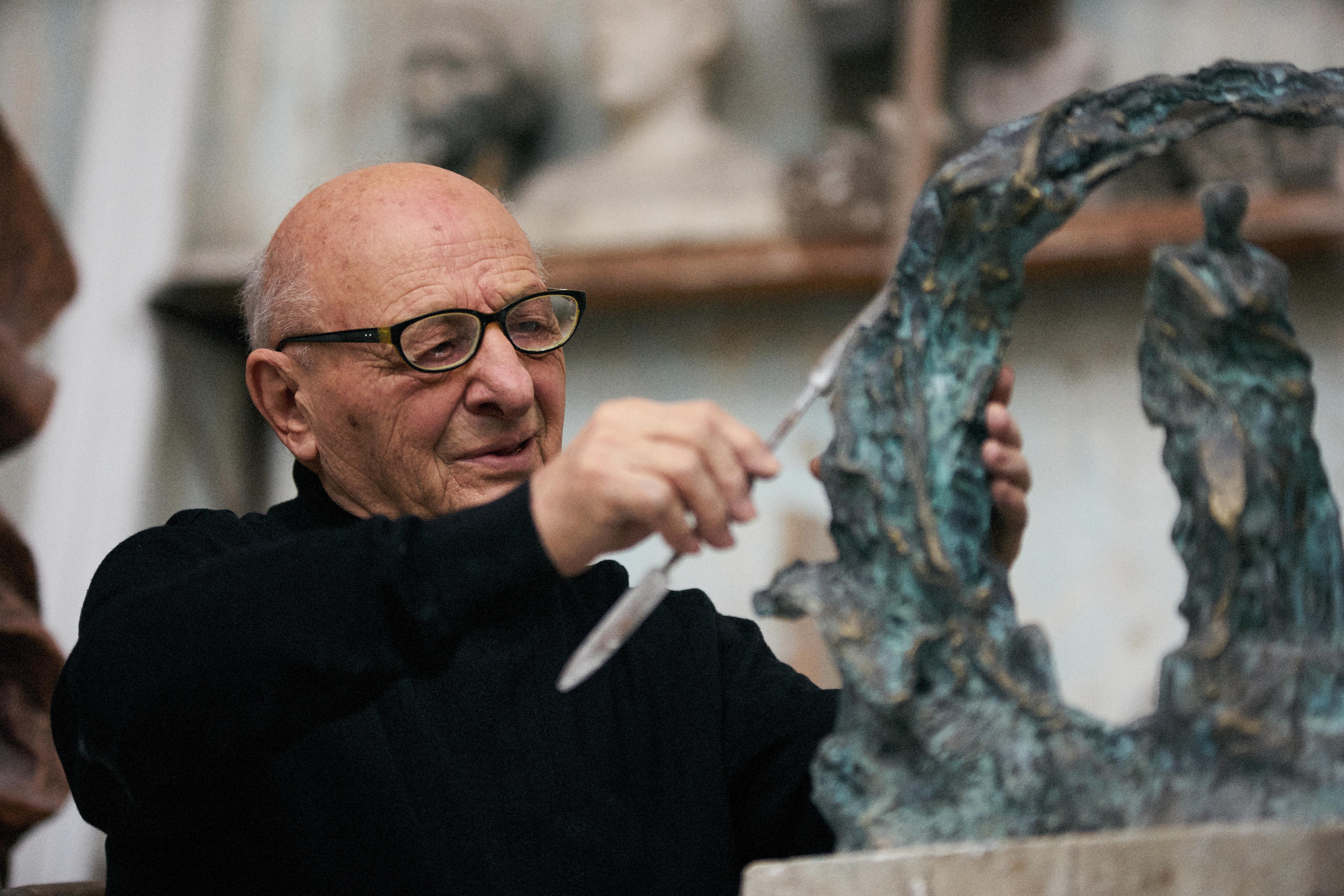 IT IS MAXIMAL
Children still lack «professional modesty». If a child is engaged in sports activities, he is sure, that he will be the world champion by all means. I also referred myself to that category of children, who holds on to a belief. I dreamt of Saint-Petersburg, described it in pictures and on the base of my father's stories I created my own image ...
It is a beautiful city and buildings with columns are everywhere...To be honest, much was rehabilitated at that time. And nevertheless, I still rekindled dreams of Petersburg!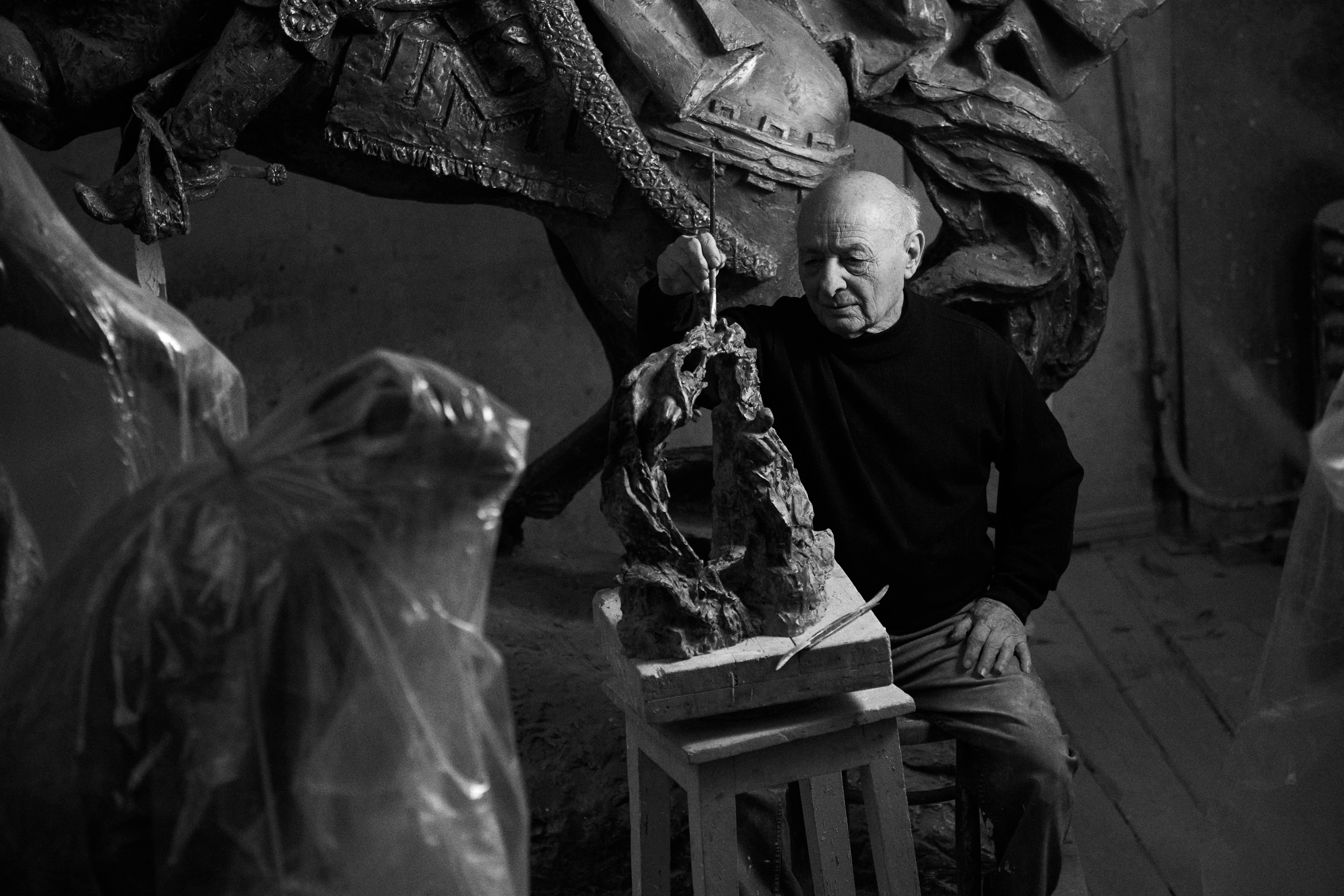 IT IS IMPROBABLE
Excluding a few monuments, colonnades weren't in Baku in those days at all. As a child, I was told: "You are still small (I am not grown even now, a symbolical age was considered) and after you grow up, you will go for a walk in the streets, squares of your city and will feast your eyes on your works. I could not even imagine that! Presently, I don't have such perception, everything cooled down quite quickly, immediately, after the first monument. Hence, my attitude to my works is rather quiet, as a spectator and as an inhabitant of a city. Another thing is, each time while walking past, I think: now I would do it in a different way! I noticed that I didn't take into account something, I overlooked somewhere and simply, I didn't like it anymore. Ideas are professional and they disappoint me.
IT IS USELESS
It is useless to conduct any negotiations with the Education Ministry. Specific of creative higher schools is not taken into consideration, though according to structure and regulations we are radically different! Lecture halls are in all universities: students sit with notebooks and pens in their hands, write down lectures. However, we have studios everywhere, where special material, several teachers at machine and students sitting at easels, are required. There are too many texts in curriculums: change, propose and create! Along with empty talks, there are approximate tables, we accept them into consideration for a reference point and nothing more. And these reference points are only for those, who take first faltering steps in the art.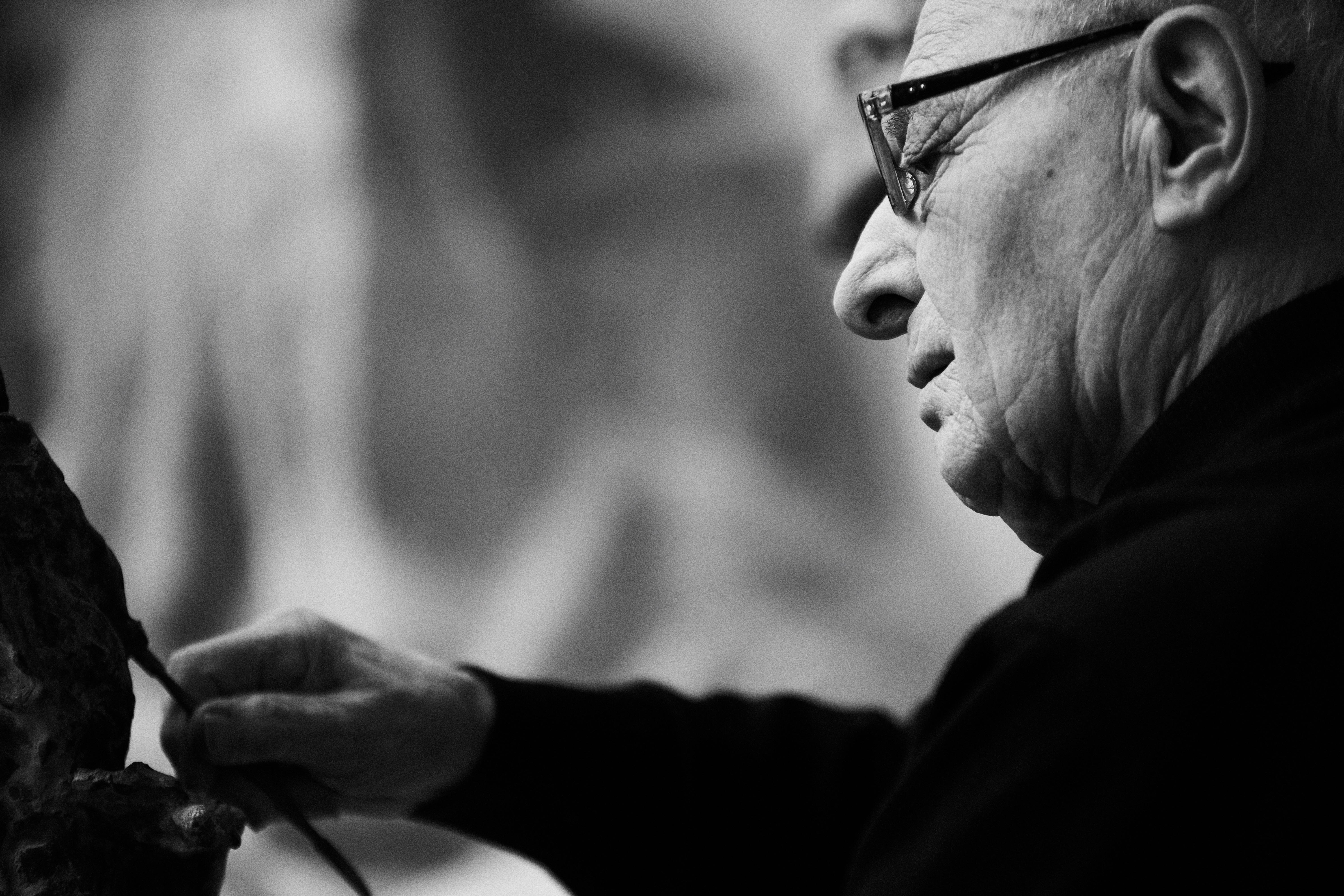 IT IS INDIFFERENT
What artist would spend all six years of study within the four walls? What artist is he, what landscape painter is he? An ideal option for an artist is to spend halftime indoors and half-time in nature. Sattar Bahlulzade drew nothing within four walls, he created only under the open sky. How to act in such a case? Nobody wants to accept the challenge and everything is at the stop.
IT IS ENDLESS
Monumental work embodies several ideas at once: political, patriotic and even religious. And there is an infinite number of constituent parts of the monument's meaning and purpose: it should be beautiful, should educate, should promote nobility to people and should reflect universal human values...
Didactic value is very high, after all, the statue belongs to all, not only to citizens but to its visitors just as well.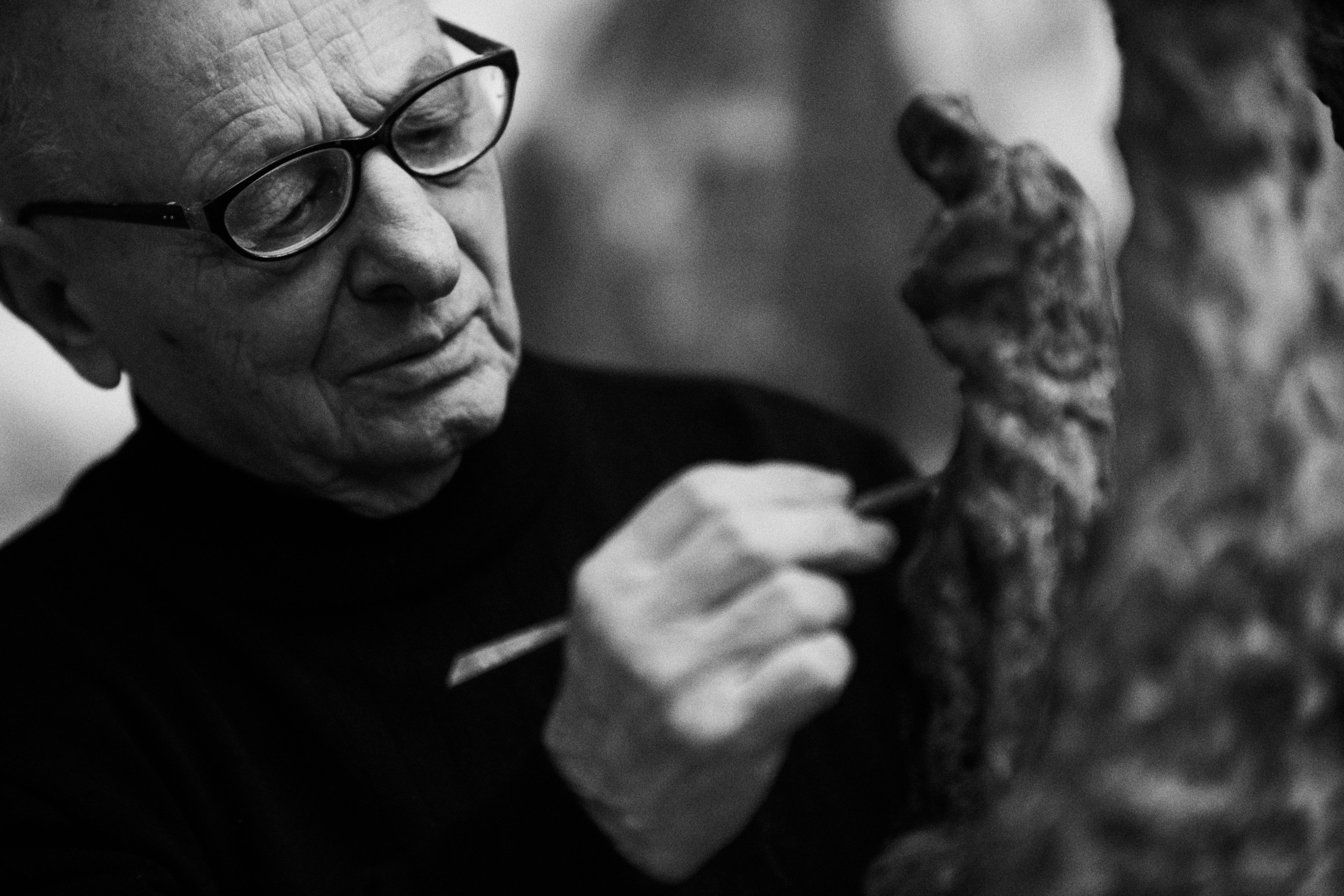 IT IS INADMISSIBLE
Long work with clay takes precedence to work with stone – by creating an initial image, I strive to present necessary traits, reflecting its manner to move, to speak, as these moments are well snatched ... A stone is predominantly a technique. Imagine yourself a mass of rock, where you wish to put a nose point. This point is calculated in correlation with another point strictly academically, and as an artist, I know, that warm color will look maximally advantageous, if cold is in adjacency. The academician cannot improvise on a stone, according to point-by-point everything is exact here, one shouldn't admit a mistake in any way!
IT IS TRANSIENT
Like in any other work, there are a lot of favorite moments. The process is both subconscious and conscious.
Certainly, as tests, so skills are important, however, sub-consciousness frequently acts on a scene. It is so pleasant if something worked for a person in the back of his mind! However, at times this pleasure lasts short while: you come to a studio in the morning and realize that you have exaggerated in your head, that «the job» is not just so ideal. Everything is complex... At times it is more complex in thoughts, rather than in reality.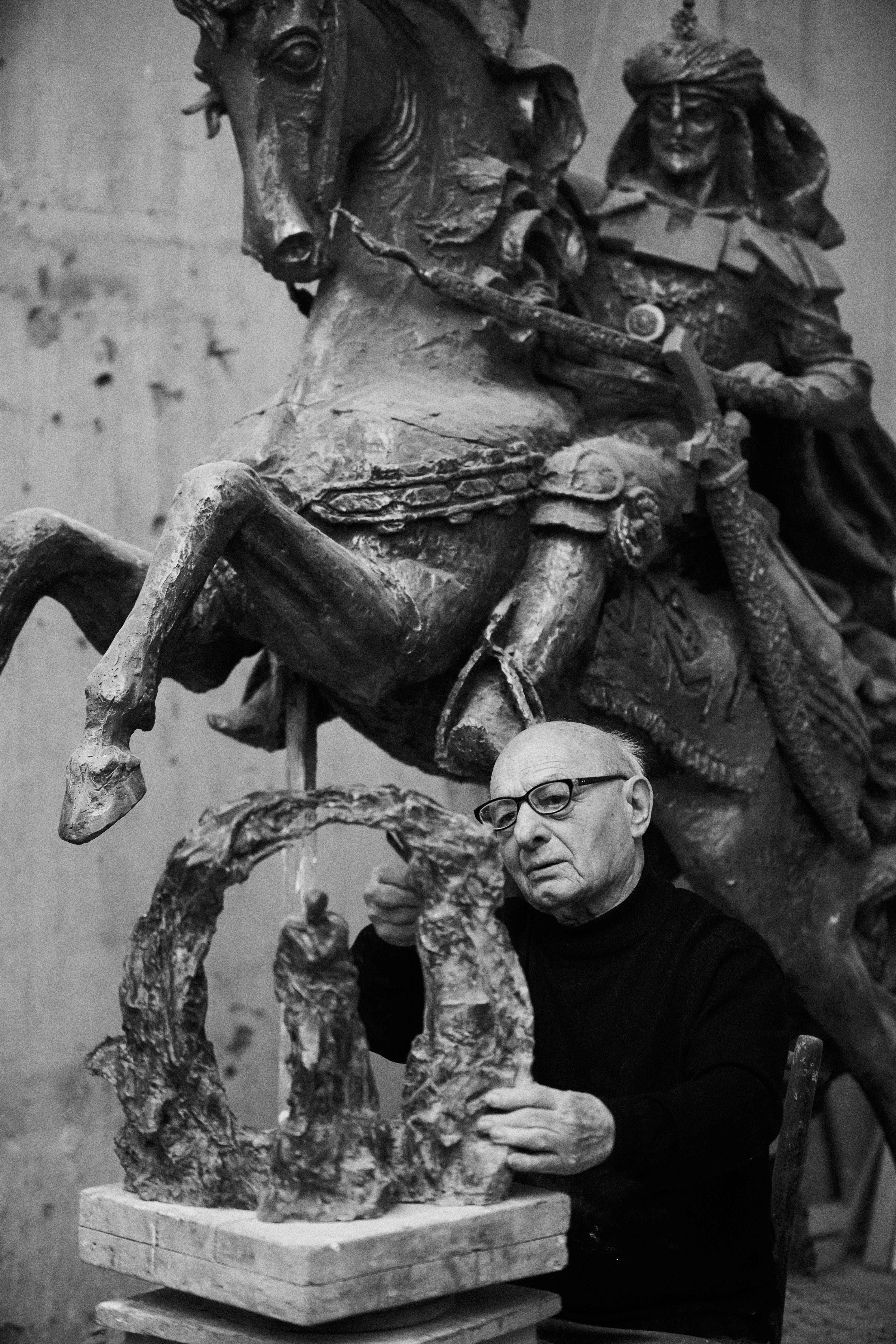 IT IS RADICAL
A sculpture is a scanty thing. Two hands, two feet, and a head. The avant-gardist can place his head in a pocket declaring: «I see it in such a way, there is a profound meaning here!» From an academic viewpoint, it is difficult to invent something new, these are very hard searches, but I attempt at inventing incessantly. Initial ideas change endlessly and cardinally. It is true, there are such characters, where the invention isn't required at all, due to such strong value of its energetic, dynamics, and plastics.
IN A REVOLUTIONARY WAY
To destroy! To destroy! The entire world was poised in a revolutionary way at the beginning of the XXth century. Lifetime they strived for it: change of labor forms, payment and system and the ideology «to take away from owners and to deliver to workers»... Why all countries with appeared working class, turned out to be revolutionarily spirited?
That time everything was hot... As soon, as Huseyn Javid's remains were brought from Siberia, I began communicating with his daughter and studying materials. The fact of his being a writer already meant at that time, that he was involved into political circling course, though he was out of politics and whole Huseyn Javid's creativity witnessed about that. But political apathy was equaled with enemy ideology. I am sure, that whole Society of writers of that time approved his arrest... My Huseyn Javid is not on an ordinary pedestal, whirlwind from well-known characters and events encircles him. The non-common plot of his life forced me into creating such composition.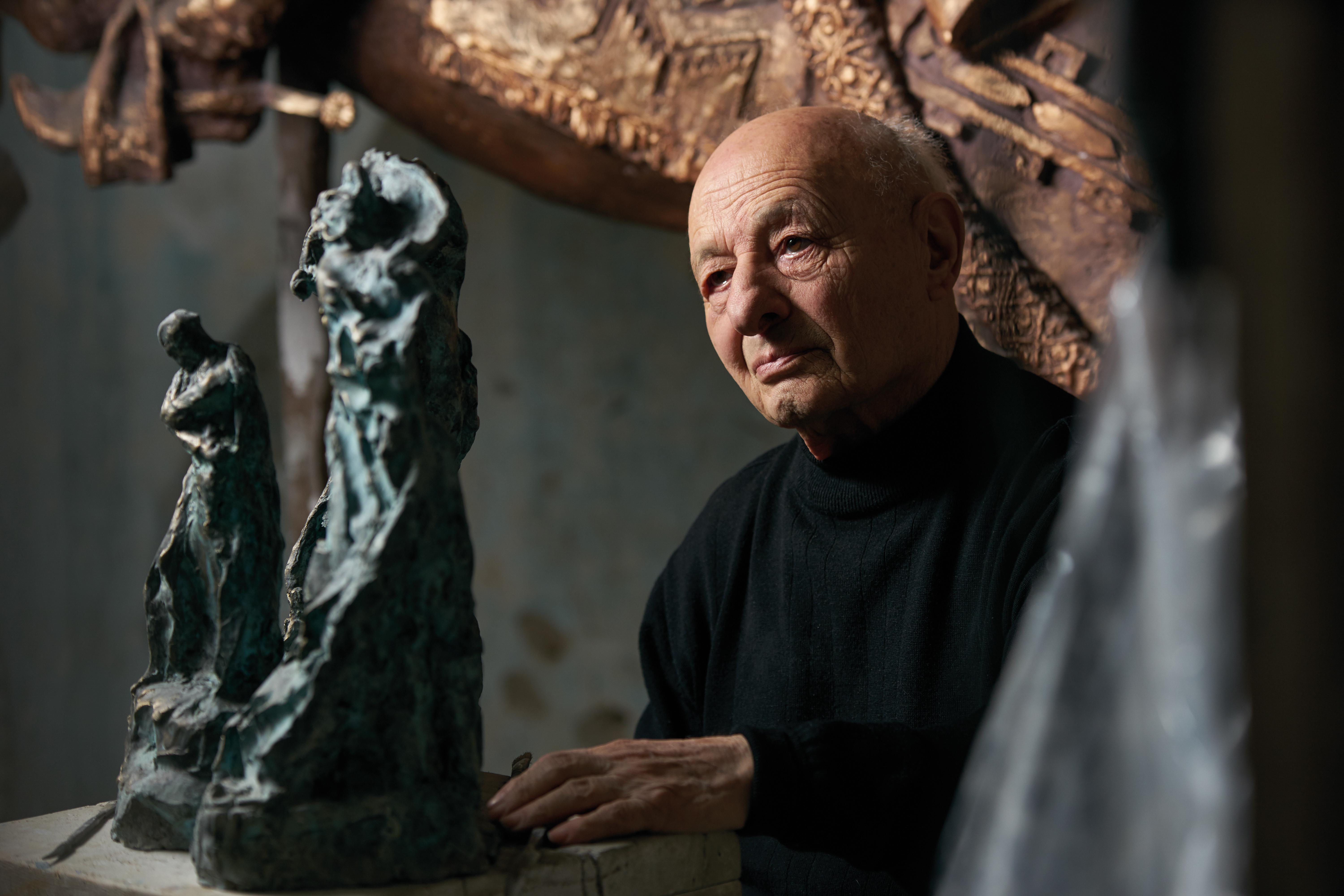 IT IS NOT COUNTED
During my life path, I was asked numerous times... I don't recall "inconvenient" ones, though I recall those, which caused difficulty to answer unambiguously.
IT ISN'T EXCUSABLE
Everything, such as creativity, power, and fate, is mixed!
Thus, Samir Kachayev just finished his first stage of the study, undertook a master's degree and suddenly he was mobilized into the army. The inexcusable mistake of military administration: he wasn't supposed to be sent to a trouble spot, as he wasn't careering military man! The term was quite short, he didn't even get a chance to obtain initial skills of military man. Perhaps, he ought to lie down, hide, however, like Bolkonsky, he stood and stared at a bomb... I don't mean, instead of him they had to send another person into the line of fire. However, another person could be more skilled, trained... Was it a destiny? Yes. Was it a mistake of authorities? Yes.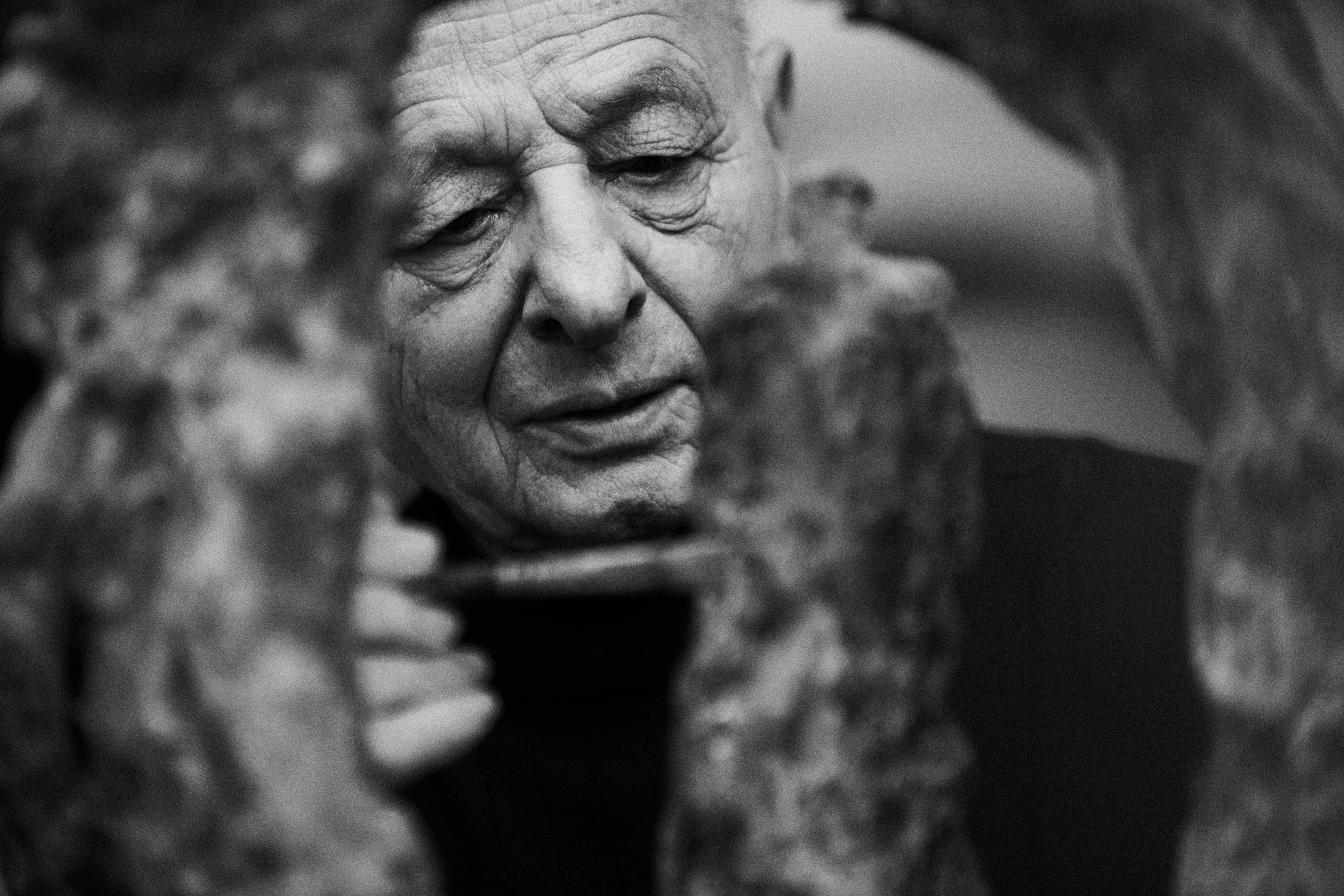 IT IS PROVINCIAL
No offense is meant, but we have such quality - provinciality. To some extent, it covers literally everything. We are very diligent and terribly obedient. After coming to agreement on something at some levels, we will not only obligatorily fulfill, but even over-fulfill, probably, this is intrinsic to our character. When they started erecting five-storey apartment blocks "Khrushchyovka", quite different construction regulations were presented and afterward, they were changed several times i.e. downwards, thus, we over-fulfilled that too!
IT IS IMMORAL
The most immoral people are real estate developers. I don't mean architects or builders, I mean customers. They are interested in nothing, but in extracting profit. If a monument hinders them, then they will remove a monument itself without hesitation. For example, I found a monument to Azim Azimzade on a garbage dump. The whole composition was there, however, when we suddenly realized, it was late. Who removed? That was a real estate developer. And it was replaced with a Chinese fountain, numbering thousand all over the city. This monument was raised according to Heydar Aliyev's initiative, he commissioned to Hajibala Abutalybov, who just assumed a position at that time. When the monument was ready, the president came to its opening, thanked and said: "It is a good monument"... I can't protect all monuments, which have already become a part of the city's history. Not asking anything, not inquiring anything, simply turned around and have thrown it out...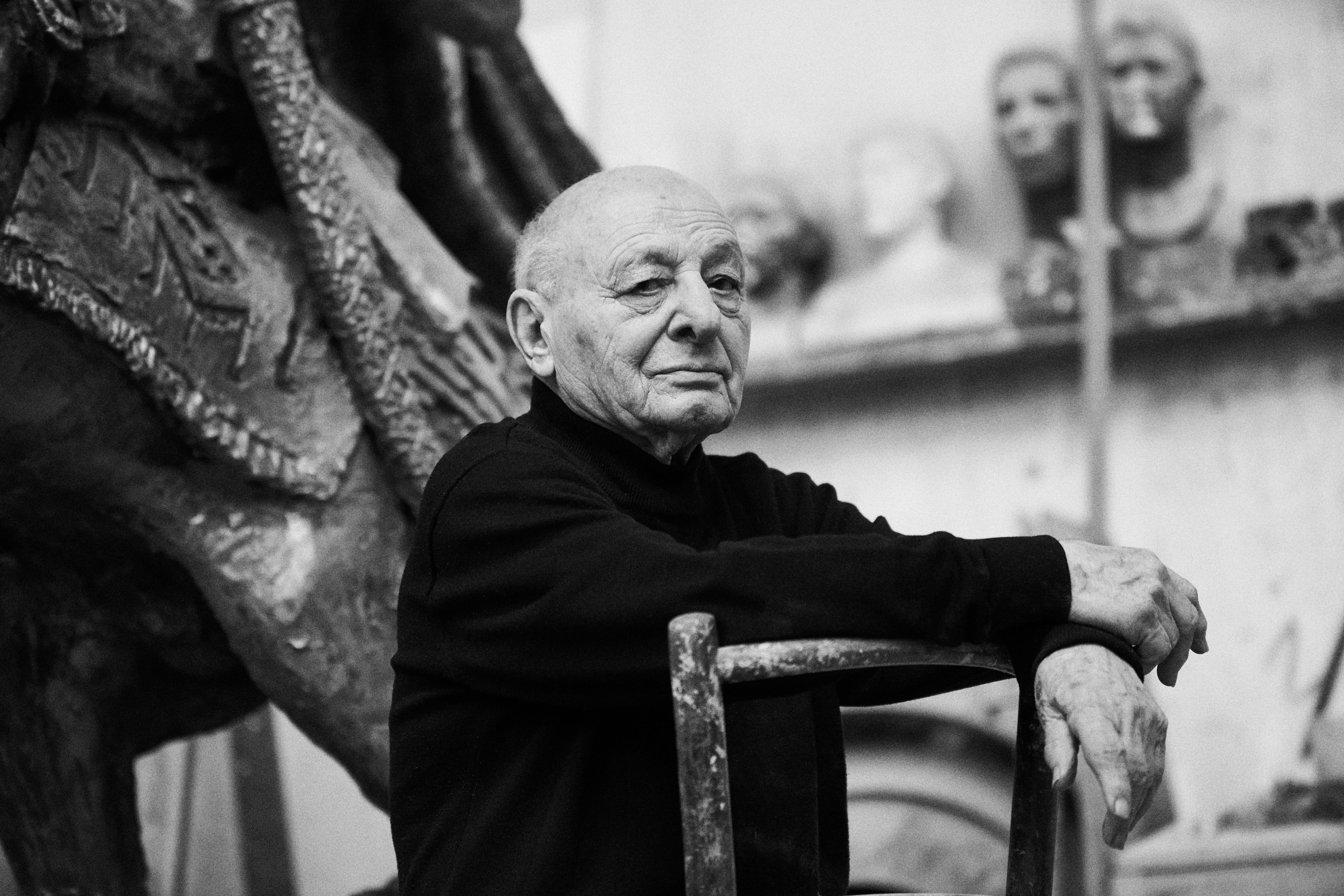 IT IS INEVITABLE
Baku is like a woman, it is always beautiful in its own way. Where is green Baku with flat roofs? There were times, you climbed to the roof, stood up there and got admired! Nowadays you won't see anything. Baku image continues changing. Certainly, it is pity, however it is inevitable and there is no escaping it. There are a lot of good changes: a picturesque bay, which is amphitheatric around the mountain... However, if you are going to restructure a city, then it is necessary to consider everything! We have special bodies which are to accomplish these activities nevertheless, they are constantly under pressure both self-interest and the official one. Therefore, they admit their mistakes...
IT IS MISTAKEN
In many places, for example, in the Old city buildings are located like during former single storey residence period. Pavement does not even make a meter in some streets. Though cars can pass each other, if one car is parked, then another car won't be able passing. As for higher storey buildings, they stand just face to face – one window faces to other window and a yard is narrow, where will you park the car? Let us presume, you don't drive a car, nevertheless, it is impossible even to get off a taxi, a car from the rear will immediately start honking the horn. It is uncomfortable, it is ugly and it is unhealthy for the nerves! And the number of such mistakes is thousands.
IT IS PLAYFUL
I am not offended, that my name remains «behind the curtain». I didn't even indicate my name on a bronze monument to Natavan, though it should be indicated. Frequently it is buried in oblivion. However, sometimes, if there is some reason, I make my presence felt. One day I entered a shop, young women were inside, it went without saying, they pretty hot and tempting... I asked their age. Supposedly, they were born in 1975. And I immediately told them, the same year such monument was raised... They are taken aback: how it could happen?! And this is pleasant to me!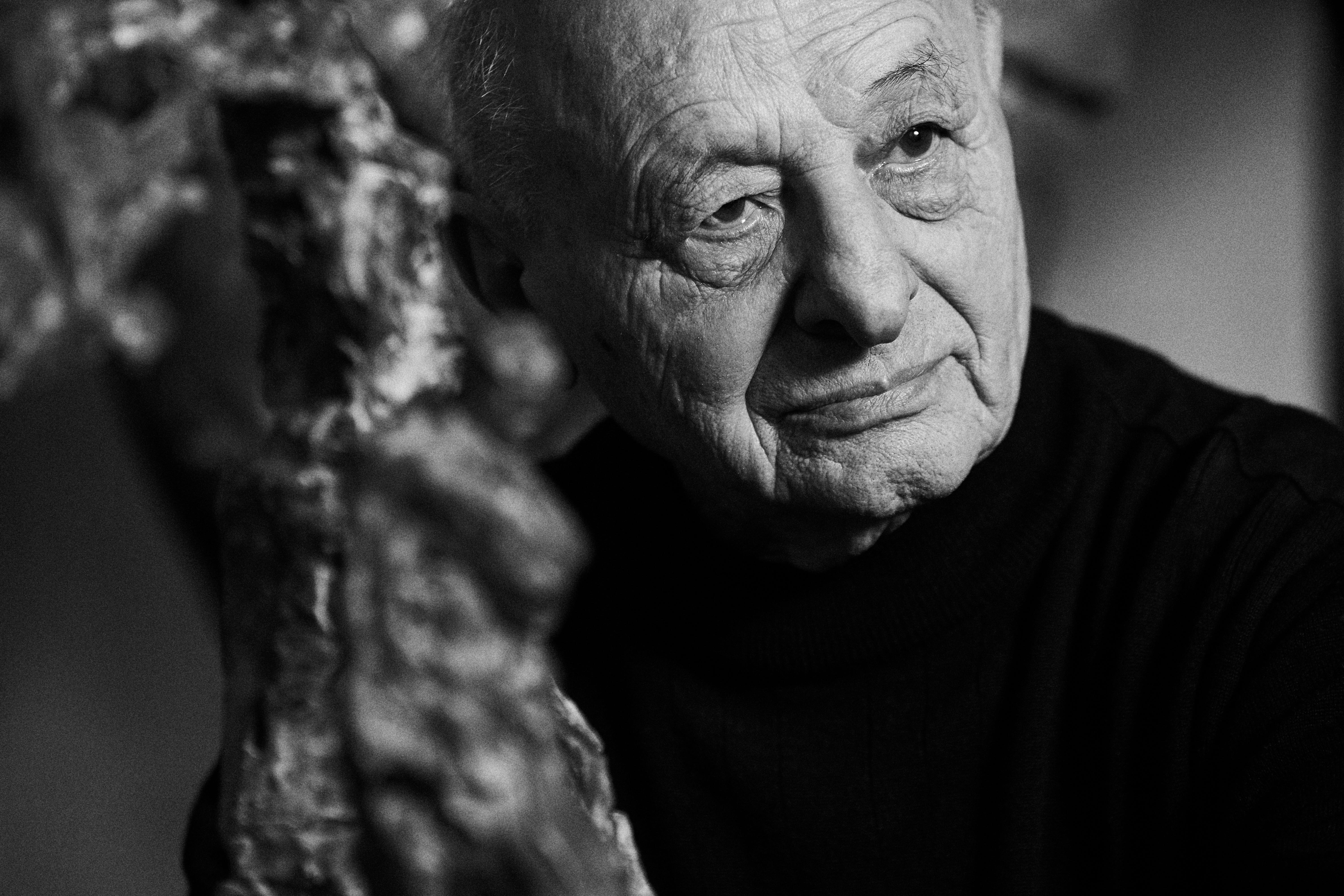 Omar Eldarov is National Artist of Azerbaijan, Sculptor of monuments, Honored Art Worker, Academician, Chevalier of «Heydar Aliyev» Order, Rector of Azerbaijan State Academy of Arts.
Several creativity dates:
1955 – Gravestone of Uzeyir Hajibayov
1960 – Monument to Natavan
1963 – Monument to Fizuli
1965 – Sattar Bahlulzade's portrait (the first version) and
The Composition «Oilmen of the sea»
1968 - Sattar Bahlulzade's portrait (the second version)
1973 – Monument to Hasan bay Zardabi
1978 – Monument to Sadriddin Ayni in Dushanbe
1980 - Monument to Ibn Sina in Dushanbe
1984 – Niyazi's portrait and the gravestone of Vagif Mustafazade
1987 - Monument to Heydar Aliyev in Nakhichevan, monument to Muslim Magomayev, monuments to Mahatma Gandhi and to Rabindranath Tagore
1989 - Memorial monument "Elegy", the gravestone of Niyazi
1981 – Gravestone of Suleyman Rahimov
1993 - Monument to Huseyn Javid
1994 – Gravestone of Shikhalli Gurbanov
1995 – Gravestone of Zarifa Aliyeva
1996 – Gravestone of Rashid Behbudov
1998 - Gravestone of Hasan Aliyev
2000 – Gravestone of Ziya Bunyatov
2001 – Gravestones of Yusif Samadoglu, Suleyman Rustam, and Tofig Guliyev
2001 - Monument to Heydar Aliyev in Kars
2001 - Monument to Ihsan Dogramaci in Ankara
2001 - Monument to Azim Azimzade
2009 - Gravestone of Muslim Magomayev
2010 - Monument to Mustafa Kemal Ataturk
2011 - Monument to Amina Dilbazi
2013 - Monument to Nikola Tesla
2017 - Monument to Niyazi
INTERVIEW: ARZU JAEED
PHOTO: ADIL YUSIFOV