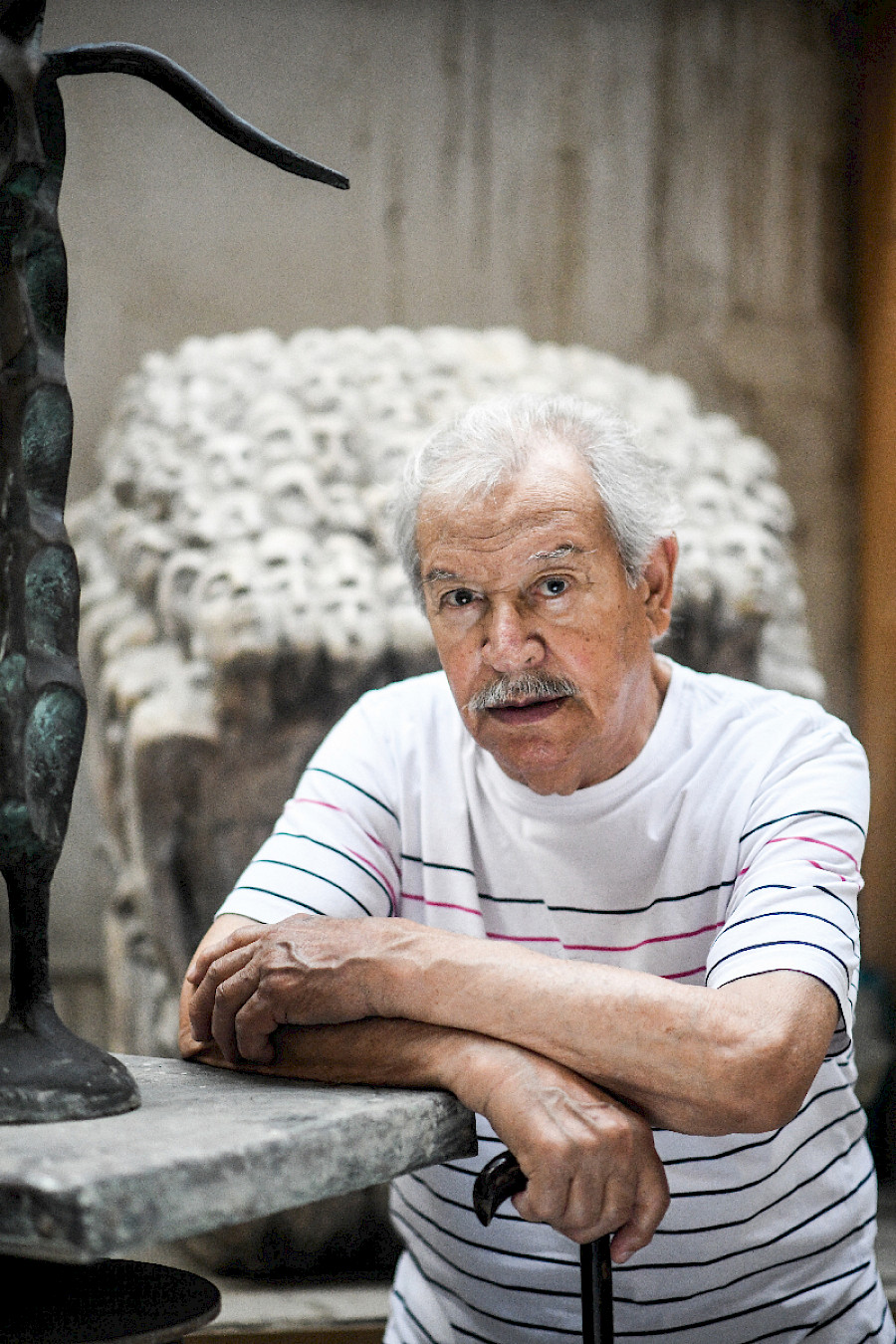 "Born by the Winds of Absheron". Such comprehensive title was given to the exhibition of Azerbaijani artists, held with great success last summer in Erarta museum. Fazil Najafov's sculptures sounded confidently like monumental accords among complex polyphony of picturesque paintings of "absheron school" representatives. Works of this master are not illustrative. They don't cater to taste of audience, don't duplicate trivial oriental themes and don't imitate reality. Except perhaps they reflect the artist's internal truth, which, as is known, is the most difficult to extract. Fazil Najafov narrates about this truth not by lines and paragraphs, but by whole chapters, where life, tears and love are depicted.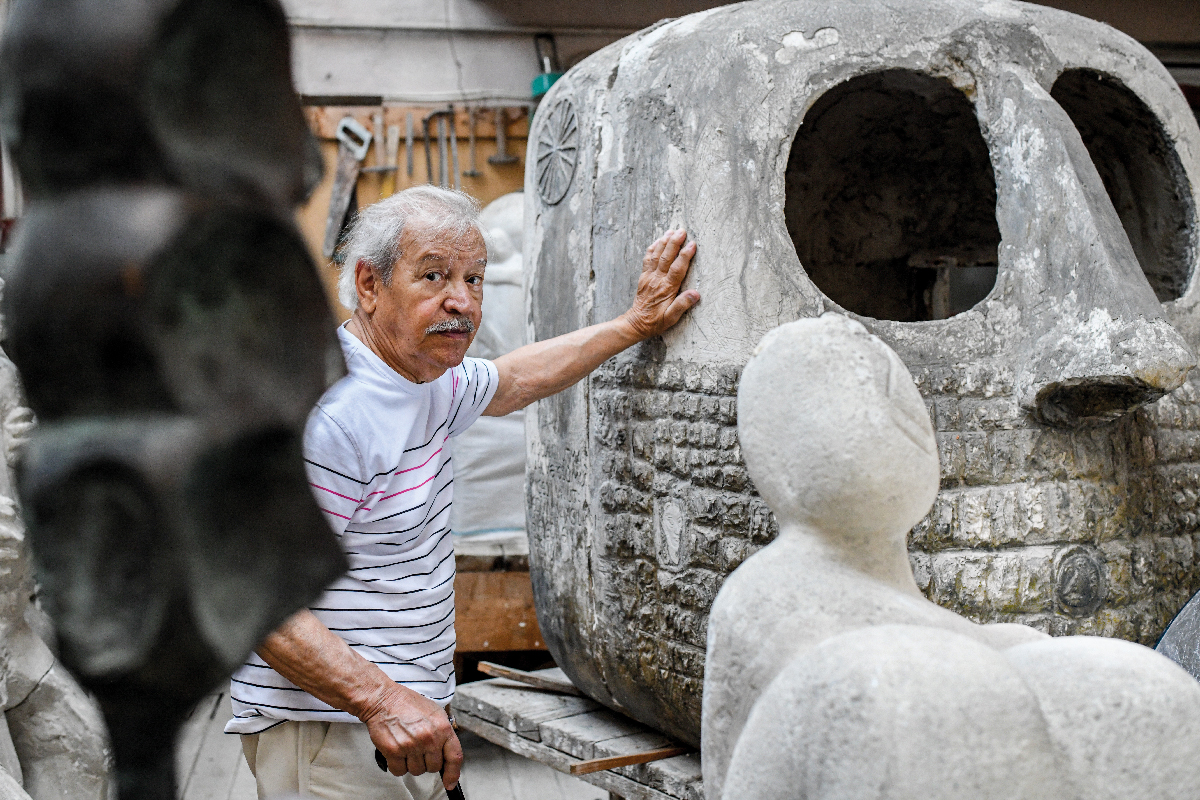 CHAPTER I
DESCRIBING FAZIL'S LOVE DECLARATION
I love stone. I love its texture, weight and its silence. I love its silent reticence, its cognizing reticence. Much energy is concealed in a stone, as it keeps many secrets and stories. I fell in love with stone and we loved each other with mutual love.
Stones are of all kinds. They are prolonged and rounded, dead and alive, stones-hooligans... What does a stone-hooligan mean? Look at a road and there you may notice uncared one, however, god damn, it attracts!
Once stone blocks were delivered to a symposium of sculptors. One of them was huge and it was necessary to chip it out prior to beginning of work. Masters, those working in stone quarries, arrived... They made cutting and that huge rock broke down. And what did I see? A smooth womb, exposed to the sun for the first time! And something tiny with color of young string bean, juicy, like aloe was in the centre of a fossil! All had a look and left, however I can't forget it hitherto. What was it? What secret did that alive element keep in a stone womb?! For millions of years stones were kept under water, silently ripening and when they emerged, they got into sculptors' hands. We should treat them with cherishing respect. It is necessary to put their initial inherent philosophy in them.
For example, an Egyptian sculpture. It is monumental in any size! It has been amazing me hitherto. Take its photo and nobody would tell that it is tiny. Have a look at such statuette, finger-size granite, a little figure, but it has a whole package! However, everything is contrary in Soviet sculpture, it isn't monumental, but it is giant-sized.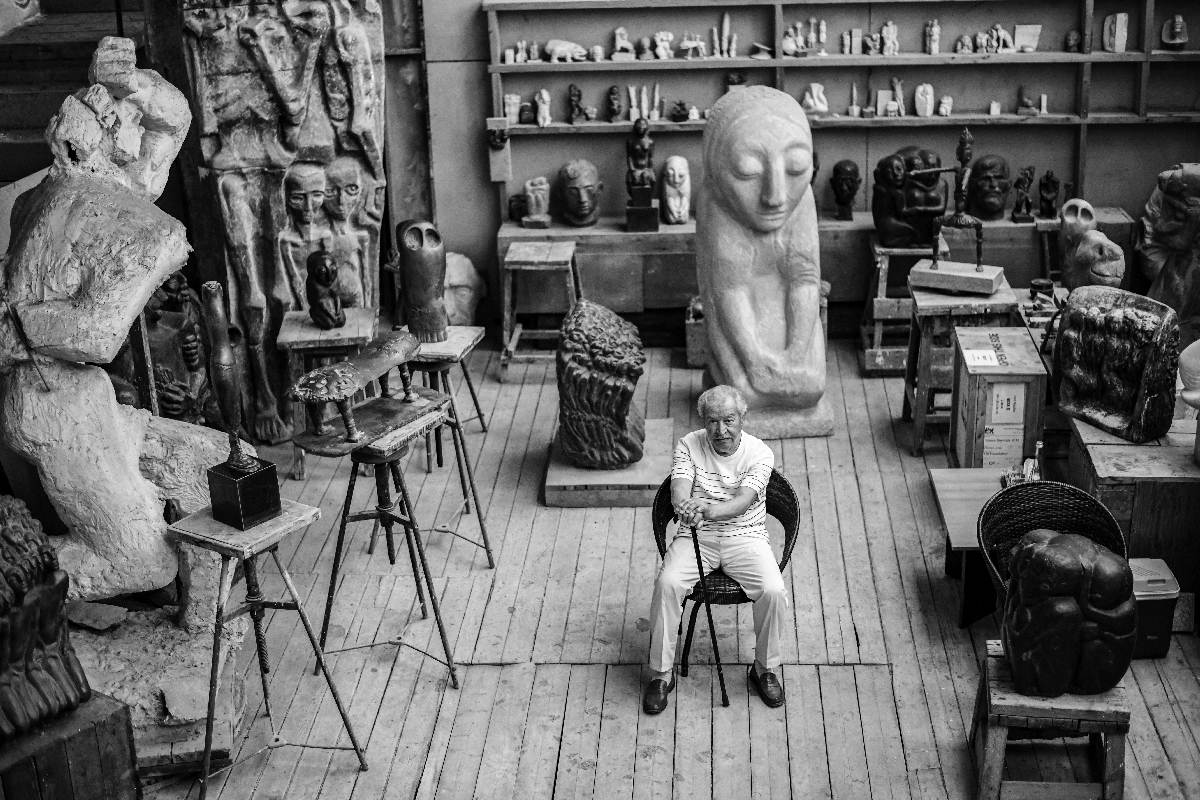 CHAPTER II
DESCRIBING SCULPTURE'S STARTING POINT
Basis of fine art is drawing. However, painting and sculpture are the same drawing, but its further continuation and development. Drawing is a relaxation activity for me. When I notice something interesting, independent whether it is a model or I simply notice something curious in the street, if it is catchy, I take it into my possession. What makes it mine? First of all there are some people, who are vivid externally. Bright appearance is a distinctly expressed character. Internal essence is reflected externally by half, not always though. Mistakes happen as well... And there are grey people. It seems like their eyes, nose and every body part is in place – yet everything is ordinary. This is run-of-the-mill. And this ratio of distinguished appearance with different filling settles in memory.
There are artists, who draw, like snipers. Matisse hit target easily! Though, it seems easy only from outside. Certainly, one cannot start doing it right away.
There is a line emitting calmness. A line seems to be straight, nevertheless it infuses peace. Even artists are bribed by this mastership. Picasso had also good lines, however he wasn't noble one, he plays, and makes jokes, and frightens... However, as a big master, he can get away with everything. And Matisse is a loving human! I frequently used to attend the Pushkin Museum to observe Matisse and he always comforted me. Just a fish bowl or a woman on a decorative sofa, but it is so soul- stirring! In a word, he was a Frenchman.
After finishing school I went to the art college. We had a wonderful teacher, who had shortly arrived from Moscow. He taught us everything he knew and drawing lesson was a real holiday. Every time, stretching canvas on a frame, we anticipated something new! I enjoyed, when I was good at work, but when it went wrong, I returned home in rotten mood. I waited impatiently for the next day with the aim to correct everything.
During my first year of study at Surikov Art Institute, Gleb Borisovich showed up in the auditorium hall, such an imposing professor.
"Put aside your pencils and listen to me. We shall draw in such manner: three heads on a sheet of paper».
I thought: "Three heads on a sheet of paper! Are we in drawing club?!"
I was disappointed by the Moscow higher school. During those years Baku had a very strong school. When classmates came up and had a look at my drawings, they consoled themselves with words: «Well, that is a Baku school».
CHAPTER III
DESCRIBING HERO MAKING HIS WAY THROUGH DIFFICULTIES OF SOVIET IDEOLOGY TOWARDS HIS ACKNOWLEDGEMENT
During my final year I went to the Oil Rocks. It was winter; platforms were shaking under my feet... Bottle-green water splashed behind dam boards, seagulls flew low, prickly wind hit the face... I arrived to the Oil rocks with the aim to collect material, to witness myself and to spent three days there; I slept on cold linoleum and covered myself up in a wet blanket... Next morning I saw outline of few persons standing and smoking. They were silent... Saying true, I was amazed by stark beauty of this place. I returned and got to work on sketches. I chose a composition, consisting of three persons' figures... Prior to my diploma defense my adviser, professor Tomsky peeped into my workshop. He examined my work and said to me:
"Fazil, take half a liter of vodka and remove these two figures. Keep one figure and you will get a diploma. Otherwise, there will be scandal".
I thought: "Nonsense! These figures are interconnected! He simply wasn't used to such drawing. A chairman of the examination board was a kind of a sculptor, who was decorated with orders and had a manner to sculpt so scrupulously, that if a turkey were given to him he would be ready to draw its every wart. And there he started thrumming over the table: "They say, this student studied with excellent marks, but he does things like this" and pointing at my composition, he stated: "We will not award him with a diploma, neither can we give him an F..."».
After a few days I was called to the Academy of Arts.
In those days capable students were proposed to execute an order and they were paid decently. So, they told to me: "What type of convicts have you shown us? This isn't an image of a Soviet worker! Draw, at least, a pioneer and you will get money and a diploma for this work". And I never liked arguing. I told them «Well, thanks». However, I thought: «Go to the hell with your pioneer!" – and I left it without money and the diploma, but with a clear conscience.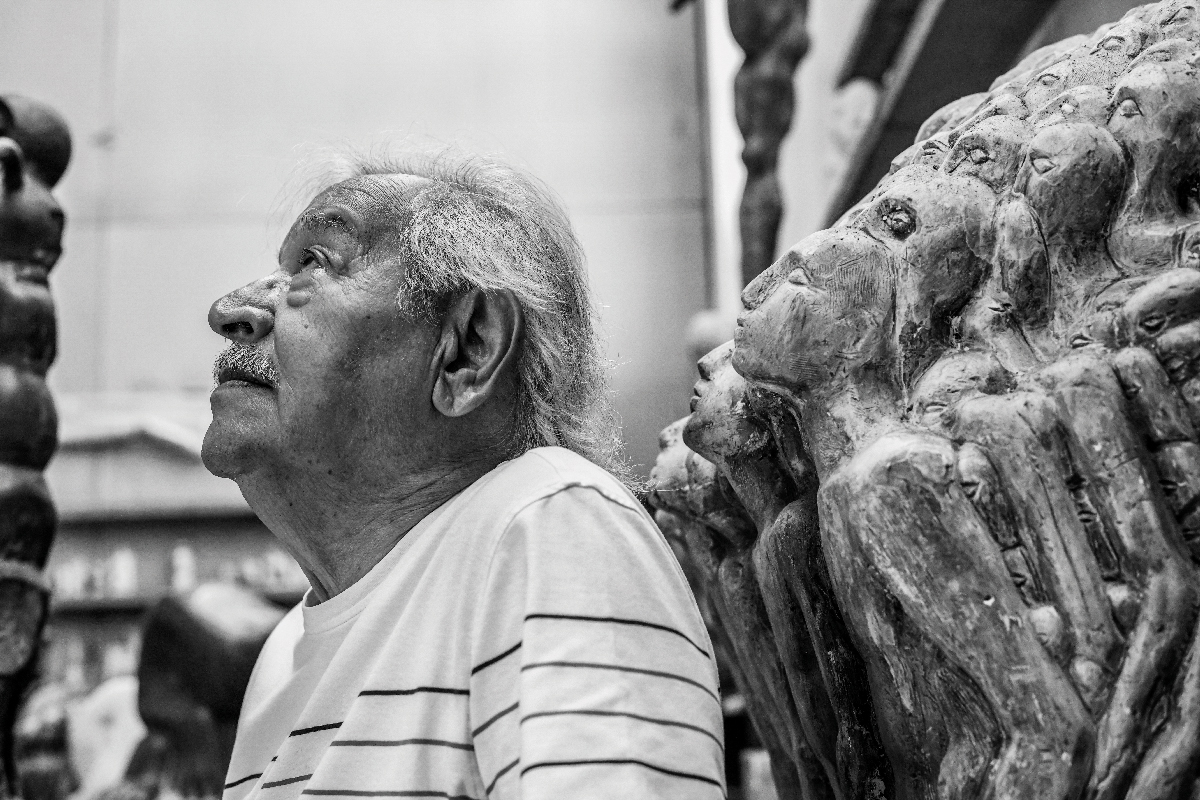 CHAPTER IV
HOW TWO ARTISTS AND ONE SCULPTOR WENT TO TAKE A LOOK AT THE WORLD AND SAW DRAGONS, PANGOLINS AND OTHER MONSTERS
One day Rasim Babayev and Tofik Javadov suggested me to visit Gobustan with them.
I asked them: "How shall we get there?"
"Through Wolf gates".
"By feet?"
"Yes", – Rasim answered indifferently.
Then I thought: "If they can do it, why shouldn't I follow their example either?"
We walked straight and passed cemetery, and went out to the wasteland. The soil was loamy and the ground under our feet was full of cracks. It was pictorial and very beautiful view... At last, we got to the Wolf gates... I thought to myself: "Hey, what kind of persons they are!", but I didn't bat an eye. We continued our way. Shepherd dogs attacked us in Lokbatan and we turned back. In the morning I got up – and oh, I've got sore feet. If you'd asked me, what was yesterday, I wouldn't recollect, but the feelings after that pedestrian excursion I remember hitherto. We went to look at the world, to see it in a completely new way! But in reality one thing led to another: as soon, as one of us learned something interesting, then he immediately INVITED others.
One day we got on the bus called "alabash" and ended up at last coming to Gobustan. We saw fantastic, fairy world! Quite a draconian size, as if some giant rolled over something! Gobustan has become polished now, however it was different at that time! The monitor lizards, moss, some giant antiquity were there... A huge lizard with red mouth climbs up on top of a rock and freezes... An accomplished monument! Just such things leave marks. This is like changing a palette, from little to a large one… That was the day I fell in love with stone.
CHAPTER V
ABOUT RARE FRUITS MADE OF GRANITE, BRONZE AND LIMESTONE
The sun doesn't shine equally for ALL and the life consists of many floors: some are to enjoy happiness on the top while others are to drag on their existence in the shadow. My bronze "Floors of Life" sculpture is about this.
The first symposium of Azerbaijan sculptors was held in 1983. A stone block was presented and they said: "Do whatever you wish, this is a marathon!". There was no grinding machine at that time, everything was made manually and I carved my naked one. I remember, that for my "Morning" work I took first place.
"Praying woman" walked all over the world and then settled in our state. I had a wish to create an image of praying person. My grandmother was like that, she always sat with her beads and the world didn't bother her at all... Thus, I thought: "One should have such figure in his house to pray for us".
Each and every person is able to draw reality, however, art is a different matter! It is necessary to show invisible, imponderable, to place this energy into the shape... I made a lot of Gara Garayev's sketches and I got lost in them, I lacked something. I imagined him quick, impulsive, I wanted to reflect all this in granite. The main thing for me was to create a sculpture, which would be mine, to convey Garayev's spirit and its dynamics. Gara Garayev's monument is a book which should be walked around and read.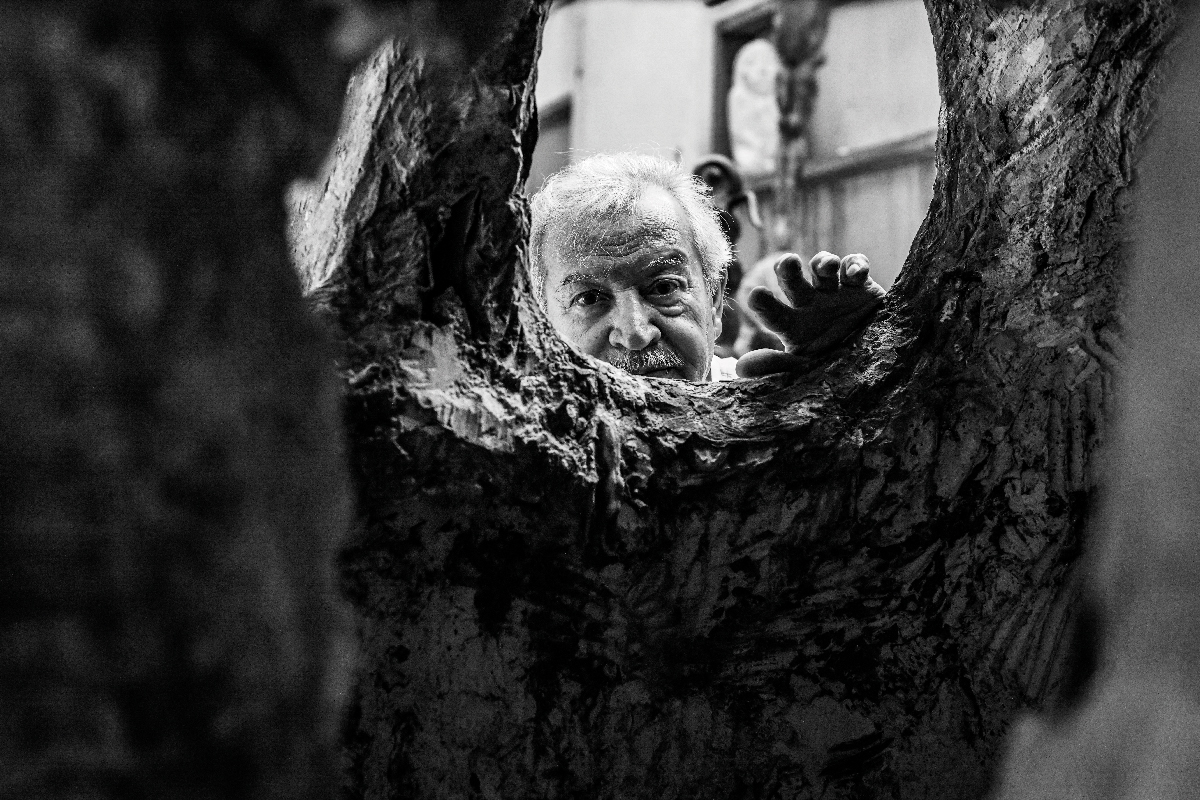 CHAPTER VI
ABOUT ARTISTS' MAGNIFICENT TRINITY, INCLUDING ONE SCULPTOR
Once a journalist arrived from Moscow and asked: "What does "Absheron school" mean?". And as for me, I always tell the truth and nothing but the truth: "There isn't any "Absheron school" for me". I came back from the institute and got to Baku citizens... I wouldn't dare calling our group, as "Absheron" one, however we were born and were grown up here, aesthetics of Baku surrounding is deeply stuck in our souls. That was a very subtle issue, only we understood this. For example, you won't find trees full of fruit in Baku, like in Gandja, nature is ascetic there. Grass is short, however smelly! Fig, thorns, salty sea... Sand fraction is special here, wind creates patterns ashore... The Caspian sea is nearby, not more than dozen of houses are around and all of them have flat roofs...
They began to write after the Venetian biennial in Europe: "We had no idea, that Russian empire's neck of the woods has such artists, whose works are estimated in millions!".
Certainly, artists are born, yet much depends on you at the later stage. Some artists do whatever is trendy, and there are those, who express pain, love, internal itching in their creativity… Such artists are always alone and they need friends very much. I had such friends. Tofik Javadov, Rasim Babayev, Javad Mirjavadov... They remained authorities for me forever. Only their opinion was important for me.
CHAPTER VII
DESCRIBING FAZIL'S ACKNOWLEDGMENT ABOUT THE MOST IMPORTANT
I easily define the value of an art piece. There is a genuine and a non-genuine. Valery Brumel jumped 2.28 meters high and set a world record and now bar is lowered by 90 cm, all jump and all are glad! However, such time will come, when people will get tired of run-of-the-mill and will return to the genuine art.
GOD allows some people to leave their autograph in this life. An artist should make something worthy, to contribute into this his most honest world perception and to put his signature. It will take years and his work will confirm its right to exist. However, not all works pass this test: a work becomes outdated, if it lacks depth.
I had never had a wish to teach, as I was aware, that racing horses aren't put to a cart. And if it is put, then a horse would lose its romp. Why should I waste my time on teaching?
The artist himself needs learning till the end of his days! I was constantly in my workshop, while working from morning till late in the evening. I haven't even learned playing football.
Previously, I was used to taking notes. I have recently read in one of my former copybooks: "It is very bad, when your glory precedes you", and "A nightingale sings sweetly, whereas female isn't nearby". The artist should need something. Yes, this is an axiom for me... And let the glory catch you, only when you put your pencil aside.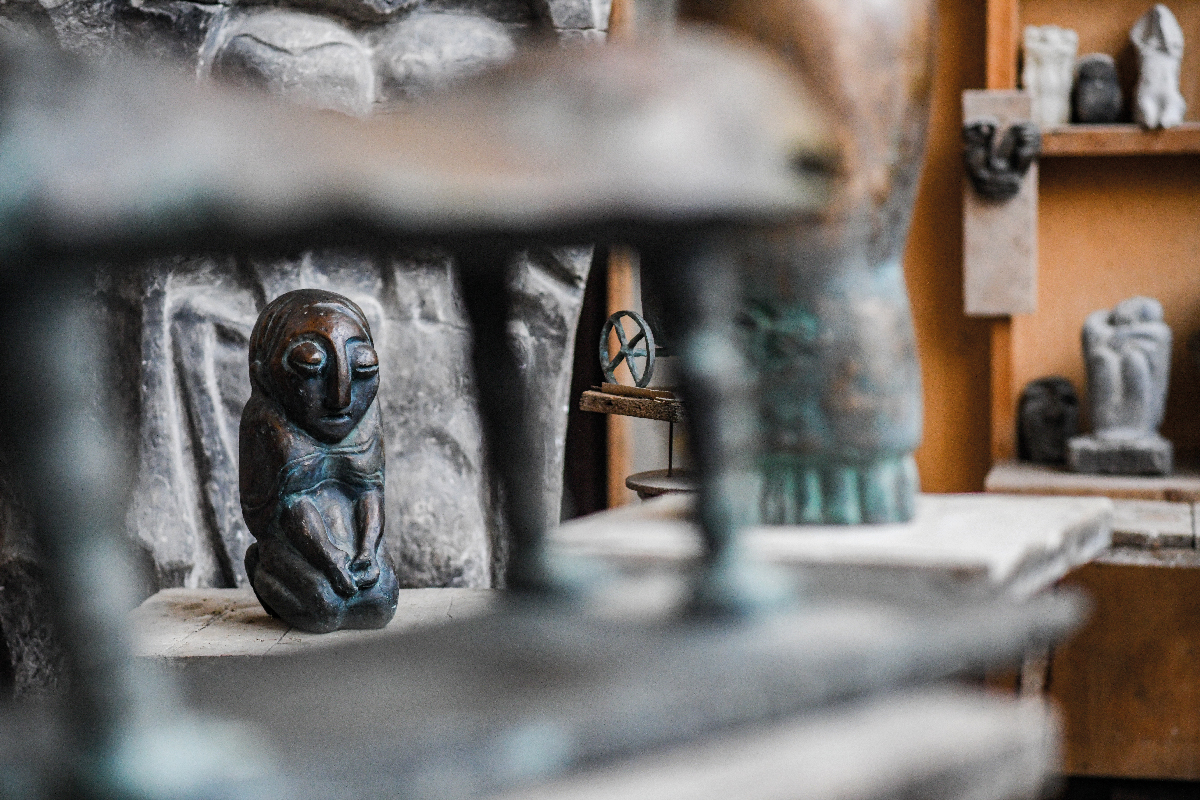 Interview: Nonna Muzaffarova
Photo: Maya Bagirova