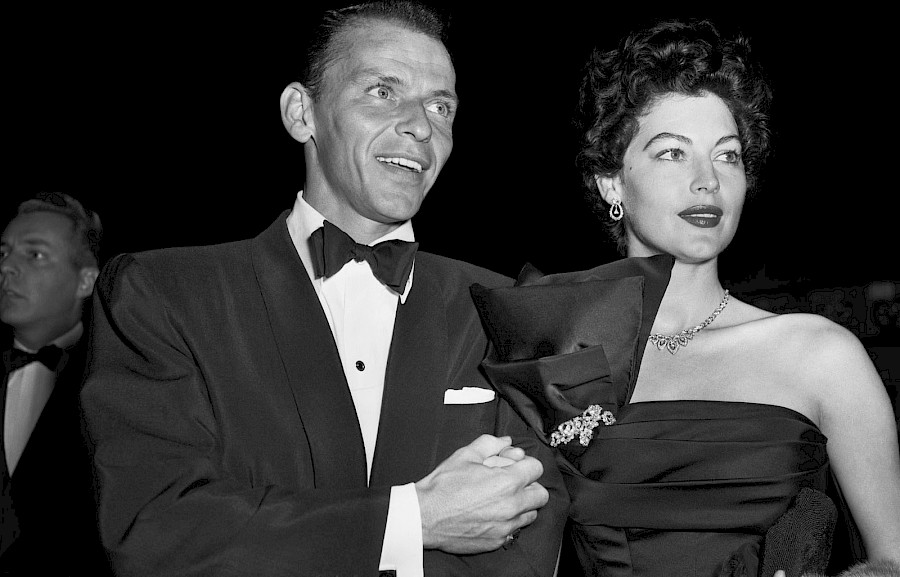 United States are good in creating idols and worshiping them, especially in musical and cinema sphere.  Among these idols, one of the first places without a doubt belongs to Frank Sinatra. He has become a whole era in world culture, prolonged for half a century. It had presidents and senators, artists and musicians, businessmen and criminal authorities succeeding each other (fellowship with the latter were repeatedly blamed on Sinatra by press)... Due to his emotionality, inconsolable energy and hedonism, Frank did not look like most of the modern celebrities, obsessing about all kinds of diets, trainings, Buddhism and well-promoted charity. He lived, as they say, "on the fullest" and was not shy about the manifestations of his feelings. And despite it, or maybe thanks to it, Sinatra was recognized in his life as the "national heritage of America".
His blue eyes and slightly curved smile, a scar on his face, referred to by him as "the kiss of God", a little swinging, wobbly walk drove women crazy. In young age Sinatra made a list of two dozen main Hollywood beauties and over time crossed out the names of those whom he conquered. They say there was no name left on the list... How did he conquer their hearts? Surely, by voice, velvet in youth and a little tart and raspy as a man, the Italian temperament, sense of humor, generosity and, probably, other qualities. Which ones? You would ask Marilyn Monroe, Angie Dickinson, Lauren Bacall, Shirley MacLaine, Lana Turner, Gloria Vanderbilt and many others. As for the love of his life, there was only one...
Frank Sinatra with his fans
Frank Sinatra and Marilyn Manroe
Frank Sinatra and Gina Lollobrigida
A goddess named Ava
Actress, temperamental beauty, one of Hollywood's brightest stars of the 1950s-1960s, she was famous for her magnetic impact on men. The great Ernest Hemingway himself called her his muse and favorite actress. Many journalists found Gardner the most beautiful woman in the world. The author of these lines fully agrees with this statement, together with millions of men who grew up in the 1970s-1980s. And it was not an exaggeration: even now it is enough to watch (who hasn't seen yet) at least one of the films involving this thin green-eyed brunette with a divine alabaster face and gracious figure ("The Snows of Kilimanjaro" 1952, "The Naked Maja", 1958 or "The  Angel Wore Red," 1960) just to make sure. 
Gardner changed the husbands and lovers who went crazy on her, with lazy grace, in royal way, as a matter of course, accepting attention and gifts from them. At the time she met Sinatra, she had been married twice – to actor Mickey Rooney and musician Artie Shaw – and was going through a dizzying affair with millionaire aviator Howard Hughes. The fan indulged all the wishes of the beauty: planes, diamonds, outfits. Sinatra wasn't single as well: wife Nancy, three kids...
Ava Gardner and Howard Hughes
They met in 1950 at the premiere of the movie "Gentlemen prefer blondes". By the way, later, when Frank made a public proposal to Ava and she agreed, she told journalists the words that became catchphrase in Hollywood: "Gentlemen prefer blondes, but marry brunettes...".
At that time Sinatra was already a celebrity: he took first positions in the musical ratings and successfully started his film career. Behind his shoulders were numerous novels, glory, money. Ava was also gifted by fate – she had everything. She was never seen as an outstanding actress, but she was bind-blowingly beautiful and played her roles well. Though it was just good, but not brilliant. She neither had too high ups in her entire career, not any downs.
Gardner blew Sinatra's mind at first sight. "I just went crazy over her" he recalled. – "It was like she put something in my drink..." Ava also liked Frank: impetuous and sexy, so different from Hollywood's self-confident men. But she decided to keep it quiet for a while. The beauty played her favorite game – waiting for gifts and attention, rewarding the fallen by her beauty only with a condescending look.
Sinatra was suffering and going crazy from love and jealousy, understanding that he could not compete with the millionaire Hughes in expensive gifts. The condition which Sinatra had after this meeting, his friends and biographers describe as insanity. The passion for Ava shook him so much that Frankie lost his voice, fell in heavy drinking and even tried to kill himself. Friends did not recognize Sinatra - he was full of joy when Ava agreed to have dinner with him, then looked like a beaten dog when she stopped taking him seriously. 
He wrote his best songs while being in a state of love fever – the ballad "I am fool to want you" was the product of his next emotional seizure. Contemporaries called their bright romance otherwise than the corrida of love of two bright personalities and idols of the era. The collision of the two temperaments has spilled in a passion that fully absorbed them both. They were witty, energetic, emotional, they matched in all – in addiction to strong drinks, Italian food, night boxing duels and love on the edge of rapture... They soon decided to make their relationship official. A month later, Sinatra's wife signed divorce papers, then Frank and Ava played a wedding in Philadelphia, in 1951. Nothing seemed to stop the absolute happiness of the lovers...
Six years of happiness
Alas, the concepts "to get married" and "be happy" are not always connected. Frank and Ava had to learn this truth from their own experience. Just a little time later "loving spouses" began to move in different directions. His tours and her shootings left no time for sweet talk. They were jealous of each other, had loud arguments, but then at passionate nights they made up in each other's arms. Ava wanted a child, but when she got pregnant, she couldn't carry her child. After suffering a miscarriage, she plunged into severe depression. She had such high hopes for this marriage, dreaming of stability and a happy family. But is  "stability and family happiness possible with this furious Italian!"
Frankie was drinking heavily, called his wife several times a day, confessing in love, and a minute later fighting and cursing her. Such obsession cannot keep under pressure for long – such intense passion, alas, does not pass the test of time. 
Sinatra hired a detective to be aware about all Ava's boyfriends, and she said after another shooting that she was tired of such a marriage, and... went to calm her nerves in Spain. In Madrid, Ava fell in love with the toreador, and when Frank called her once again to brag about recording a new album, she told him that she had to leave him because she loved another.
...They divorced in 1957. Gardner was the first to file for divorce, as Sinatra asked. And a few years later Frank married pretty starlet Mia Farrow, who was thirty years younger than him. Before the wedding, Sinatra called Gardner and confessed that she always was and will be his only love.
Ava had other affairs, but she never married again. Gardner spent the last years of her life in London, away from noisy parties and hot Spanish torero. In 1986, the actress suffered two strokes that left her partially paralyzed and bedridden. Her medical bills for tens of thousands of dollars were paid by... Frank.
In January 1990, at the age of 67, Gardner died of pneumonia. Sinatra surpassed her for 8 years and died in the arms of Barbara Marx, his fourth wife. But legends have their own, special laws: in the memory of his descendants and fans he did not stay as an uptight old man in the arm of a curvy blonde, but a fervent, fierce Italian who could not only sing wonderfully about life (I once again encourage you to listen to My Way), but also passionately love "the most beautiful woman in the world..."