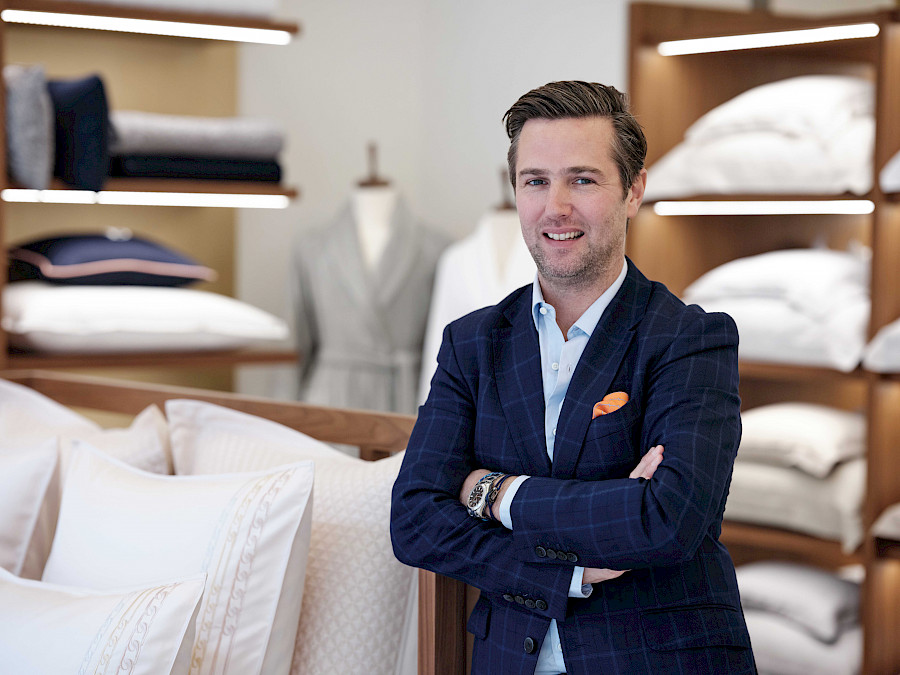 When talking about high-quality luxury bed and bath linen Yves Delorme instantly comes to mind. For over 10 years this exquisite french brand has been gaining loyal customers in Baku and now after a complete renovation a much bigger enhanced boutique has reopened its doors. During Alban Fremaux's visit to Baku Nargis Magazine had an exclusive interview with the head of Yves Delorme Maison.
What are the origins of your brand?
The company was founded in 1845 by Ernestine Fremaux. It was totally uncommon for a lady at the time to start a business. Created in the North of France, the region known for its textile industry, we started with linen weaving.
Since its establishment in 1845, what elements have remained with the brand?
I would say, most importantly, it is the involvement of the family members and their engagement to continue this adventure across the generations and, of course, our passion for textile and home linen.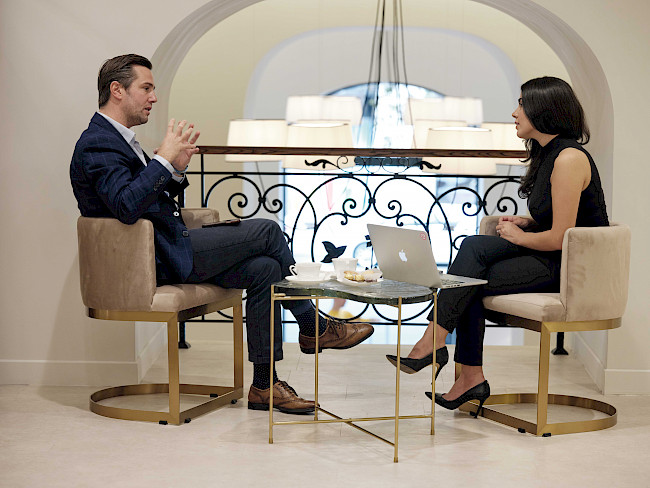 Tell us about the scale of the Yves Delorme distribution network and number of sales points worldwide.
The development of the brand network started in the 1990s and it went from 45 boutiques in 1995 to 450 nowadays. So, it's a huge growth over the years. Overall, we have around 1000 partnership points of sale around the world, then we have retailers and partners that are distributing the brand.
Being the 6th generation of Fremaux for sure puts pressure on you. What is more important - preserving the brand's historical heritage or innovation that goes along with today's customer needs?
I don't think we should choose in between, because both of them are essential for us. As an old textile company and manufacturer everything we do is based on our heritage. However, you need to be innovative to be successful in the market today and this has been part of our every generation. In my opinion, each generation had success in the company by putting it right in its time. This is what we are trying to do with my brother since we took over the business. We need to fit the demand of customers to fit the demand of the market. So, heritage and innovation should work together.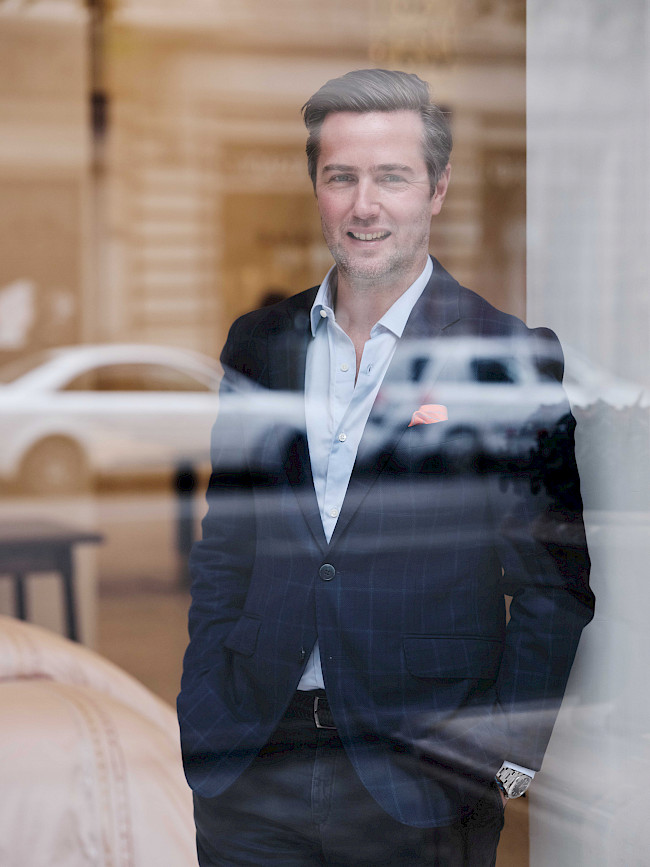 How eco-friendly are your products and the manufacturing itself?
Sustainability is part of our innovation. First of all, since 2020 Yves Delorme only weaves and prints certified organic cotton fabrics. We managed to develop very strong and fine fabrics that are made from organic cotton. Secondly, over the years we have always worked on sustainability in the way we process whether in industry, in our behavior or in our buildings; we work on recycling water and waste materials.
Also, we have been awarded by Oceanic Global, an NGO that aims to protect the ocean. Additionally, we have engaged a whole group in reduction of plastic usage in our production and packaging. So, most of our brands, including Yves Delorme, are reducing the usage of plastic to the very minimum in the coming years.
Is Yves Delorme eco-friendly due to sustainability becoming the "new normal" or does it stem from the brand's core values to diminish environmental consequences?
Sustainability has always been one of our core values. In fact, we had the practice but we never had the need to communicate it. Now, we use it as a marketing tool and social responsibility awareness of the brand.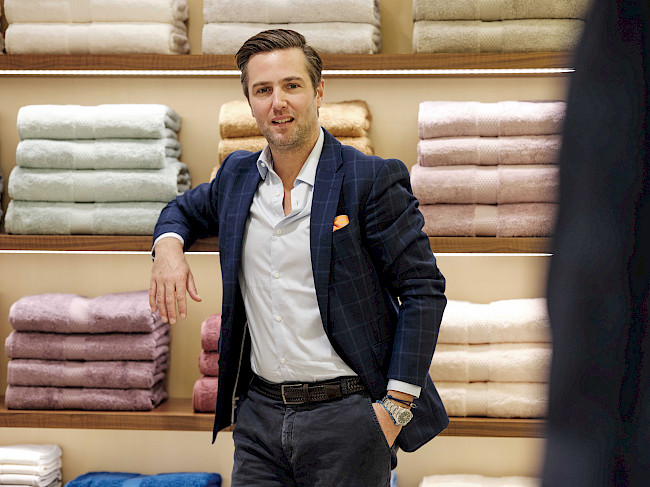 What are the latest trends you've observed in your clients' preferences?
I think we have noticed two main trends. Firstly, our customers seek more and more comfort, particularly, the softness of the fabrics. We are also innovating by launching new fabrics. For example, we have a new product, called batiste cotton, which is extra fine. Secondly, linen is an important part of the decoration as a finishing touch in some interior design. So, customers are looking for a piece with unique concept. Yves Delorme is known for its prints because every design has been drawn first and then turned into a print.
Our couture collections offer super luxury and extra delicate finishing. We work with silk and 500 thread count sateen. We also offer customized products, enabling our client to change the fabric or colour of the embroidery. Though the couture collection is sold in less than 15 stores worldwide, Baku is among those. Here we offer exclusive couture designs developed specifically for Azerbaijani market.
Do you have personal favourite collections?
I'm definitely a fan of the percale quality. It is a fabric of 500 thread count that is extra soft in use, whereas my favourite design is "Athena".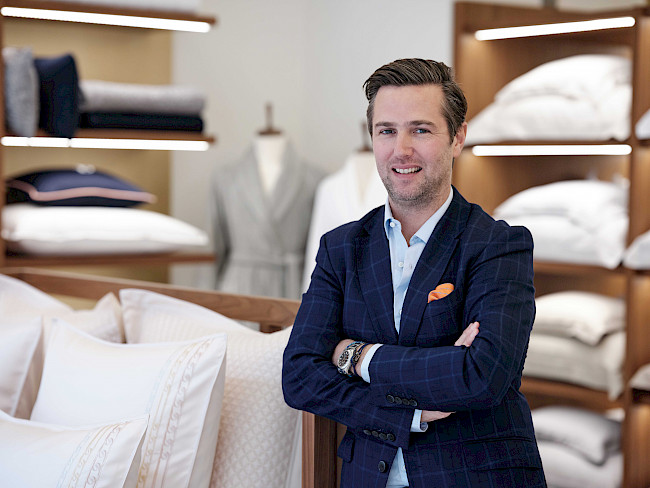 The brand is also a part of the Comité Colbert that promotes international reputation of the French art of living. What is exactly the French art of living?
French lifestyle or the French art of living is about using exceptional products in very casual comfort.
Having spread widely around the world, how does Yves Delorme manage to adapt to different cultural backgrounds of its customers?
Yves Delorme does not seek to adapt to markets, specifically to one market. The company focuses on global collections that are welcomed everywhere. Also, I think that's what customers are looking for. They are not searching for local design but for a specific French design.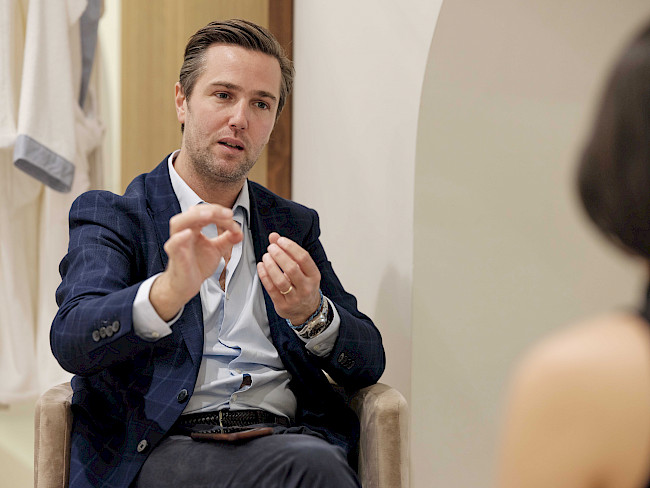 As a 177-year-old brand, how did your values change and what values does Yves Delorme live by today?
I think one of our three main values is passion for products. Then always comes engagement of our employees. And the third value that is linked to the previous one, is strong family spirit. It has been like that since the beginning.
Is Yves Delorme Boutique in Baku the biggest in the world?
I can say it's one of the biggest. We are very proud of this reopening. Baku was a part of a global renovation plan of 2022, therefore it is one of the eight fully renovated stores around the world so far.