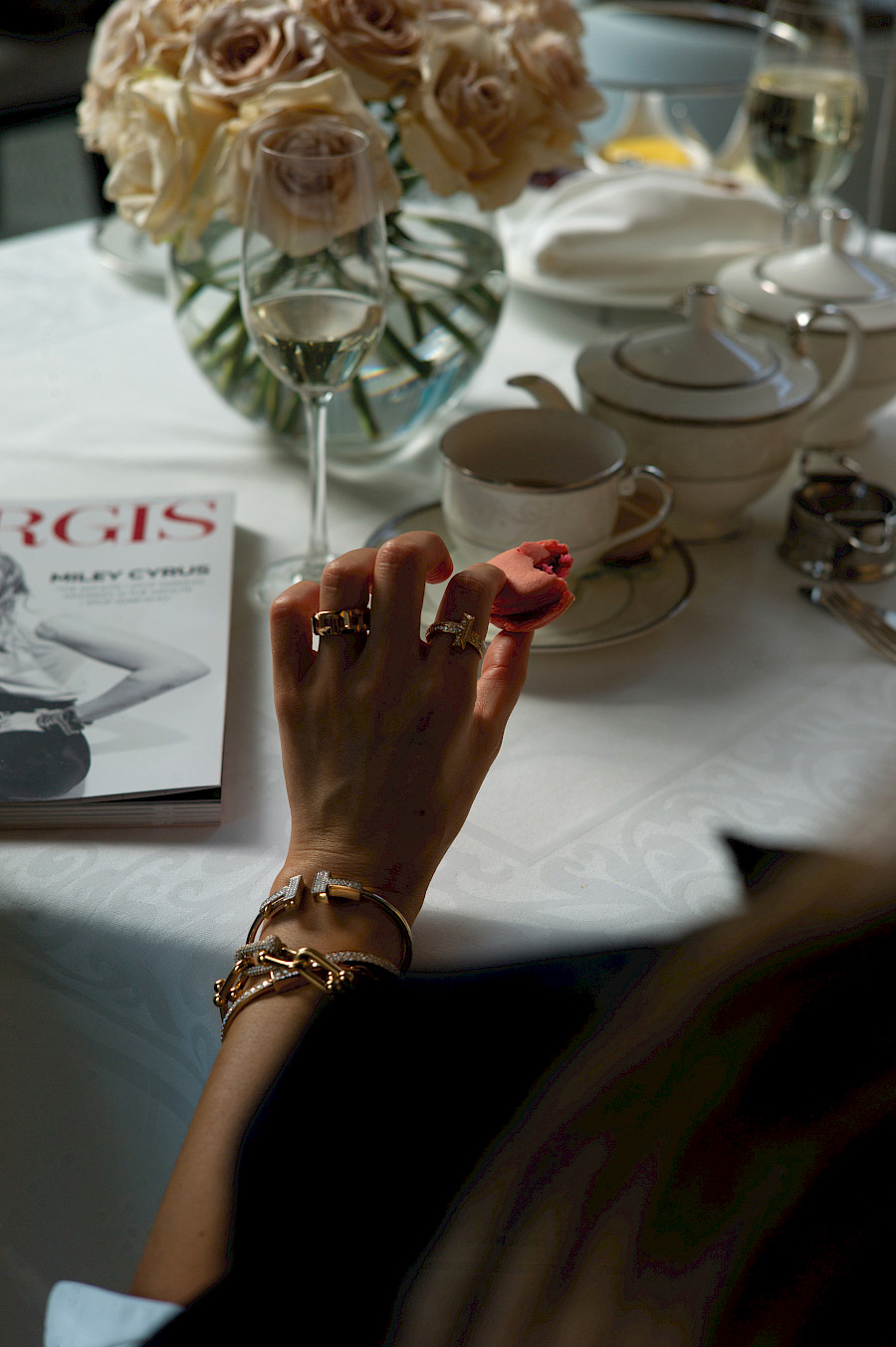 Tiffany Lock Collection: Bangle in Yellow Gold with Full Pavé Diamonds;
Tiffany T collection: T1 Wide Diamond Hinged Bangle in 18k White Gold
T1 Ring in Yellow Gold with Diamonds, 4.5 mm Wide
True 8 mm Ring in 18k Gold
Tiffany HardWear: Large Link Bracelet
If you find yourself in Baku, make sure to stop by the beautiful Four Seasons Hotel for a delightful afternoon tea experience. Personally, it is my favourite go-to place for leisurely catch-ups with friends or professional meetings with clients. Afternoon tea is a form of art and tradition, turning the simple act of sipping tea into a refined ceremony. If you ever get invited to an afternoon tea ceremony – understanding the etiquette is essential. Here's a guide to ensure you are well-prepared to savour a proper afternoon tea with grace and good manners.
Consider a smart-casual dress code, a step up from casual attire. As the name suggests, "afternoon tea" takes place between 3-5 pm, and it is, therefore, expected to wear something appropriate for daytime but with an elegant touch to suit this ceremonial occasion. I opted for a simple black dress, while Leman wore a black skirt suit paired with a white shirt.
When it comes to jewellery, favour pieces that are slightly more elaborate than your usual office wear. Afternoon tea is not your typical coffee or tea meet-up; it is an entire ceremony with its own set of rituals. Hence, you can adorn yourself. While etiquette once restricted wearing diamonds until the evening, fashion has evolved, and so have the rules. Diamonds are a girl's best friend not only in the evening – but at any time. I am wearing Tiffany's Schlumberger necklace paired with the staple Tiffany Key necklace, complemented by Schlumberger and Victoria collection bracelets, all in harmonious colours - I prefer it that way. In contrast, Leman has tastefully mixed and matched white, yellow, and rose gold Tiffany HardWear, T, and Lock collections.
The table arrangement for an afternoon tea is a work of art, featuring a pot of freshly brewed tea, a 3-tiered rack with sandwiches on the bottom, scones in the middle, and mini desserts on the top rack. Teacups with saucers, a tea strainer, a bowl of sugar cubes, sugar tongs, a plate of sliced lemons, a small milk pitcher, and individual plates with a fork, knife, and a napkin complete the setup.
Before starting, unfold the napkin below the table and place it on your lap. If it is a small napkin, lay it out completely, and for a large one, fold it in half.
When it comes to a cup of tea, set the tea strainer on the cup before pouring from the pot. If you are pouring for someone, ask about their tea preference – strong or weak. For a strong brew, fill about 3/4 of the cup with tea. If they like it weak, fill half of the cup with tea and leave room for extra hot water.
Do not pour milk before tea. You can enjoy your tea plain if you wish, or add some sugar and milk – in that order. If you're sweetening your tea, gently slide the sugar in from the side of the cup, avoiding the centre to prevent splashes.
Place your spoon in the middle of the cup and gently move it from "6 o'clock to 12 o'clock" or "up and down," avoiding the cup's edges to keep noise to a minimum. Once you've finished stirring, place the teaspoon horizontally behind the cup on the saucer.
While seated at the table, remember not to raise the saucer; let it rest on the table while you lift the cup.
Always start with sandwiches. You can pick them up and eat with your fingers, but if you prefer, a fork and knife work just as well. Proceed with scones. Spread some clotted cream and jam, or both, on a scone piece, and enjoy it like an open-faced sandwich. Alternatively, break off small pieces one at a time and savour them like bite-sized bread. Finish off with sweets.
If you are sharing a tray with someone, wait for them to finish with sandwiches before you proceed to the scones. Keep your pace in harmony with those you are seated with. Afternoon tea is like dinner in that sense – you would not dive into your main course while someone else is still enjoying their appetiser. It is a shared ceremonial experience, not just a casual snacking time.
The location for the shoot was presented by Zafferano restaurant, Four Seasons Hotel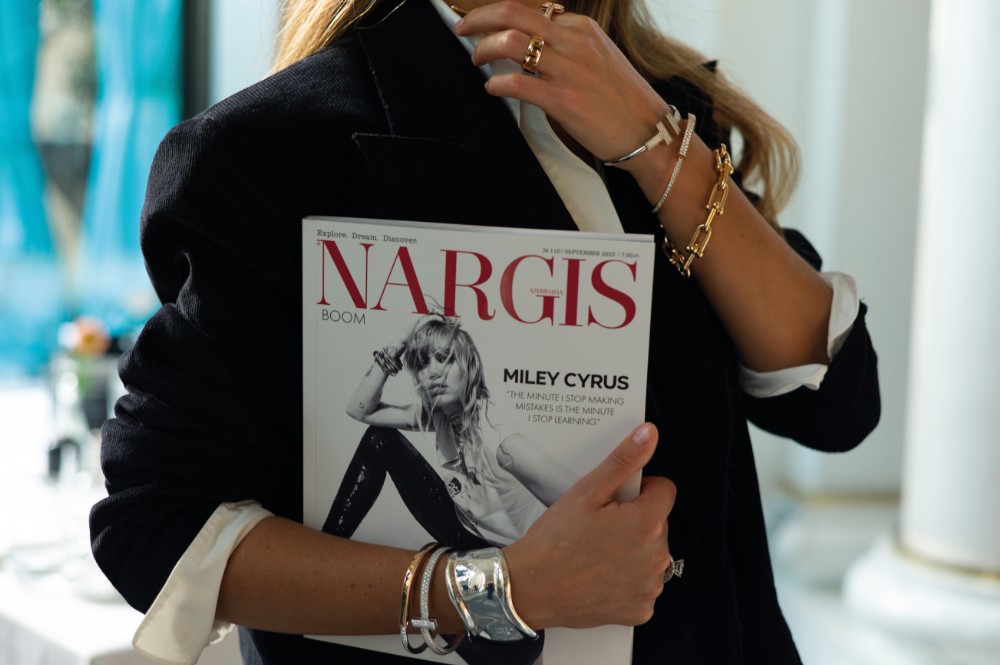 Tiffany Lock Collection:
Bangle in Yellow Gold with Full Pavé Diamonds;
Bangle in Yellow and White Gold with Half Pavé Diamonds
Tiffany T Collection:
T1 Wide Diamond Hinged Bangle in 18k White Gold;
Wide Diamond Wire Bracelet

Tiffany HardWear:
Large Link Bracelet

Elsa Peretti:
Small Bone Cuff in Sterling Silver
Tiffany HardWear:
Large Link Bracelet;
Large Link Earrings in Yellow Gold with Pavé Diamond;
Graduated Link Necklace in 18k Yellow Gold with Pavé Diamonds
Tiffany T Collection:
T1 Circle Pendant in 18K Rose Gold Diamonds, Large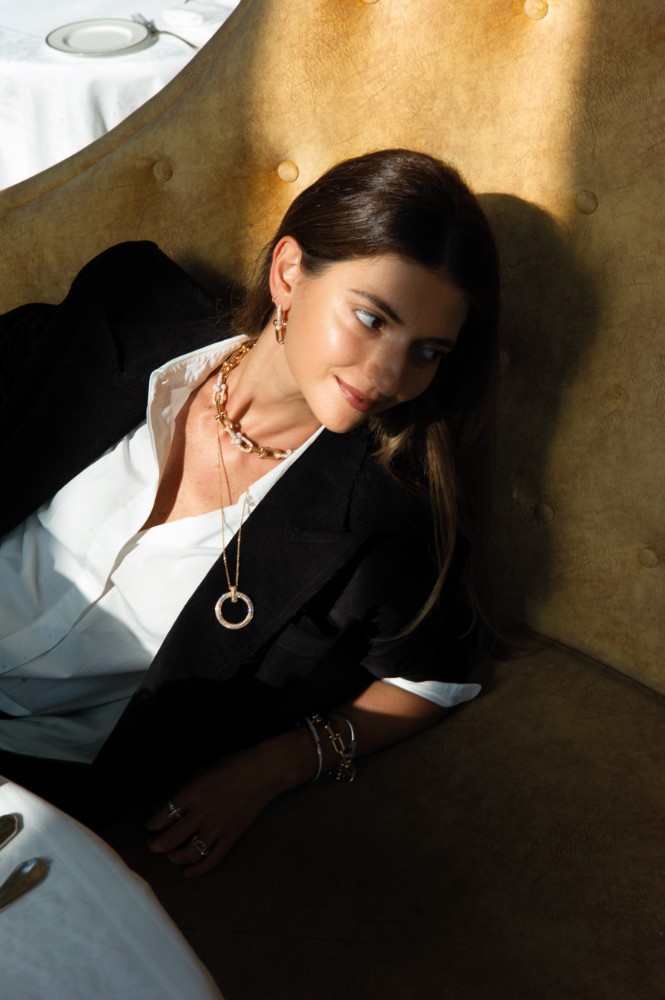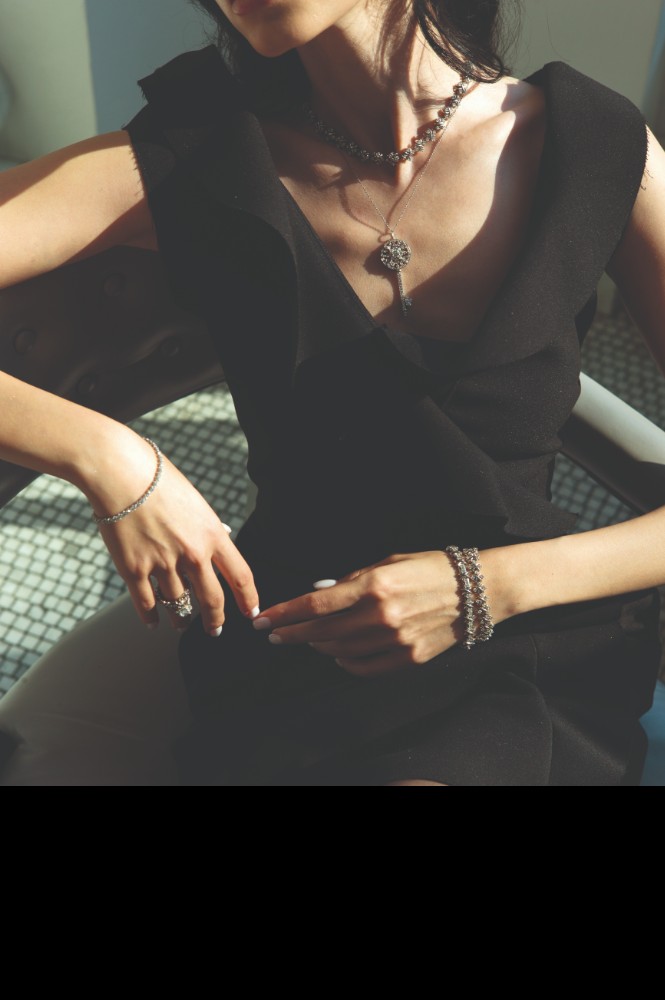 Jean Schlumberger:
'Lynn' Diamond Necklace;
Sixteen Stone Ring;
36 Stone Bracelet;
Diamond 'Lynn' Bracelet
Tiffany Victoria:
Round Key Pendant;
Tennis Bracelet in Platinum with Diamonds
Jamila:
Tiffany Soleste:
Cushion-cut Double Halo Engagement Ring with a Diamond Platinum Band
Jean Schlumberger:
'Lynn' Diamond Necklace
Tiffany Victoria:
Round Key Pendant
Laman:
Tiffany HardWear:
Large Link Earrings in Yellow Gold with Pavé Diamonds
Tiffany Lock Collection:
Bangle in Yellow Gold with Full Pavé Diamonds
Tiffany Forever:
Band Ring in Platinum with a Full Circle of Diamonds, 3.7 mm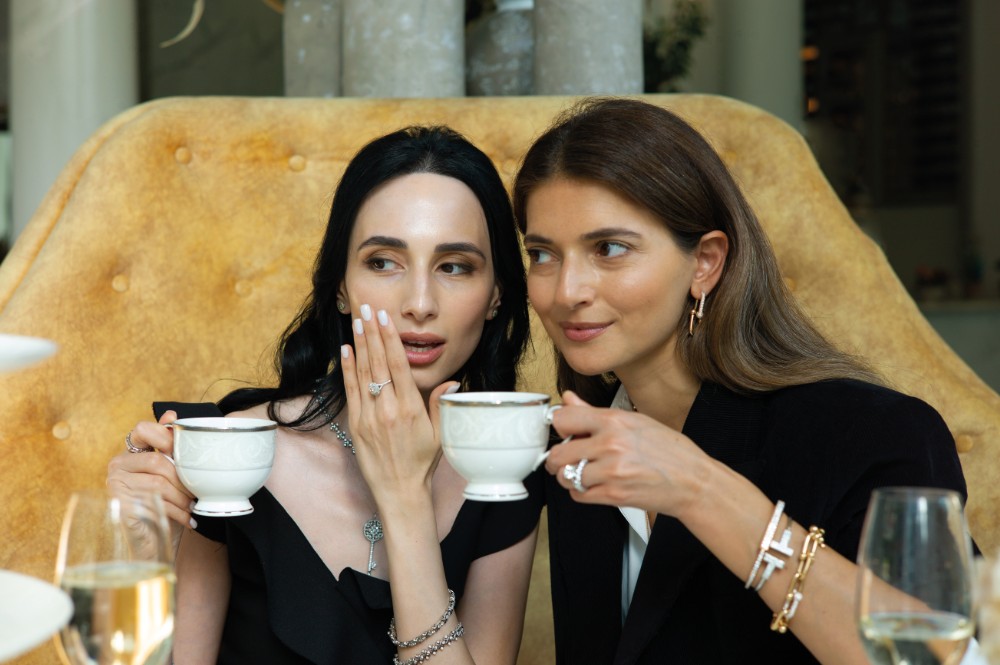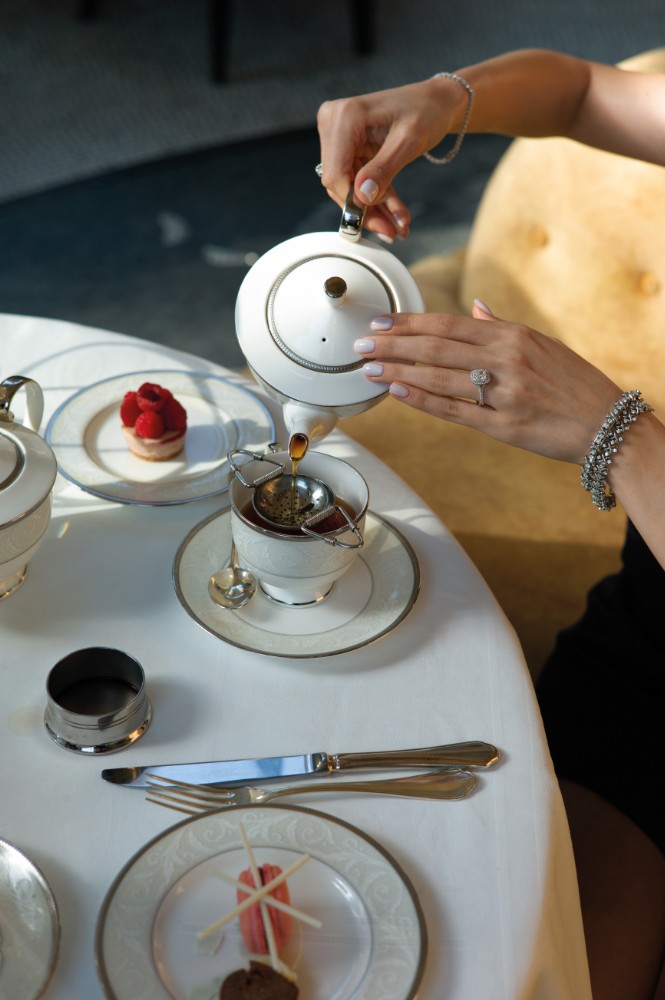 Jean Schlumberger:
36 Stone Bracelet Diamond 'Lynn' Bracelet
Tiffany Soleste®:
Cushion-cut Double Halo Engagement Ring with a Diamond Platinum Band
Tiffany Victoria:
Tennis Bracelet in Platinum with Diamonds