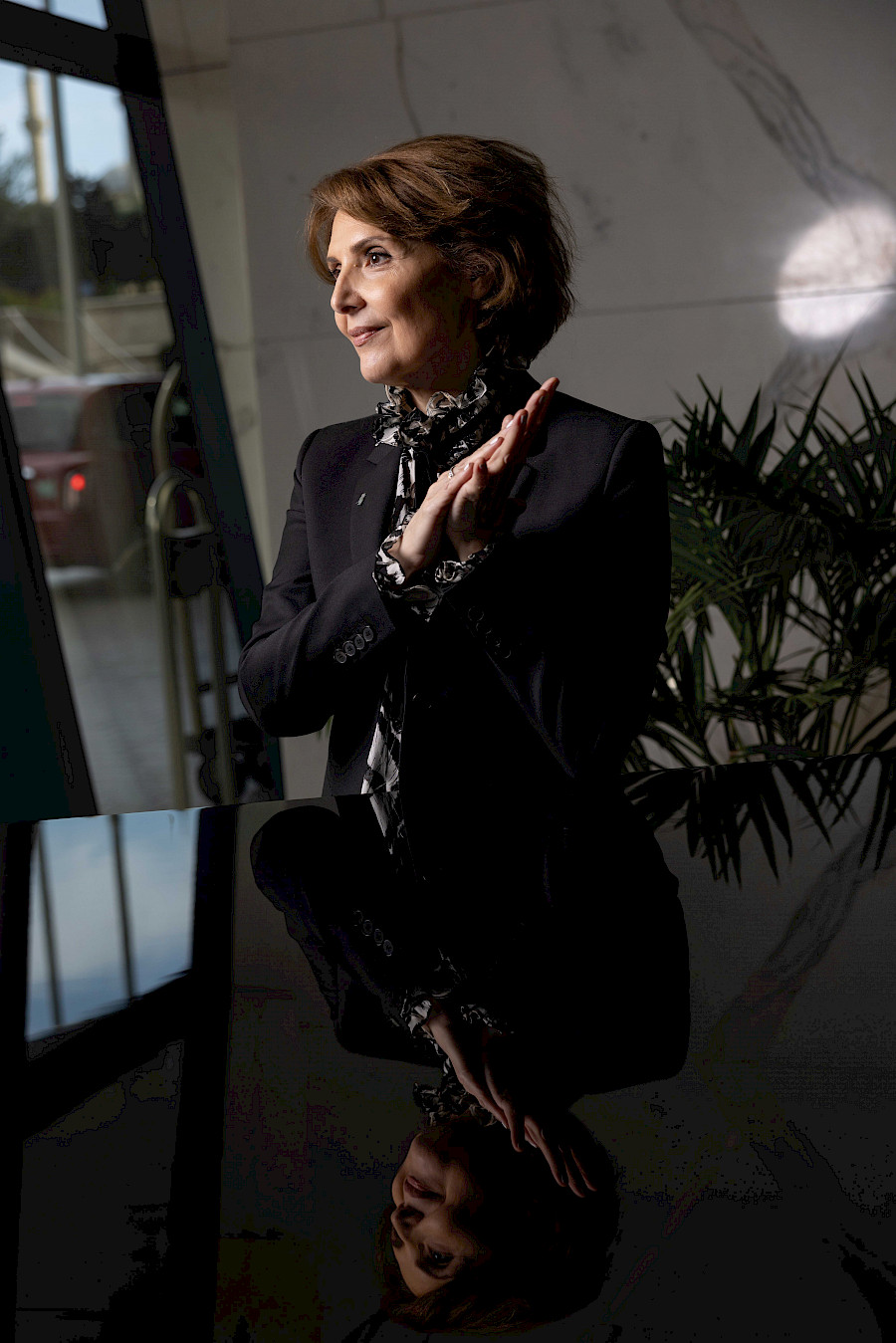 As this charming lady enters the room she draws your attention right away. The moment she smiles, you can sense her compassion and warmth. Elisso Bolkvadze is a prominent Georgian pianist, UNESCO Artist for Peace since 2015, winner of many international
music competitions, founder and artistic director of Batumi Black Sea Music and Art Festival in Georgia. She's been awarded the Orders of Arts and Literature by France's Minister of Culture Fleur Pellerin in 2015, performed at the world's most prestigious concert halls - from Victoria Hall and John F. Kennedy Center for the Performing Arts to Wiener Konzerthaus. She's been to Baky many times, but this time she visited as a member of Parliament of Georgia, elected back in 2020.
What is your mission as the UNESCO Artist for Peace?
All of UNESCO artists have a mission to use their authority to serve for Peace. I have a mission to introduce musical education, especially in military conflict zones. I'm the first UNESCO artist from Georgia but this is a global mission.
How did you become an artist for Peace?
In 1991-1993 there was a civil war in Georgia, I was very young – many lives were damaged, many people died – it was a terrible experience. I started over in France and Austria, but the terrifying memory of war remained. I wanted to help young people change their lives, give them opportunity to create art and explore the world. After UNESCO's proposal to become their artist, I gave two concerts in Victoria Hall with the World Orchestra for Peace. I played for Gori – city damaged after war in Georgia in 2008. So, I naturally became an artist for Peace. We all know the horrors of war yet the artist's perception is different and I wanted to do as much as possible for the young war victims.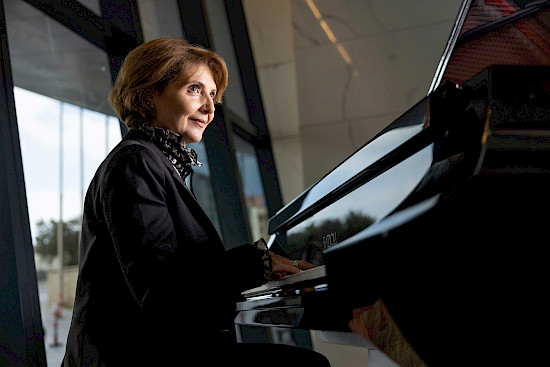 What can music do for peace?
Many things. Music has power. It reunites people everywhere. Soul needs love and music is love and it is absolutely necessary for a human being. I strongly believe that music and art in general could together build peace.
Classic music can be hard to perceive, how can it help people in conflict zones, who don't even have basic needs such as food and safety?
When somebody hears Mozart's, let's say, or Beethoven's symphonies whether up in the mountains or in the city they feel it, it goes directly to their souls, bringing something new into their lives. No matter the social background a person has – music brings a lot more than one can imagine, it brings very strong emotions and can lead to some extraordinary results. I have experienced it.
Tell us about your latest charity activities.
Being a Chairperson of the Committee for Culture, established in 2021, takes a lot of time. My foundation Lyra helps young pianists pursue their international careers, gives them access to different programs in Switzerland and France. And now that I am a deputy of the Parliament of Georgia I, of course, have even more possibilities. I am convinced that educational system in Georgia can be improved and we are already working on some reforms to create better educational conditions for young generation to further develop their creativity. Our aim is to create access to quality education, approve cultural diplomacy document. Art is the best way to bring people together. At the same time I try to be active as a pianist. Recently I played at an International Chamber music festival in a very historical place Dadiani Palace in Martveli.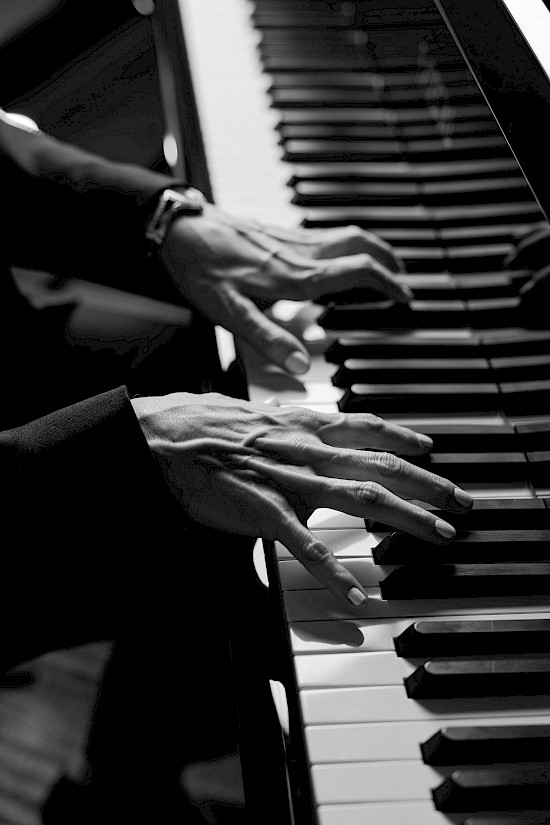 Is it true, that you advised to put a piano in the Parliament building?
Yes! In many European Parliaments I see a piano. Not because they organize concerts every day, we just have no time for it but I think, sometimes, if we have a chamber to hold music concerts, this is one of the ways to open the parliament to public because, after all, Parliament serves to its people. I believe if there is a piano, it means that all the parliament is more creative. Politics need art and such figures as Paderewski, Prime Minister and Minister of Foreign Affairs of Poland, who was a pianist or President of Lithuania, who was a painter and pianist are great examples. Art makes politics more humane, interesting in a way, flexible, adaptive and sensitive.
In what way?
Modern world is complicated – there are lots of challenges. We process a lot of information, everything needs more concentration, people sometimes get tired, stressed over it etc. Art helps us understand each other. Each country has its own story and its own pain, and politicians are there to understand and deal with it. Art in this sense lets us be more sensitive. I speak the language of music – it is my world. A politician must balance out between sincerity and political needs which means be more flexible and that can only happen with a help of artistic background.
What is the biggest challenge of the modern world?
Understanding and accepting each other.
How do you manage your time?
I used to live only in the rhythm of music, being an active pianist, holding concerts but now I am also dedicated to parliamentary and committee work which takes a lot of time and energy. If you want your voice to be heard, you have to be everywhere, you have to devote yourself completely.
What about family and friends?
Since I wa s a child, I was constantly studying and working, though my mother, being a strong yet strict woman always thought it was not enough comparing to my fellow mates. I am used to this life rhythm, but, unfortunately, it doesn't leave much time for friends and family.
You were always pushed towards longer studying hours. Do you agree that in order to be successful in music or sports career you have to push a child to practice more?
I don't believe we shall force our children, but to drive them – of course. It is very important for a child to have a chance for an education.
How exactly did you come to studying music?
Since I was a little girl, I used to sing on my own. I was just 2-3 years old but already had a pure pitch. Despite the fact, that we never had a piano and none of my family members ever were involved in music, I quickly learned playing piano with my neighbours. My hands were naturally positioned as if I have been practicing for a long time. One of my parents' friend was a flutist and when he heard me playing, he asked my parents to bring me to a special music school where my natural talent was immediately spotted. That's how my music path has started. So, my life is like a theatre, every time I'm on a stage somewhere – next to a piano or in Parliament. This brings the best out of you, you form your personality every single day. This is also a huge challenge, especially for a woman because you sacrifice many things. I didn't choose this path, it happened naturally.
What if a gifted child comes to his parents complaining about all the pressure from studying?
Talent is not enough. If you don't develop it, nothing will happen and parents have to also understand that.
In your previous interview to NARGIS you mentioned that when you were a child you wanted to become an actress and play a woman looking for happiness. Why?
I think, we dedicate our lives to finding happiness. Waking up every day a woman shall wear a smile, feeling special, loved and desired. I think every woman dreams about this. I was born to be an artist and when I was home alone, I would look into the mirror and try to count how many faces I can have.
Do you get to sleep in?
I used to sleep for eight hours, but now I barely get six. I used to think of my musical life being busy but now, with all the new responsibilities and obligations, I find it much more hectic. I continuously self-develop, have lots of ideas, and all those need a lot of time. I am quite critical to myself, always setting goals – it is part of my personality. I demand more and more from myself, try to achieve maximum in everything I do. I am definitely a maximalist. I don't like average things. The elder I become, the more I wish to do everything better and better. It can always be better. Of course, I am happy when something works out but this feeling lasts for two days maximum then I want a new challenge, something more interesting and creative – and there is no end to it.
Are you happy?
I'm very happy! I'm with people I love and doing what I love. Maybe there is not enough time for playing piano, I know that's no good, but the diversity of all the things I'm doing – hundred things a day – makes me happy. Real happiness is something you feel when you see you are useful, active, you do things that are important for others. This feeling drives you every time.
You were seven years old when you first came to Baku?
Baku was the first city to host the Caucasus region children's concert. I even remember what I played – it was Liszt "Etude". The white Philharmonic Hall was full of people and they were so nice to me! The very first impression of Baku was warm and emotional.
What can you say about Azerbaijani classical music?
It is very emotional, very distinctive. It reflects people's personalities, it is warm and easy to perceive.
Are there many similarities between Azerbaijani and Georgian classical music?
They are comparable and both are very melodic. We are neighboring countries, many Azerbaijanis live in Georgia. So, we influence each other. People of Azerbaijan are very warm-hearted just like Georgian people. It is important to have friendly neighbors, being hospitable and open – it is one of our greatest values.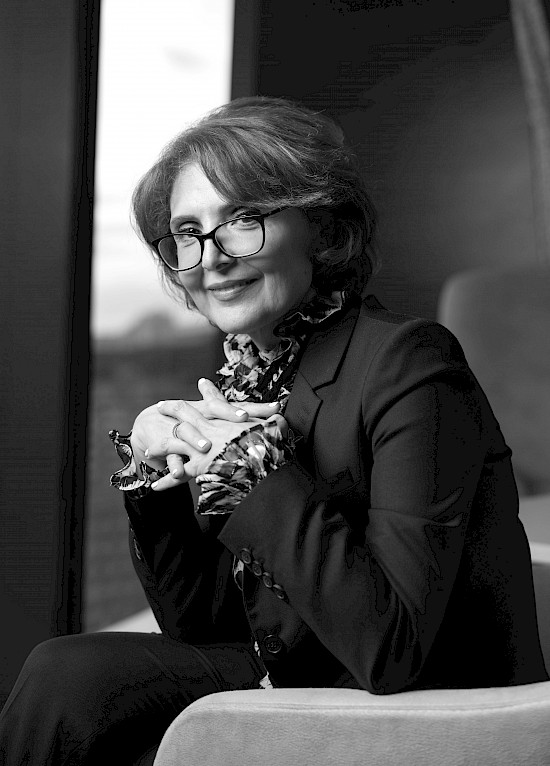 What do you expect from 2023?
To have more possibilities to create quality education accessible in the regions of Georgia, as art education means a lot for humanity. I also wish wars would stop everywhere. We all deserve to be happy.
What would you say to our readers?
NARGIS is a very interesting magazine with an amazing creative team, and I wish you to keep that good quality up. And I'd advise more people to follow the Magazine for it to have a bigger audience worldwide.
*We express our gratitude to the Fairmont Hotel for helping to organise the shooting