The queen of kaleidoscopic prints, Mary Katrantzou, is acclaimed for her intense use of colour, bold textures and sculptural forms. Born in Greece, she studied architecture at Rhode Island school of design in the USA and textile design at the UK's Central Saint Martin's. Mary Katrantzou finds inspiration both in travelling and at home in London, where she feels most reflective and creative. She stormed onto the fashion scene over ten years ago, winning the hearts of both critics and customers. Continuously evolving, Mary Katrantzou has collaborated with fashion giants, designed costumes for the New York city ballet and Paris opera, exhibited her work at The Metropolitan Museum of Art and won multiple prizes, from the swiss textiles awards to the BFC/Vogue designer fashion fund. Michelle Obama, Cate Blanchett, Beyoncé, Naomi Campbell and many other admirers of fine art have worn garments created by the designer. Mary Katrantzou told NARGIS how she came into fashion, has developed in the last decade and what she plans for the future.
You have been labelled the Queen of maximalist prints. In the era of minimalism, what is your approach to the current trends? Do you think they are only a fad that will end soon?
My job is to observe and analyse behaviours and social shifts, but I do not believe in trends. Fashion has become so fluid – that is the most exciting part. Women get to experiment with different styles while being confident in their own inherent sense of style. That is what fashion should be about. Experimentation, protection and projection. When I launched the brand in 2008, the industry was more focused on minimalism as well. I had to develop confidence in my own conviction to continue creating the collections I did. Having the confidence to trust your instincts is never easy, but in eleven years I have learnt just how important it is to believe in myself.
You have transformed the idea of prints in fashion. Do you prefer to call yourself a designer or a contemporary artist? After all, your work is also showcased in museums.
I am first and foremost a designer, but I believe that it is a great exercise for a designer to see all their work curated in an exhibition. It allows me to study archive pieces and discover the thread that runs through my work from the textile innovation, to the silhouette creation, to my use of colour, to the narrative. You discover the consistency in the past eleven years but you also make new discoveries. I believe that fashion belongs in museums as it is a form of artistic expression that is indicative of our times and culture.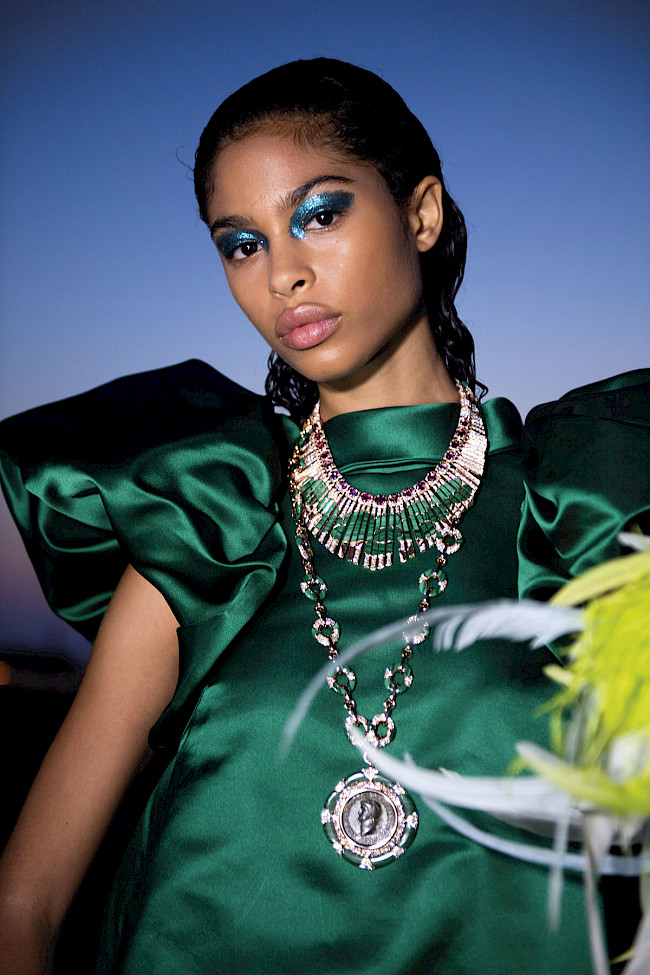 You came into fashion from a family of interior designers and textile engineers, having studied both Textile and Architecture. Do you think that you had no other options in a professional setting?
My mother, who was an interior designer, always had lots of magazines around the house from Architectural Digest to Elle Décor and World of Interiors. I remember tearing out different pages and creating worlds of my own with imaginative collages. I definitely owe a big part of who I am today creatively to my mother. I also grew up inspired by my father's work as a textile engineer. Being surrounded by these influences instilled a curiosity in me to apply for a course in Textile Design, while studying Architecture at the Rhode Island School of Design. And the rest is history.
You stormed into the fashion world during a difficult time for the industry, both financially and psychologically. Can you identify the most prominent changes, in your opinion, that have occurred in fashion over the last ten years?
Launching a business straight after studying is always tough, regardless of the economic climate. You have to finance your expenses and production before you can get any income from orders. During the recession, it was even more difficult as buyers were working on very tight budgets. I started naively but the newness of my first collection attracted the right stores, who took a risk and thankfully it paid off! I was lucky that London has a very supportive network and platform for new designers. The Centre for Fashion Enterprise helped by providing a small studio where I had the space to work and the British Fashion Council supported me through the NewGen Scheme, which gave me the opportunity to show my work at London Fashion Week. When you are an emerging designer, I would say that you have to have razor-sharp focus and the strength of your own conviction! Your ambition shifts as your business evolves, which is what is exciting about growing it into a global brand.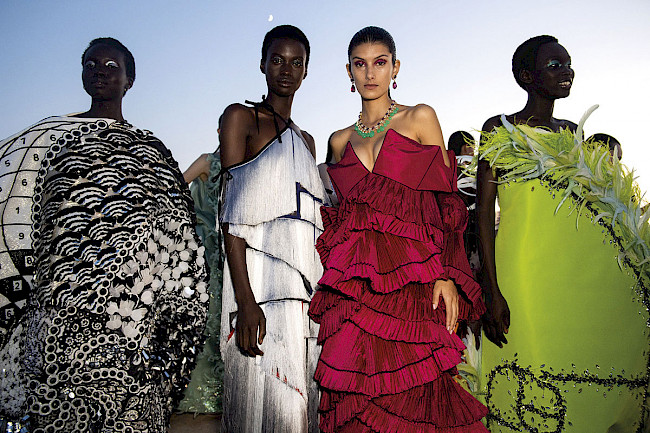 Please describe the work process from scratch on a garment by Mary Katrantzou.
My creative process has changed over the years. When I started, it was mostly about the print, which defined the silhouette. Now it is a lot more about having a complete range, where the image is an important part of the narrative. My collections are usually quite thematic, so I do not start with a time period or muse; I start with the inspiration, which kind of defines the collection. Taking inspiration from imagery, we then flesh out the collection, building key stories. Each of these stories then starts to take on a life of its own, growing into different techniques and silhouettes that we work on to reach perfect harmony.
You have been engaged in many collaborations over the years. What are the most positive and negative aspects of collaborative work for you?
I am inquisitive as a person and that curiosity has been the basis of every collaboration I have ever done. What I enjoy most is working with respective leaders in their fields to come up with a product or collection that is unique and extends our visual vocabulary as a brand. Of course, it challenges us creatively and allows me to open up to new possibilities surrounding my brand and globally to new markets.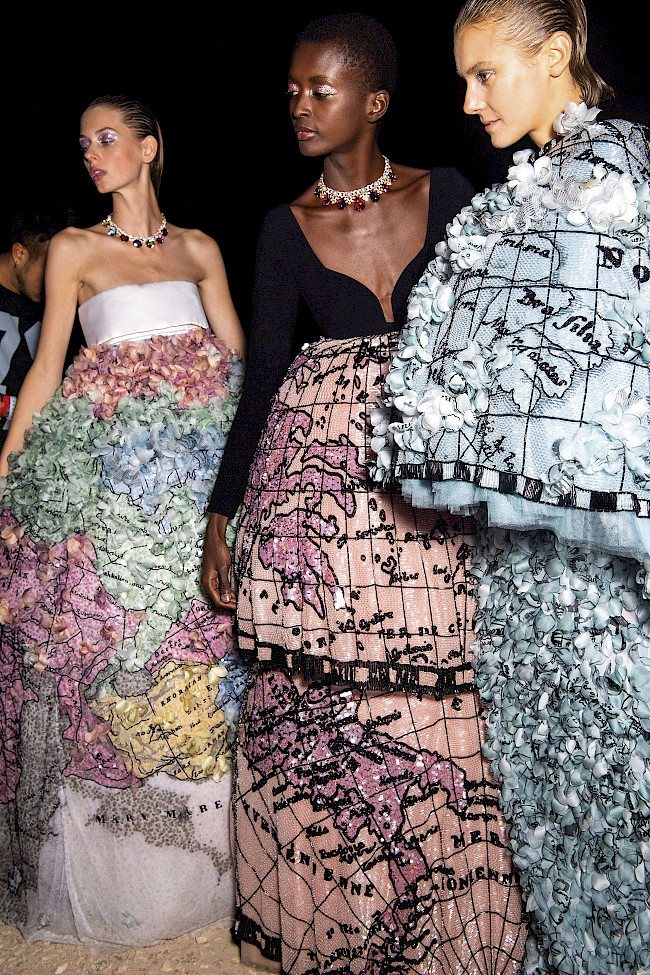 You have collaborated in different spheres: from perfume to sportswear and accessories. Which sphere of collaboration is still fresh and attractive to you?
I've been lucky to be able to do costumes for the New York City Ballet and also for the Paris Opera. At the moment, I am extremely happy that we are working on the costumes for the ballet Don Quixote for The Greek National Opera, under the direction of Konstantinos Rigos.
Recently, you have entered the interiors business with carpets inspired by childhood nostalgia. Your Spring/Summer 2020 collection was also inspired by the history and mythology of your homeland. You even cried when you got permission to present your collection at the Temple of Poseidon near Athens. Why is history so important to you?
This show was a homecoming and a personal love letter to Greece, so it is of course inspired by the location and its symbolic nature. Our intention was to do this event with love and respect for Greece and a deep understanding of the monument's historical importance. I wanted anyone who has not visited the Temple of Poseidon to be as inspired as I was when I first saw it. The collection was based on ideas that were birthed in Greece at the time the temple was built over 2,500 years ago, around 440 BC.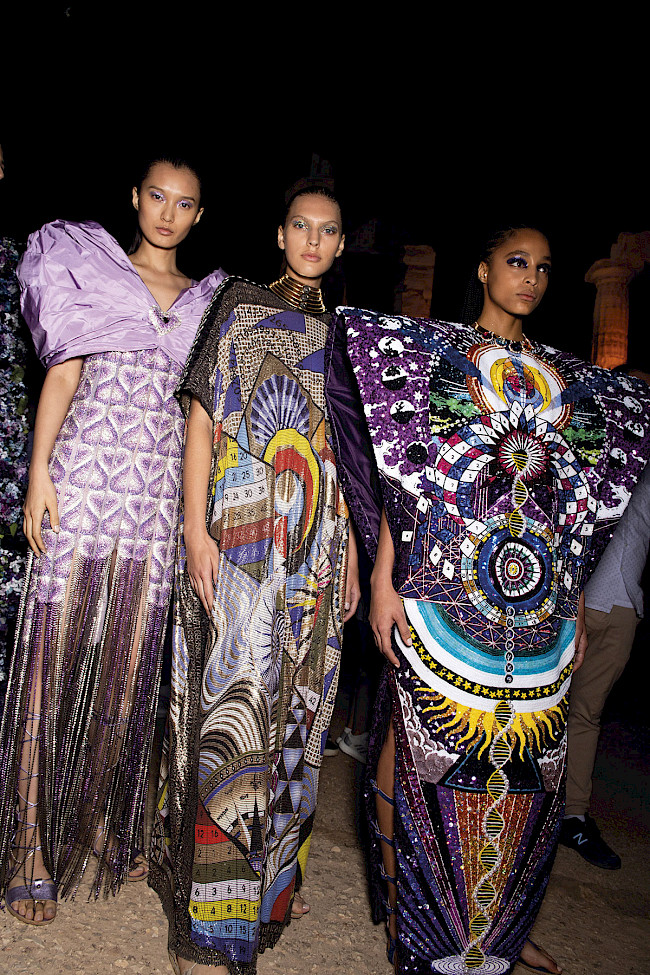 Dolce & Gabbana also presented its collection inspired by Ancient Greece at an ancient Greek temple located in Sicily in summer 2019. What is your attitude towards cultural appropriation, which is a fashionable topic today?
The fashion sector is currently being challenged and every brand is trying to carve its own path. What the industry needs is to embrace an ethical compass that will lead the way in environmental protection, social issues and ethical standards. I believe it is the first time that the Ministry of Culture and KAS have approved the organisation of a philanthropic event specifically at the Temple of Poseidon. The regulations are strict in order to protect our ancient monuments and archaeological sites. This is justified and I trusted that if our application was approved it would be for the right reasons. Our rich cultural inheritance is the inspiration for this show and I am proud to be part of an effort not only to highlight that but also to use its importance to support a great cause.
You have announced plans to offer clothes up to UK size 26 in 2020. Do you think that your hyper-realistic prints and bright colours will be perfect for women of larger sizes?
The visual devices I use throughout my collection, such as precision engineering, flatter and exaggerate the female shape by focusing and guiding the eye to a woman's best features. I look at the applied design and filter that into fashion. I do not think this process will be any different with larger dress sizes.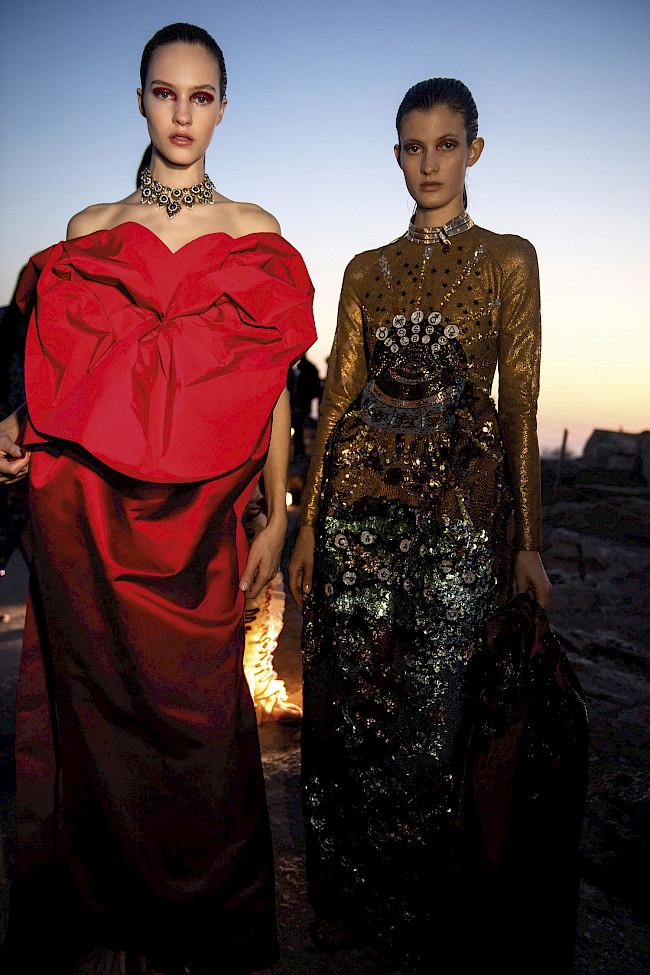 Can you please tell us more about the textile you use for producing your clothes? Can your brand be deemed sustainable?
The fashion industry as a whole, and by nature, cannot be 100% sustainable. So to combat this we need to create timeless designs that highlight craftsmanship and support a more sustainable approach to inventory, where people buy less and focus more on quality. I can definitely say that our brand is taking steps towards sustainability by employing digital printing, having the majority of our production in the UK and upcycling fabrics from our archive.
What do you think of the idea that a garment is more than just clothing, but a state of mind and a message?
For me, fashion is a projection of our personality, our mood and what we value!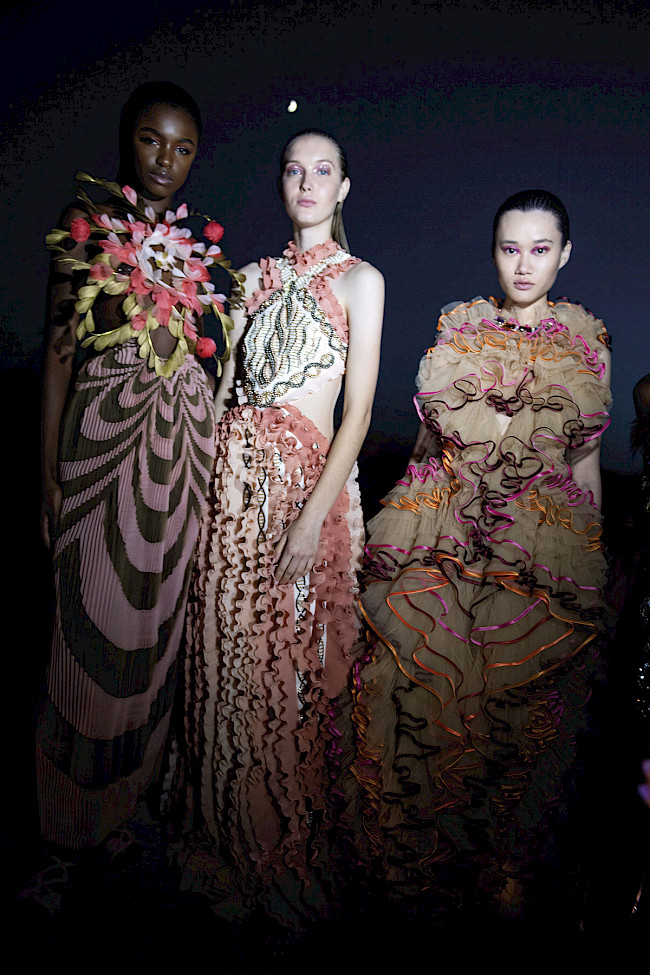 Can you please describe the typical Mary Katrantzou woman?
The Mary Katrantzou woman is always evolving. She is confident, she is bold and she is generous. She appreciates art and design and has an inquisitive nature. Her style is timeless and she is inspiring to be around.
Do you believe that your design will pass the test of time?
When you work in the fashion industry, you always have to be in sync with the times, as it is such a fast-paced industry. At the same time, for me it is extremely important to create timeless pieces by employing a high level of craftsmanship and execution, while offering clothing suitable for the modern woman and her everyday life.— N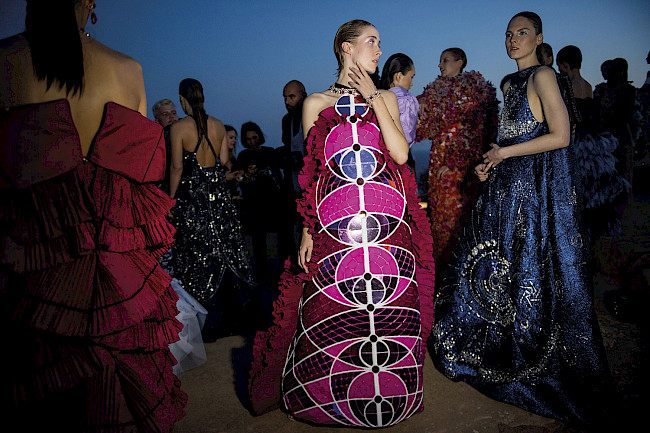 *Interview published on the 70th issue.